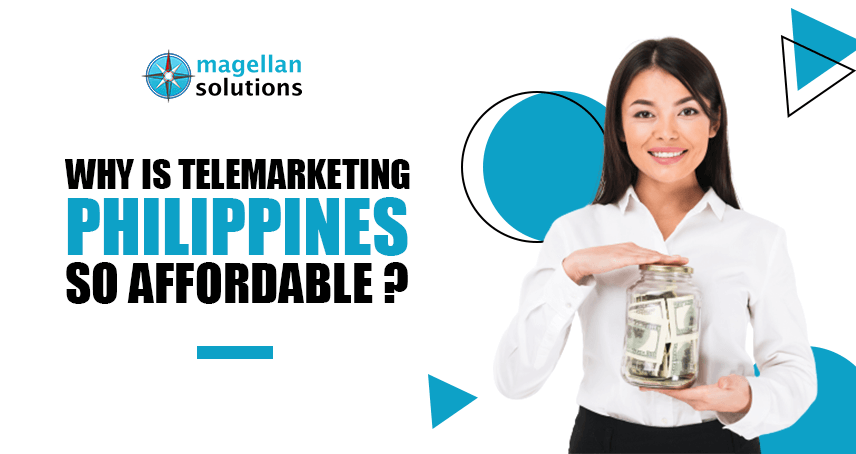 Why Telemarketing Philippines is the Most Affordable in the Market
Good quality doesn't always have to be costly. 
The Philippines has quickly risen as one of the top locations for outsourcing, and there are plenty of good reasons why. 
While mostly known for customer service, outsourcing has since grown into many different types, offering many other business solutions for startups all around the world. 
Now including telemarketing, outsourcing from the Philippines doesn't just promise stellar service, it also guarantees great value for less. 
It's easy to assume top quality services must be pricey, but in the case of Philippines BPOs, there is more value than expense. 
It's time we take a good look at why top notch telemarketing services costs way less when outsourced from the Philippines, one of the best outsourcing hotspots in the world. 
Breaking Down the Price Range for Telemarketing Philippines 
Telemarketing in the Philippines is regarded as one of the fastest growing industries in the world, and one of the reasons for this sudden boom is that offshore companies love to outsource to the country because it is easy and affordable – an attractive deal, especially to small and medium sized enterprises. 
There are many factors that figure in the unbelievably affordable price range of outsourced telemarketing in the Philippines, and here are some of them: 
Labor
According to Glassdoor, a typical Telemarketing Manager in these countries can earn the corresponding salary per year.
| | |
| --- | --- |
| Countries | Salary per year ($) |
| USA | $92,063.00 |
| India | $13,441.68 |
| Philippines | $11,890.28 |
| China | $35,179.21 |
Based on the Willis Towers Watson's 2015-2016 Global 50 Remuneration Planning Report, the low cost of labor in the Philippines makes them a more attractive alternative investment location, compared to other countries.
It makes Filipino telemarketers, particularly professionals, easy targets for recruitment for jobs overseas. 
Plus, the relatively low cost of living in the Philippines can also be a factor in the price range of outsourced services their BPO employers offer. 
Technology
By leveraging new technology, telemarketing call center Philippines definitely paved the way for sustainable and high level of employment growth in business process outsourcing.
Due to new technologies that enable unprecedented connectivity, the business process outsourcing (BPO) sector became a major player in the Philippines in the past two decades.
Currently, the country controls 13% of the global BPO market. The sector employs 1.2 million Filipinos directly and accounts for 6% of the country's GDP.
However, the 4th Industrial Revolution could change that narrative. Technologies such as artificial intelligence, Big Data and cloud computing have the potential to transform telemarketing Philippines outbound.
Software and Hardware costs around $3,600 annually. And that doubles for every agent you have working for you. But thanks to the fast-improving service delivery automation (SDA) technology, this is now much cheaper.
BPO executives from different telesales companies in the Philippines are keen in adopting new technologies like SDA.
Cost and accuracy are by far the most important factors. Thanks to recent advances in cognitive automation, sophisticated "chatbots" can conduct conversations with human callers, delivering customer satisfaction at a lower cost.
There is no fixed price tag to technology yet, but the general consensus is to look at the per hourly charged by BPO companies.
Call center rates depend on the company and the country you're hiring. On average, it ranges from $8-$18 per hour in low-cost countries and about $15-$25 in the West. 
Rates can also be charged per hour, per minute, or per month, depending on use. You can buy minutes in bulk for up to 500 minutes. 
Keep in mind, however, that outsourcing companies may charge additional fees. Transfers, holiday surges, and new account setup may be added to your regular rates in a telephone answering service, for example. 
To ensure transparency and assurance, always review your outsourcing company's rates and service level agreement. Make sure to clarify the scope of the package rates the providers offer, to make the best of the features offered to you, with reduced expense. 
Infrastructure
Office space alone can cost around $48,000, minus utilities like electricity, water and other incidental costs in rent and insurance. 
One of the prime benefits of the Philippines outbound call center sector is that it significantly reduces costs in housing staff, giving companies the space to allocate their money to technology and other investments instead. 
Aside from this, the Philippines is also considered to be a better option compared to the US and India due its better utility infrastructures.
Here is an estimated rate in rentals for office spaces in the Philippines, in comparison to rental expenses from other outsourcing players like the US, India and China. 
| | |
| --- | --- |
| Countries | Rentals per year ($) |
| USA | $48,000.00 |
| India | $24,237.54 |
| Philippines | $23,766.67 |
| China | $74,061.5 |
It figures that the lesser the operational costs are, the more affordable the services would be – giving you more value but with a lesser cost. 
Conclusion
In conclusion, outsourcing telemarketing services from one of the most affordable options makes a good investment, as it helps allocate funds better and secures bigger revenue, as well. 
Whether you make the decision to outsource to the Philippines, it's an undeniable fact that outsourcing from one of the top countries for outsourcing is a lot more cost effective than many would expect, without compromising its trademark quality. 
It's All About Economics
Countries like the Philippines have a lower cost of living – which translates into a more modest salary range for locals. In most cases, you'd be paying a fraction of the amount you'd pay someone you hired from your own city.
However, this isn't just the reason for companies to turn to the Philippines as an outsourcing destination.
Infrastructure and the developing technology attracts investors to try their hand at outsourcing.
With the emergence of AI technology, more and more businesses are scouring to find the perfect call centre services Philippines partner.
Partner with the Top Contact Center Services Philippines
Magellan Solutions is a ISO-certified and HIPAA-compliant BPO provider based in the Philippines that focuses on supporting small to medium-sized businesses. 
The top in lead generation Philippines among all B2C and B2B lead generation companies in the Philippines, coupled with more than a decade of industry experience, we offer high-quality customer service support and a wide range of call center services. 
Here at Magellan Solutions, we combine technology such as ACD, CRM, and IVR handled by well-trained agents. We make sure that they have all the necessary tools, equipment, and knowledge to support and grow your enterprise by providing top quality services in all forms. 
We believe that progress shouldn't break the bank, so we pride ourselves in keeping our services flexible and competitive, to suit your needs and your budget. 
Let's talk about building your business. Contact us in the form below. 
TALK TO US!
Contact us today for more information.