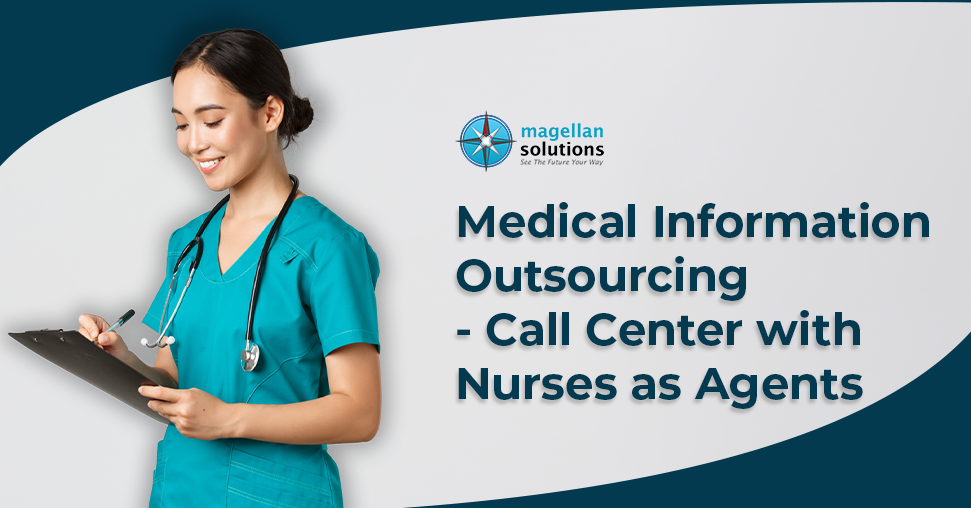 Medical Information Outsourcing – Call Center with Nurses as Agents
From solo practice to big hospitals, you can use reliable virtual receptionist services to smoothen your operations and more.
Avoid errors and risks and provide the best healthcare services to your patrons by having expert virtual receptionists manage your data and operations. 
Virtual Receptionists in Healthcare –  How it Works
Outsourcing virtual desk services provides you with an offsite receptionist who will entertain phone calls, even beyond operating hours. You can set a timer, possibly after 2-3 rings, after which it automatically routes to the call the virtual staff who will answer it for you.
This outsourced staff will either take the message, schedule an appointment, or reroute the call to a member of your facility who can better assist the caller.
You must remember that it makes no difference how good your medical service is if your reception is inefficient. It's bad enough that you're having a medical emergency; wait times make it even worse.
The medical industry is almost always busy and uptight, with little room for error and wastage. Longer hold times is a normal scenario, which you can improve through the service. 
Also, it helps to choose a provider experienced and certified in providing the service.  You have the option of opting for an ISO-certified and HIPAA-compliant provider to ensure staff that are truly knowledgeable in your industry and its technicalities, which is vital for services as essential as healthcare. Certified providers offer virtual receptionists with a degree and background in medical practice, which assures proper knowledge and efficiency in handling healthcare services with the level of accuracy and urgency it entails. 
In addition to that, BPO companies that provide this type of services are well-equipped to handle any call volume, 24/7/365. 
How Virtual Receptionist Services Improves Your Medical Practice
Regardless of the size of your healthcare facility, you can surely take advantage of this to improve your medical service delivery, here's how:
Incoming calls to your medical facility are routed to a remote yet live receptionist. They will greet your caller/patient with a customized script and using your practice's name.

These outsourced staff are often well-trained to handle basic

customer service

and inquiries. It can range from usual FAQ such as office hours, location information to medical-related inquiries such as prescription.

You can get a trained receptionist to make appointments for incoming patients, record and deliver new patient information, and forward emergency calls to the right practitioners.

They can immediately forward important messages and medical emergencies to your practice's direct line or medical staff's phone number, through text messages, or via email.

They can cover your reception area even after business hours, even holidays for 24 hours, 7 days a week, and 365 days a year.
Why You Need a Medical Virtual Receptionist Today
It is understandable if you are still unsure whether your healthcare facility would need this type of service. 
If you are still on the fence, we have listed the warning signs in healthcare services operations that you should definitely not ignore: 
Your facility have problems answering all your incoming calls

You often have a backlog of voicemail messages that you need a staff to comb through them every day

It is a common sight for your facility to get a voicemail box full warning

Your staff has to multitask between talking to your patients and answering phone calls

You often experience long duration of phone rings before someone can answer it

You have considered to hire additional in-house staff only to deal with incoming calls
Top Benefits You Can Get
When you outsource this service, you can get the following benefits for your healthcare facility: 
Personalized service 24/7/365
This service can provide your patients with a continuous and efficient call management facility, no matter what day or time it is. Depending on your requirements, you can get them to manage your general email enquiries and booking appointments from various points of contact.
Save Money and Time
Outsourcing live answering services will save you extra money in paying the salary of an in-house receptionist and other overhead expenses. 
Adding to that, you also free your in-house staff from doing the tasks they are not paid for in the first place, such as answering the phone. 
This will trickle down to your patients/customers as they are properly entertained without any distraction from a ringing phone. 
Emergency Response Coverage
Medical practices are not limited during business hours alone. That is why it is ideal to get round-the-clock emergency coverage. Through this service, you can get the job done without the hassle of recruitment and employee retention to think about. All these at a fraction of the cost. 
Privacy Protection
ISO certification and HIPAA-compliance is a crucial factor here. As this assures you that they understand and will protect your patient's personal health information, accordingly and with utmost confidentiality.  
More Language Options
This is something you have to consider if your facility receives calls from patients or customers who speak with a different language. It is often difficult to find a full-time bilingual receptionist and may mean they require a bigger salary.
Outsourcing this will give you the opportunity to get an offshore staff who can speak your chosen languages at a much affordable price. 
Spend More Time on Important Tasks
Dedicated outsourcing staff will ensure no calls will go unnoticed. This in turn will ease the burden on your in-house staff and let them focus on their tasks at hand. 
At the same time, you medical practitioners stay on track with patients depending on their needs. All without the distraction. 
Get the Most Efficient Virtual Receptionist Services from Magellan Solutions
We have 18+ years in the BPO industry where we have the opportunity to provide this service for various industry verticals.
Our virtual receptionists are well-trained to ensure your patients will get the best customer service whenever they reach your healthcare facility. We continuously provide them with training on the best practices for your industry. 
We use the best CRM tools to ensure our service delivery stays top quality, no matter what your requirements. This is our pledge as a premier BPO company in the Philippines. 
Magellan Solutions ensures our services follow the best data and information security protocols. Our proof? ISO 27001-certification, GDPR, and HIPAA-compliance. This is our way to assure you that we take ISMS seriously. 
Contact us today and let our Business Development Managers tailor the best custom-fit solutions for your medical practice. Fill up the form below!
TALK TO US!
Contact us today for more information.