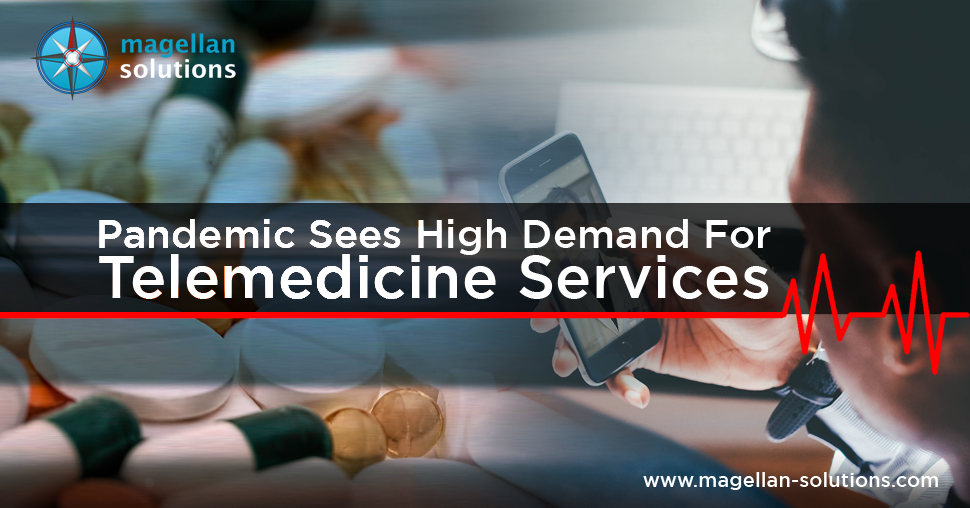 The pandemic has swept the globe and changed the lifestyles of many. To quell this pandemic, people around the world are forced to stay indoors and observe social distancing. This has crippled many industries and made certain services inaccessible. However, it has also given rise to an all-time high demand for telemedicine services.
The demand for telemedicine and other related telehealth services was not very high before the pandemic. In fact, these services were not even widely known. What has made it vital nowadays is the need of the healthcare sector to limit their on-site services, while also reaching as many patients as they could.
Telemedicine services are made to deliver healthcare services remotely. Here, a patient who does not need immediate treatment can receive healthcare without close contact with the healthcare provider. This allows for safe and continuous health monitoring, treatment, and care, especially during the pandemic.
This general public was relatively unfamiliar with telemedicine, until now. Even among healthcare providers, however, not all doctors and nurses are trained in telemedicine. To help fill this knowledge gap, this article will answer the following:
What is a telemedicine service?
The word "telemedicine" literally means "healing at a distance". Telemedicine is basically the practice of delivering healthcare services from a distance, where the patient and healthcare provider are not in close contact with each other. It can be practiced for different purposes, including:
Telemedicine services can be carried out through any communication channel, device and application. Its goal is to provide clinical services, and medical advice and support to patients. It is also meant to improve patient care and information delivery through technology.
Telemedicine services make healthcare more accessible to people who have difficulties going to the hospital. It allows "virtual" visits, which are helpful to patients with mobility issues, elderly patients, and those who reside in remote areas. Ultimately, it gives way to long-distance clinical care, self healthcare management, and remote diagnosis.
Types of Telemedicine Services
Telemedicine can be carried out for most branches of medicine. As a niche practice, however, most hospitals only provided telemedicine for a select number of practices. Now that it is gaining popularity, the list is getting longer, and here are some of them:
TelePT
Telehealth physical therapy or telePT is the practice of remotely performing physical therapy sessions. This type of telemedicine strictly requires video-audio channels to carry out effectively. Here, the healthcare provider gives a series of physical exercises that the patient must follow, and it is paramount that the provider can see the patient's movement.
TelePT services are often given for geriatric physical therapy, neurological physical therapy, postoperative care, chronic pain management, and cancer rehabilitation.
Teledentistry
Teledentistry is about providing oral health care remotely. It utilizes interactive communication technologies, electronic information, and imaging technology. Basically, it is a "virtual" visit to the dentist's office for a consultation, monitoring, diagnosis, treatment, or other oral health procedures that do not require physical contact.
Remote eye care services
Remote eye care services refer to a range of healthcare services that focus on the eyes or vision of the patient. Such services include tele-optometry and teleophthalmology.
Remote patient monitoring
Remote patient monitoring is also known as "telemonitoring", "self-monitoring", or "self-testing". This telemedicine technique uses certain devices to remotely monitor the health and clinical signs of a patient.
Telemonitoring is often used for high-risk patients, like those with cardiovascular diseases, asthma, or diabetes. It is also an ideal strategy for monitoring the health of elderly patients.
Personal health apps development service
This refers to the development of software applications for general telemedicine services. While there are a lot of telemedicine software in the market, this service allows providers to have applications that are customized according to their specific needs and the needs of their patients.
Telemedicine support
This branch of telemedicine service is non-clinical. The purpose of telemedicine support is to provide help to patients or other telemedicine users who are struggling with technical issues. Healthcare providers often use this service to guide elderly patients who are unfamiliar with telemedicine technology.
Though non-clinical, this service is necessary for ensuring the success of telemedicine. It lifts the tedious but crucial job of training new users from the workload of healthcare providers.
What is the difference between telemedicine and telehealth?
Not everyone is familiar with telemedicine and telehealth services. As such, many would think that telehealth and telemedicine mean the same thing, or are interchangeable terms. However, this is incorrect, as telehealth and telemedicine mean different things.
Telehealth refers to a wide range of remote services related to healthcare. It includes clinical services, such as telemedicine, telepsychiatry, and telehealth physical therapy. Telehealth also covers non-clinical services, including medical education, healthcare provider training, and even administrative meetings.
On the other hand, telemedicine mainly involves clinical services and is mostly about delivering healthcare to patients. It is also a subset of telehealth services. So, while telehealth also covers telemedicine, the latter is a more specific kind of service.
Advantages and limitations of telemedicine?
Telemedicine has plenty of advantages for your healthcare practice. However, it has certain limitations as well.
Advantages of telemedicine services
Convenient:

no need for physical appointments or meetings. 
Boosts efficiency:

telemedicine improves the efficiency of healthcare practices. Providers get to free up more time, resources, and slots to accommodate more patients.
Reduce unnecessary admissions:

telemedicine allows patients to conveniently monitor their health at home, so they would prefer to stay at home instead of admitting themselves to the hospital.

Alleviate burnout:

for healthcare providers, personal visits for non-emergency concerns add to burnout. With telemedicine, this is prevented and minimized.
Limitations of telemedicine
Connectivity issues:

some healthcare providers and patients may not have access to high-speed internet connections. This can cause a lot of difficulties in telemedicine communications.
Unfamiliarity:

since telemedicine was a niche practice before the pandemic, healthcare staff and patients may struggle with the practice. With the right support, however, this can be alleviated with the right support services.
Data security: you cannot simply use any platform, device, medium or channel for telemedicine. Otherwise, this can be an issue for patient-doctor confidentiality. This can be addressed by using secure platforms or partnering with a HIPAA certified service provider.
Should you outsource telemedicine services?
Telemedicine outsourcing means that you are hiring a third-party service provider to support your telemedicine service. The support can come in different forms, such as telehealth software, technology, and infrastructure. It can also be outsourced virtual assistants or related services, such as data management and reminder call services.
Outsourcing telemedicine services and support is a cost-effective way to improve the efficiency of your telehealth services. Telemedicine software, platforms and technology have to comply with HIPAA standards, and your service provider can take care of this. Telemedicine outsourcing also reduces the workload of healthcare providers, and this is a huge relief during the pandemic.
For the patients and providers struggling with technology, outsourcing helps, as well. They can have the support and guidance of tech professionals to help them learn how to provide and receive telemedicine services.
Simply put, you should outsource telemedicine services if you want to improve your efficiency, lighten your workload, and have ample support for your practice.
How do you choose a reliable service provider?
Plenty of healthcare BPO companies offer telemedicine or telehealth services. However, some of them may not be a good fit for your practice or are unreliable businesses. Look out for the following factors when choosing a telemedicine service provider: 
Years of experience:

a BPO company that has been in the industry for a while would have enough experience in providing telemedicine services.
HIPAA certification:

data privacy is crucial in telemedicine, so make sure to verify that the company is HIPAA certified. Otherwise, you should not entrust them with your data and patients' information.
Strong support service:

a reliable service provider should be able to provide effective support and

customer care service

. This is especially important when outsourcing telemedicine support.
How much does outsourcing telemedicine services cost?
The business process outsourcing industry offers services that are custom made for the clients' needs. As such, there are no fixed industry rates for most BPO services, including telemedicine. Instead, your service provider will determine the cost according to your needs and preferences.
Here are some of the factors that affect telemedicine outsourcing:
Service(s) needed

Length of contract

Number of people you need

Expertise level of the staff

Add-on plans or programs (e.g. business continuity plan)
Take note that pricing factors may vary per company. So, it is best that you discuss with their representatives first, and ask for a quotation.
Is telemedicine here to stay?
Telemedicine is very likely to stay even after the pandemic.
Most global crises are set to redefine what is normal, and the pandemic is no exception. Experts around the globe are already considering how the new normal would look like after the pandemic. Some lifestyle changes and safety measures taken for the pandemic will stay. 
According to tech experts, telemedicine could be one of those changes that would stay and become part of the new normal. Patients and providers have come to embrace the benefits of telemedicine. It is a safe, convenient, and efficient way to deliver healthcare. So, even after the pandemic, it makes sense for telemedicine to continue rising as part of the "new normal".
Are you looking for a reliable healthcare BPO?
Magellan Solutions is a healthcare BPO company that has been in the industry for over 15 years. We offer telehealth and telemedicine support services, as well as healthcare call center services. Our healthcare outsourcing services also include insurance claims processing, medical billing, medical coding, and medical transcription.
When you partner with us, you will have a team of highly trained professionals to support your practice. We also keep our team up-to-date with the latest industry technology and innovations, so we can ensure the quality of our service. Our company is also HIPAA and ISO certified, so your data is definitely safe with us.
Want to learn more about our business? Contact us today!
TALK TO US!
Contact us today for more information.