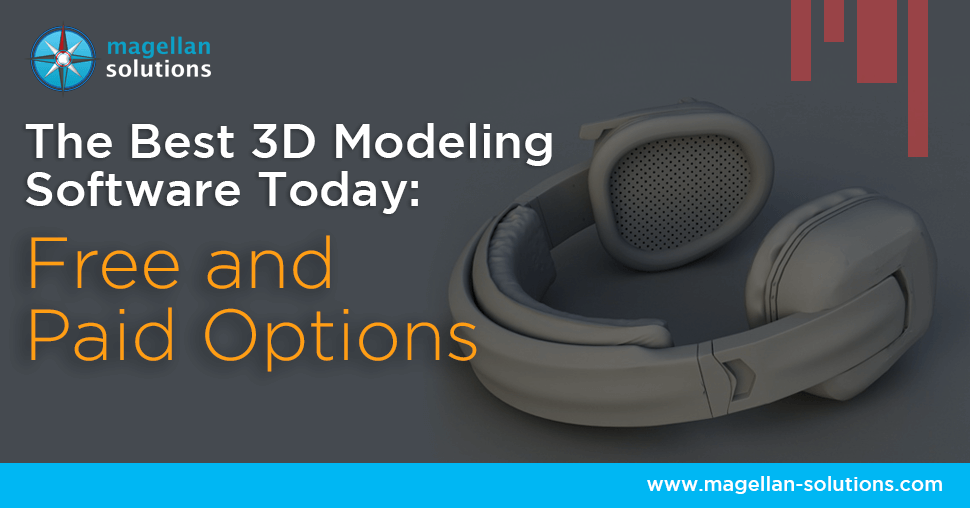 Your 3D design is as good as your 3D modeling software. That being said, it's important to ensure that your software is up-to-date to keep ahead of your competition.         
If you're looking for the best 3D modeling software today, then this article will help you get moving in the right direction. But first, let's have a short overview about 3D modeling software.
What is 3D Modeling Software and What It's Used For?
3D modeling software is a program designed to create a virtual three-dimensional model of characters or models. It provides all the tools you need in manipulating polygons, edges, and vertices to create real-world objects. Similar to the traditional modeling, a 3D modeler creates intricate details of objects in such a way that it's created in an application.
This type of program is widely used in the following industries:
Engineering and architecture. Some of the best architects and engineers develop the best architecture models and design by using 3D CAD modeling tools. In fact, architectural icons like Fallingwater by Frank Lloyd Wright and Disney Concert Hall by Gehry Partners were fully modeled through a 3D modeling software called 'SketchUp'.
Entertainment. Video editors of all the largest entertainment industries worldwide make use of 3D software to employ visual effects and graphic for feature programs.
Film. Most of the out-of-the-world visual effects that we have found in some astonishing films like Harry Potter and Transformers were actually created by VFX software like Autodesk Maya.
Game development. Computer games like FIFA 09 and Prince of Persia were also fully developed with the help of VFX software like Autodesk Maya.
Commercial advertising. Some of the best animated advertisements of Nestle and Cadbury were all made possible with the help of animation effects of 3D modeling software.
3D modeling software has many complex features and functions that might intimidate both new and experienced users. That's why, we want to shed light on the best 3D modeling software of 2020, both paid and free, to help you choose the best software for your 3D modeling projects.
Best Paid 3D Modeling Software You Should Try Today
There are numerous 3D modeling programs out there that have paid-for options. Here are some of the best paid 3D modeling software suitable for your field of activity and specific needs:
Autodesk 3ds Max (Type: Subscription Price: $216/month to $1740/year)
This software is one of the best for Windows users. It has modeling capabilities and a flexible plugin architecture suitable on the Microsoft Windows platform.
Aside from its easy-to-learn vast pool of tools, it boasts a wide range of features including fluid simulations, hair and fur, character rigging, and animation. Fluid simulations stimulate liquid-hair interactions in animation, while hair and fur features improve objects like animal fur. Character rigging, on the other hand, enhances the skeletal framework of characters.
Autodesk 3ds Max is useful in feature film production, architecture, and product visualization. In fact, it is the top favorite of many architectural and visualization animators because of its strong rendering capabilities, additional time-saving animation, and mapping workflow tools.
Pros
Autodesk 3ds Max has the best spline system in the industry, which allows for easier control of points to create lines and shapes . It also has the ultra-convenient edit poly modifier that enables designers to stack modifiers. Hence, it's useful when it comes to modeling compared to other software.
Cons
If you are a Mac user, then you won't be able to try this software since it only works on Windows. Also, it takes more time to master this software. Its UV mapping, for example, requires a separate modifier to wrap a 2D image texture onto a 3D mesh.
Autodesk Maya (Type: Subscription Price: $245/month)
This software is one of the top picks when it comes to 3D designing.
Aside from being the industry standard for computer graphics, it is the most important 3D software for creating breathtaking 3D designs, scenes, 3D environments, visual effects(VFX), animation, etc. In fact, Pixar, a leading animation studio, uses its powerful tools to create realistic environments and 3D models.
Autodesk Maya is reliable at modeling, texturing, lighting, animation, and rendering — its vast feature set includes particles, hair, solid body physics, cloth, fluid simulations, and character animation.
Many of its effects come in handy not only for animated movies but for news channels, television commercials, motion graphics, advertisements, interior design, etc.
Pros
Autodesk Maya has a free-form approach to 3D modeling. This means you can apply modeling layers instead of using only modifiers. In comparison to its many counterparts, Maya is more functional in animation.
Cons
The superior functionality of this software comes with a hefty price and a dreaded learning curve. However, it is a sound investment. If you could only master it and make it into a profitable career, then every penny you spend on Maya will be worth it.
Houdini (Type: License Price: $1995, $4495, or $499/year)
This software is beneficial in today's movie and TV VFX industry.
Houdini uses a node-based procedural workflow that makes it easy to explore iterations as you refine your work. Unlike programs like Maya or Blender, this software allows multiple iterations to make changing and developing your animations and effects much easier.
Aside from that, the software also includes a complete toolset for artists who want to use it for other areas such as modeling, animating, or rendering.
If you have background in programming, mathematics, and technical arts, then Houdini is probably for you. This is because Houdini has a steep learning curve due to the procedural design of its features, and people with technical know-how can only use it easily.
Pros
Houdini's node-based workflow allows you to retain control throughout the creative process, no matter where you are in the stage of production. By storing each project in separate nodes, you can build a network that can you can adjust according to your specific needs.
Cons
Mastering this software takes a lot of time and patience because its user interface can be trickier than other software applications. To learn it quickly, one must have intimate knowledge of mathematics and algorithms.
Modo (Type: Subscription or License Price: $399/year to $1799)
This software has become infamous because of its solid rendering system. Like many of the other programs, Modo offers animation, rigging, modeling, painting, and sculpting tools essential for 3D graphic designs. For beginners out there, this software is your starting point for creative exploration.
Modo uses both direct tools and procedural techniques which makes it one of the best software for the creation of polygonal forms. It also has an impressive modeling interface, navigation, and toggling hotkeys that are crucial to a smooth work experience.
Pros
Aside from its robust and interesting selection of tools, it's also user-friendly because of its highly customizable tools. Beginners can master it with relative ease and become a 3D modeler without years of training.
Cons
Although user-friendly and highly customizable, it lacks higher-end tools offered in other programs like Autodesk Maya and 3ds max. But all in all, it is easy to pick up and has been a default visualization tool among 3D artists.
Cinema 4D (Type: Perpetual license Price: $480/year to $2,850)
This software has already been established in the world of motion graphics for many years. Designed for creating perfect motion graphics, it has made a lot of incredible architectural, manufacturing, artistic, and gaming creations.
Many 3D artists would agree that it's pretty easy to use. You can easily work with procedural and polygonal modeling, rigging, animation, lighting, texturing, and rendering. Plus, it's super stable and can ensure that it won't send you spiraling into design depression.
Moreover, you can integrate Cinema 4D into a workflow that includes After Effects — the industry-standard Adobe video editing — and animation suite. Having said that, illustrations, 3D motion graphics, video game graphics, and product and architectural visualizations can be created with ease.
Pros
The use of this software allows for speeding up workflows, streamlining animation, and integrating your processes using various apps like CAD applications and Adobe products. 3D artists who want to create advanced 3D graphics quickly and easily can use Cinema 4D Studio.
Cons
Software with perpetual licenses are often expensive. But you can check out the free version to make sure it's the right choice for you before you commit.
Best Free 3D Modeling Software You Can Download Today
For 3D artists who are on a tight budget, it's a smart move to opt for free software first. This allows you to experiment with many options and then decide if this is what you're looking for. To save your time and money, we listed down below the best free 3D modeling software for you to download today:
Blender
This open-source program is capable of many incredible works. Many experts suggest that this software is a brilliant starting point to see if 3D graphics is for you.
Blender is 3D modeling software great for animation and has quality rigging, skinning, fluid simulation, smoke simulation, particle simulation, soft body simulation, and match moving features as well. Also, it has a solid rendering engine and is ideal for creating animated films, visual effects, 3D printed models, and video games.
Pros
Since it is an open-source program, there are constant improvements and available add-ons for new functionality that are unique and free of charge.
Cons
Blender can be quite overwhelming for beginners to start. It has seemingly-cluttered menus that are confusing yet highly customizable.
Daz Studio
This software has been made free to all recently with a previous retailing at $249. Now that it's free, newcomers can start creating various images and videos with the use of its vast variety of different tools and assets.
Unlike any other software, Daz Studio is more of a posing tool than creating high-end 3D models for production. For example, you can load a figure, choose its wardrobe, pose, hairstyle, background, lights, and press render.
Daz Studio is intended for users who have no experience in 3D software, but interested in portraying human and non-human figures for artistic purposes.
Pros
Daz Studio figures come with the highest customization levels. It's ideal for beginners who prefer to work with ready-made assets such as hair, clothes, shoes, and many more.
Cons
While it is totally free, a lot of features on their marketplace are not which means you'll still need to plunk down a bit of cash to get the most out of it.
SketchUp
This CAD software is one of the simplest and free 3D programs on the web. If you're looking into becoming an interior designer, then this is the right program for you.
SketchUp allows you to design and edit 3D models of interiors, landscapes, and more. It is very handy in end-to-end design, starting from the earliest design stage to the end of construction. You may also incorporate lighting effects, texture paintings, and animations in your design models to achieve your desired outputs.
Pros
Apart from easier navigation tools, SketchUp offers built-in features such as animations, lighting, and texture effects. Plus, its core 3D modeler runs right in your web browser and offers 10GB of storage.
Cons
Unlike some of the best programs out there, SketchUp cannot be integrated with other design software.
OpenSCAD
OpenSCAD is another free software that focuses more on functionality rather than the creative portion. It excels at producing exact replicas of your designs which are meant to be 3D printed later — toys, small gadgets, handy utilities, etc.
This software is ideal for anyone who is looking to make devices and toys rather than character models and creatures. Also, it's versatile and runs on all major operating systems like Mac, Windows, and Linux.
Pros
The advantage of this software lies in its definitive modeling method. In other words, it can read and build 3D models in other file formats.
Cons
One of the most serious disadvantages of OpenSCAD is the use of CGAL which works with polygonal meshes rather than parametric models. Moreover, it is not compatible with the testing features you may want for industrial designs.
MakeHuman
As its name suggests, it's more appropriate for character designs. Because of its simple user interface, this software allows beginners to easily design humanoid characters with a suite of useful and intuitive tools.
MakeHuman makes it easy to figure out how to combine meshes and create interesting personalities with the use of this software. You can also apply skin materials to your character and include extra geometry items like clothing, hair, lashes, and teeth.
Pros
MakeHuman is a very simple yet useful tool in creating human characters perfect for any project. It's easy to understand and can provide really promising results.
Cons
Although it's a time-saver in creating basic human figures, it offers a limited assortment which means there isn't much you can put on your character.
Magellan Solutions' 3D Modeling Services
There's a lot of consideration that goes into choosing the best 3D modeling software. On top of those considerations, you must choose software according to your industry and level of expertise. But if you want to choose the best software suitable for your needs and profile, it's a strategic move to seek help from experts. Not only does this help you target your criteria for the best software, but it will also improve the quality of your projects with the help of top-notch 3D modelers.
Magellan Solutions, a BPO company based in the Philippines, offers 3D modeling services custom-fit for your specific needs. We have the best 3D modeling software today in the market designed for your 3D printing, scanning, and drafting needs. Besides the latest software, our 3D artists also have the innovative skills to produce quality 3D models.
Do you want to work with experts who are extremely specialized in the area of 3D modeling software? Fill out the form below to get a free consultation today!
TALK TO US!
Contact us today for more information.