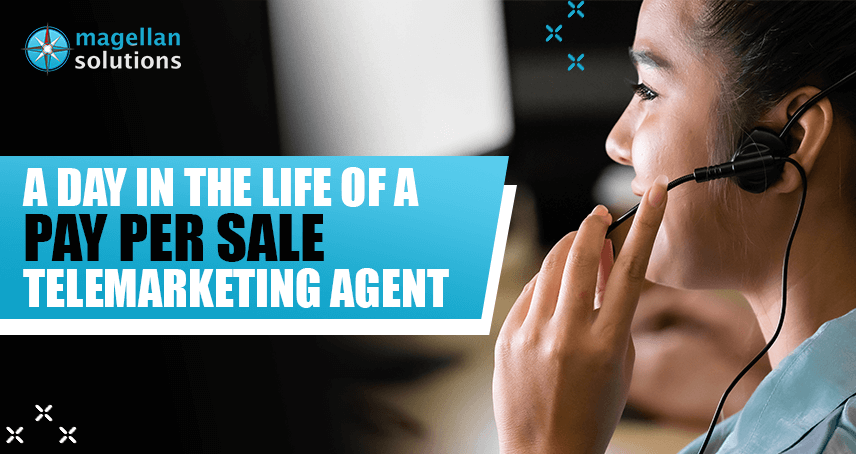 What does it look like in the shoes of a
Pay Per Sale Telemarketing
Agent?
Pay Per Sale Telemarketing also known as pay for performance sales outsourcing is a popular service among small to midsize businesses, especially in the retail and eCommerce industry.
Although PPS Telemarketing is in-demand, only some companies really know what telemarketers do and what's happening behind phone calls.
So in this article, we will step into the world of Pay Per Sale Telemarketing Agents and we will look at their successful strategies to drive positive results for companies.
An Insider Insight on Pay Per Sale Telemarketing
First and foremost, let us define what outsourced pay per sale telemarketing means.
In essence, Pay Per Sale Telemarketing is a marketing pricing strategy in which a company pays a marketing agency or affiliate partner a fee for each sale of goods or services generated by the marketing firm.
It functions like any telemarketing services, there is only a deviation on the payment structure.
Before the marketing firm sends leads over to the business owner or advertiser, the advertiser outlines the commission paid for each qualified sale and clearly defines what is considered a qualified sale or not. 
Hence, this model is considered as the least risky of all the models for owners.
Now that we understand what Pay Per Sale is, let us discuss what Telemarketing agents do.
Pay for Performance Telemarketing Agents: What Do They Do?
The job of outsourced telemarketing agents sounds as simple as making phone calls and noting down if customers are interested in a product or services. But it is far more complicated than that.
Before we head down into what makes Pay for Sales Telemarketing Agents so unique, let us discuss their responsibilities first.
Pay for Performance Telemarketing Agents Responsibilities
Telesales agents work as a member of your company's sales team. 
They work by calling consumers directly or assisting field sales people by scheduling appointments (also known as pay for performance appointment setting).
Rather than employing traditional sales techniques, a competent telesales representative focuses on the wants and needs of clients to establish strong customer relationships and repeat sales.
They do this by focusing on their responsibilities as telemarketers.
To make it easy, we divided their responsibilities into four area:
Lead Generation

Direct Sales

Order Processing
Lead Generation
Companies that focus on lead generation in a cost per call leads model are often referred to as pay per call lead generation service providers.
Companies that specialize in Pay Per Lead Telemarketing works in a similar way to any pay-per-sale marketing model. Businesses are compensated depending on the number of leads they bring to the client.
Pay per call lead generation services are done in two ways: Cold Calling and Warm Calling.
Cold calling is making contact with potential customers to convert a sale. Whereas, warm calling is reaching out to customers who show interest in the product or services you are selling.
Direct Sales
Telemarketing representatives seek to offer items or services to existing customers and new prospects. 
They use a database to find clients who have previously purchased a product or prospects whose profiles indicate that they are likely to purchase in the future.
Most representatives utilize a script to ask qualifying questions and to showcase the product's features and benefits. They also follow a script that includes responses to various objections and inquiries. 
When compared to the expense of a field sales force, using a telesales team to sell directly to clients can improve sales and lower sales costs.
Order Processing
Businesses can also employ telemarketing agents to handle repeat orders from established clients. 
This can free up time for their field sales force to focus on new business development and reduce the amount of time they spend on recurring transactions. 
When customers phone to place orders, telesales professionals might offer them other products or services. They employ scripts with prompts on relevant items and services. And they can also cross-sell to improve agent productivity.
Agents can also arrange appointments for clients in need.
Businesses that solely do this are called pay for performance appointment setting providers. Like any other PPS pricing structure, BPOs are paid in accordance to the number of appointments they set.
Customer Service
P4P Telesales representatives are also in charge of providing vital customer support. 
As part of their role in gathering data, they sometimes call customers to double-check their information and update their contact details. 
They also inform customers about new items or special offers that are relevant to their preferences. Customers who have questions about delivery or product quality can contact telesales, as well.
Even more so, they sometimes contact customers after a sale to ensure that they are happy with their purchase. Customer service calls aid in the improvement of customer relationships and the retention of customers.
As mentioned above, Pay for Performance Telemarketing Agents are not enclosed to one function only. They do a myriad of tasks to help customers and businesses and drive positive results.
Pay for Performance Telemarketing
Agents SOP
To make sure that there is consistency with the delivery of service, agents usually follow an SOP.
SOP or Standard Operating Procedures are uniformly written procedures, with detailed instructions to record routine operations, processes and practices followed within a business organization.
Of course, SOP differs from BPO to BPO. That is why we broke it down into simple and common steps:
Step 1: Call Taking
There are two categories of customer call: New Caller and Regular Caller. The agent's response will depend on what kind of call he receives.
New Callers represent new business and they are most likely inquisitive.
After greeting a new prospect, agents should do a KYC (Know Your Customer) verification. Ask the following information to the customer:
Full Name

Contact Number

Email

Address*

Identification*

Customer Inquiry
These data will be important for future use and for profiling.
KYC is also important in making outbound calls. Always double check if you are speaking to the right person.
On the other hand, Repeat Customers or Regular Callers already know your product and services by heart. They are, surprisingly, easier to handle and to convert into sales.
There are four reasons why customers call. And it is crucial for agents to listen carefully to provide a satisfying customer experience.
They're thinking about buying from you
If a customer is considering purchasing from you, they may phone your company.
This is very common to a call center company. Customers may have a few last questions before making a purchase, and many prefer to speak with someone one-on-one to get confirmed answers to aid in their decision-making.
They're dissatisfied with something/something's gone wrong
Customers may contact your company because they are displeased with something or because something has gone wrong with your product or service. 
These calls are particularly difficult to handle since some disgruntled consumers are outraged about the incident. Keep in mind that it is imperative to respond kindly toward the customer.
They're having trouble doing something on your website
When a customer is having difficulties with something on your website, they may call your company. 
Customers are unlikely to use your website if they cannot navigate it properly. This is why most people are more likely to phone and speak with a live person who can assist them.
They need an exception and want to talk to a human
Finally, one of the most popular reasons clients contact your company is to request an exemption to a rule or policy. 
They call because most customers feel they have a better chance of getting the exception if they speak to a customer service agent rather than filling out an online form.
It is important to identify what is the reason for the call so the telemarketing agent can provide appropriate support.
Step 2: Responding
A customer expects nothing less but exceptional service.
Listening also plays a major role in responding to inquiries. Michigan State University Extension even suggests that active listening can help you talk with others more clearly and with understanding.
University of Missouri highlights the importance of phone etiquette in answering calls. They note that agents must always be courteous and speak directly into the mouthpiece of the phone or a headset while talking for clear communication.
In Pay Per Sale Telemarketing it is crucial to pitch a sale at this part of the call taking process.
During a call, a skilled telesale agent can cross-sell products based on the pain point of the customers. Identifying pain points is a quirk that can help businesses generate more sales.
One practice that a cold calling company does is to compress the pitch into a one sentence. After telling them clearly who the agent is, they provide the customer with a one-sentence explanation of why they are calling them.
This sentence needs to cover three important points:
What you're offering

Why you're calling this particular person

What the goal of the call is
Some even tell their customers how much time they'll need to make a pitch. It's a psychological strategy for customers to stay in line.
Step 3: Closing and Follow-up
There are a lot of strategies in closing a call. But we've broken it down into four components:
Briefly summarize what has been accomplished on the call.

Let the customer know what happens next.

Ask the customer if there is anything else that they can be helped with.

Finish with a courteous call-closing statement.
Keep in mind that this will be the last opportunity to ensure that the caller is entirely satisfied with the service they received from. Whether you are making a sale or just answering basic inquiries, closing right is important.
The way your agent closes the call will either leave a negative or a positive impression of your company.
Once the call is done. Always make a follow up on promises.
Regular follow up gives customers a chance to be heard and engaged with effectively. 
In addition, constant contact helps customers keep your brand in their minds when they have a need that you can fulfill. In fact, existing customers receiving follow-ups are more likely to go for new offerings than those without follow up.
How to Measuring Success in Pay Per Sale Telemarketing?
The meaning of success is different for every organization. 
Some organizations just want qualified sales leads that they follow up using internal sales people. Others want to close sales directly on the telephone.
Ultimately, it comes down to two things: Firstly, return on investment and secondly how long you can support telemarketing activity until that ROI return kicks in. There is no fixed ratio for success. It differs widely. 
Success should be directly related to your achievement of your business growth targets.
On a per agent basis, you can look at their KPIs or Key Performance Indicators.
KPIs such as First Call Resolution, Average Handle Time, Average Speed of Answer, Average Time in Queue, Net Promoter Score, and Customer Satisfaction can help you identify efficiency.
In our years of experience, we've seen campaigns generate many leads / appointments each day. As well as swift wins. 
But other efforts may take several days or longer to reach decision makers. 
Similarly, we've identified projects for imminent opportunities and maintained the sales pipeline for several years until a need arises and a target organization is discovered.
What this means is to make sure you take a medium to long-term view especially when it comes to higher value sales.
A Pay Per Sale Telemarketing Service Provider You Can Trust
Of all the commission only telesales companies, who should you trust?
We are Magellan Solutions and we are known as the premier BPO service provider to SMEs. 
You can guarantee best results with our wide range of services , unwavering focus on quality over quantity, industry discipline, state-of-the-art technology, pool of talents and business transparency.
We have 18+ years of industry experience. And we are also an ISO 27001-certified, GDPR-compliant and HIPAA-compliant firm. At the heart of what we do is data protection and professionalism.
If you want to experience a difference in your business, shoot us a message! Our business development team will be with you ASAP.
TALK TO US!
Contact us today for more information.