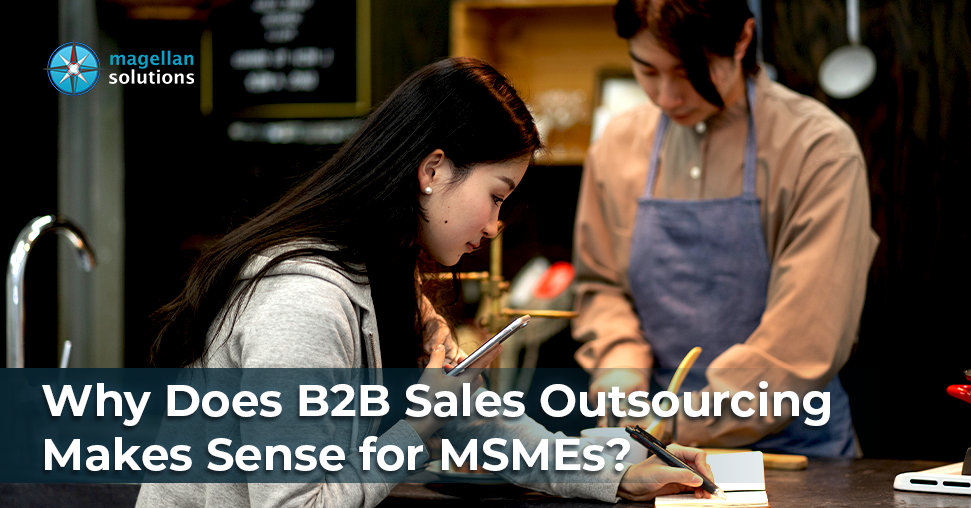 Business-to-business (B2B) sales outsourcing is a tried-and-true way for businesses to make more money. Getting professional salespeople and other expertise, sales outsourcing enables firms to seize opportunities.
B2B sales outsourcing is an essential component of any company's success that uses a B2B transaction model. The strain of not making the sales targets, could be increased by an unqualified workforce.
Sales outsourcing means you have the freedom of giving up the hassle of handling hard tasks. These include hiring employees and managing them. Employee development, payroll, and commission management can also be a part of this.
WHAT DOES B2B SALES OUTSOURCING MEAN?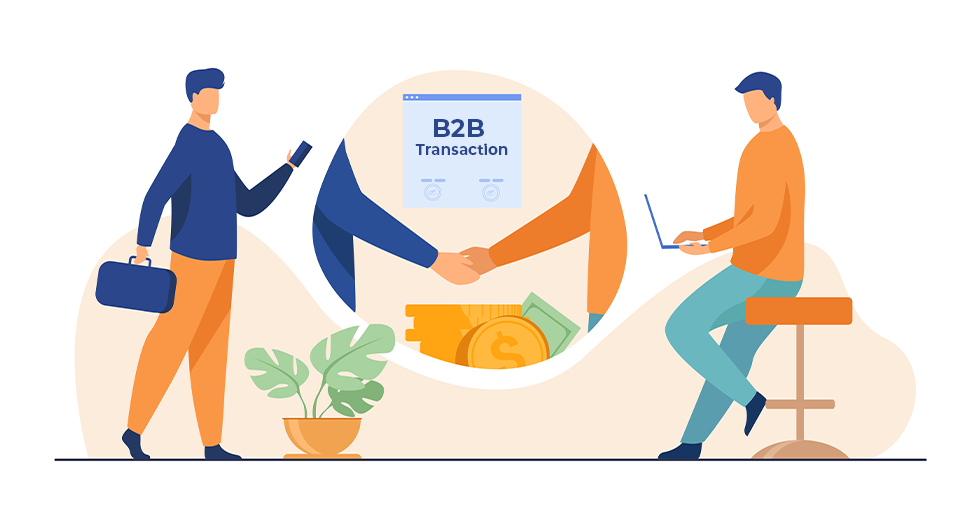 DEFINING B2B SALES 
B2B sales, as opposed to those made between a company and a consumer for their own use, are transactions between two businesses. B2B sales have higher transaction amounts, buyers who know more about the product, and a longer sales cycle.
DEFINING B2B SALES OUTSOURCING
When you outsource your B2B sales and marketing, you use the skills and knowledge of outside sales and marketing providers. SMEs may find the whole process of outsourcing scary at first if their margins aren't very big.
Lead generation strategies are important for B2B sales outsourcing companies because they regularly bring in new business prospects. Even if you don't want to grow your business, you still need to generate leads to keep your business running.
B2B SALES OUTSOURCING STATISTICS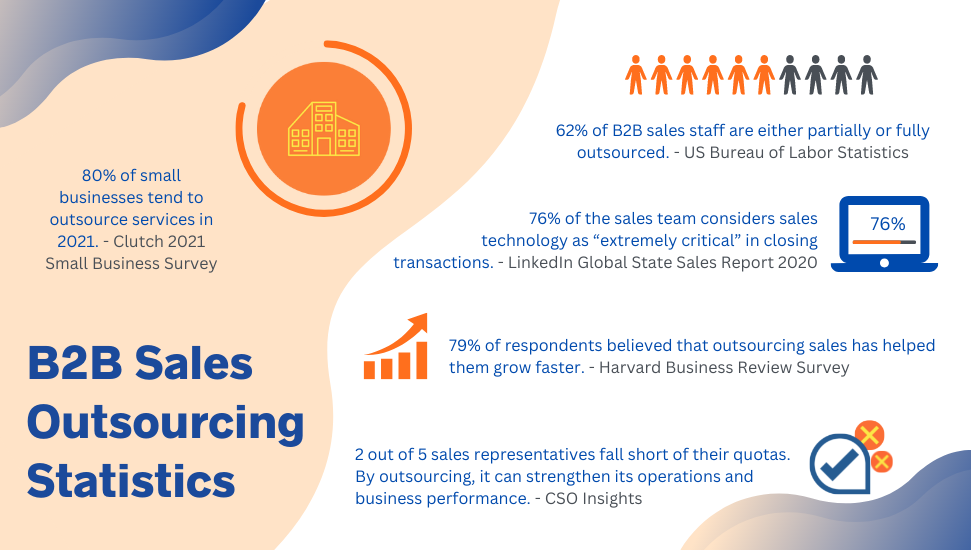 BENEFITS OF B2B SALES OUTSOURCING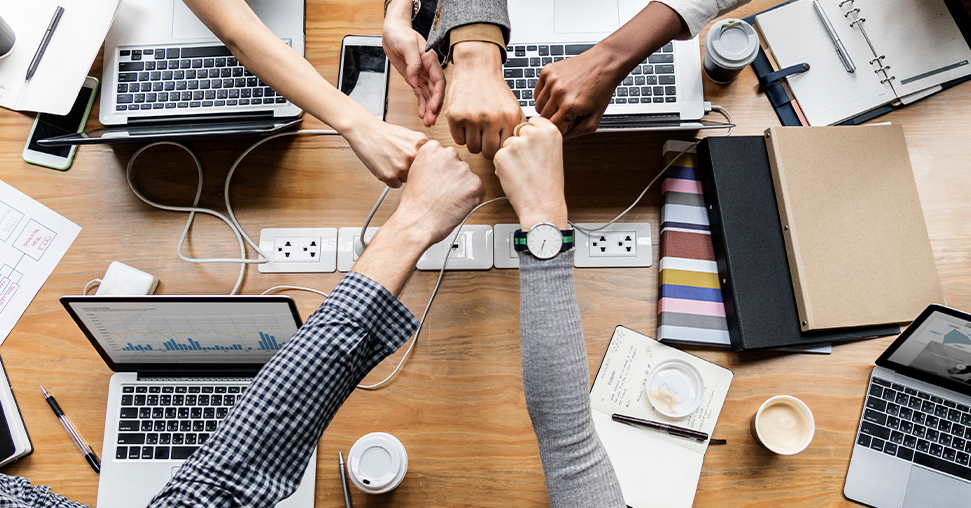 SMSEs that outsource B2B lead generation have an advantage over rivals. The following are some of the main advantages of B2B sales outsourcing:
ENCOURAGES IMPROVED EFFICIENCY & PRODUCTIVITY
A sales team that isn't part of the company's internal team may inspire those teams to grow. Along with a team from within the company, an outsourced sales partner provides a performance standard from the outside. This can help people do better in all areas. They can also show new ways of doing things, different points of view, and best practices.
PROVIDES ACCESS TO EFFECTIVE SALES TEAMS
The sales industry has a lot of turnover. Which makes it hard to find high-performing sales development representatives (SDRs) today. 
But if you have B2B lead generation, you won't have to worry about replacing your SDRs. With a BPO, you can get good people if they decide to leave. When you engage in B2B sales outsourcing, you do not just contract one SDR; you contract a whole team of sales pros.
REDUCED COSTS
The cost of hiring and maintaining field sales workers is cheaper than that of internal sales teams. Sales managers can reduce overhead expenses while increasing sales coverage by B2B sales outsourcing. 
PROVIDES CUTTING-EDGE TECHNOLOGIES & TOOLS YOU NEED
Costly sales tools and technology might have a negative effect on your company's bottom line. When B2B sales outsourcing is part of your sales process, you have access to all the tools and technologies you need. Not only for short-term, but for a long-term sales process.
SIMPLIFIES THE SELLING PROCESS
It takes work to run effective B2B sales outsourcing companies in USA. When you tackle it internally, a streamlined sales process necessitates a lot of trial and error. However, you may avoid the headache of looking for a solution that works. Instead, outsource lead generation operations with a reliable third-party supplier.
B2B sales outsourcing providers work with organizations in a wide range of industries and marketplaces. Hence, they're aware of what is effective and not. You can establish telesales representative appointments with leads in the sales funnel using a tried-and-true method provided by B2B sales outsourcing companies.
OFFERS SUPERIOR ACCOUNTABILITY & TRUSTWORTHY PERFORMANCE MANAGEMENT
Typically, B2B sales outsourcing companies are compensated on a success-fee basis. The terms of payment are usually based on how well the outsourcer closes business with new clients. 
As a result, people who outsource are motivated to assume more responsibility for the telesales process. They are in a good position to propose fresh concepts that will constantly enhance the outcomes of their sales efforts.
HELPS WITH REACHING UNTAPPED MARKETS
When it comes to having enough sales teams to cover various regions and industries, SMEs frequently struggle. Additionally, businesses frequently have a ton of potential customers that they are unable to approach because of resource limitations.
SAVES WORKING TIME 
Your work time is extremely valuable, and you should respect it. You can save a considerable amount of time with it.
SECURES YOUR COMPANY'S VALUE
Lead generation is another area where many businesses misunderstand the expenses of internalizing departments. B2B sales outsourcing helps your business save money that can be used for other initiatives in addition to saving time.
It involves more than just employing an SDR staff to make calls, send emails, and create content for your website. If internalizing lead generating activities were so simple, everyone would do it. Their efforts to build their firm and sustain it depend on B2B sales outsourcing.
PROVIDES KNOWLEDGE & EXPERTISE
By working with B2B sales companies in the USA, a business can learn from their partners. With their many years of experience working with clients, they can give you valuable lessons on management. Particularly for businesses in a somewhat secluded industry, this is very helpful for picking up fresh ideas for sales approaches.
NOW'S THE CHANCE TO CONSIDER B2B SALES OUTSOURCING
B2B sales outsourcing may totally replace traditional sales frameworks. Businesses with slow sales growth and stagnant lead conversion rates may find success with outsourcing.
Outsourcing sales operations can be quite beneficial. But only if you know what you are looking for. When equipped with the proper resources, an outsourced sales team can offer benefits that internal sales representatives cannot. 
When evaluating possible providers, make sure the vendor you choose has a mindset that closely resembles yours. From the culture of your business to your value in life. B2B sales outsourcing can help you achieve your goals. But it's important to choose the right sales representative since there are so many different ways to do it. 
TIME TO HYPE UP YOUR MARKETING STRATEGIES WITH OUR EXPERT SALES TEAM
It is time to consider outsourcing your sales team to us and achieve optimal results. Magellan Solutions helps with your outsourcing needs at a significantly reduced cost without compromising quality.
With more than a decade of expertise in the field, we take great pride in offering only top-notch inbound call center services. 
On top of that, we are an ISO-certified and HIPAA-compliant outsourcing company. We provide a great variety of quality call center solutions. 
Give us a call when you are ready to entrust the lead generation process to top-performing sales and marketing professionals. 
TALK TO US!
Contact us today for more information.