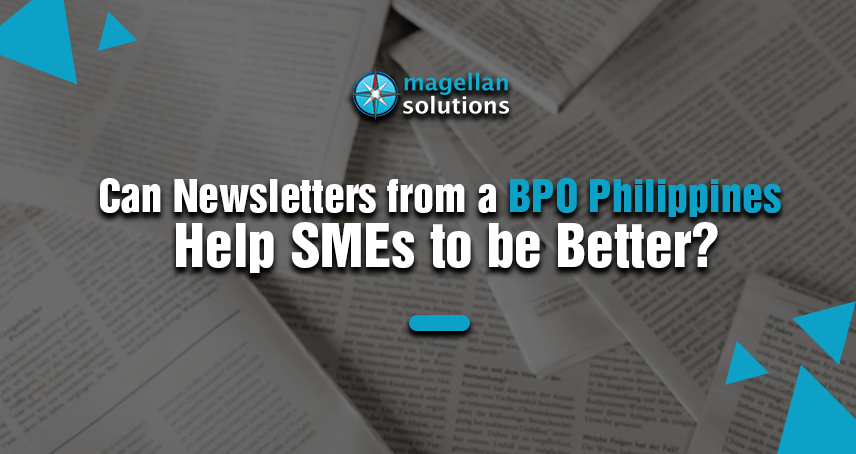 BPO Philippines
Believe That Email Newsletters Get Better Marketing Results, Here's Why.
Email newsletters are marketing tools of the past. Some even believe that social media has already replaced it. But is it true?
Newsletters can be highly effective, much more so than social media, if used correctly.  
So don't leave them out of your business strategy just yet, hear us out first.
How t
op BPO companies in Philippines 2021
create effective newsletters
There are hundreds, or even thousands, of free email newsletters that can help you learn whatever you need to know to help grow your business.
One of Magellan Solutions longest partners explains how content writing outsourcing for newsletters helped them grow as entrepreneurs:
1. Problems they want to solve
What they want to do is to deliver contextual business news because an entrepreneur needs to stay updated about the market to stay ahead. But how can they do that?
They know their clients are looking for resources to use and implement in the business immediately. And the internet could get very cluttered and extremely confusing.
So they thought of one solution: newsletters.
Before the team started off the newsletter campaign, they asked:
Why should I read this newsletter – what value will it add for me?

What makes me different from existing options for the reader?

Why am I creating this newsletter – the purpose
2. Newsletter adds value to businesses
The goals are clear and simple: newsletters should help their clients think better and make informed decisions about their business.
It is common to find something unique from every newsletter because the materials used are curated from all trusted sources. 
In addition to that, only the best and the most relevant content are picked to preserve the materiality of the theme.
Also, the newsletter offers occasional product discounts and partner offerings. Since the product is essentially free, all newsletters have a signup button.
3. Standing out
There are a lot of newsletters in the market. But few catered to its user base. 
SMEs need to always stay updated. They should always be on the lookout for new resources on topics like:
Most news websites cover news as is. However, things such as laws, regulations, or new developments are rarely explained. 
That's where we come in.
The aim of our newsletter is to simplify complicated topics and communicate ideas that will appeal to consumers.
4. Setting up the newsletter
One of the biggest and the trickiest parts of setting up a newsletter is the email service provider and IP. We wanted to ensure the newsletter is delivered to inboxes, but in a legal way.
The newsletter's opt-in form was hosted as an exit-intent pop-up on the client's homepage. Moreso, it had the form embedded in the "welcome back" landing pages.
5. The result
In its first week, the client acquired around 100 subscribers. 
After a few more weeks, they started seeing improvement in the number.
The team was also very happy about open rates and click rates. The average open rates always remained at 27% and click rates hovered at 5%.
Business process outsourcing industry in the Philippines
can do so much more
Social media is passive. Even if your consumers do visit a social platform, they may or may not see your posts. 
Email, on the other hand, is more active. Everyone checks email.
With a catchy subject line and interesting feature article, you have a better chance of capturing your audience through an email newsletter instead of a short social media post.
Contact us via our form below to get started with your own newsletter!
TALK TO US!
Contact us today for more information.