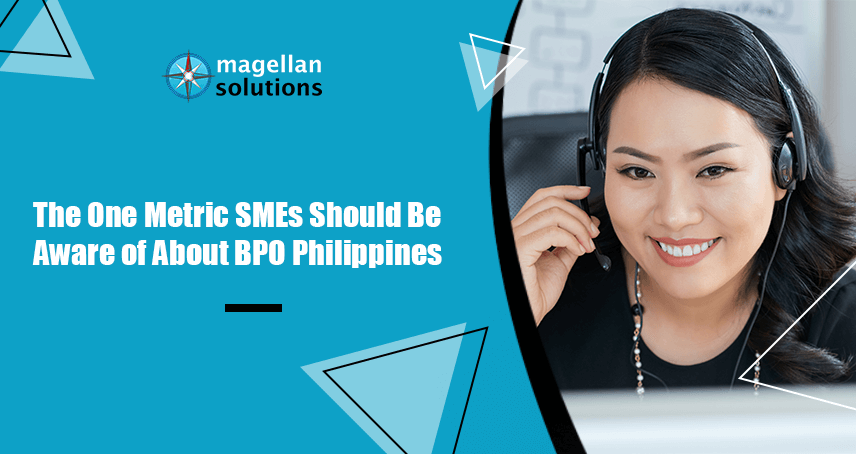 How BPO Philippines improve this metric for SMEs
BPO Philippines offers multi discipline strategies to improve the Net Promoter Score (NPS) for businesses worldwide. 
For SMEs and whatever industry you are in, NPS is critical for your operations, tactical, and strategic aspects of your business management. 
What is Net Promoter Score (NPS)
This is the gold standard metric to measure customer experience and assess customer loyalty. Often, this is in the form of a single query survey that customers take after contacting your business call center. 
BPO companies in the Philippines do this via various means. These are the following:
Phone

Email

Social media

Live chat
Your customers then answer questions like, "On a scale of 0-10, how likely are you to recommend the company or agent you spoke with to a colleague or friend? Why?"
This question results into quantitative results that differs into two:
0 means the customer will extremely unlikely to recommend the company/brand
10 extremely likely to recommend the company/brand to peers
The score is then divided into three:
Detractors (0-6) or the Unhappy Customers
These are the customers who can damage your brand. Which means they are not happy with your product and have had a history of at least one complaint with your business. 
These are the type of customers that rant about your service or product on social media. They do not always stay as detractors though, with proper marketing messaging you can strive to at least make them as Passives.
Passives (7-8) the Unenthusiastic If Satisfied Customers
These are the customers that will highly likely to leave your brand or company when they see a better offer. You often satisfy them with your products or services but that doesn't mean they are loyalists. 
This is due to the fact that these customers are often on the lookout for something better. That is why you should never take them for granted and think that they will stay with your business.
Promoters (9-10) the Loyal Customers
These customers are those people who are extremely happy with your business. Customers who are most likely to purchase from your brand again. They also recommend your products or services to peers and family and will also defend you from critics. 
Obviously, this is the most coveted group of customers for any business. Which NPS helps you to identify among the rest. 
How is NPS Calculated?
BPO Philippines can calculate your company NPS through the following steps.
Add the number of Detractors, Passives, and Promoters (D + Pa + Pr)

Calculate the percentage of each group by dividing each group total by the TOTAL number of survey responses

Subtract the percentage of total detractors from the percentage of total promoters. Get the value of NPS
For this example, you receive 100 survey responses with the following values for D, Pa, and Pr:
10 Detractors (D) – 10%

30 Passives (Pa) – 30%

60 Promoters (Pr) – 60%
NPS (60% Pr – 10 D) = 50
How
companies that outsource to Philippines
leverage NPS to drive growth?
NPS is considered as relatively straightforward. As this provides insights that either your costumes are satisfied or they are not. It's perceived simplicity does not mean it is not important. 
NPS provides vital insights in the context of Customer Satisfaction (CSAT) and Customer Effort Score (CES). What are these two?
CSAT measures how products, services and customer experiences meet or exceed customer expectations

CES is

customer experience

survey metric that allows companies to analyze the ease of customer interactions and resolutions during a request
Why is NPS among the popular customer survey metrics? This is due to the following:
Simplicity

Customers can answer quickly

Companies can easily track and understand their responses
For the business internal management, NPS is useful for the following reasons:
Establish benchmarks

Create employee incentives

Predict future gains or losses

Hone strategies like word-of-mouth marketing
BPO companies in Metro Manila that deliver your NPS survey results among other metrics provide you the best way to get customer reviews. As well as testimonials. These testimonials often influence the buyer in their purchasing behavior. 
Good numbers that support the advantages of NPS for your business are the following:
92%

of customer read online review before making a purchase

70%

of people trust reviews and recommendations

88%

of people trust online testimonials and recommendations 

97%

of B2B customers consider testimonials and peer review content as the most reliable type of content

There is

380%

increase in conversion for expensive product when testimonials are listed

There is

45%

increase in traffic for businesses that use testimonials
What is considered a good NPS for
outsourcing companies in the Philippines
For a contact center based in BPO Manila Philippines, any score over 50 is considered good. This means you have at least 50% more Promoters than Detractors. But knowing the score is only the first step. The most important factor of NPS is the "why?". 
Your customer's answer to the "why?" question gives you far more actionable insights into what your business is doing well and how you can improve. This also takes you from scores to behaviors. Which are key elements to implement effective changes that result in more Promoters.
In an Harvard Business Review 2003 article, they found out that the company's NPS helps predict the following:
In addition to this, various research study suggests the following benefits of NPS:
NPS leaders

outgrow

their competitors by 2.5 times

A higher NPS correlates with

expanded revenue

with NPS leaders can expect 24% of their revenue to come from expansion

Promoters are

420%

more likely to make another purchase

Promoters are 560% to forgive your company or brand after a mistake

Promoters are 720% more likely to try a new product or service
How
business process outsourcing industry in the philippines
improve your call center NPS and CX
BPO Philippines has been proven to provide stellar customer experience no matter where they are in the globe. That is the reason why there are tons of companies that outsource to Philippines, especially SMEs. 
Here are the following key steps that BPO companies in Metro Manila can do to improve your NPS as a startup or SME.
1. Measure QA as part of daily operations
BPO companies in the Philippines, study your quantitative and qualitative NPS responses. They can also determine your needed adjustments and identify what those adjustments are. 
They can provide your company with reports that include responses from follow-up and open-ended questions. These provide you with key drivers that directly influence your company's NPS score. 
Thus you can make decisions and adjustments that can benefit your in-house employees and customers. BPO Philippines is equipped with a streamline internal quality assurance process and software. 
This can help you assess every interaction in real time. Identify patterns and trends across your call center to monitor quality and create positive change. 
2. Listen to calls
BPO companies in Metro Manila provide call center managers who routinely listen to recorded interactions that scored well and those that didn't. This helps you identify which customer-centric actions were taken that resulted in a positive or negative scenario.
This in turn help you to create an outcome-based QA compliance form. This is a checklist to help you evaluate if call center agents from your BPO Manila Philippines achieve customer experience outcomes that you want. 
They can help you create an assessment to determine if each call achieves the best outcome for that interaction. 
3. Engage with customers
Business process outsourcing industry in the Philippines helps you engage with both Promoters and Detractors and even Passive. 
This is possible through agents that make follow up with your Promoters to thank them for their loyalty and demonstrate your continued commitment in helping them. This is often in the form of email or text messages, and social media interaction. 
While for your Detractors and Passive, BPO Manila Philippines ensures their strategies are in place to let these customers know that your company is actively working to improve and solve their issues.
4. Identify Poor Performers and Provide Training
NPS does not only provide insights from external factors which are customers. It also provides a good source for retrospection for your business. As this can identify poor performing agents and act on that feedback.
BPO companies in the Philippines can provide your business with managers who are committed to regular training, coaching, and advising. Factors that are a consistent part of working in the call center. 
5. Maintains consistent delivery
As the old saying goes, consistency is key. This is also applicable if you want to improve your NPS and customer experience score. Personalized services are often the demand of customers from call centers in every contact. 
BPO Philippines helps you define what it means to deliver consistent service. Which is possible through setting attainable benchmarks that are measurable, translatable and shareable. 
These often include client retention, staff churn, first contact resolution rate, response time, CSAT and of course, NPS. 
Magellan Solutions is a key player in
BPO Philippines
that is SME-focused
We have 18 years in the business that enable us to focus on key metrics in delivering our call center solutions. Among them is to improve your NPS alongside other metrics to ensure we provide the best CX for your coveted consumers.
Magellan Solutions employ the best manpower in the country who understand your business and your customer's pain points. We ensure our call center managers are here to address and solve each problem that bugs your customers.
We also use the best CRM tools to ensure our services are streamlined at its peak. Our infrastructure is here to support whatever your requirements are.
We protect your data and information with the best security protocols as we are ISO 27001-certified and HIPAA-compliant.
Contact us today and let us improve your business contact solutions experience. Let our business development managers help you create the best call center solutions for you. Fill up the form below!
TALK TO US!
Contact us today for more information.