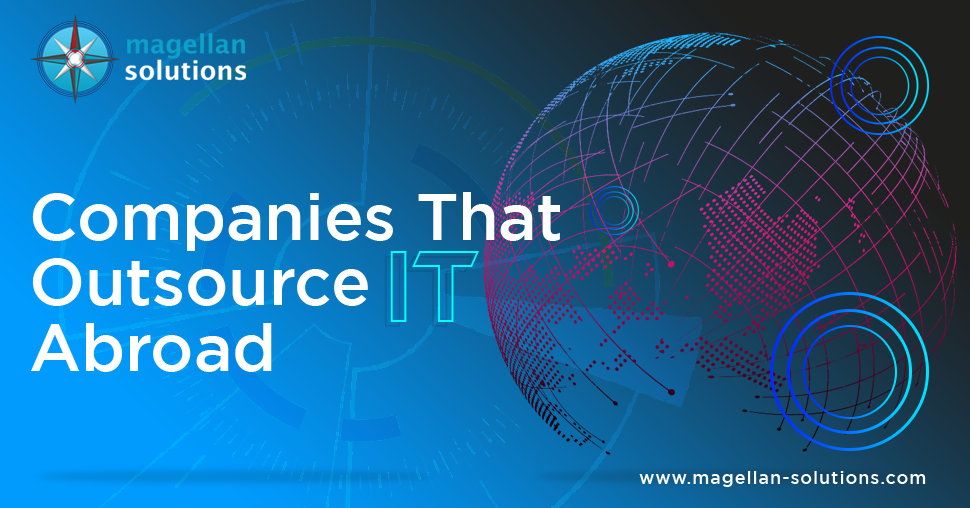 Companies That Outsource IT Abroad and Why You Should Too!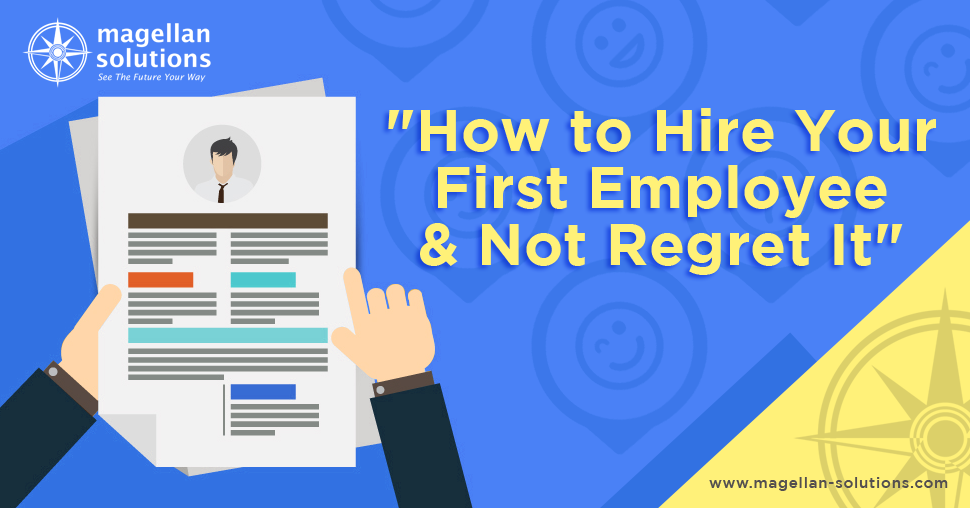 How to Hire Your First Employee & Not Regret It
Building your manpower is difficult. The margin of hiring the best talent is slim in a pool of potential job candidates. This speaks volumes among small businesses that are no strangers to bad hiring decisions — which cost them such significant financial impact. And without a checklist for hiring employees, they fall prey to making a bad hire.
According to Undercover Recruiter, the cost of making bad hiring decisions can be as much as $240,000 per person. The expenses are broken down into hiring, pay, and retention costs. Aside from financial impact, a bad hire can also affect some business areas. This results in decreased productivity, cultural imbalance, and a bad reputation.
For small businesses, the consequences of bad hires are much more significant than expected. To prevent a bad hire from wreaking havoc on your business' budget, we provided below a complete checklist for hiring employees. This checklist will not only be of great help to first-time employers. This will also serve as a guide for some employees needing comprehensive assistance in hiring.  
If you want to get better-quality candidates and minimize your hiring process, keep reading.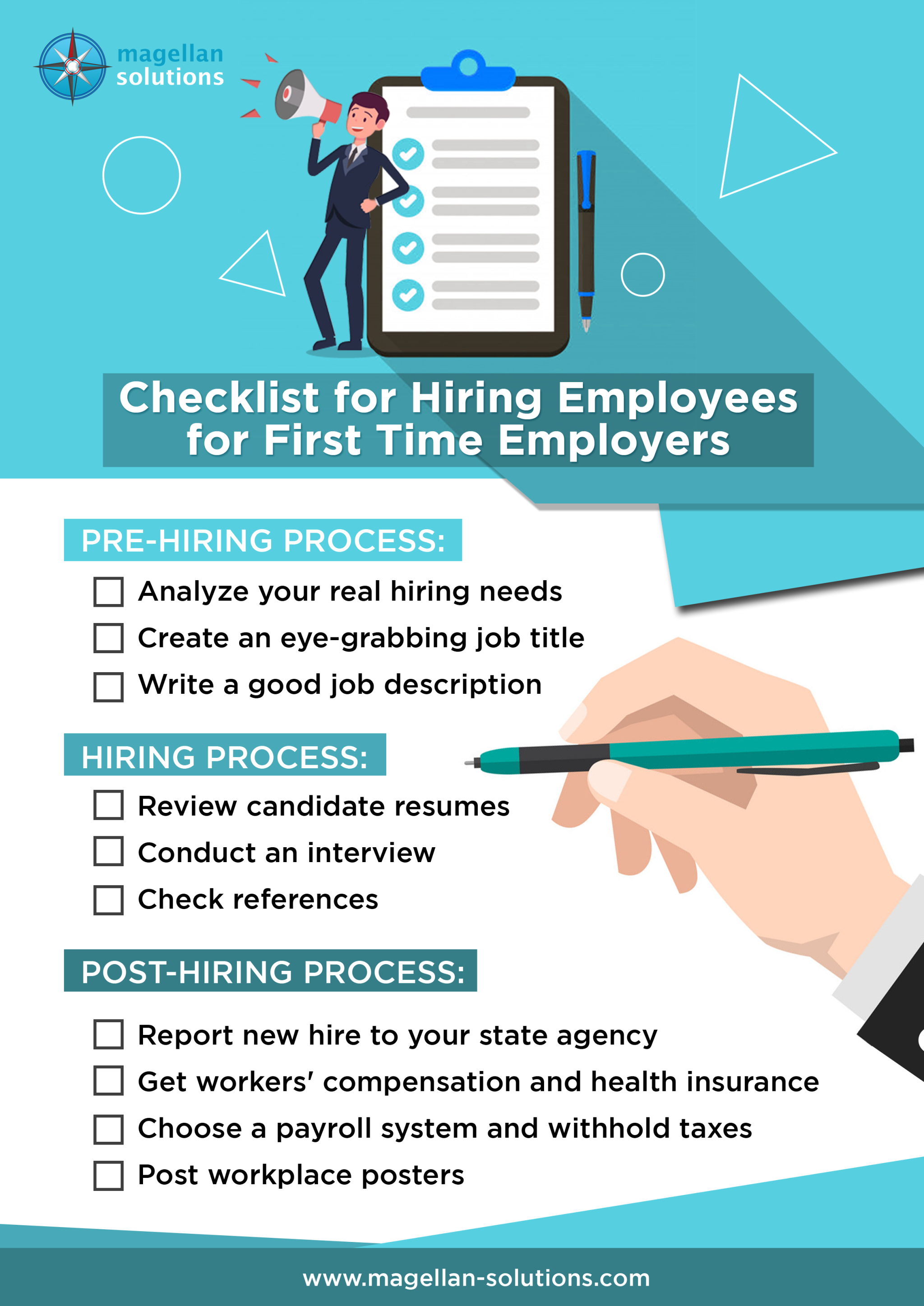 Here's What to Prepare Before Moving to the Recruitment Process
Onboarding the right candidate follows essential procedures. These procedures help employers to identify hiring needs ahead of time. In this section, we will outline a checklist for hiring employees to know who you need to hire and how to attract them:
Analyze your real hiring needs
  The first step is to identify the critical skills your organization needs. Many employees struggle to fill positions because they tend to overlook this task. When you do not know your hiring needs, your organization will likely suffer from skill gaps. Hence, evaluating your employees' current skills is crucial to determine what your company is lacking. It will also help you determine whether your company needs to hire in-house staff or outsource from a service provider.
Create an eye-grabbing job title.
 Let's assume you have now identified your desired vital competencies. You can now develop a job title that reflects employees' tasks and responsibilities. Your job title should capture the competencies your organization needs. It should also be attractive to lure quality candidates to click on your job advertisement. 
To get more clicks, it is advised to keep your job title concise, with 80 characters or less. 
Write a good job description.
 A good job description is your way to present an open role in the market. When you have a good one, it's easy to stand out from the rest. Remember that it doesn't only communicate the competencies your organization needs. It can also provide a glimpse of your company culture. 
If you want to persuade candidates to choose you over others, you must come up with a meaningful job description. For a concise job description, you may follow the standard structure: title, role summary, duties and responsibilities, education, and skills. 
Here's How to Select the Best Talent Possible for Your Open Position
 The hiring process will put your hiring decisions to the test. In this stage, you will make the most crucial decision — choosing the candidate with the best chance of success on the job. But you must undergo a dynamic selection process before you find the best talent. In this section, we will provide a checklist for hiring employees to help you bring the best talent into your organization:
Review candidate resumes
 After receiving many applications, it's time to narrow down the best-qualified talent. To do this, you must have a standard you will use throughout the screening process. Here is relevant information you must look for in a resume to help you decide who to hire:
Roles and responsibilities.

Evaluate your applicants based on how suited their previous roles and responsibilities to the job you are offering.

Experience.

Ensure your applicants' work experience is relevant and consistent with your job role.

Skills.

See to it that your qualified candidate has all the talents and expertise required to perform the duties you will be asking.

Achievements.

Candidates who have generated good results from their previous job can be a good team player. 

Education.

Aside from educational background, you can also check for training, seminars, and certificates that can demonstrate suitability for the job position.
 Once you have considered the above information, you can conduct a phone interview for successful candidates. This is to ask further questions about their experience, skills, knowledge, and salary expectations. After hearing it from them over the phone, you have a list of applicants who will proceed to the face-to-face interview. 
Conduct an interview
 You will craft interview questions in this stage to obtain the needed information. This may sound challenging, especially if you have no experience assessing candidates. To spare you from headache, here are tips for evaluating your potential employees:
Hold a behavioral interview.

A

behavioral interview

is used to discover how a candidate will respond to an employment-related situation. This type of interview will provide you with ideas on how well a candidate will perform in the future. 

Avoid cliche questions.

Do not bombard your candidates with questions you have asked during the previous selection process. Instead, focus on questions that will highlight their work ethics and attitude. You can avoid such cliche questions by seeking help from

professional recruiters

. They can develop a list of practical questions to help you with your hiring needs. 

Employ a cultural fit assessment.

This type of assessment is necessary to determine how well a candidate will fit in your organization. Remember that a poor culture fit can affect the daily interactions of workers with their teammates. That being said, you should choose a candidate whose culture parallels your organization's. 

Tie your questions to your job requirements.

Your interview questions are supposed to assess each skill you seek in a candidate. 
Check references before choosing the perfect candidate
 After a thorough assessment during the interview stage, you now have a handful of candidates who will vie for the coveted job role. Before deciding who is the most qualified, you should first perform a background check among your successful candidates. This is to verify their skills and honesty in the application and interview process. 
After calling at least three references from your top candidates, you now have the right employee in mind. Notify your rejected candidates immediately and offer employment to your new employee. But before onboarding your new employees, ensure they have the proper employment eligibility. Otherwise, concerned agencies like the Department of Labor will impose monetary penalties and criminal sanctions against you, as the labor law states. 
 If your business is operating in the United States, here's how to hire employees who are legally entitled to work in the US:
Require your new employee to fill out section one of Form I-9 on their first day on the job. The form includes their contact information, Social Security number, and employment eligibility.

Ask your new employee for valid documentation with their ID and employment authorization on their third day on the job. This can be a primary ID such as a passport or proof of residency or one secondary ID like a driver's license combined with a supporting document such as a Social Security card.

If you have completed the Form I-9 and reviewed the necessary documents, you can now proceed to the following process.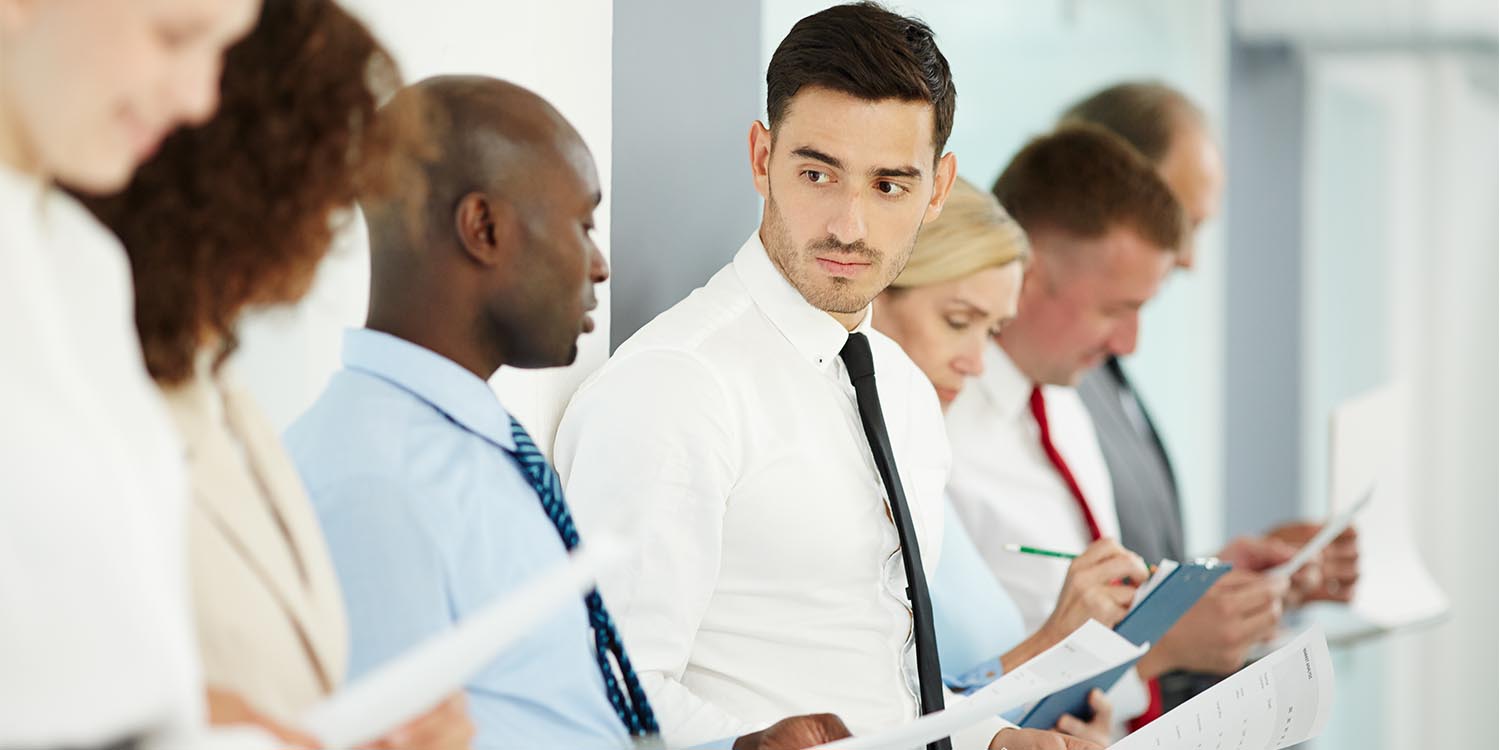 Here's What to Do Next After Hiring Your New Employee
 When bringing a new employee on board, there are legal requirements you must meet to comply with federal and state labor laws. Here's a checklist for hiring employees that summarizes essential steps you need to take as a lawful employer: 
Report new hires to your state agency
As required by the Personal Responsibility and Work Opportunity Reconciliation Act of 1996 (PRWORA), you must report your newly hired employee to your state employment agency. Your agency will turn the information into a national directory of new hires. The data is vital in preventing workers' compensation fraud and tracking parents who owe child support.
Get workers' compensation and health insurance.
Workers' compensation insurance protects your employees from any work-related injury or illness. To avoid getting sued, you have to pay out of pocket for your employees' work-related injuries. 
However, workers' compensation laws vary in every state. But most states will require you to get an insurance policy. Thus, you should review your state's requirements and find a policy that suits your business.
Choose a payroll system and withhold taxes.
 When you hire employees, you must determine how you want to pay them. You can pay them through direct deposit, paychecks, or cash pay cards. But first, you need to obtain bank account information from your employees before you can start.
  Payroll has three components, which you need to understand to have easy management of your employees' benefits, wages, taxes, and other deductions:
Paying employees.

This includes choosing a schedule, every week or once a month, to pay employees. It also includes calculating employee wages, withholding income tax, and issuing the paycheck.

Paying payroll taxes.

This refers to paying the federal and state taxes that are withheld from employment and other business taxes.

Filing taxes.

This pertains to completing and filing quarterly tax forms to inform the government who has been paid and which taxes have been taken out.
 Most small businesses lack a consistent approach to payroll management. This is due to hundreds of tax codes and payroll regulations they must understand. Given this situation, many choose a payroll service to deal with all the tasks surrounding payroll and taxes. 
Post workplace posters
The Department of Labor requires employers to post workplace labor law posters and notices. Failure to comply with this requirement can lead to fines and penalties. 
Workplace posters notify newly hired employees of their rights and responsibilities as an employer. It serves as a reminder for employees always to remain compliant. With this, they are expected to act according to whatever employee protection the law requires them to do.
Is there any way to make your recruitment process faster and easier?
 If your business is starting, you will opt to streamline your hiring process. This is to save a great deal of time and money. You might ask if there is a shorter alternative route to hiring the best candidate. The answer is none, not at least skipping the pre-recruitment process and heading to the hiring stage. 
The above checklist for hiring employees sums up the best practices of pre-hiring and post-hiring procedures. None of those essential parts shall be overlooked or removed. They must be followed strictly for successful employee recruitment. There is no other workaround to make your recruitment process faster and easier unless you outsource your recruitment needs to a trusted service provider. 
A good recruitment process outsourcing service provider helps you handle your recruiting process. This is to save you time, money, and effort while you benefit from the industry experience of various recruitment professionals. Outsource today and bring more effectiveness to your recruiting processes!
TALK TO US!
Contact us today for more information.