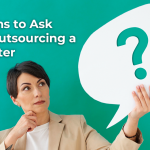 Questions to Ask When Outsourcing a Call Center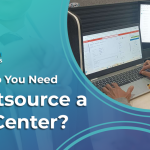 When Do You Need to Outsource a Call Center
Picture this: You have a successful business with a growing customer base who patronize your products and services.
But there's one problem: You receive hundreds of calls, emails, chats, and messages from your customers every day. As much as you want to accommodate them all, you're overwhelmed and don't have the time, resources, or expertise to deliver excellent customer service.
It is said that the average call-abandonment rate for incoming inbound calls is 6.44%. With this rate, customers, sales, and reputation can be lost. 
What can you do? The solution is simple: Opt to outsource inbound call center services. 
But what to look for when outsourcing call center services for your business? Keep reading as we'll show you the things to consider when outsourcing.
1. Partner Up With a Reputable Outsourcing Company
I bet no one wants to partner up with a company with an unfavorable reputation. To avoid this, make an outsourcing partner selection. Make a list of possible inbound outsourcing companies you can work with.  Explore their company profiles and track records. 
One of the most reliable ways to assess their performance, reliability, and the satisfaction of their past clients is by reading reviews and testimonials. 
Nowadays, Consumers tend to post and express their grievances and negative feedback about their experiences on their social media platforms. So, if an outsourcing company has a tint on its reputation, you will surely be able to spot it.
2. Check the Types of Services Offered
Businesses that outsource usually have distinct needs. They may need assistance in customer service, technical support, sales and telemarketing, back-office operations, finance and accounting, healthcare services, legal process outsourcing (LPO), IT and software services, multilingual support, etc. 
For the BPO companies to stand out, they aim to offer and specialize in these services. One outsourcing company may offer them all, but some companies still have limited specialization. So if you need a particular service, it's best to ensure they are already experienced in delivering it. 
If you're still a start-up company, choose a partner that offers diverse services to accommodate future business expansion. The ability of the outsourcing partner to scale their operations based on your evolving requirements without compromising the overall work quality is an important aspect that needs to be observed.
3. Look for a Company that Knows your Industry
If an inbound call center company deeply understands your industry, its agents may engage with your customers more efficiently. Even though you outsource your inbound support services to a third party, you want someone to represent and mirror your brand and image. 
Since they are familiar with what you do, they can properly address customer's queries and concerns. This may translate to a shorter turnaround time that can help you save operational costs and avoid frustrated customers. 
Moreover, choose an outsourcing company that has knowledge of your industry and is well-versed in following the standard operating procedures to avoid the risks of compliance violations.
4. Check Their Technological Capabilities
The way outsourcing companies operated 10 years ago is different compared to how things are efficiently done today. Thanks to technology!
One of the significant contributions of technology to BPOs is automation. Through business automation, repetitive tasks are simplified, and processes are streamlined to improve accuracy and workflow, resulting in faster service delivery.
There's a misconception that the use of technology in BPO is expensive. While it's true with the upfront costs, it can be cost-effective in the long run. 
When you outsource inbound call center services, your partner company must embrace technology as it improves call center efficiency. 
A tech-savvy partner can implement sophisticated tools like automatic call distribution (ACD) systems and interactive voice response (IVR) systems, streamlining operations and enhancing the customer experience. 
5. What Size of Businesses Do They Cater?
Apart from the service that the outsourcing partner specializes in, knowing the size of the market, they can cater to matters. This is because the market size reflects your business's potential demand and growth opportunities. 
If you choose a partner who can serve a large and diverse market, you can benefit from their experience and expertise in different domains and regions. Moreover, you can also leverage their network and connections to expand your customer base and reach new markets. 
However, if you choose a partner who can only cater to a small and niche market, you may face limitations and challenges in scaling up your business and achieving your goals. Therefore, it is important to assess the market size of the outsourcing partner before making a decision.
6. Access To Specialized Talent
Access to specialized talent can provide many benefits for your business, such as improving the quality and efficiency of your work, saving time and money, and expanding your market reach and customer base. 
These benefits can help you grow your business and achieve your goals faster and easier than doing everything yourself or hiring new employees. Here are the other reasons why choosing an outsourcing company with a pool of individuals with specialized talent must also be considered:
If you need specific expertise but it's unavailable in your area,

offshore staffing

comes in. Outsourcing can help you fill the skill gaps for a competitive edge in your industry.

You can improve the quality and efficiency of your work by outsourcing to experts with the knowledge and experience to handle complex or specialized tasks. Outsourcing can also help you reduce project errors, rework, and delays.

You can save time and money by outsourcing to talent who can deliver faster and cheaper results than hiring and training new employees. Outsourcing can also help you avoid the costs of infrastructure, equipment, and technology required for specific functions.

You can expand your market reach and customer base by outsourcing to talent who can offer services or products in different languages, regions, or domains. Outsourcing can also help you leverage the network and connections of your outsourcing partner to access new opportunities and markets.
Where Can You Find Such An Inbound Call Center?
Considering these factors, if you outsource inbound call center services, you can find a suitable partner for your business to meet your needs and expectations.
Magellan Solutions is a leading inbound call center outsourcing company providing high-quality and cost-effective customer service solutions for over 18 years. We have a team of experienced, skilled agents who can handle various inbound customer support services.
If you want to get a glimpse of the services that we're accredited for, call us today for a free quotation!