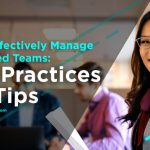 How to Manage Outsourced Teams: Best Practices and Tips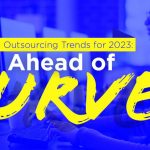 The Top 10 Outsourcing Trends for 2023: Stay Ahead of the Curve
In today's competitive business landscape, excellent customer experiences are crucial for small and medium enterprises (SMEs) to succeed. Embracing customer experience outsourcing strategies is a game-changer for maximizing customer engagement. SMEs must prioritize customer satisfaction and loyalty to have an edge. Maximize the full potential of your SME by mastering the art of customer experience. 
The customer experience (CX) is of utmost importance because it impacts the following: 
Client retention

Reputation

Customer loyalty

Overall business success 

Businesses need to create lasting interactions rather than simple transactions. A satisfying customer experience encourages brand loyalty, produces repeat business, and draws in new clients via positive word-of-mouth. SMEs set themselves apart from their rivals and open the road to long-term success. 
Business process outsourcing (BPO) offers SMEs an effective tool to improve the customer experience. BPOs provide the tools to create effective and tailored customer engagements. Outsourcing allows SMEs to access experts in delivering excellent customer experiences.
SMEs can optimize customer service operations with the help of contact centers:
Industry expertise

Simplified processes

Advanced technology
Additionally, SMEs have access to the following:
Multilingual support

24/7 assistance

Customer relationship management (CRM) platforms
Ensuring seamless and customized customer engagements will increase customer satisfaction. 
Today, we will unveil techniques to improve customer experiences through BPO. We will give businesses the best practices to help their SMEs reach new heights. Discover the capability of outsourcing as we lead you on a path to unleashing your company's potential.
Understanding Customer Experience
Businesses nowadays value and prioritize positive customer experiences. It comprises essential elements like service quality, convenience, personalization, and emotional connections. SMEs can establish solid customer relationships and promote success by creating unforgettable customer experiences. 
Without a doubt, there is a connection between customer satisfaction and business success. Customers will likely repeat transactions if they have had a good experience. 
This loyalty results in the following:
Higher lifetime value

Increased client retention

Favorable word-of-mouth referrals

Good reputation and feedback
Poor customer experiences can also lead to lost sales and a tarnished reputation.
SMEs can explore customer experience outsourcing strategies through BPO. It will allow them to capitalize on the effects of excellent customer experiences. CX outsourcing allows SMEs to tap into specialized expertise and cost-effective and scalable solutions. By collaborating with BPO companies, SMEs can guarantee improved customer experiences. 
Benefits of BPO for Enhancing Customer Experience
Outsourcing has many benefits for SMEs looking to improve their customer experience. SMEs must adopt customer experience outsourcing strategies. They can gain advantages that enable them to provide excellent service. 
Flexibility and Scalabilty
SMEs need assistance to address evolving market dynamics and customer behavior. Contact centers can adjust operations to match customer needs and ensure resources are in sync. This flexibility enables SMEs to provide reliable support, boosting customer satisfaction and loyalty.  
Access to Advanced Technology and Specialized Expertise
Outsourcing lets SMEs access experts who can provide outstanding customer service. Furthermore, BPO also allows access to advanced technologies and tools. SMEs can maximize the latest innovations in data analysis and customer service and support. 
Cost-Effectiveness
Businesses can access optimized and functional processes by outsourcing customer service. It maintains excellent service standards while reducing costs. It allows SMEs to manage resources and invest in crucial aspects of their operations. 
Multichannel Customer Support Capabilities
Customers want seamless interactions across many communication platforms in today's digital world. 
An outsourcing company offers the infrastructure and expertise to deliver customer support through various channels, such as:
Phones

Live chat

E-mail 

Social media platforms 
By outsourcing, SMEs can meet clients where they are. It offers convenience for a more remarkable customer experience.
Best Practices for Enhancing Customer Experience through BPO
Enhancing the customer experience through BPO is essential to ensuring loyalty and satisfaction. By adopting customer experience outsourcing strategies, businesses can create extraordinary customer journeys. Here are the best approaches that can help provide exceptional customer experiences and build lasting relationships: 
#1) Choosing the Right BPO Partner
Implementing effective customer experience outsourcing strategies requires choosing the right BPO partner. Businesses must consider some factors when selecting an outsourcing company. It will ensure a successful partnership between the two parties.
It is crucial to assess the track record of the potential BPO provider. Business owners should evaluate the following: 
Client Portfolio

Industry experience

Track record of delivering exceptional customer experiences 
An experienced outsourcing company can boost confidence and propose strategies to improve customer satisfaction. 
Business owners should look for a BPO partner with extensive expertise. It will guarantee an understanding of industry standards and client expectations. It will also enable personalized approaches that support the objectives of the company. 
#2) Defining Clear Communication Channels
Businesses must implement effective customer experience outsourcing strategies. To make customer experience outsourcing work well, business owners should communicate well with their outsourced team.
The BPO staff should feel like an extension of the company's internal team by working collaboratively. Effective communication is possible through this integration. 
It's crucial to establish communication rules and response times. It will ensure that everyone is on the same page. Furthermore, establishing response times promotes prompt communication. It enables quick resolutions and proactive customer service.
Finally, it is essential to hold regular meetings and performance assessments. It will keep lines of communication open and monitor progress. These meetings will help with the following: 
Promote openness

Address issues 

Improve strategies

Get feedback

Meet customer demands 
#3) Implementing Comprehensive Training Programs
It is crucial to align the outsourced team with the company's brand values and service standards. Understanding the brand's purpose ensures the BPO can represent the company well. 
The outsourced team must possess a thorough understanding of both products and processes. This way, the team can give clients accurate and pertinent information. The support team can respond to inquiries by understanding business workflows. 
Undergoing training can help the BPO staff stay informed on market developments and customer outsourcing strategies. Regular workshops and training allow the team to improve their customer service abilities. 
#4) Leveraging Technology for Customer Insights
Providing personalized interactions requires using CRM technologies. CRM systems enable the outsourced team to access the following:
Customer data

Purchase history

Preferences
This data helps anticipate needs, personalize interactions, and improve the customer experience.
It is crucial to identify patterns and pain points when analyzing client data. The support team can learn about clients' preferences and behaviors using analytics tools. It enables businesses to comprehend customer needs and devise strategies.
Businesses can get a clear understanding of the customer experience by collecting feedback. This feedback is an essential tool for pinpointing strengths and areas for development. It empowers companies to make wise decisions and take proactive steps to improve the customer experience (CX). 
#5) Maintaining Quality Control and Monitoring
Establishing performance indicators and service level agreements (SLAs) is crucial. Businesses can evaluate the team members by defining performance measures, such as:
Response time

Net promoter score

Resolution time

Average handle time

Customer satisfaction scores

Setting and meeting customer expectations
It is vital to monitor and evaluate customer interactions. Businesses can assess the effectiveness and quality of customer interactions by: 
Listening to phone calls

Reading emails

Reviewing chat transcripts
Resolving issues is essential for ensuring client satisfaction. Businesses should set up reliable processes to manage customer complaints. It assures customers that their problems will be addressed immediately.
All Things Considered…
Making the customer experience a priority is crucial for SMEs to succeed and grow. SMEs and BPO providers work together to create outstanding customer engagement by utilizing customer journey maps. Companies can provide excellent service while remaining focused on their primary business goals. Customer service outsourcing helps businesses gain a competitive advantage and promote growth. 
SMEs must adapt to shifting customer behavior in today's fast-paced business world. SMEs can create personalized interactions and smooth service. It will soon encourage long-lasting customer satisfaction. Partner with a reliable BPO provider and execute an efficient CX strategy. 
Magellan Solutions is Your Path to Superior Customer Experiences through BPO for SMEs
Do you want to take your SME to the highest level of customer satisfaction? Look no further because Magellan Solutions guarantees enhanced customer experiences. Outsource the customer experience and transform your customer interactions with Magellan Solutions. Partner with us now and elevate your customer experience game. 
Our expertise and experience in outsourcing make us an ideal partner for your business. Work with Magellan Solutions to streamline your business and deliver excellent results. 
For two decades, we have been a top-tier provider of call center services. Additionally, we are an ISO-certified and HIPAA-compliant company offering an extensive range of high-quality outsourcing services. Reach out and discuss how we can help you achieve your business objectives.
Contact us and start your journey toward business growth and success. Optimize your operations like never before.