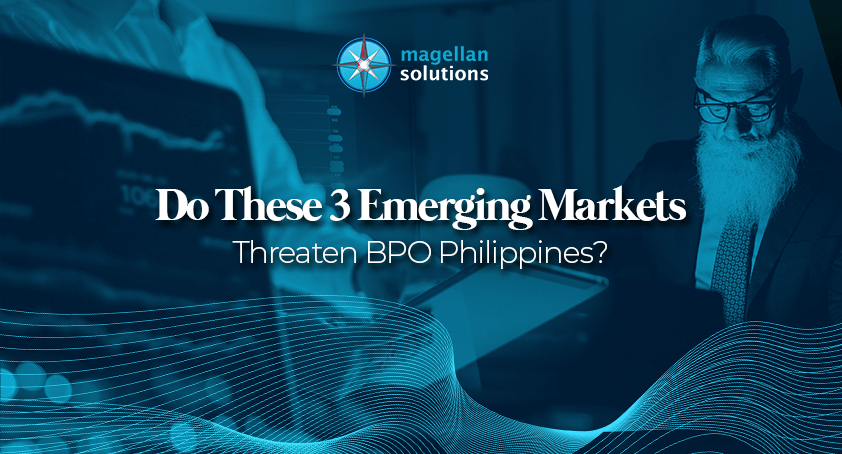 BPO Philippines remain the top destination to outsource for business worldwide
Operational costs reduction and to boost organizational productivity prompts business leaders to outsource to BPO Philippines. Despite the pandemic, the market was valued at $232.32 billion in 2020  with an annual growth rate at 8.5% from 2021 to 2028.
This is because more and more countries intend to leverage BPO to enhance their economy. Outsourcing companies now focus more on the following:
Improve business agility

Survive the constantly changing business dynamics

Improve efficiency while decreasing operating costs

Emphasize core competencies
BPO Philippines remains as the top outsourcing destination followed by India. However, the business and industry changes. There are emerging markets that want to take a piece in the BPO market. 
3 Emerging Call Center Markets to Watch
These are the countries that are becoming an enticing place for businesses to outsource from. This is due to the competitive edge they can offer to global businesses. 
Country
Fast Facts
Benefits

Guyana

Guyanese government proactive actions to increase call center business development through incentives, infrastructure development (education, transportation, and telecommunications)

Cairo

Home to burgeoning business sector

Well-situated call center locale that serves numerous markets from the heart of EMEA

Population with high proficiency in a number of languages (English, French, Italian, and Arabic)

Advantageous for multilingual call center 

BPO industry growth of $2B annually 

Diverse availability of languages to support customers worldwide (America, Europe, and Asia)

South Africa
Few common threads to identify emerging call center markets
Business leaders find top performing and cost-effective solutions to deliver high-value business services. While it still depends on the business' needs, these are the guiding principles before you consider working in an emerging outsourcing market.
1. Geography
COVID-19 pandemic put a stop to travel and led to more restrictions. However, access to high-demand locales is often taken into account. Additionally, areas of high volatility, political or geographical, can present future challenges to consider.
2. Talent Pool
Performance of agents largely impacts the effectiveness of your outsourced call center. It is a fact that call centers will perform better when their employees are educated, fluent in the desired language like English, well-versed in technology, and are highly skilled.
3. Infrastructure
This plays a vital role to ensure service delivery is smooth and can cater to any business' requirements. Thus areas that are actively improving sectors across education, utilities, IT, and public transportation are a top priority.
4. Economy
Top reasons to consider is the ability of a location to offer lower operational costs and lower overall cost of entry. However, business leaders also consider healthy economies that can provide highly-skilled workers. This is in addition with quality of life standards to promote retention. 
In conclusion you can use this as a guidepost in order to identify if working with emerging markets is a good decision for you. 
Business Process Outsourcing Industry in the Philippines
Remains a Top Choice for Business Worldwide
Emerging markets are inevitable for the worldwide BPO industry. This is actually a good thing for businesses. As this provides lots of options to choose from. 
BPO companies in the Philippines remains a top destination when it comes to outsourcing because of the following:
It has cemented its reputation as industry authority when it comes to offering cost effective

call center services

BPO Manila Philippines

provides skilled and talented workforce that has cultural affinity with the West, especially the United States

Outsourcing companies in the Philippines

employs and thus provides c

ompanies that outsource to Philippines

who are English and conversation proficient and with college degree

The government has been supporting the

business process outsourcing industry in the Philippines

through technical programs, incentives, and establishment of special economic zones.

BPO companies in Metro Manila

and major cities across the country offers diverse and technical-centric services for the following:
Go-to outsourcing destination for diverse industries such as BFSI,

Healthcare BPO

, Manufacturing, IT &

Telecommunication BPO

, and

Retail BPO

.
Magellan Solutions is One of the Top
BPO Companies in Metro Manila
With almost two decades in the industry, we cemented ourselves as a great contributor in the vibrant business process outsourcing industry in the Philippines. 
We focus our human resources and infrastructure to remain relevant and competitive during this volatile weather. So we can continuously provide excellent services to our clients across the globe.
Magellan Solutions is ISO 27001-certified and HIPAA-compliant because we understand the growing needs to remain secure with data and information that you entrust with us.
Contact us today and let our Business Development Managers create custom-fit solutions that solve your business' pain points. Fill up the form below!
TALK TO US!
Contact us today for more information.