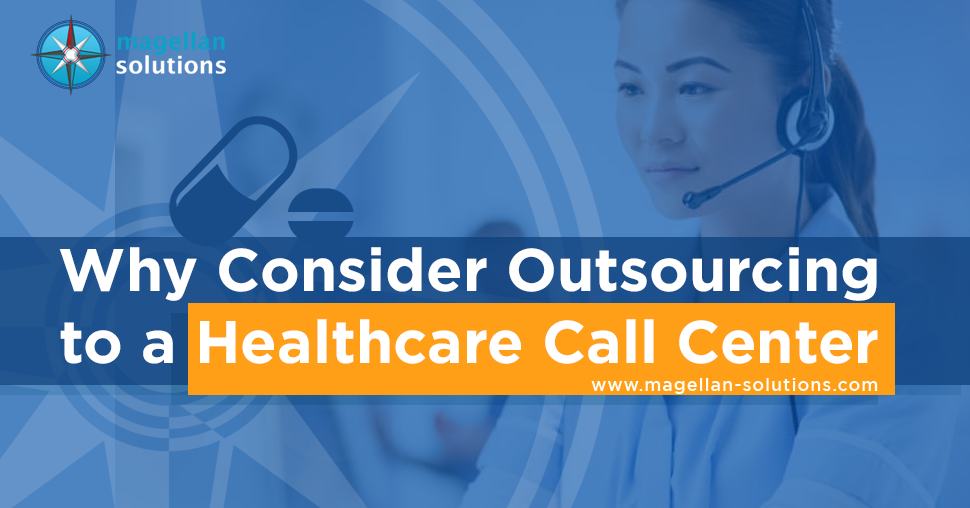 These days outsourcing healthcare call center services is a necessity. It's the bare minimum for patients who expect healthcare providers to be efficient and attentive. It isn't only limited to direct patient interactions. It also covers the usual initial touchpoint of most hospital visits — communication via phone call.
However, managing calls also presents a challenge, especially in the increasing demand for telehealth and telemedicine services.
Without a good healthcare call center, hospitals can suffer from increased patient frustration and higher medical call center staff turnover, to name a few.
With this in mind, how does your organization plan to stay on top of the ball?
Top Benefits of healthcare call center services
Outsourcing healthcare call center services deliver a range of benefits. If you haven't already considered outsourcing, here's what a contact center can do for you:
Better care of patients
Patients' well-being depends entirely on the quality of the services they receive. The presence of live agents who are familiar with patients' needs and have the skill and expertise to respond to different situations also helps create a positive experience for them. Automating the whole process, therefore, is a major requirement for healthcare providers.
Minimize critical mistakes
Improving the accuracy of information delivered to patients can literally save lives. Reliable call centers use the latest technology to enable a seamless flow of information from healthcare institutions to patients.
Increase cost savings
Service providers have everything in place — expertise, technology, and all the necessary resources to keep a healthcare call center up and running. By getting rid of non-core services, hospitals can operate at their optimal level and eliminate costly errors that hinder their capacity to deliver quality patient care.
Handle call volume
A dedicated contact center can handle large volumes of calls while at the same time keep hold time and abandonment rates to a minimum. A commitment to first call resolution can also translate to fewer escalations. This eases some of the pressure on your in-house staff without compromising the needs of your patients.
Scalability
Outsourcing to a contact center enables you to scale the offshore team and technology up and down as your client base and business operations grow. This gives you a lot of flexibility and control. This also helps your organization expand and reduce costs in the process.
Close the front and back office gap
Patients' activity records and prescriptions can be difficult to manage. Healthcare call center services can improve efficiency by prioritizing and proactively distributing this task where it's appropriate. This also helps you gather business intelligence, allowing you to improve and streamline business operations. This, in turn, enables you to meet service level agreements (SLAs) and measure compliance.
Streamline collections
The collection is important to any healthcare provider. A contact center can make collections more efficient and help improve the collection department's productivity. Phone payments using automated service, for instance, is fairly easy to implement. This feature can either be implemented as a standalone application dedicated to bill payments or embedded in a regular phone sales process.
Proactive service and patient engagement
Delivering proactive patient service and creating high levels of patient engagement continue to be a challenge to healthcare professionals despite their qualifications and the availability of advanced technology. They still face hurdles that keep them from moving to a proactive health model.
Maximize staff efficiency
Outsourcing to a call center enables you to limit your hiring on essential hospital staff such as doctors, nurses, and allied health professionals. Stop wasting keeping an area outside of your specialization and focus more on improving the skills of your internal staff. Your chosen call center will take better care of your outsourced staff.
Ensure compliance with appropriate legal, regulatory, and industry standards
The confidentiality of patient data is considered as an important pillar of medicine. It guarantees trust between healthcare providers and their patients. To ensure the utmost protection of patient data, you might think that it is better to keep all processes in-house. Outsourcing, then, can be out of the equation.
However, trusted call center companies have all the necessary certifications in place to ensure the security of all confidential and sensitive information you'll be entrusting to them. You also have the option to transfer only call center tasks that only deals with basic and general tasks.
What services can you outsource?
Healthcare call center services enable you to offer multichannel support through email, text messaging, or call. This keeps the number of interrupted transactions that cause customers to switch to other providers to a minimum. Moreover, keeping customers informed of any developments so that they don't have to call can help improve loyalty, and ultimately, have a positive impact on the bottom-line
Here are the non-clinical call center services that you can outsource:
Call centers also provide non-call (back office) services such as:
Payroll management

IT administration

Claims processing

Data entry
For the complete list, you can ask your selected service provider.
When to outsource healthcare call center services?
Improving healthcare delivery begins with emphasizing the focus on core functions — that is, treating patients. Meanwhile, improving its call center counterpart starts in realizing that it is not a hospital function. It may be a crucial part of the overall healthcare operation but it can stand better on its own, with the right professionals taking care of the job.
One of the earliest signs that it is time for you to let go of internal call center tasks happens when patient satisfaction scores are going down. Poor call center management significantly affects their experience, especially during the initial point of contact. As a critical stage, it can dictate a patient's decision in continuing the hospital visit or finding a better healthcare provider.
A high turnover of medical call center staff can be another sign. With the increasing job opportunities for the role outside, with better benefits and opportunities for career growth, many are tempted to resign. Offering them with a fatter paycheck may work but if their job is dead-end, it can't make them stay. Instead of the never-ending process of hiring new associates, it would be better and cheaper to outsource this job to a company that takes care of everything.
Offshore outsourcing destinations like the Philippines are home to contact centers with proven track records and an unwavering commitment to excellence. Fill out the form below to outsource your healthcare call center services to us.
TALK TO US!
Contact us today for more information.