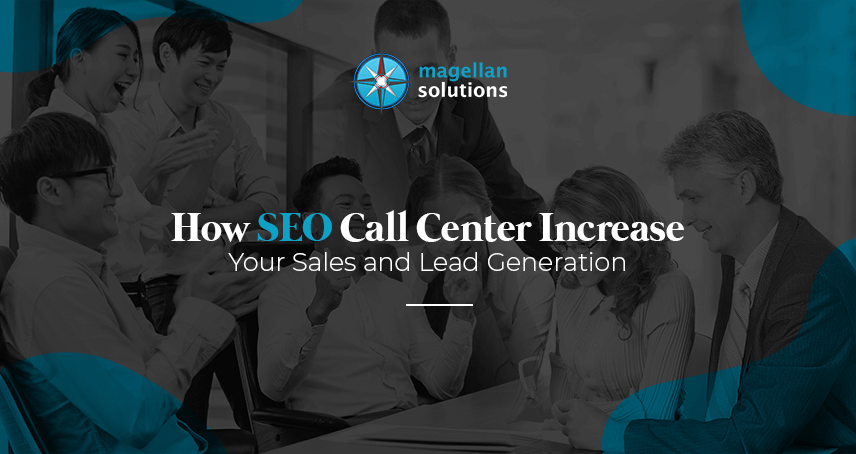 SEO Call Center Helps You to Capture Sales and Leads From Website Traffic
The goal of SEO call center and marketing is to establish your business as the authority figure on what you do. This is especially true on your product or service offerings. 
When you leverage and prioritize your SEO and digital marketing, you ensure that your business appears first amongst 2+ trillion searches. 
However, it is not all about rankings alone. SEO is about providing your visitors and customers with reliable and up-to-date information. As well as solid user experience. 
Search engine algorithms can distinguish helpful and quality sites versus those packed with keywords to only lure traffic. 
That is why it is best to look for a marketing call center that has in-depth understanding of how these algorithms work. Able to create great content and maintain a well-functioning site. This is a way to ensure your business site can capture potential customers. 
What exactly is a lead?
When someone expresses interest in a company's product or service, this is referred to as a lead. Leads can come in any shape or form.
As soon as leads initiate communication (by providing personal information for an offer, trial, or subscription), the business or organization will contact them… rather than receiving a random cold call from someone who acquired their contact information, they will receive a personalized message.
Consider the following scenario: you participate in an online poll to learn more about how to properly maintain your vehicle. An email from the auto firm that conducted the survey follows a few days later, informing you of how they may assist you in taking better care of your vehicle. This procedure would be lot less intrusive than if they had just contacted you out of the blue with no knowledge of whether or not you were even interested in car maintenance, wouldn't it? This is what it's like to be the main character.
Furthermore, from a business standpoint, the information that the auto company gathers about you through your survey responses allows them to personalize that initial contact in order to address your existing problems — rather than wasting time calling leads who aren't at all interested in auto services.
In the process of moving from visitor to customer, leads are part of a larger lifecycle that customers must navigate through. The same cannot be said for all leads (nor are they qualified the same). According to how they are qualified and what stage of the customer lifecycle they are in, there are several categories of leads to consider.
What is the purpose of lead generation?
As soon as a stranger shows an organic interest in your company and begins a conversation with you about it, the move from stranger to customer becomes lot more natural.
The production of leads is the second stage of the inbound marketing process. It is also known as lead nurturing. It takes place when you've attracted a large number of visitors and are ready to convert those visitors into sales leads for your company (namely sales-qualified leads).
Why not simply purchase leads?
Marketers and salespeople alike want to fill their sales funnels as rapidly as possible — and they want to do so as efficiently as possible. Here comes the desire to purchase leads.
The process of purchasing leads, as opposed to the process of organically creating them, is more simpler, requires significantly less time, and requires significantly less effort. However, it's possible that you're already paying for advertising… So, why not simply purchase leads?
First and foremost, any leads you've purchased aren't familiar with you or your company. In most cases, they've "opted in" at another website when signing up for something, but they haven't actually "opted in" to get any communications from your organization.
As a result, the communications you send them are considered undesired, and sending unwanted messages is considered intrusive. (Do you remember that annoying phone call I received when I was attempting to eat my spaghetti? If you have ever received an email or other contact from someone you didn't ask to hear from, you know how it feels.
If the prospect has never visited your website and has expressed an interest in your products or services, you are, quite simply, interfering with their experience.
In the event that they never opted in to get messages from you directly, there is a good risk that they may consider your messages to be spam, which can be extremely damaging for your business. Moreover, not only does this train filter out emails from you, but it also informs their email provider on which emails should be excluded from filtering.
Once a sufficient number of people report your communications as spam, your email address is added to a "blacklist," which is then shared with other email service providers. Once you get on the blacklist, it's really, really hard to get back off of it. In addition, your email deliverability and IP reputation will likely be harmed.
How
SEO Call Center
Helps Businesses Worldwide
An SEO call center can help augment your traditional marketing strategies in the digital atmosphere. Quality content and optimized websites are the two factors that have been consistently the key towards gaining traffic and ranking your business page or site. 
Adding to that, 57% of marketing executives say that on-page development was the most effective SEO tactic. While in 2020, 55% of worldwide online traffic came from mobile and 42% from desktop.
Furthermore, a hubspot study found that 77% of companies worldwide said that they have a content marketing strategy. 
If you are not one of these figures, you are clearly losing a lot against your competitors. Not to mention, the revenue you can get from customers looking for your products or services. 
Marketing call center or SEO call center can help your business improve the following:
1. Strong Website Presence
An effective SEO call center can help your business website to rank on top of the search engine results. Be it Google, Bing, or Yahoo. It is a fact that among these three, Google is the go-to when it comes to search engines. 
Customers in general click on websites that rank at the top. Due to this phenomenon, it is very important to upgrade the ranking of your website. This is to ensure you can get more quality traffic. 
This is possible with strong and quality content. With your business being the expert in whatever products or services that you offer. 
An outsourced SEO call center can help you with the following:
Implement methods crucial to improve your visibility in searches

Improve your chances in reaching potential customers or leads

Reduce the amount of money you need to spend on marketing
2. Increased Sales and Lead Generation
Good ranking will bring clients to your business. A great number of visitors landing on your business and showing interest in it enable you to generate leads at a higher extent. In turn, this can flourish your business and your lead generation efforts. 
A reliable SEO call center with tons of experience across different industries can also do the following:
Proper link building to help your authority

Get a reliable team who stays up-to-date with unexpected algorithm changes in search engines or even penalties

Guide you through new guidelines and each potential issues to ensure your ranking efforts follow existing and new requirements
3.
SEO Call Center
get the best results
Your outsourced SEO partner can evaluate your website, goals, competitors and create a comprehensive plan to increase your search visibility. They are also able to track your progress, adjust the plan to ensure you are on the right path to achieve the best results. 
4. Outsourced
Marketing Call Center
helps you focus
Getting a third party SEO call center can help you focus on what you do best, run your business. SEO is a strategy that needs dedicated team of experts to do the following:
These are only the tip of the iceberg and it sure takes a lot of time and effort. You cannot expect your in-house team to do this while they do what you require them to. Such as improving your business, products or services. Attend to customer's needs and so forth. 
While hiring an in-house SEO team is not too far a stretch, it is costly as you need to spend on recruitment, tools, software, office space and so many more. 
But when you hire an SEO call center from, let's say the Philippines, you never have to worry yourself about these matters. As they can work immediately based on your requirements and service delivery. 
Magellan Solutions Is Also An
SEO Call Center
As a leading BPO company for SMEs, we offer various services including marketing call center and SEO call center. 
Here with Magellan Solutions, you can get a team of professionals to ensure you can improve your visibility on top search engines. 
Monitor and enhance your content marketing strategies with excellent SEO writers to create top quality content for your visitors and potential customers. We also use the latest monitoring software and tools to ensure you never fall short when it comes to ranking. 
We are also ISO 27001-certified, GDPR, and HIPAA-compliant. This is our proof that we deliver top quality services with high regards on data and information security protocols. 
Contact us today and let us help you rank your business. Generate leads from your digital marketing efforts, only with us. Fill up the form below!
TALK TO US!
Contact us today for more information.