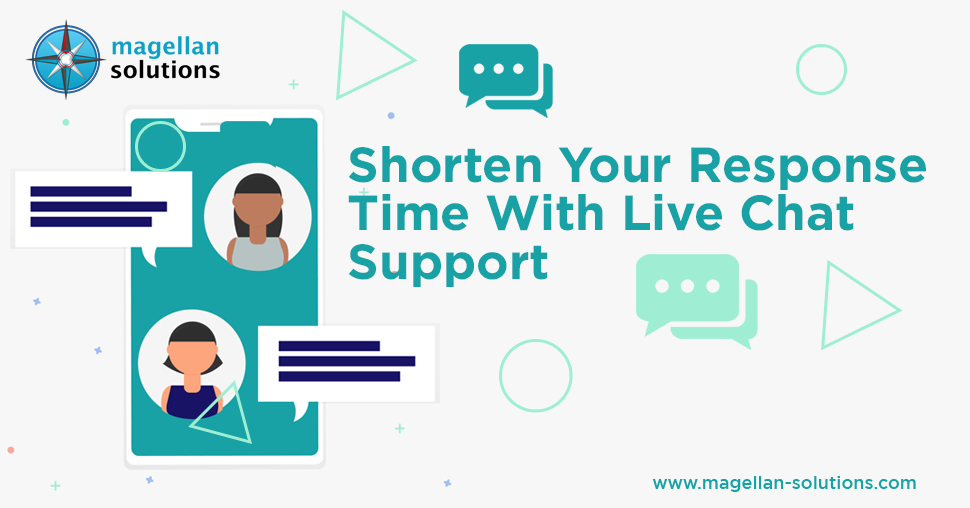 According to a survey by Harris interactive, 75% of customers feel that it takes too long for them to get in touch with a customer service representative. Fortunately, live chat support can solve this issue.
Outsourcing your live chat support from a reliable company lessens the risk of losing 75% of your market. Customer queries will be instantly answered by a live representative, who can ensure customer satisfaction. Meanwhile, you do not need to spend a lot of resources in hiring additional staff.
What is live chat support?
Live chat support is a type of customer service support channel. It is the process of providing customer support in real time via online text chat. This can be carried out on several platforms, such as instant messaging apps, social media, or chat windows in your business website.
Live chat support cuts the wait time for customer service, while still establishing an effective connection with customers. Instead of waiting for an email response or their phone call being queued, customers can receive a faster response from your brand. Customer experience will improve greatly and, in turn, would produce an increase in sales.
What happens when you outsource live chat?
When you outsource live chat support, you are hiring a third-party service provider to handle your live chat services. The outsourced company will assign a dedicated team of live chat agents, who will communicate with customers on your behalf.
Your outsourced live chat agents will be thoroughly trained on your business, brand, products and services. They can respond to a wide range of customer queries, such as promos, sales, and support for technical issues. Service providers use live chat software to manage the chat services across different platforms.
Which industries outsource their live chat?
Outsourcing live chat benefits any kind of business. In fact, some of the world's biggest companies outsource their live chat services. Here are some of the industries that popularly outsource live chat support:
Legal Firms:

a lot of legal firms have live chat support integrated in their website. Anyone who is browsing law-related topics on their website can easily communicate with their representatives, and potentially ask for legal help.
Real Estate and Property Management:

when browsing properties on your webpage, a live chat option would make it easier for customers to inquire about your properties. Setting up viewings will be faster, and the sales process becomes more efficient.
Travel and Hospitality:

whether you have a travel agency, a transportation company, or a hospitality business, live chat helps you deal with customers. With this service, you can easily and quickly resolve ticketing and reservation issues.
E-commerce:

the importance of live chat on websites is most evident in

e-commerce businesses

. Live chat support provides an instant method to deliver customer service, all while the customer is on your online shop. Live chat is also known to

increase conversion rates

for online stores.
Service providers:

service providers for a wide variety of services should be easily accessible to their customers. From cable providers to utility companies, live chat support efficiently bridges the gap between brand and customers.
What are the benefits of live chat customer service?
Here are only some of the benefits of live chat for businesses:
Better value for money: according to research, delivering customer service via web chat can be up to

30% cheaper than phone calls

. Live chat agents can also multitask and even handle multiple chats at a time. This reduces operational costs, and boosts your efficiency. When you outsource this service, you can save even more resources.
Increased sales and conversions:

this is especially evident in B2B companies. The

American Marketing Association

found that businesses who offer live chat support experience a 20% increase in their conversions.
Improve customer service:

there are many benefits of live chat for customer service. It makes customer service

more convenient

, and provides faster responses and resolution. Live chat can also improve customer satisfaction and loyalty.
Millennials prefer live chat:

millennials prefer live chat

as a customer service channel. If they are one of your target markets, you need to provide live chat support.
What are the disadvantages of live chat customer service?
Both live chat advantages and disadvantages are important when considering this service. As such, here are the disadvantages of live chat support outsourcing:
Customers dislike scripted responses:

live chat responses and greetings easily come off as scripted. This can negatively affect customer experience.
Most live chat options are not mobile-friendly:

 in most cases, you need to stay on the chat box to keep chatting. Otherwise, the chat will be deleted. This can be a problem for mobile users who need to use other applications.
Unreliable service providers: when you outsource live chat support, you might risk outsourcing to an unreliable service provider. This kind of BPO company may not train their agents well, or handle your data poorly.
How should you select a live chat service provider?
There are plenty of BPO companies that provide live chat support. However, not all of them are the right fit for your business. When selecting a service provider, you need to consider the following factors:
Length of experience:

experienced service providers know how to handle a wide array of challenges, and can pass this on to their staff.

Quality of staff:

hire a service provider that trains agents well, and regularly monitors and improves their performance.

Safety guarantee:

checking for a

HIPAA

or an

ISO certification

is an effective way of ensuring that your data is safe with a service provider.

Value for money:

your service provider should deliver high-quality results at any price point.
Magellan Solutions has all the qualities of a reliable live chat service provider. We have been in the industry for over 15 years, and we make sure that our staff reflects this experience. Our company is ISO and HIPAA certified, so we can guarantee high quality services with flexible rates.
TALK TO US!
Contact us today for more information.