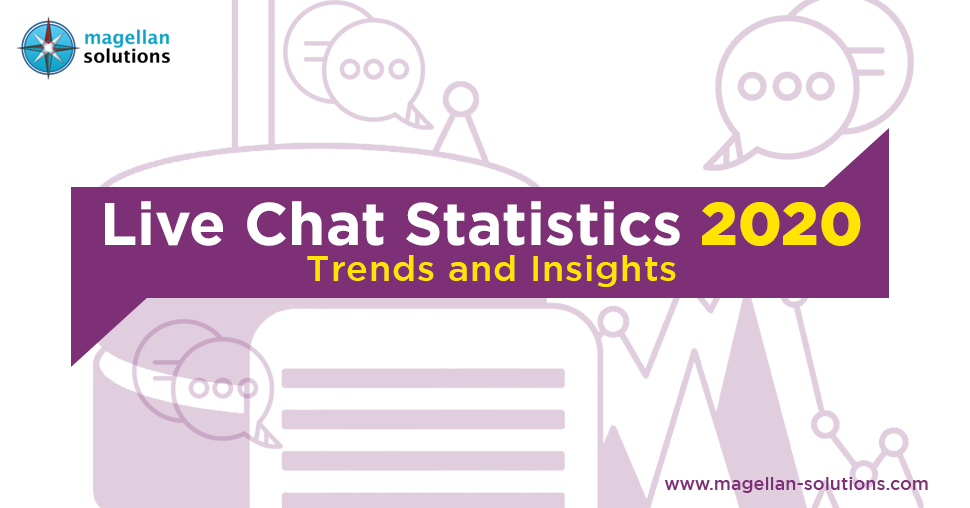 Over the years, technological advancements have innovated business communication. This resulted in the birth of live chat, an essential functionality of a website. This support channel started as an alternative to email and phone call, but as time passes by, live chat statistics 2020 shows that it is one of the preferred communication channels of customers today. According to Forrester, more than 41% of customers expect live chat on websites.
The continuous success of the live chat made numerous businesses utilize it to meet the growing demands of their customers. This option provides clients with instant support and answers. With this, we looked into different resources to find out how live chat is accepted from the perspective of both businesses and consumers. Let's take a look at the live chat statistics 2020 to verify its status and benefits it brings to businesses.
Key Live Chat Statistics 2020
In terms of mobility, live chat has become one of the main channels. This is mainly because of the continuous advancement in the technology that made people use mobile devices more often.
On a global scale, 97% of consumers said that good customer service is important in choosing a brand to trust.

Businesses started to make use of

live chat support

, especially in the US where 47.5% of the internet users prefer it over chatbots. They claim that chatbots provide many responses that do not exactly help solve the problem.

Live chat gained the highest customer satisfaction level from 73% to 81% compared to 61% of email and 44% for phone according to

Econsultancy

.

Having this channel is important as 50% of users expect to see this feature on a site.

Based on the live chat statistics 2020 of Finances Online, 67% of B2C businesses use live chat for customer support.

74% of B2C and 85% of B2B utilize it for sales. They also make use of it for marketing with 31% of B2C and 54% of B2B companies as it helps enable a more compelling conversation between a business and a consumer.
Now, if you are wondering if implementing live chat on websites is ideal, the answer is definitely YES. 91% of customers globally want real-time assistance. Up to 21% of them prefer this channel as they can multitask while receiving the needed help from the agent. 
Statistics by Industry 
The use of live chat is continuously becoming more prominent in various business industries all over the world. However, it seems to be growing more on websites related to retail and e-commerce. This is true especially today that the entire world is going through a crisis and almost every transaction is done through online purchases. 
Its impact also reached the

travel

and hospitality industry faster than expected. It increased the sector's revenue by 16 million dollars in 2019. It could have been greater this 2020 if not for the pandemic where we should avoid as much as possible the unnecessary traveling and going outside to stay safe. 
The benefits of live chat is not limited to these business industries. It is surely extended to many more, but they are some of the major beneficiaries. 
Adoption Statistics and Usage
There is a continuously rising number of live chat users, which is now at 24%. This is basically because of the waiting time. With live chat sessions, customers can get immediate response compared to social media and email. 
Because both

companies

and consumers are willing to embrace live chat, it is said that by 2021, it will be the top support channel with 71% believing in its capabilities. 
One of the main reasons for its fast adoption is high web traffic. It means your website has a high number of visitors. Businesses must take advantage of it by offering instant and hassle-free customer support on their website. 
Live Chat Vs. Phone Support Statistics
Phone support is considered as the direct rival of live chat as they are both done in real-time. It has been one of the best mediums for years. But as time passes by, customers are becoming tired of the long queues. Because of this, many noticed the huge drop in the use of a phone answering support. 
The number of people who would gladly want to chat rather than talk over the phone is increasing. The no wait time (34%), the convenience (26.9%), and the less invasive method it provides are just some of the reasons why consumers love it. 
Live Chat Customer Satisfaction Statistics
The Philippines at 91.71%, Thailand with 89.39%, and Australia at 87.46% are the top three countries in terms of live chat customer satisfaction. 
It is proven that 62% of customers are expecting to see a live chat feature available on mobile devices. 82% of them would gladly use it, proof that this support tool is effective and helpful to consumers. 
Live chat increases the customer retention rate by 5% as it creates more satisfied customers. 73% of customers agreed that

valuing their time

is one of the most important things businesses should consider. 
Remember that having a live chat feature is not enough. You also need to utilize it properly by providing a fast response time and helpful support team for your consumers. 
Live Chat Sales and Conversion Statistics
Live chat has the ability to create a positive impact in terms of customer loyalty, sales, and revenue as 79% of companies said. 
29% of customers who have a good live chat experience would recommend the brand to their family, friends, or colleagues.
Companies reported a 34% improvement in customer satisfaction rate and 2.6% in customer care costs. 
A

study by the AMA

found that live chat can be used efficiently throughout the journey of the customer. It includes improvement in marketing awareness at 29%, early-stage sales development at 32%, and post-sales customer support at 39%.
With the help of these live chat statistics 2020, we can say that live chat support can definitely increase sales and boost conversion. Make the most out of it when you outsource live chat with one of the trusted companies in the industry. 
TALK TO US!
Contact us today for more information.