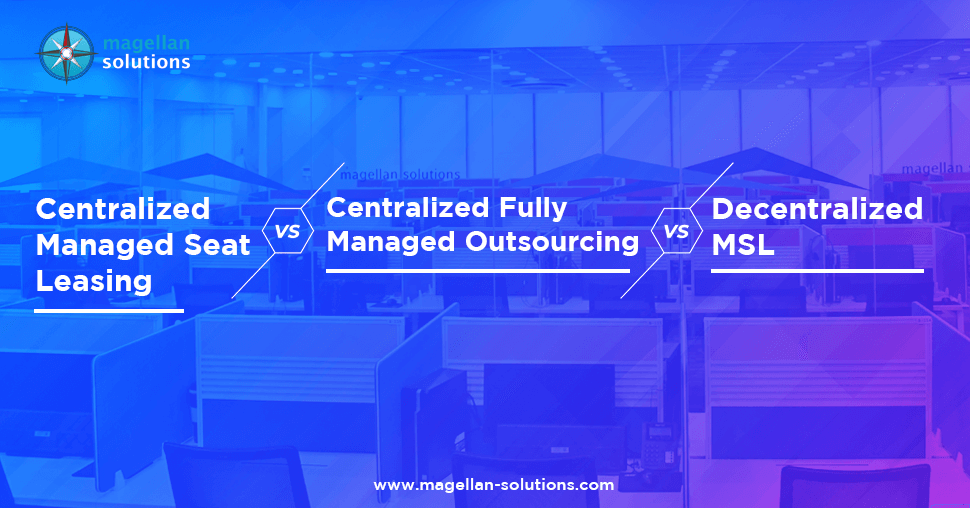 Centralized Managed Seat Leasing vs. Centralized Fully Managed Outsourcing vs. Decentralized Managed Seat Leasing: How to set them apart?
No matter how big or small an outsourcing business is, it can be challenging to compete with giants. In addition to stabilizing resources, it is crucial for the business' success to maintain contact with customers. All the while keeping the daily operations in check.
However, in order to carry out these tasks, it is essential to have an office space with access to cutting-edge infrastructure. Such as personal computers, telephone communication equipment, software, and other expenditures.
With that, having such a facility comes with a significant overhead cost. But this can potentially deplete a startup company's resources, as many budding entrepreneurs or home business owners learn. This is where leasing seats takes a step forward and steals the spotlight.
If you want to know the perfect type of seat leasing or outsourcing service provider that is appropriate for your business, keep on reading!
WHAT IS SEAT LEASING? 
For both foreign and smaller businesses that wish to start up right away that will not require an office, seat leasing is a practical choice where it provides you with ready-made call center infrastructures, including call center cubicles, information technology (IT) hardware, internet, and general office administrative facilities. 
In addition to being cost-efficient and user-friendly, this office set-up allows businesses to cut capital expenses. All the while focusing on more crucial areas of their business and maintaining a reputable image for the organization.
As most seat leasing companies allow you to equip more seating to support your team expansion as you would need in the future, seat leasing is scalable in terms of keeping up with the expansion and growth of the team.
TYPES OF OFFICE ARRANGEMENTS: WHICH ONE WORKS FOR YOU?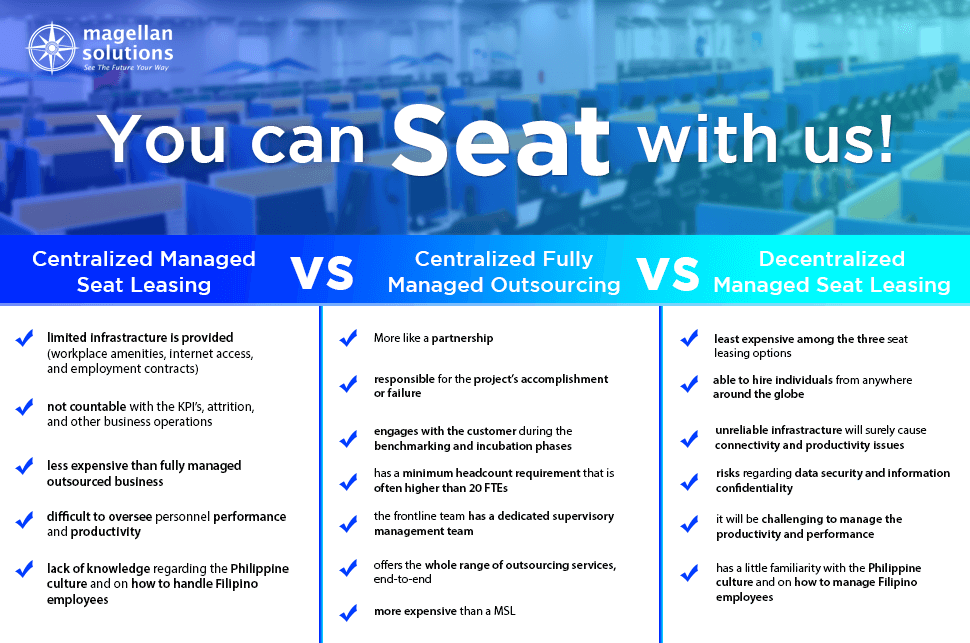 Source: Magellan Solutions 
Centralized Managed Seat Leasing
Centralized leasing's responsibility here is limited only in providing the workplace amenities, internet access, and employment contracts. Clearly, it is not accountable with the key performance indicator (KPI), attrition, and other business operations. Centralized leasing is less expensive than a fully managed outsourced business. 
However, it is difficult to oversee personnel performance and productivity because they will be reporting directly to a customer counterpart in another nation without any physical supervision. There is also a lack of knowledge regarding the Philippine culture and on how to handle Filipino employees. 
Centralized Fully Managed Outsourcing
The managed service provider business model is more like a partnership. With something that penetrates every corner of your business, their integration into the team makes them tremendously beneficial in gaining insights and taking your business to new heights. Large internal initiatives may benefit from managed services, and they may also provide creative ideas for building a strong, secure IT strategy.
Managed outsourcing has a minimum headcount requirement that is often higher than 20 full-time equivalents (FTEs). The frontline team, which consists of team leaders (TLs), trainers, quality assurance (QAs), project managers, reports analysts, workforce, shift managers, and operations managers, has a dedicated or shared supervisory management team. 
To guarantee the project's success, the BPO must actively engage with the customer during the benchmarking and incubation phases. 
An end-to-end operational support and improvement solution from managed outsourcing ensures a seamless end-user experience.
Decentralized Managed Seat Leasing
It is the least expensive among the three seat leasing options. They are able to hire individuals from throughout the world, not only in the Philippines. However, the infrastructure provided such as internet access, personal computers, and the likes are undependable. This is one disadvantage that will surely cause connectivity and productivity issues. 
Your business might encounter issues with data security and information confidentiality as well. It is crucial that you hire a company that values the client's needs and will be held accountable for any major issue that might arise. 
Since employees would be reporting directly to a client counterpart in a different country without any actual direct supervision, it will be challenging to manage the productivity and performance. The same with centralized MSL, decentralized MSL has little familiarity with the Philippine culture and on how to manage Filipino employees.     
BENEFITS OF MANAGED OUTSOURCING: WHY CHOOSE THIS SERVICE?
An excellent managed services company will examine the current operations and infrastructure to identify any problems. In addition to offering qualified people to support the company's business needs, they will also identify any activities that may be negatively impacting performance and develop a plan for both short-term and long-term improvements.
A competent managed services outsourcing will also proactively discuss best practices, offer suggestions for boosting savings, and troubleshoot issues before they happen. 
Let's discuss the several advantages of managed outsourcing for small- to medium-sized business owners.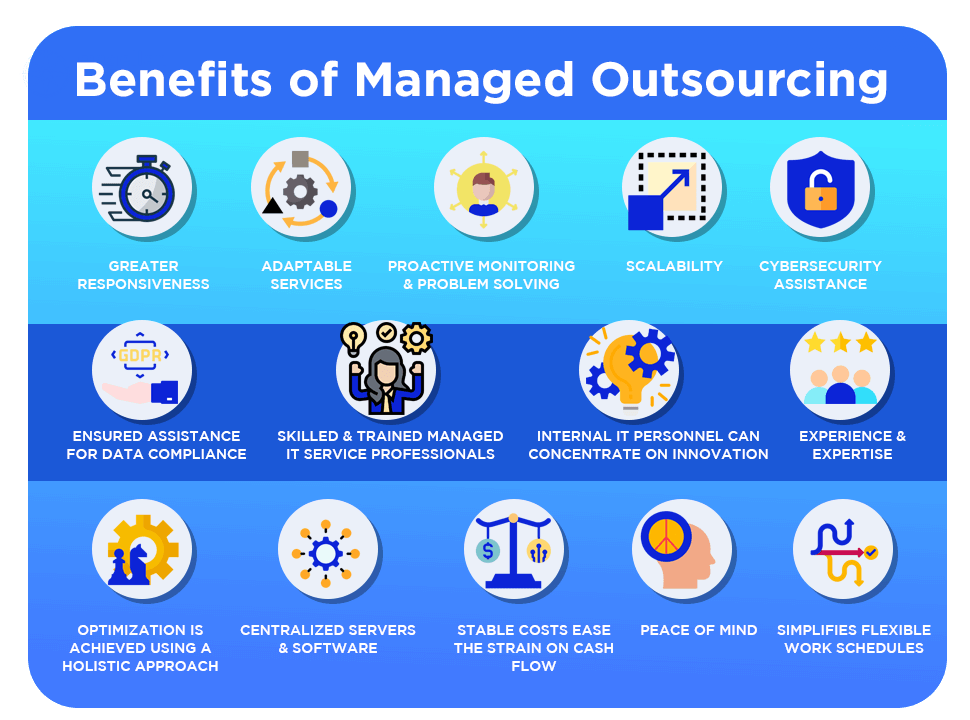 Source: Magellan Solutions 
Greater Responsiveness
Employees cannot be slowed down by downtime or other technical issues nowadays. Having 24/7 support is essential to ensuring that your team can always remain productive, especially during periods of high traffic. Help is always accessible for your users when you have a support services provider on your side.
Adaptable Services 
Your managed service company continuously learns, develops, and upgrades systems to guarantee cutting-edge technology. Without having to pay for upgrades or training, you can take use of their knowledge and investments to stay on the cutting edge of technology. That said, your business has an edge compared to others. 
Proactive Monitoring & Problem Solving
Working with managed services outsourcing gives you proactive solutions in addition to access to specialists and their talents. Your IT can be monitored and managed to find problems early on before it becomes more problematic. Because there is little downtime, it also guarantees business continuity.
Scalability 
As your company's demands expand, scaling up your managed outsourcing is simple. You can also choose to scale up managed IT solutions during your busiest season and scale them back down as necessary with pay-as-you-go service options.
Cybersecurity Assistance
Reducing risks associated with credit card use, client data leaks, and other sensitive information leaks can be accomplished by outsourcing to a managed services provider with experience in Payment Card Industry Data Security Standard (PCI-DSS) compliance. A managed service company implements security measures that guarantee your company complies with security standards.
Ensured Assistance for Data Compliance
Compliance laws and standards help safeguard individual rights in a variety of areas, including consumer privacy and the security of financial data. Compliance is essential for avoiding penalties and expanding your clientele, especially for business owners in the e-commerce, retail, healthcare, education, financial services, and legal sectors.
The burden of compliance may be shifted through managed IT services. Your technology systems can be guaranteed to comply with domestic and international laws and regulations by qualified professionals.
Skilled & Trained Managed IT Service Professionals
They can perform tasks that your internal team cannot. The IT infrastructure and software programs nowadays frequently call for specialized skill sets. Learning new, one-time skills is necessary for the implementation of new software. Every time you introduce a new program, you can either invest time and money in educating your own team, or you can delegate responsibility to your managed service company.
Internal IT Personnel Can Concentrate on Innovation
Thanks to your managed outsourcing, your business's day-to-day activities are functioning smoothly. Your IT department may concentrate on your business' core skills and the ground-breaking concepts that will maintain it at the top of your sector.
Experience & Expertise
One of the main benefits of managed IT services is that you may hire a team that is qualified, trained, certified, and experienced in your sector. You no longer need to search for and hire qualified IT administrators because a managed services provider gives you access to them. Your firm may access the most recent technology available and swiftly and easily adopt it when working with an IT support company.
Optimization is Achieved Using a Holistic Approach
When something goes wrong, there is no finger-pointing or placing blame because monitoring, management, data storage, and security are all housed under one roof. The issue will be resolved by your managed outsourcing company.
Centralized Servers & Software
Your data and applications are remotely hosted with managed services, typically in a virtual server environment. International standards for security and regulation are typically followed by these establishments. Your data will be safe in a remote facility even if a natural calamity like a fire or flood affects your office. If something goes wrong in your office or off-site, managed service providers have standards intended to help you maintain business continuity.
Stable Costs Eases the Strain on Cash Flow
It is simpler for you to budget for your IT spending when you choose managed outsourcing because they have low startup fees and consistent monthly payments.
Peace of Mind
With managed outsourcing, there is a high chance the network would not fail. This is because the managed service company would identify the problem before you do. 
Simplifies Remote or Flexible Work Schedules
The centralized management of your IT services not only lowers overall infrastructure expenses but also guarantees that every employee has the same level of technological exposure. Employees may log in and experience the same speed and security as if they were on-site whether they are working in your office, a satellite office, from home, or from another location.
CONCLUSION
It is best that you identify the needs of your business in order to know the best service for you. 
One of the best ways for businesses to enhance their operations is through managed services outsourcing. A managed services provider offers end-to-end operational support and improvements for a smooth end-user experience rather than supporting a small number of business operations.
It can assist businesses of all sizes and types by increasing productivity, reducing operating expenses, and providing many other advantages. Managed outsourcing can improve your IT setup by bringing fresh perspectives and proactive care with the aid of qualified professionals and top-tier resources.
Magellan Solutions Can Provide the Suitable Outsourcing Services Customed for Your Business
The easiest way to save a lot of time and money while investing in your business is by using outsourcing services!
Magellan Solutions guarantees accountability and affordability for your business goals with quality retention. 
With more than a decade of expertise in the field, we take great pride in offering only the best call center services appropriate for small and medium-sized businesses. On top of that, we are an ISO-certified and HIPAA-compliant outsourcing company. We provide a great variety of top-notch outsourced business solutions. 
Let's discuss and identify your business needs and we will provide you with tailored-fit solutions!
TALK TO US!
Contact us today for more information.