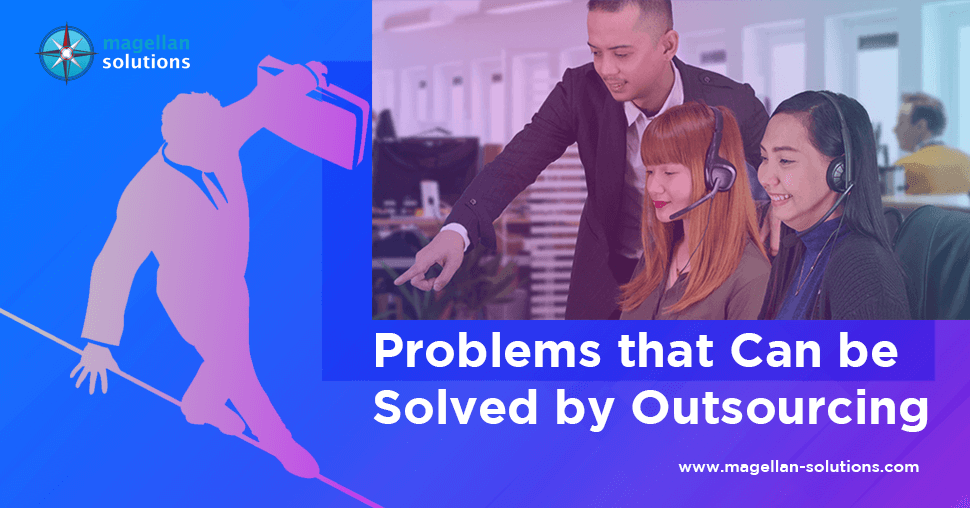 What are the Problems that Can be Solved by Outsourcing?
Nowadays, being efficient is essential for corporate success, which is why outsourcing is frequently used. How one applies modern process management approaches is one of the key determinants of how to boost a business. 
Business process outsourcing (BPO) is now the trend to managing a successful company.
Outsourcing encourages firms and corporations to allocate resources where they will be most useful. Maintaining the characteristics of free-market economies on a global scale.
However, you will always encounter risks in every plan. So it is best that you design future-proof strategies for your business. After all, your business's security, compliance, and productivity depend on having reliable systems, in addition to your operations.
If you want to know the advantages of outsourcing and what are the problems that can be solved by outsourcing, keep on reading.
WHAT IS OUTSOURCING?
Outsourcing is a business strategy that involves recruiting an individual or staff to carry out duties, provide services, or manage operations that would otherwise be handled by corporate workers in order to cut costs and improve efficiency. In other terms, outsourcing is the practice of having some work duties performed by a third-party rather than within an organization.
Typically, businesses outsource to fill supplemental business procedures. It usually covers tasks that are not regarded as being part of the core business functions, such as administrative, accounting, payroll, data recording, customer support over the phone, and others.
PROBLEMS SOLVED BY OUTSOURCING: CHALLENGES & HOW TO AVOID THEM
Numerous factors influence why more and more businesses decide to outsource some of their work. With outsourcing's advantages such as cost-effectiveness, access to great talents globally, and its efficiency, no doubt it has become a contemporary approach to companies. 
However, outsourcing is not all perfect and seamless. Are you interested in the challenges of outsourcing and your plan to address them? In order for you to fully profit from outsourcing, we will go through all the risks involved as well as their corresponding remedies.
Source: Magellan Solutions
LACK OF OUTSOURCING EXPERTISE & EXPERIENCE 
Smaller businesses who are relatively new to outsourcing may find the process to be intimidating when compared to a corporation with outsourcing experience. You can be aware of the workflow, prices, and best practices while communicating your ideas to another organization. One of the frequent problems solved by outsourcing if addressed correctly is a lack of experience.
SOLUTION
A professional vendor will guide you through the procedure, assist you in avoiding bottlenecks, and help you minimize any dangers. They will aid in requirement definition, the discovery process, and the selection of the most qualified candidates. However, it is crucial to keep in mind that outsourcing involves some risk. If this is a risk you are ready to accept, the correct provider will be there to assist you at every stage.
POOR TEAM MANAGEMENT & LACK OF COMMUNICATION
We all know that communication is the key to success. Although you may believe that what you are saying is being understood as you intended, remember that everyone has a unique perspective according to their experiences, education, and background. 
SOLUTION
Integrate calls, feedback loops, and other communication tactics into your project plan to ensure that communication is a key component of the workflow. If possible, you should also arrange to meet in person. So that you may better understand one another and develop more empathy. Also, using project management tools are essential to task delegations and to be in-sync with one another.
GOAL MISMATCH
It is crucial in a business that its goals and needs are defined. Prior to beginning the outsourcing process and choosing an outsourcing vendor, goal setting is essential. To keep your expectations and goal-setting on track, it's vital to maintain the contract's consistency, transparency, and sincerity.
SOLUTION
The most effective strategy to define a proper goal for your outsourcing process and prevent goal mismatch is through proper communication. Always confirm your project outsourcing requirements, then communicate those requirements to your vendor to keep the two businesses on the same page.
LANGUAGE & CULTURAL DIFFERENCE 
The most frequent challenges of outsourcing that most businesses encounter when they consider outsourcing are cultural and language differences. Businesses that encounter linguistic and cultural hurdles struggle to innovate and pay attention to detail on projects that are outsourced. Cultural and language disparities can result from a lack of knowledge and communication and have a big impact on the outsourcing process.
SOLUTION
Only when there is open communication between the two businesses can a discrepancy in a corporate world be resolved. To ensure proper communication, ask if the staff at the company speaks English or any other preferred language.
CHOOSING A TRUSTWORTHY VENDOR
Businesses that effectively expand into international markets typically have a trustworthy outsourcing partner, which is crucial. It might be time-consuming to select the ideal partner for your outsourcing needs. Given that they do not conduct a thorough background check on the contractors, it is one of the main outsourcing issues that many businesses encounter. It can result in the project you outsourced being of low quality.
SOLUTION
When choosing the best vendor, there are a few things to keep in mind, like the firm's experience, the quantity of projects and clients it has worked with, the typical project size, the company's ranking and reviews, its access to the most recent technology, and so on. The list differs from one company to the next, though. Before choosing your outsourcing partner, prepare your questions and get clarification.
MISMANAGEMENT
Every business must get past this stage because their internal personnel handled the previous duty. The vendor's location and communication capabilities will determine how much control you have over the outsourced job. Since they won't be informed of your most recent requirements, poorly managed service providers may reduce the quality of your project's delivery.
SOLUTION
You should thoroughly examine the tracking strategy that will be used throughout the process and the company's experience with clients before choosing an outsourcing partner for your business. In addition, designate the point of contact, track key performance indicator (KPIs) and other indicators, and create meeting timelines.
TIME ZONE DIFFERENCE
One of the main issues with outsourcing that many businesses have when choosing to outsource to other countries is time zone discrepancies. When your outsourcing partner is in another country, there will be a time zone difference. You can get in touch with someone who can communicate at a convenient time even though your vendor doesn't work around the clock. A clear time zone visual aid makes it easier to select the ideal outsourced partner.
SOLUTION
Only by communicating more regularly with your outsourcing vendor can you minimize time zone discrepancies. Establish a time that works for both parties to communicate updates on the project so that everyone is aware of its status. Alternatively, you can choose a vendor who is open 24/7 so that you can communicate more effectively and time zone variations won't affect you as much.
CHOOSING THE APPROPRIATE OUTSOURCING STRATEGY
It's crucial to choose the proper strategy for outsourcing your project to a third-party vendor if you want to get the desired outcome and cut costs. The outsourcing strategy you've chosen has a big impact on how well the project turns out. 
SOLUTION
Your outsourcing model should be designed based on the scope, nature, goals, needs, budget, duration, etc. The three most common outsourcing types are time and materials, dedicated development teams, and fixed-price agreements. 
POOR COST ESTIMATION
Gaining a competitive edge over maintaining an internal workforce to handle non-core company tasks is the major goal of outsourcing. Always weigh your internal team's cost estimate against the vendor's price quote before selecting a provider. There are frequently unforeseen costs that weren't initially considered. All of these things can add up to a budget overrun on the road.
SOLUTION
Speaking with the vendor and requesting a clear cost estimate when closing the agreement are the only ways to reduce outsourcing costs. In order for the vendor to offer you a precise cost estimate for the outsourcing process, you must properly outline the criteria for the project being outsourced.
SECURITY & PRIVACY ISSUES
You may expose some or all of your company's assets to your outsourcing partner during the outsourcing process. The security procedures, data protection policies, privacy concerns, and intellectual property issues involving trade secrets, patents, and copyrights must all be examined for this reason. You should always choose organizations that adhere to a strict security protocol because there is always a chance that the vendor may disclose your important information.
SOLUTION
Making a contract with a non-disclosure agreement (NDA) and service level agreement, as well as checking the company's security procedures and data protection system, are the only ways to mitigate these kinds of outsourcing issues.
LEGAL & CONTRACTUAL PROCEDURES
The legal outsourcing process is less uniform than the internal hiring procedure and heavily depends on the vendor's location. You can be asked to sign a number of supplementary documents that are not required by local law depending on the country. The outsourcing problems start after the contracts have been signed and the work has begun; little mistakes in the contract could have disastrous results that taint your relationship with your vendor as a whole.
SOLUTION
Make sure to have an NDA ready for the outsourcing business to sign, as well as any other required legal paperwork. Talk about every aspect of the process, including what will happen if your provider is incompetent or makes a mistake, and don't forget to address security concerns. Your contract should include provisions addressing pay, working circumstances, the obligations of the freelancer, ownership details, and other pertinent issues.
IMPORTANCE OF OUTSOURCING: WHY SHOULD A BUSINESS OUTSOURCE?
As a business owner, you would opt for an organization with a solid track record to handle some business operations quickly. It has a wide range of advantages, many of which are designed to boost profitability. We hope to persuade you that outsourcing is more of a business necessity than an optimization plan for your firm by outlining the advantages and impact of outsourcing on business. 
BOOST YOUR BUSINESS 
It's a great way to guarantee that your business maintains a steady growth while keeping the core of your team focused on internal tasks because outsourcing the work is more affordable than building your own in-house team and because you can cancel an outsourcing contract without having to lay off employees.
INCREASED PRODUCTIVITY
The impact of outsourcing on employees is increased efficiency and productivity. By drawing in highly qualified and talented people who are willing to work fewer desirable shifts, outsourcing can boost the productivity of business operations.
RETAIN FLEXIBILITY 
Your outsourcing needs can always be scaled by a seasoned outsourcing firm. 
ACCESS TO BROADER TALENT POOL
Top talent can be attracted by outsourcing companies to guarantee client satisfaction and successful results.  
MAINTAIN FOCUS ON CORE COMPETENCIES
Investing in an outsourced workforce, whether it be for software outsourcing or marketing outsourcing, greatly increases your ability to concentrate on your strengths.
LOWER COSTS
If a task doesn't require a full-time staff, you can save money by outsourcing it. You're able to keep the employees that are essential to the continuous operations of your business because of the reduced costs.
INCREASED BRAND LOYALTY
Your ability to provide your clients with the level of care they expected will motivate them to return when you hire skilled individuals to handle project details for them or develop your products and services.
TOP 5 ASIAN COUNTRIES WHERE YOU CAN OUTSOURCE YOUR BUSINESS
Source: Magellan Solutions 
Through the years, outsourcing in Asia has been continuously prosperous. Countries in Asia are known to be a global BPO destination and can greatly provide top notch outsourcing services. There are various countries in Asia where you can outsource your business. Here are some countries ranking high and advancing in the BPO industry. 
INDIA (South Asia)
India continues to be a top outsourcing location for companies around the globe. Compared to North America or Europe, hiring an employee from India is significantly less expensive. In comparison to other Asian nations, India has one of the lowest hourly wages.
Even though English is not their primary language, it is one among its many official languages. The nation is ranked sixth in Asia for English proficiency by the EF EPI (English Proficiency Index). Compared to the rest of the globe, its proficiency is generally moderate.
India is ranked second in the most populous country in the world, with half of the population being of working age. With millions of students joining the workforce yearly, this gives you access to a broader talent pool to choose from.
PHILIPPINES (Southeast Asia)
It is no surprise that Filipinos are fluent in English speaking. According to the EF EPI, the Philippines ranks second in Asia for English proficiency. This is one of the main reasons why the Philippines holds the distinction of being the world's BPO capital. As a result, businesses from Western Europe and North America frequently hire Filipinos to handle their customer service. For cost reductions and excellent client satisfaction, the Philippines is the top choice for many services.
According to the Philippine Statistics Authority (PSA), the Philippines has a high literacy rate of 91.16 percent, and many Filipinos pursue further education. As a result, you can find suitable candidates for any BPO outsourcing requirement in this incredibly diverse talent pool. 
In order to guard against cyberattacks, the Philippines has rigorous data privacy laws and rules. One of only three ASEAN nations having data protection laws is the Philippines. The 2012 Philippine Data Privacy Act makes it safe for offshore businesses to outsource.
The impact of outsourcing in the Philippines is greatly recognized as the BPO industry is considered as one of the major economic pillars of the country. It has significantly impacted the nation's economy in the several years and is still flourishing even during the COVID-19 pandemic. 
CHINA (East Asia)
Numerous foreign investors have entered the Chinese outsourcing market. According to the World Bank: China ranks second globally in terms of having the highest Purchasing Power Parity (PPP) at $14.72 trillion.
In terms of digital resonance, China is ranked a strong #7 globally in the 2021 Kearney Global Services Location Index. Due to its high digital resonance score, China is a reliable Asian destination for IT and software outsourcing. 
The Chinese government has seen the economic boost outsourcing has provided their economy. To promote growth and create new outsourced jobs, they established advantageous tax policies and subsidies.
THAILAND (Southeast Asia)
Utilizing cutting-edge green and smart technologies, the nation hopes to transition to a new value-based economy. As a result, emerging manufacturing businesses will have affordable options and be able to thrive in the modern digital era.
Thailand has been focusing on stepping up their game in the global economy. The nation's plan is to attract more foreign investments in order to expand their economic freedom. 
VIETNAM (Southeast Asia)
Vietnam has been considered one of the fastest-growing economies in Southeast Asia even during the COVID-19 pandemic. 
With its emerging middle class, Vietnam has a potential market and the ability to draw all kinds of international investment and emerge as the next outsourcing powerhouse.
According to GlobalData, Vietnam's literacy rate is 97.75 percent in 2021. In order for the employees to compete in the IT services industry, the government has also strengthened their technical and digital skills.
CONCLUSION
In the BPO industry, outsourcing is an undeniably beneficial and economical business strategy that offers worldwide access to qualified individuals. The impact of outsourcing on business will be significant if you rely on a competent outsourcing company with a great reference and track record. 
It is a must to take note of the risks you can encounter while outsourcing. And how to solve them because it is useless if you outsource unwisely. There is no perfect plan but if you play and work harder, you can achieve your business goals.

Magellan Solutions Can Provide the Suitable Outsourcing Services Customed for Your Business
Now's the best time to partner with a great provider of outsourcing services and make an impact on your business. 
Magellan Solutions ensures to provide the best outsourcing needs and solutions for your business' goals. 
With more than a decade of expertise in the field, we take great pride in offering only the best call center services appropriate for small and medium-sized businesses. On top of that, we are an ISO-certified and HIPAA-compliant outsourcing company. We provide a great variety of top-notch outsourced business solutions. 
Give us a call and let's discuss your business needs and we will assist you every step of the way. 
TALK TO US!
Contact us today for more information.