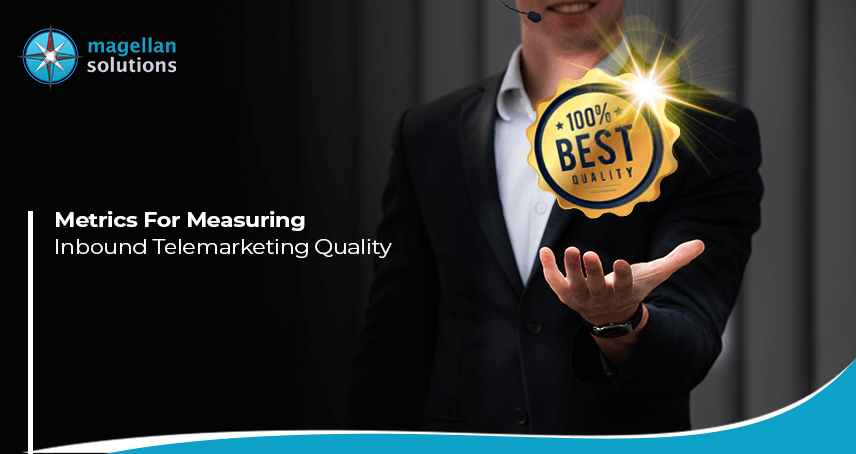 Enjoy Expert Inbound and Outbound Telemarketing
with Magellan Solutions
Inbound and outbound telemarketing are both proven to generate significant customer interest. Here at Magellan Solutions, we handle both consumers and clients. We offer both types of expert telemarketing systems for both B2C and B2B.
Metrics That Measure Telemarketing
Telemarketing, just like any business practice, is measured by efficiency and results. While it's challenging to make sense of the concept, it's essential to weigh in how effective and reliable a telemarketing method is, to help track the growth your marketing efforts are making as you go.
There different metrics used for measurement, and each could be applied to a business based on the type and the industry where it belongs.
First Contact Resolution ( FCR )
The first contact resolution is a direct assessment of an agent and their company's capacity to assist  customers. As a result, this metric is known to contribute to customer loyalty and satisfaction, while driving the contact center's profitability at the same time. 
The FCR is measured by dividing the number of cases resolved in a single call to the total number of issues resolved. Example of these cases are:
Booking changes

Cancellations

Upgrades
The concept to this metric is simple – the more effective the FCR is, the more successful and reliable they are in addressing concerns and providing necessary action. 
Cost Per Contact
The cost per contact metric is more financially-centered. This metric refers to the expenses related to running a contact center:
Operational costs

Wages 

Benefits
Whenever a call takes place, it costs a contact center money. These would include operational costs such as salary, software, hardware, electricity and other company expenses. 
The Cost Per Contact helps determine channels that are the most effective. Omnichannel approaches are the most efficient, as call centers gain insight on which platform is best suited for quality customer experience, depending on many other factors such as the target market and customer base and preferences. 
Service Level Agreement (SLA)
The SLA is a contract signed by a client to finally set the partnership in motion. This contains the requirements and standards the contact center abides to and administrates. The Service Level KPI then measures the center's agreement, which needs to be within the SLA's set goals and targets.
Despite the simple definition, complying to the SLA is crucial, and there are many different factors that may affect the service level such as:
Unplanned service outages

High call or ticket volume

Frequency of an agent being absent
In order to meet the SLA terms, these factors needs to be addressed immediately in order to reach the goal KPI and ensure a smooth flow of operations on both ends. 
Service Level calculations differ depending on the SLA and the contact center's preferences. Making use of call center analytics software greatly helps in measuring performance-based results.
Abandoned Call Rate
Abandoned calls are when a caller hangs up even before an agent is able to assist. Common factors that affects this are the lengthy wait and unnecessary hold times. Operational incidents such as inefficient IVR systems may be a cause for these mishaps. 
To assure full compliance with the SLA, most contact centers need to maintain a 5% or lower abandoned call rate. Immediately addressing operational and staffing concerns can help avoid an overall poor performance. 
To reduce the number of abandoned calls, start the call with ringing instead of sending it straight to the IVR system. It is also advisable to preoccupy a caller with ringing, as it buys agents time to wrap up current calls before handling the next. Setting expectations and the wait time also helps, as callers tend to be more patient once they know the amount of time they would need to wait. Aside from IVR systems, it is helpful to include a well-structured voicemail message to facilitate and encourage return calls. 
Outsource Top Notch Inbound and Outbound Telemarketing
Services with Us 
Magellan Solutions has expert sales representatives that bring in results day in and day out. 
With more than 13 years in the industry, we pride ourselves with top quality services in both inbound and outbound call center services. With highly-skilled agents and the latest technology in contact center communications, we bring quality service in affordable packages without compromising quality. 
Give your sales a boost with stellar telemarketing services. Contact us for more of our services.
TALK TO US!
Contact us today for more information.