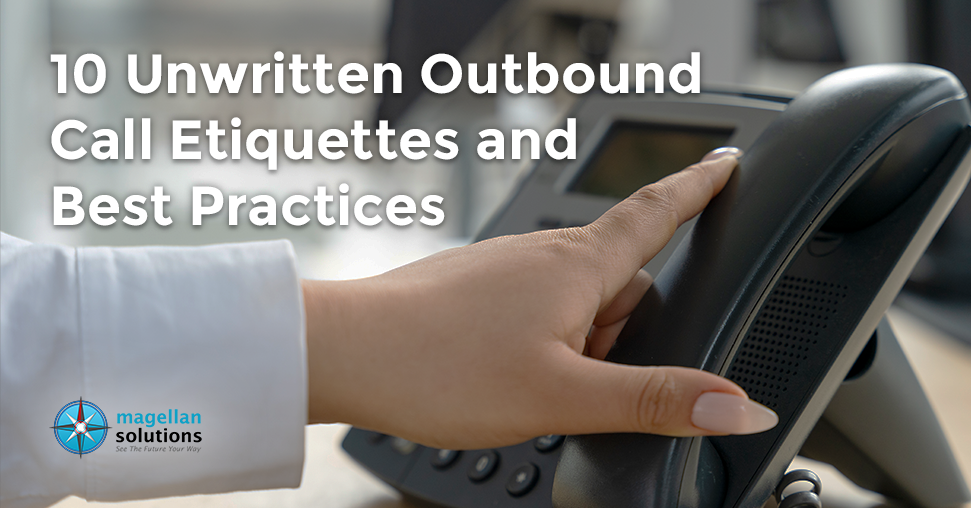 Outbound Call Proper Etiquettes, Best Practices and More!
Want to expand your customer reach? An outbound call is a brilliant approach for firms to connect with their target audience, develop loyalty, or anticipate and meet possible client demands.
Phone etiquette is one of the most crucial components of the customer experience.  The phone etiquette of your representatives could be crucial for outbound call, customer retention, and engagement.
Being on the phone all the time is a fact of life for small business owners. With a huge number of calls, you take it, correct etiquette is essential to make a good first impression. And to also convey your professionalism to everyone you engage with, whether they are clients or business partners.
Company owners must ensure that staff members constantly follow the company's phone guidelines and best practices.
PHONE ETIQUETTE: MEANING & BENEFITS
By using proper phone etiquette, you can project a polished image of yourself or your company to others. Positive interactions leave enduring impressions that play a crucial role in business success. Greetings, word choice, voice tone, active listening, greetings, and general politeness are all examples of proper phone etiquette. 
Let's run down on some factors why phone etiquettes are important on inbound and outbound calls. 
TRUST & LOYALTY
Potential consumers will trust you more if you use proper telephone etiquette. They become devoted customers who buy from you regularly as a result.
ESTABLISHING A SOLID REPUTATION
Excellent phone manners frequently result in outstanding customer service, which can help your company develop a stellar reputation. Customers share their customer service experience with other people which can include yours. As a result, your business may develop a reputation for offering excellent customer service over time. 
LONG-LASTING IMPRESSION
Your telephone communication during an outbound call impression has a long-lasting impact. The receiver feels valued because of your telephone manners. Establishing and sustaining a great relationship with your consumers depends on effective communication. 
MAKING UP FOR THE LACK OF NONVERBAL SIGNALS
Since neither side can read body language when speaking with a consumer on the phone, communication can be challenging. Setting phone etiquette guidelines and teaching your employees to follow them can close this gap during inbound and outbound calls. 
CUSTOMER SATISFACTION
When clients are pleased with their telephone interaction, they are confident that their needs and demands will be met in person as well. They receive a dependable and comprehensive experience as a result. Whether you operate outbound or inbound call centers, this is always crucial.
RETENTION OF CUSTOMERS
Poor phone manners result in subpar customer service, and poor customer service results in attrition. Furthermore, you don't want a constant stream of clients.
PROFESSIONALISM 
Using good telephone etiquette always demonstrates your professionalism. Potential customers are led to assume that their work is in capable and secure hands as a result. They'd probably do the transaction again.
RECOGNIZING NEW CLIENT NEEDS
Excellent phone manners enable a customer support team to go beyond solving urgent issues and pinpoint additional client needs.
10 OUTBOUND CALL ETIQUETTES & TIPS
Both art and science go into making a successful outbound calling campaign. That's because making an emotional connection with clients is just as crucial as having the appropriate facts to support a proposal.
Here are our best recommendations for developing an outbound calling campaign plan that will enable your team to achieve goals and establish lasting relationships.
#1) MAKE YOUR OUTBOUND CALL SCRIPT
Work on your scripts as a group. Contact your agents and let them express any thoughts or worries. To improve the content, test your drafts. An outbound script will be more effective if it has more input from agents and customers. You can also listen to your call recordings to gauge if it works or not.
#2) REMOVE DISTURBING BACKGROUND NOISE
Make sure you are in a peaceful place, such as a private office, and avoid using the speakerphone in order to drown out distracting noises. It is hard to sell a product or service if your customer can't hear you. Ask individuals around you to reduce their voices if your usual workspace is too noisy, or go somewhere that is quiet. 
#3) LEARN TO RESOLVE CONFLICT
Try to be more understanding of their feelings. Contrary to popular belief, your customer care representative should speak a little louder at first if the client begins speaking out loud.
#4) ANSWER THE CALL IMMEDIATELY
Leaving a call on voicemail is never a good idea. If they are kept on the line for an extended period of time without assistance, customers frequently become irritated or even hang up. It's better to answer the phone, even if it's merely to put the person on hold while you deal with another caller, than to leave them waiting for long periods of time without a greeting.
#5) INTRODUCE YOURSELF
You should check with the individual they have called as soon as you answer the phone. A friendly greeting for your consumer can inspire a successful start to your outbound call.
#6) BEFORE TRANSFERRING OR HOLDING A CALL, ASK THE CLIENT FIRST
Being placed on hold is frequently the most annoying experience. Always obtain consent from the caller before putting them on hold or transferring their call. In addition to reassuring them that their situation would be resolved quickly, explain why it is vital to do so. They'll be less likely to whine about a lengthy wait period if you keep your customer informed.
#7) MAKE SURE TO TAKE DOWN NOTES WHILE LISTENING
Ask the caller if you're not sure who they are or what they require from you. Take note of their name, phone number, and employer and make sure you comprehend all they are asking or wanting.
#8) KEEP CLIENTS UPDATED
It's crucial to educate your employees on this. They must provide the client with a list of the tasks they will perform before setting a longer deadline than is necessary. 
They will know you stood up for them if you resolve the issue faster than you predicted. At that moment, you'll have a committed consumer. They'll be furious if it takes longer than you predicted.
#9) USE APPROPRIATE LANGUAGE
This is extra important for your sales teams.
There is a clear language distinction between business and personal phone calls. When speaking on the phone with friends, it could be appropriate to use slang and profanities, but doing so can result in a client's permanent refusal.
When on the phone, always be considerate and polite. Use formal language whenever possible because you never know who among your consumers might find something you say offensive.
#10) NEVER INTERRUPT YOUR CUSTOMER
Don't disrupt a client who is whining. Although it can be challenging to do so, teach your staff to pay attention to every detail of the issue, regardless how it takes them. Even if call center staff will eventually transfer the call with another member of your team, it's still crucial to hear the entire story to make the consumer feel cared for.
OUTBOUND CALL FINAL THOUGHTS
Your primary focus should be giving each potential client and client excellent service. From cold calling to getting qualified leads, proper custom should be in place. 
Strong phone manners are essential whether you outsource your customer service to a call center or retain it in-house. And with the help of this guide, maintaining that phone etiquette will be simpler during every customer engagement.
The processing of inbound and outbound sales calls should be observed to make sure that protocols are followed. Your company can operate effectively and improve the perception of your business when every worker is on the same page.
Make sure that your outbound calling campaign is set up correctly from the beginning and that your agents have received the necessary training. Higher conversion rates result from this because it improves the customer experience during an outbound call. The performance of your agents determines the company's reputation.
A QUALITY OUTBOUND CALL CENTER SERVICES PERFECT FOR YOUR NEEDS
Now is the time to lessen your burden. Consider switching to outsourcing and pump up your business with our outbound call service.  
Magellan Solutions will definitely help you accomplish your business objectives at a considerably lower cost without compromising quality. From market research to managing outgoing calls, we can do it!
With 18 years of expertise in the field, we take great pride in offering only the best call center services. On top of that, we are an ISO-certified and HIPAA-compliant outsourcing company. We provide a great variety of top-notch outsourced business solutions. 
Get in touch with us so that we can help you with your business needs and goals. 
TALK TO US!
Contact us today for more information.