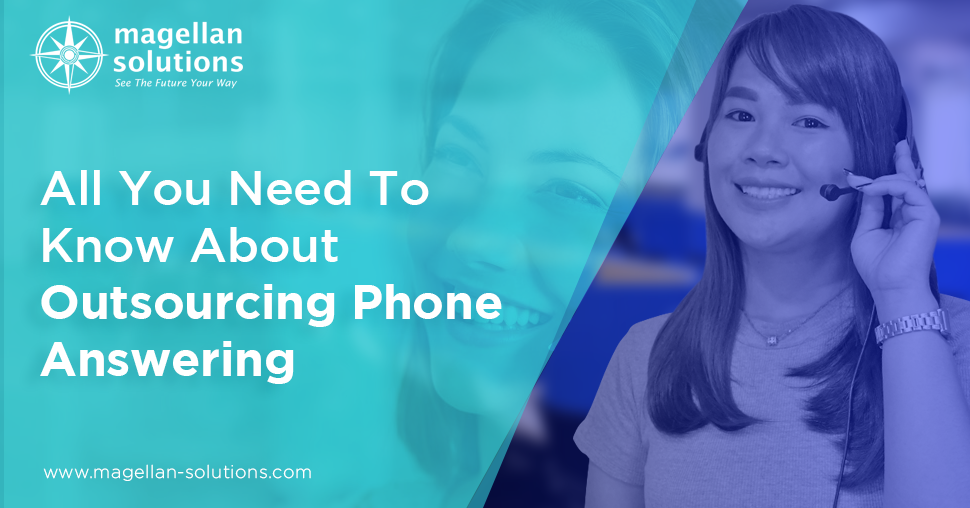 Phone answering is one of the main channels that businesses use to provide customer service. This is why outsourcing phone answering services can be a great help to your business. Here, customer service representatives are put in charge of incoming calls, and resolve any concern or queries from the callers in real time.
While some business owners choose to set up their own in-house call center, a lot of other businesses choose to outsource call answering to a third-party service provider. If you are considering doing the latter, we are here to help you make an informed decision.
What happens in outsourcing phone answering services?
A call answering service may also be referred to as a live answering service or a telephone answering service. When you outsource this service, you are basically hiring a third-party service provider to be your inbound call center, and handle the calls that come in through your business phone numbers.
The outsourcing company provides a team of agents who are trained in customer service, and can cover other tasks aside from phone answering services. For example, they can be in charge of scheduling appointments, resolving credit card issues, and providing virtual receptionist services.
Which businesses or industries should outsource phone answering services?
Call answering is almost a universal service which every business needs. Regardless of your size, industry, or sector, your organization would definitely benefit from outsourcing a call answering service. Here are some popular examples:
Medical Institutions:

hospitals and other

medical institutions

are known to outsource answering services. For this industry, however, it is important that the service provider complies to HIPAA standards.
Home Care:

a

home care answering service

for patient care is a form of call answering service. It provides real-time responses, qualified professionals, multilingual agents, and smartphone integration to streamline home care services. 
Retailers:

an answering service is necessary in the retail industry. It also helps businesses handle large call volumes, and manage call overflows from

marketing campaigns and promos

.
Real Estate and Property Management:

outsourcing an answering service is also helpful in

real estate and property management

. Real estate agents and property managers would not get burnt out from personally answering calls, while also providing high quality customer service.
Travel and Hospitality:

from ticketing concerns to hotel reservations,

travel and hospitality

businesses outsource answering services for a wide array of tasks.
SaaS:

software-as-a-service

companies often outsource call answering services for customer or tech support.

FinTech:

call answering services are an integral part of

FinTech outsourcing

. Financial technology companies often need this for customer service and tech support.
What are the benefits of outsourcing phone answering service?
According to research, 60% of customers prefer communicating with small businesses via phone call. Outsourcing a call answering service makes your business even more accessible to customers. In turn, the expanded customer reach would mean more opportunities for business.
Call answering service outsourcing is best for business, and boosts your business by:
Saving costs:

by outsourcing this service, you do not have to hire extra staff. You have an outside team that works full-time for you. gives your in-house employees more time to concentrate on pressing business issues.
Never letting you miss an important call or message:

even if you are in a business meeting, you will still get messages on time. You are backed by a professional team of agents, who are thoroughly trained to handle calls for you.
Maintaining scalable operations:

outsourcing this service is a more flexible option than hiring your operators. You can easily and quickly add or subtract the number of operators that you need at any given time, depending on your needs.
How much does it cost to outsource a call answering service?
There are no fixed industry standards when it comes to call answering services. For some service providers that offer an answering service, per call pricing determines the cost, while others may even provide a free trial of the service.
Your needs and preferences also affect the cost of outsourcing this service. Some of the factors that determine the rates of call answering service outsourcing include:
Number of seats/agents needed

Level of agent expertise

Length of contract

Location of your business

Add-on services (e.g. business continuity plan)
What are the things you need to keep in mind when choosing a service provider?
There are lots of service providers to choose from. However, not all of them are the best fit for your business. To find the right outsourcing partner, here are some factors to consider:
Length of experience:

companies with lengthy industry experience know how to handle a wide array of challenges. They have developed techniques to improve their quality of work, too.

Quality of staff:

you need a service provider that provides extensive training to their staff, and regularly monitors and improves their performance.

Safety guarantee:

choose a service provider that has strong data security measures in place. Checking for a

HIPAA

or an

ISO certification

is an effective way of ensuring that your data is safe with a service provider.

Value for money:

the rates should be within budget. Your service provider should also be able to deliver high-quality results at any price point. Choose an outsourcing company that provides high-quality services at flexible rates.
Your trustworthy call answering service provider
Magellan Solutions is a call center service provider that offers call answering services. We have been in the industry for over 15 years, and our company is HIPAA and ISO certified. Our team is made of highly skilled and thoroughly trained professionals. With all of these qualities, we guarantee high quality answering services at flexible prices.
Would you like to learn more about our business? Contact us today, and our team will respond immediately.
TALK TO US!
Contact us today for more information.