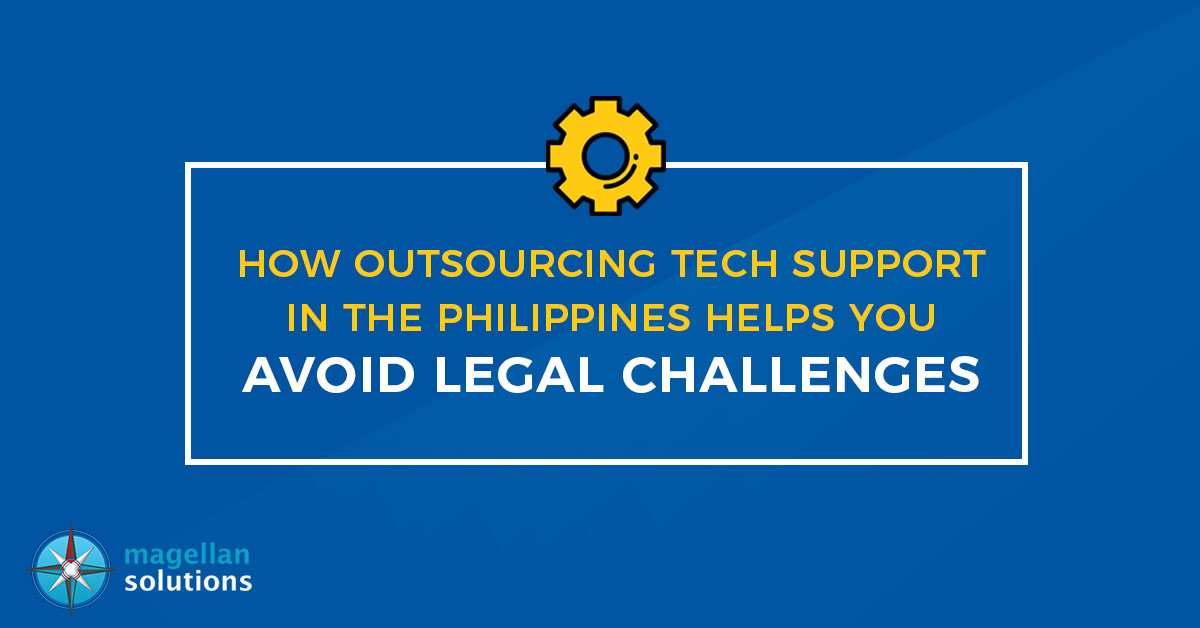 With the rise of the internet, technologies, and gadgets included, the government saw the need to create new laws and regulations to protect people from the negative impact of the internet.
These changes resulted in a heightened importance of service agreements compliance among tech companies which reflects the level of importance they give to their customers and the existing government laws.
For them to completely avoid having any legal challenges or reparations, tech support process outsourcing might be one of the best solutions.
Outsourcing Tech Support In The Philippines
The IT-BPM industry in the Philippines grows every year. Rappler has reported back in 2014 that it will reach $48 billion by 2020. In 2016, the industry has reached $25 billion in revenue, accounting for more than 15 percent of the overall global outsourcing industry.
With the help of the government and the Philippine educational system, many graduates and students learned more about the information technology industry. Undoubtedly, this growth drives more talents to pursue their career in this industry. As a result, the quality of work — and ultimately, the output — is also increasing as competition arises.
There aren't BPO companies in the Philippines making headlines in a negative way that affects their clients in other countries. Thus, outsourcing tech support in the Philippines is relatively safer.
Moreover, Filipino employees, especially those working in the BPO industry, are already aware of the international standards and laws related to the work.
Risks in the technology industry
Giving your consumers the assurance that their information is safe is very important. It does not only guarantee customer loyalty but it can also give an assurance that no laws or regulations are being violated.
According to Statista, 96 percent of internet users in the United States are scared of online hackers. Those people are scared that their personal data like credit card information and social security number might get stolen. The Concept of data privacy is really important. Only a mere 17 percent of people surveyed in 2017 by the same agency stated that they are sure their online information is secured.
Stolen identities and financial damages can bring legal problems to tech companies. This is why companies should not hire just anyone when dealing with their tech support. Though most customer service, especially the ones dealing with information of customers has a certain risk involved. With this, the tech support should be inspected twice.
There have been many fraudulent threats in every department and sector in the technology industry.  Tenfold listed five examples of the United States' biggest online breach in 2015:
Hackers stole the data from 4.8 million users at V-tech;
Attorney-client privileges may have been violated for 70 million inmates as millions of call logs, and thousands of call recordings were stolen;
Stealing credit card data from Donald Trump's hotels across the United States. The hackers compromised the information of thousands of people throughout the country;
When as many as 15 million T-mobile users had their information stolen, the results included lost social security numbers, passport numbers, birth dates, names, and addresses.
Ashley Madison scandal
Avoiding Legal Risks With Magellan Solutions
Our company has handled multiple clients in relation to tech support.  we are aware of the legalities it comes with. We are also up to date with new laws and regulations that each country needs to adhere to.
Magellan Solutions have certifications from Trustwave, ISO 27001, and PCI. Trustwave complies with the needs of e-commerce companies while PCI is responsible for data account protections. As for ISO 27001, it ensures that we adhere to all the standard information security measures required to ensure that our client's data are safe. We are also GDPR compliant, which is needed for European countries.
If you have plans of outsourcing tech support in the Philippines, fill out the form below or contact us.
TALK TO US!
Contact us today for more information.