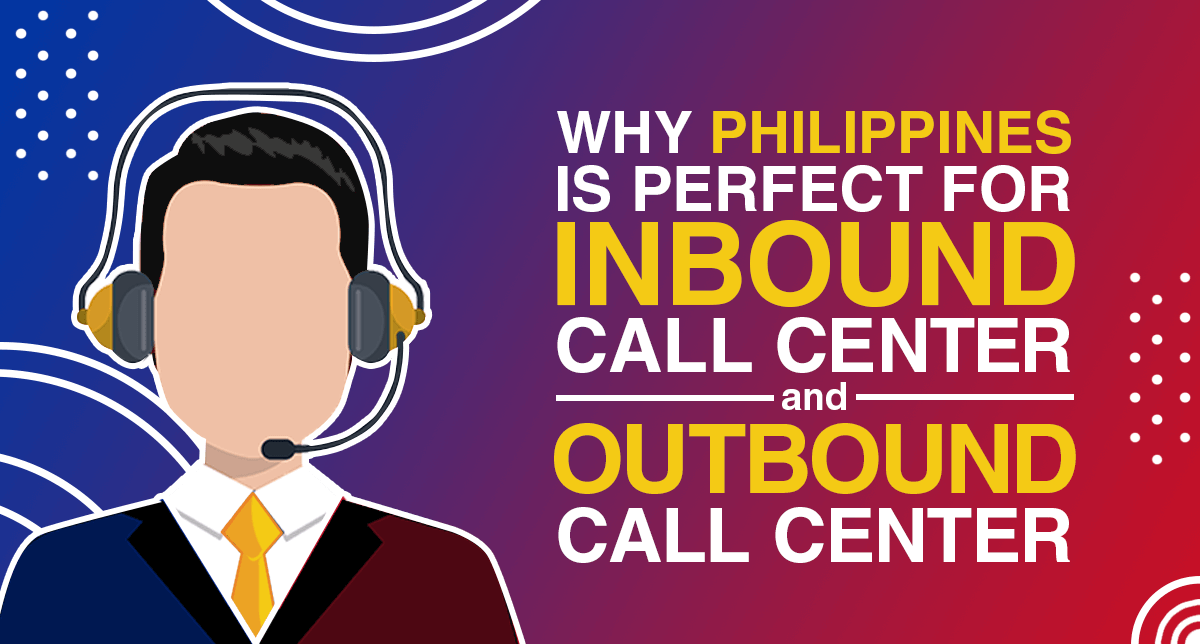 Why the Philippines is the Perfect Fit for your Inbound Call Center and Outbound Call Center?
Choosing a BPO company for inbound and outbound call center is crucial. It can make or break your company.
Here are some countries where you can outsource your business:
Philippines

India

Mexico

Brazil

Argentina

Poland

Ukraine

Malaysia

China

Taiwan

Romania

Egypt

Canada
Among the countries listed, Philippines and India are the top choices for companies.
India is the largest offshore outsourcing country. They have over 500 companies offering outsourcing services.
India's population is the main reason why they are the top outsourcing provider. As a matter of fact, they have the second-largest population in the world with 1.33 billion people. 
But, the Philippine BPO is "The BPO Capital of the World". In 2022, they will cover 15% of the total global outsourcing market.
Cost-cutting is the main reason why a company opts to outsource. But, there are other factors why an organization choose a BPO company such as:
Enhancing the quality of the service

Solving capacity issues

Focusing on the core business

Flexibility

Efficiency

Freeing Up Internal Resources

Tax Breaks
With this, outsourcing your services is significant to the growth of your firm. But how do you know if the company you partner with is worthy of your trust?
Qualities of a Country with Great Inbound Call Center and Outbound Call Center
There are several factors that you need to consider when searching for a BPO company.
Salary of Agents
As stated, 59% of companies outsource their business as a way to control or cut their budget. Asian countries, for instance, have lower salaries compared to Western countries. So, businesses who outsource in this location can save as much as 60% on labor costs.
It will be practical if you outsource your business to have more people to work for you. In fact, the estimated hourly salary of a call center agent in the USA is $22.
Imagine how much you can save if you found an offshore company that does the same service for almost half the rate?
Cultural Flexibility
97% of global consumers say customer service greatly impacts their buying decision. Also, consumers appreciate an agent who can build a relationship and relate to them.
This study shows how important it is to have a call center agent who can build a rapport with customers. Besides, going to a country with a culture like your target customers will be a smart move.
Manpower
It is important to know how much available manpower it can provide for your business. Likewise, a young population can be beneficial to a firm that is looking for a long term partnership with a BPO company.
A country that has a high literacy rate can also provide a great quality of service for its customers. Having an agent that can speak English with a neutral accent is important. They can encourage your client to buy your product or service again.
Work Ethics
Aside from having a skilled worker, an employee that has a strong work ethic is a valuable asset to your company. In fact, this can give you an assurance when you have disciplined and hardworking agents.
It is not easy to handle customer inquiries and concerns. It takes tremendous effort and patience. 70% of consumers provide positive feedback on companies who contact them with proactive customer service notifications.
Workforce Diversity
Outsourcing in a country with a diverse workforce can add value to your business. A diverse workforce is about differences in ideas, skills, education levels, and experiences.
A diverse workforce has lower turnover rates and absence. Moreover, you can avoid the risk of disrupting your operations due to a lack of coverage.
A diverse call center team gives you a competitive advantage. Moreover, this will help you drive more profit and boost your global presence.
Promoting an inclusive workplace also improves your corporate social responsibility.
Philippines: The Perfect Destination for Your Inbound Call Center and Outbound Call Center
Now that we know the criteria, let us take a look at why the Philippines is the best fit for your company.
Filipino Call Center Agents: The Super Agents of the BPO Industry
Filipino call center agents have a lot of great attributes to be the best BPO agents in the world. Here are a few reasons why:
Excellent Literacy Rate
The Philippines' literacy rate is at 98.18%. This is higher than other developed and modern countries.
The country produces almost half a million college graduates each year. Among these, many consider a career in BPO because of the competitive salary and benefits.
Government Support
The support from the Philippines government is strong for the call center industry. They are offering a call center training course for graduates who want to apply to the BPO industry.
As a result, there are 1.2 million call center agents. They came from 700 outsourcing companies. So, the BPO industry is the largest contributor to the Philippine economy.
Diverse Cultural Background
Filipinos are a natural fit for BPO services due to their rich cultural dynamics. While they have an Asian background, they have also had a Western culture and traditions.
Communication is more efficient because of their fluency in English. This characteristic is vital in achieving better customer service satisfaction.
Outstanding English Skill
The Philippines is one of the largest English-speaking countries in the world
. In fact, 70% of their total population can speak English.
M
any foreign firms outsource in the Philippines because of this.
English has cemented its status as one of the official languages of the country. Likewise, English is the primary medium of instruction from preschool to university.
Filipinos also have a neutral tone in English. Which makes communication easier with Western customers.
Excellent Work Ethics
Filipinos are well-known for their hardworking and industrious nature. Their values system has all these qualities. They are also dependable, reliable, and can deliver what is expected of them. 
They also know the value of their job as it provides them economic security. Likewise, the support of foreign firms to the Philippine BPO is proof of their respect for their work ethics.
Philippine BPO: The Call Center Capital of the World
Philippine BPO is also one of the best in the world. In fact, here are some qualities that make call centers in the Philippines world-class.
Low Cost Service
Outsourcing your inbound and outbound call center services in the Philippines is efficient. For instance, you will need an estimated amount of $53,000 if you want to set up an in-house call center with 15 employees. But, if you outsource in the Philippines with the same number of employees, you will need $36,000.
Outsourcing in the Philippines not only lessens the cost of labor. As a matter of fact, it will also save you from spending on office spaces, human resources, and legal costs. For this reason, the saved amount will add up to more or less 60% cost savings.
Flexibility
The Philippine BPO industry also offers a wide range of services. On contrary, India specializes in IT but falls short in customer service.
Having a BPO company that supplies you with different services is efficient. Above all, you no longer need to look for different BPO companies for your different needs.
Client Versatility
Philippine BPO can also provide an inbound and outbound call center for big and small firms. 
SMEs can enjoy outsourcing their business with the right company. Above all, they should look for an outsourcing partner whose purpose is to help them grow and reach their goals.
The big number of manpower can be helpful if you are planning to expand your business. This is applicable for both SMEs and large corporations.
Magellan Solutions for SMEs and Start-up Businesses
Magellan Solutions provides services to small and medium enterprises. We offer a variety of services for inbound call center and outbound call center such as:
Our applicants went through a thorough application process. After that, our hired employees will undergo training to enhance their skills.
To sum up, we understand the importance of giving the best customer service. Moreover, we take pride in helping start-up businesses by assisting them in their development.
Contact us today for a 60-minute consultation at zero charge. Fill out the contact us form now!
TALK TO US!
Contact us today for more information.