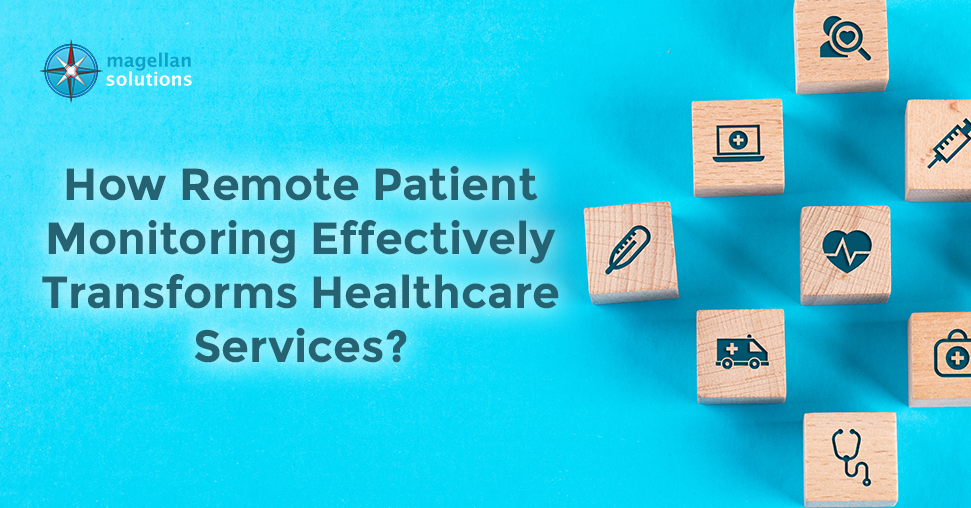 Remote Patient Monitoring Improves Healthcare.
One of the most gripping trends in healthcare right now is the rife use of virtual healthcare services. Experts call this Remote Patient Monitoring (RPM).
Most people had never heard of RPM before 2020. But this is starting to change as more doctors and patients start to use it.
Because of the restrictions caused by the pandemic, there was a push to make healthcare more available. This has given RPM the boost it needed to move forward faster. Health systems are using RPM to help people more and more. It started with cases like COVID-19, diabetes, and high blood pressure. But now it can also help with care for people with long-term illnesses.
Even though remote patient monitoring has a lot of upsides, many people still don't know it well. In this guide, we'll explain the process flow, what RPM stands for, and how it works.
WHAT IS REMOTE PATIENT MONITORING & HOW IT WORKS?
Remote patient monitoring is a type of telehealth home care that lets patients use technology to collect and send their own health data to doctors.
RPM programs can measure body weight, blood pressure, and heart rate. A computer system sends patient information to the doctor's office. Doctors can then download the data anytime they need.
By putting high-risk patients in touch with remote monitoring, it can let healthcare leads know about possible health risks. Or maybe keep track of patient data between visits.
RPM can also track workers' comp cases. Through this, they can make sure that employees return to work in the right way.
REMOTE PATIENT MONITORING STATISTICS
According to Verified Market Research's report, the Remote Patient Monitoring Market was estimated to be worth USD 24.56 billion last 2020. 
According to Research and Markets, the remote patient monitoring market systems will be valued over $1.7 billion by 2027. That's nearly 128% increase from the $745.7 million opportunity it currently offers.
The clinical benefits of RPM have been supported by research for more than ten years. One study from 2005 found that hospital-at-home care resulted in shorter hospital stays for patients (3.2 days as opposed to 4.9 days) and fewer problems.
In 2021, a study from the Mayo Clinic in Rochester, Minnesota, looked at COVID-19 patients who were part of a program to monitor patients from a distance. They found that most people didn't get treatment or go to the emergency room. The study found that 11.4% of the people who joined the group went to the emergency room, 9.4% were hospitalized, and 0.4% died.
A study from the St. Joseph's/Candler (SJ/C) health system in Savannah, Georgia, found that people with diabetes who got care through RPM and telehealth during the pandemic saw their A1C levels drop by 2% at 3 months and 2.2% at 6 months.
The Huntsman Cancer Institute at the University of Utah studied its adult oncology hospital-at-home program and discovered that during the first 30 days after enrollment, patients in the program were 58% less likely to be admitted for an unforeseen hospital stay and those who were admitted had shorter stays.
Also, a study from 2021 that was published in the trade journal of the British Medical Association found that a remote patient monitoring program had little to no effect on the mortality or rehospitalization rates of non-elective surgery patients. But it did significantly reduce pain and was linked to a significant rise in the identification and correction of medication errors.
In the past few years, RPM has become much more common. In a poll done by the American Medical Association, 20% of doctors said they used RPM, which is twice as many as in 2018. One-third of the doctors who used RPM were specialists. Cardiologists made up the largest group of specialists (63.3%), followed by endocrinologists and diabetes doctors (41.6%).
4 out 5 US adults support remote patient monitoring, and nearly half support implementing it into medical care, according to another report by MSI International Study that interviewed 300 Americans last May 2021.
According to these figures, remote patient monitoring is here to stay. Providers are promoting its wider adoption.
REMOTE PATIENT MONITORING WORKFLOW PROCESS
A remote patient monitoring BPO offers revolutionary services in health care whenever they are needed. We'll show you how to monitor a patient from afar in the next section.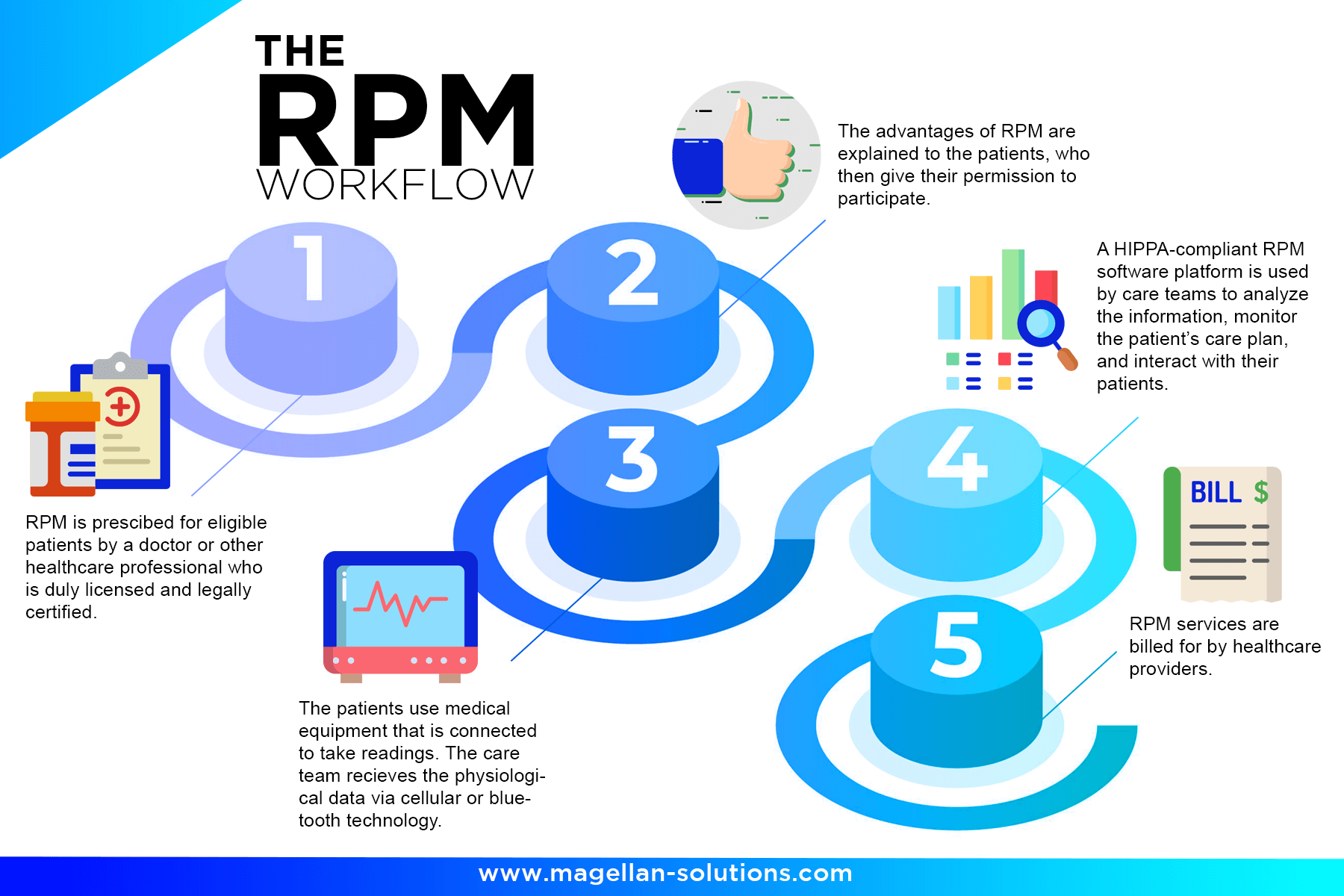 Source: Magellan Solutions
BENEFITS OF REMOTE PATIENT MONITORING
To help you know and understand more about how valuable remote patient monitoring is, here are some of its benefits:
#1) MORE AUTHORITY OVER ONE'S OWN HEALTH
Remote patient monitoring often involves a device that's easy to use. This can give the user a quick look at their health. This also lets patients make small changes to their daily routines that can make it easier to deal with their illness.
#2) BETTER ACCESS TO MEDICAL TREATMENTS
Since RPM lets people do basic health checks on their own, healthcare providers can help more people. The turnover of the visit will be a lot quicker as well. Giving doctors more time to read data and records.
#3) IMPROVED ACCESS TO THE MEDICAL TEAM
In order to give patients and caregivers peace of mind, RPM give them the most recent data on their patients' current health status.
#4) ASSURANCE
Patients can feel more at ease if they know that any possible risks will be found quickly thanks to continuous monitoring.
#5) IMPROVED INSTRUCTIONS & ASSISTANCE
The healthcare team knows more about the patient's health situation, which lets them give the patient more personalized help and advice.
#6) ENHANCED QUALITY CARE
By giving patients and healthcare providers access to more important patient data, RPM improves both the overall quality of care and how much it costs.
Remote patient monitoring BPO helps doctors and nurses learn more about a patient's health, which can lead to more accurate changes to medications, fewer trips to the emergency room, and longer time between office visits.
#7) LESS VISITS TO THE PRACTITIONER'S OFFICE
Patients will be less likely to get other diseases and will spend less time and money traveling.
#8) IMPROVED PATIENT ENGAGEMENT
RPM devices have given patients a big part to play in understanding and taking care of their own health problems.
#9) INCREASED LEVELS OF SUPPORT & EDUCATION
Remote patient monitoring helps and educates patients by giving them information and feedback every day about their conditions.
A MAJOR UPGRADE IN HEALTHCARE SERVICES
Patients are more likely to take an active role in their own health because remote patient monitoring models are easy to use. Clinicians are also better able to understand and manage their patients' medical conditions. Thanks to a more continuous flow of data that gives a much clearer picture of the patients' health.
It's not difficult to picture a time when a large portion of patient care is given outside of hospitals. Expanded care at home has been around for a while, and it seems like people involved in health care are ready to accept it.
Companies have put money into clinics that run care-at-home programs, showing that they still believe in the hospital-at-home model.
Since experts have seen how useful remote patient monitoring is, researchers are making tools for patients to use at home that are better and more advanced.
WE PROVIDE QUALITY REMOTE PATIENT MONITORING
Do you need access to remote patient monitoring services? 
Magellan Solutions can provide top-notch remote healthcare services where it is desired the most. 
With almost 20 years of experience in the field, we're proud to offer only high-quality call center services for small and medium-sized businesses (SMEs).
Contact us and let us help you grow your business. 
TALK TO US!
Contact us today for more information.