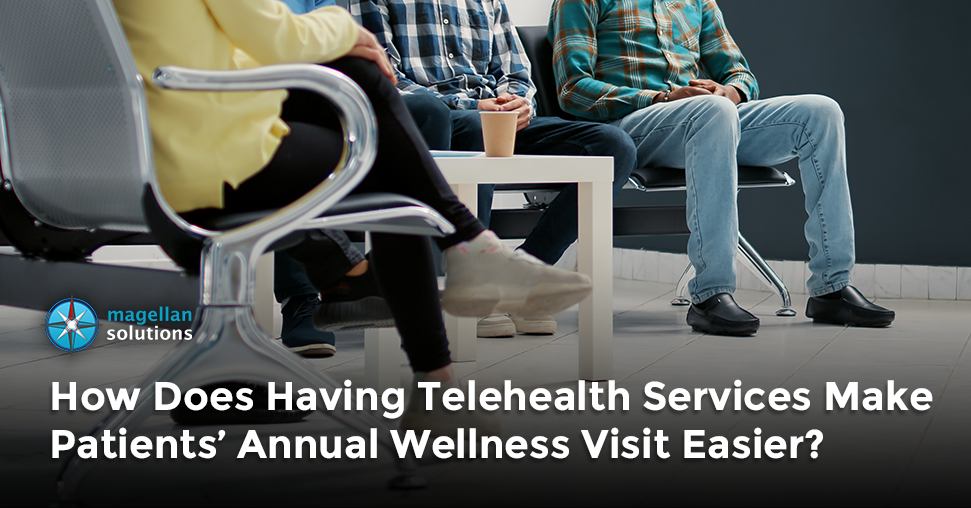 Telehealth makes patients' Annual Wellness Visits easier
How many times have you heard that the Internet has changed the world in big ways? It changed the way you talk to your friends and family and the way you shop. Like many other things, healthcare also changed. Telehealth changed Annual Wellness Visit and how you look up health information and how you talk to your doctor.
Before, you had to go to a doctor's office to make an appointment. But now, thanks to telehealth, you don't even have to leave your house to see a doctor.
But what is Telehealth? How can it help your patients?
WHAT IS TELEHEALTH & HOW IT WORKS?
Telehealth Services is the process of giving care and medical services from a distance using technology for communication. It lets people who need medical care talk to their healthcare providers from the comfort of their own homes.
It was first thought of as a way to improve access to health care and to help doctors connect with patients. Since then, it has given us new ways to share data and talk to each other.
HOW TELEHEALTH WORKS?
Telehealth is a broad term for all the ways that doctors and patients can talk to each other.
Many medical facilities have online patient portals that make it easy for people to get in touch with doctors. With the help of these portals, they can quickly access their medical records and doctor notes. 
They can also check their test results, look up symptoms and illnesses, and schedule phone or video calls for virtual visits.
TELEHEALTH STATISTICS
Since the beginning of the pandemic, telehealth has become more and more popular. 85% of physicians who responded to a 2021 Telehealth survey by the American Medical Association say they presently use it.
In the 2021 telehealth survey conducted by the American Medical Association, 60% of participants agreed or strongly agreed that it enables them to deliver high-quality care. More than 80% of them say that it improves patients' access to care.
The market for telehealth services was estimated to be worth USD 83.5 billion in 2022. And from 2023 to 2030, it is anticipated to increase at a compound annual growth rate (CAGR) of 24% as per the Grand View Research Report.
In a research created by American Medical Association (AMA) they also found out that: 
85% of respondents said that it improved the timeliness of care.

75% said that it enabled them to provide high-quality care.

More than 70% expressed a desire to use it more frequently.
BENEFITS OF TELEHEALTH SERVICES
Listed below are the advantages of telehealth:
REDUCED COST
Even if you have good health insurance, it may cost a lot to go to the doctor or therapist. Telemedicine appointments are usually cheaper than in-person appointments. This lowers out-of-pocket costs and gets rid of a barrier to care.
Also, regular costs like help at the front desk, space for medical exam rooms, and supplies could go down.
EXPANDED PATIENT REACH
Person-to-person care has always been hard when patients are late or don't show up. It wastes time and gives up a chance to get a new patient.
Since telehealth is easy to use and schedule, the number of patients can grow by a lot.
Getting the word out about telemedicine solutions can help doctors and nurses see more people. By taking advantage of its opportunities, you can get more people to come to your hospital right away.
CONVENIENT & EASY ACCESS TO SPECIALISTS
Not everyone has a doctor they can call at any time when they are sick. Many online medical networks give you access to a wide range of professionals without an appointment. 24 hours a day, 7 days a week.
ASSISTANCE FOR THOSE WITH CHRONIC DISEASES
Patients can use home monitoring devices that send information to doctors about new symptoms, health problems, and possible health crises. Quick actions can help people and could even save their lives.
INCREASED ADHERENCE FROM PATIENTS
A study of people with chronic heart failure found that telehealth not only cut down on hospital readmissions but also made people more likely to follow their treatment plans. 
Telehealth services have also been shown to improve service delivery and help people with mental health problems feel less depressed. Virtual care could be a way to improve and keep patients' adherence and persistence.
RURAL RESIDENTS' ACCESS TO MEDICAL SERVICES
There are many advantages to living in the country, but quick access to medical care isn't usually one of them. Telemedicine gives patients who reside far from the closest medical facility a fast way to see a doctor.
This saves time and enables individuals to avoid traveling in poor weather conditions or when there is a state of calamity. 
EMERGENCY PSYCHOLOGICAL SERVICES
At any time of the day or night, anyone who is facing a mental health emergency, especially those who are at danger of self-harm, can rapidly get in touch with a therapist or psychiatrist.
BETTER PATIENT RESULTS
Telehealth services can make it less likely that someone will get an infection and give care teams a chance to check on patients more thoroughly.
Patients whose health is already bad can lower their risk of getting sick from diseases linked to traditional healthcare by using telemedicine. So, it can help keep patients from having problems or getting sicker in the future.
You also have more chances to talk to patients about their treatment plans, whether they involve medicine or hands-on therapy. By using digital tools, you can get in touch with people in a flexible and direct way, which can make patients happier.
DOCTORS ALSO GET TO REST AT THEIR HOMES
Numerous medical facilities have shut down or modified their hours because of the pandemic. Doctors and therapists may now safely treat patients in-home thanks to cybersecurity techniques like virtual private networks. Additionally, after hours and on weekends, doctors and patients can communicate thanks to this access.
EXPAND THE OPPORTUNITIES FOR MEDICAL DISCIPLINES TO COLLABORATE
Diagnostic value is increased by combining expertise. On-demand virtual visits allow consulting doctors to attend and provide a quick second opinion or more experience. By facilitating easier access to people and data, digital chances also aid in scientific exchange and production.
Thus, telehealth options have a significant impact on your healthcare staff's medical education (and possibly career prospects).
PEER-TO-PEER ASSISTANCE
People who are coping with difficulties like grief or infertility have come together with online support groups facilitated by therapists.
EMERGENCY NIGHT CARE FOR BABIES & CHILDREN
Babies often experience high fevers or get sick in the middle of the night. Parents can use telehealth services to immediately connect with doctors who can provide answers, a diagnosis, and even a prescription, when necessary, rather than relying solely on online searches.
INCREASED PATIENT ADAPTABILITY
These personal barriers are significantly reduced during sessions, which reduces stress and increases flexibility even in emergency situations.
Reduced waiting times and transportation costs are also advantageous to patients. On-demand virtual visits taken can assist your patients in juggling life, work, and healthcare. 
LESSENED ANXIETY
Simply put, many individuals dislike visiting the doctor. Without leaving the comfort of your home, you can access medical assistance and ask questions.
ENABLES EASY PATIENT FOLLOW-UP
These touchpoints can be made in a variety of ways, from an overview of patient consultations to implantable cardiac monitors, through telehealth opportunities and remote treatment alternatives that are individualized and case-specific. Applications for it, particularly remote monitoring, provide a great deal of potential for financial gain.
Diagnosis and treatment decisions are supported and accelerated by digital symptom calendars and tools. Depending on the ailment and type of patient, digital engagement and follow-up can significantly improve treatment outcomes and quality of life.
PERSONAL THERAPY AT HOME
Telehealth enables physical therapists to monitor and see exercises and therapies performed with assistance in the home for patients receiving physical therapy. People may recover from injuries and operations more quickly as a result of this.
DOCTORS & CARE TEAMS GAIN IN TERMS OF THEIR PHYSICAL & MENTAL HEALTH
Virtual consultations became practical and prompted an increase in platforms and capabilities. Telehealth and virtual care opportunities are crucial to maintaining your hospitals' care-force, even during erratic times, because the physical and mental health of care teams is crucial.
WHAT IS AN ANNUAL WELLNESS VISIT?
During your annual wellness visit with your primary care provider, a custom plan for prevention can be made or changed. Depending on your health and risk factors, this strategy could help you avoid getting sick.
The annual wellness visit is different from a regular preventive care appointment. Why? Because it includes services for the patient's emotional and mental health as well as their physical health. 
During the annual wellness visit, doctors have the chance to get patients more involved, improve the quality of care, and get paid more.
Before you talk to your doctor, it is also important to know what is not covered by your insurance or healthcare provider.
WHAT IS NOT COVERED IN MEDICARE ANNUAL WELLNESS VISIT?
Have you ever thought about what Medicare's annual wellness visit doesn't cover? Here are the things that your insurance won't pay for during your annual wellness visit.
Physical exam – Most of the time, an annual wellness visit does not include a physical exam. Instead, the doctor will check your blood pressure (BP), weight, and height.
Chronic diseases – Your insurance company won't pay for you to talk about, treat, or get drugs for long-term illnesses or conditions like high blood pressure, high cholesterol, or diabetes during your annual wellness visit. You will also have to pay a fee or deductible in this case.
Sick visits – You will have to pay a fee or deductible if you talk to your doctor about a disease or symptom, like an infection or stomach pain, and he or she tells you to get care or makes a treatment plan for you.
WHY IS AN ANNUAL WELLNESS VISIT ESSENTIAL FOR YOUR HEALTH?
Here are the main reasons as to why annual wellness visits are an important process in one's healthcare. 
DEVELOP A RELATIONSHIP WITH YOUR DOCTOR
Your relationship with your doctor gets stronger when you see him or her once a year for a wellness checkup. 
If you skip your annual wellness visit and only go to the doctor when you're sick or have another problem, they can't find and treat health problems as well because they don't have a full picture of your health history. This is something that yearly visits and screenings can give them.
IMPORTANT HEALTH INFORMATION CAN BE SHARED
Tell your doctor if your health or the health of someone in your family changes. Your doctor will have a better idea of what might be making you more likely to get sick. 
During your annual wellness visit, your doctor goes over your entire medical history, including any surgeries you've had and the medicines and supplements you're taking now.
YOU CAN TRACK YOUR HEALTH ANNUALLY 
You can discuss methods to enhance your health with your doctor and come up with an action plan. Your doctor will be able to assess where you were this year next year. If your health has improved over time, you can then check that.
ENJOY THE FREE HEALTH BENEFITS
The cost of your annual wellness visit is free. It makes no difference if your deductible hasn't been met or what kind of health insurance you have. Just keep in mind that you must go to your annual wellness visit with a physician or other provider who takes Medicare.
YOU CAN DETECT POTENTIAL PROBLEMS EARLY
A yearly checkup enables your doctor to quickly identify changes in your health. An illness might progress for years before being discovered at a more severe state if you neglect your annual wellness visit.  Your doctor can identify issues early, when they are typically simpler to treat, when you get an annual wellness visit.
ESTABLISH A HEALTH PLAN OF ACTION
During your annual wellness visit, you and your doctor can talk about ways to improve your health, prevent illness and disease. And also set your own health goals. 
After talking about the screening results, you can make a plan to keep your health in good shape or deal with and improve chronic diseases.
INVEST IN YOUR HEALTH
So far, we've talked about what a wellness visit and telehealth are. By now, you should think about getting a wellness checkup once a year to improve your health and find any potential problems.
Contrary to what most people think, telehealth is not just a bad digital version of regular care. When done right, it improves patient health, cuts costs, and makes it easier for anyone with a smartphone to get treatment. 
Also, it's clear that widespread use of telehealth could be good for both patients' health and the economy. Especially in a country like the United States where a lot of people live in rural areas.
For telehealth to continue, doctors will need the right equipment. Hence, they would need a reliable partner to help them with it. 
MAGELLAN SOLUTIONS PROVIDES TOP-NOTCH HEALTHCARE SERVICES FOR THE CARE YOU NEED THE MOST
Telehealth is the beginning of a revolutionary healthcare that will transform the health sector. Magellan Solutions can help you or your firm with your healthcare needs with a reduced cost without sacrificing the quality and service. 
We've been in this business for 18 years, and we're proud to offer only quality call center services.
Contact us when you are ready to entrust your healthcare to us. 
TALK TO US!
Contact us today for more information.