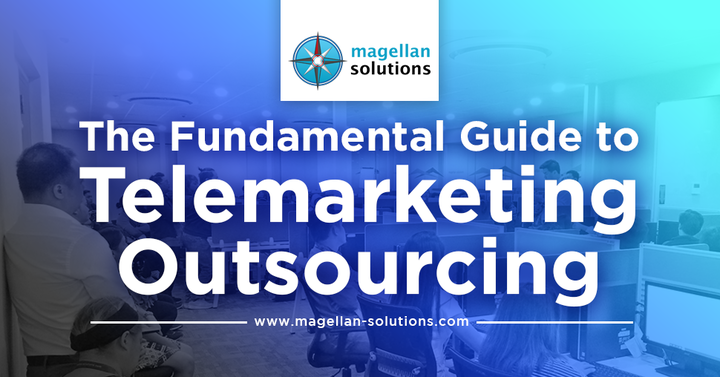 As you go on with your journey in finding effective sales and marketing strategies to boost your business, you will surely discover more about one of the best techniques to reach prospects, improve sales, and build brand equity— telemarketing outsourcing. 
If you are wondering if telemarketing is still effective, you are probably missing the fact that it has learned to go on with the digital age. New types were developed with the use of modern tools and software. Outsourcing telemarketing greatly helps companies today to increase sales and improve their overall business. 
If you want to know more about telemarketing outsourcing, read further as in this article, you will find out about the following:
What is Telemarketing Outsourcing?
It is a powerful business strategy of hiring a third-party to do a specific direct sales and marketing method. The salespersons or commonly called here as telemarketers from the outsourced company do virtual tasks of contacting potential clients to offer your products or services through a phone conversation. Aside from upselling and cross-selling, it can also be used to utilize different outbound services. Some of which are lead generation, appointment setting, cold calling, market research, survey, debt collection, lead qualification, lead list updating, and many more.
Importance of Outsourcing Telemarketing in Businesses
In looking for a faster, more powerful, and reliable process to expand your customer reach, you might come across telemarketing outsourcing. Yes, telemarketing is considered as one of the effective tools by businesses from various industries, even small businesses. But what makes this area of their business even greater is outsourcing it. The importance of outsourcing telemarketing greatly relies on the many benefits it provides. One of which is that telemarketing outsourcing helps companies save costs, time, and effort. It may seem a small thing to some, but it isn't for a business owner. In doing business, it is always important to maximize all resources.
Never discredit it. Even if it is done only through a phone call, you can obtain important information from your potential clients. The secret here is outsourcing a company that has a strong knowledge about it. These data can be of big help to your organization. If the prospect said no to whatever you are offering, you are still able to get something from them. You can use these data to improve the way you do telemarketing or even for your entire business. It can be your way to get fortune when done right.
Different Types of Telemarketing You Can Outsource
Before you outsource telemarketing, one of the first things to do is to determine the specific type of telemarketing to use and outsource for your business. The company you will outsource will not do it for you as you are the one who knows your business in every angle. They are just there to help you execute your telemarketing campaign and ensure the success of it. If you want to be successful with your telemarketing outsourcing campaign, take note that each kind is unique from the others. It is important to get a grasp about each one of the 4 types of telemarketing that you can outsource.
Inbound Telemarketing
From the name itself, you are the one receiving calls from the customers. The attention and interest of these prospects were obtained through broadcast advertising launched by your business. These are the type of potential clients who have a huge possibility of purchasing your products or services. They contact you to get more information or maybe to buy already. They just need a little push from your outsourced team of answering service.
An example of this is when you launched an advertisement about your vacuum cleaner on a social media platform. When a consumer who is also using that specific social media platform saw your ad and realized he needs a vacuum cleaner, he will then contact you to inquire through the telemarketers you outsourced. The prospect already has the intention to buy. This is why inbound telemarketing is considered as a more profitable type.
Outbound Telemarketing
In outbound telemarketing, the telemarketers you hired are the ones who are contacting the potential clients. Their goal to introduce and offer your products or services through cold calling, considering its many benefits. This is more difficult compared to inbound telemarketing. It is for this reason why outbound telemarketing services cost differently from that of inbound.
This is what most internet providers use whenever they have a new product or an upgrade. The outsourced telemarketers commonly call existing customers to introduce and offer it. A proactive sales approach is needed here for a more successful outbound business marketing campaign. It is for that reason why you need to be careful in finding a telemarketing service provider to partner with.
READ: Key Differences Between Inbound and Outbound Telemarketing
Business-to-Business (B2B) Telemarketing
Exclusively for business-to-business transactions only. Companies use this type of telemarketing to get in touch with other businesses. Its goal is the same as that of outbound— to market products and services as well as to introduce the brand itself. If B2B telemarketing is your angle, we highly suggest that you outsource telemarketers who have experience in the field for years as they will be talking to business people or decision-makers.
For example, your business is about carpet cleaning services. Commonly, the ones using carpets are also businesses. With this, you will target companies with offices. Have your outsourced team of telemarketers contact them to offer your services with a great deal and value. 
Business-to-Consumer (B2C) Telemarketing
This is the type of telemarketing that targets direct consumers. Here, like outbound telemarketing, the telemarketing service provider you hired will be the one to initiate the call to people who probably have an interest in your products or services. This is an efficient method to obtain more clients. Both B2B and B2C telemarketing are commonly considered as outbound.
Knowing each type of telemarketing can help you determine which is the most fit for your needs.
After choosing the most appropriate one for your business, proceed with finding the telemarketing service provider to outsource. It should be the one that will greatly contribute to the success of your telemarketing campaign and to the growth of your company.
Benefits of Outsourcing Telemarketing
Telemarketing outsourcing can help bring success not just for your campaign, but to your business as a whole. With this, here are just some of the many important benefits of telemarketing outsourcing that might change the way you think of it: 
Flexible
Outsourcing telemarketing allows you to get only what your business needs. It can help you save costs as it is flexible. You can adjust your campaign and processes based on your requirements.

Cost- Efficient
It helps reduce time, effort, and
operational costs
while getting access to professional telemarketers, advanced equipment and infrastructure, and many more.

Establish Stronger Customer Relationship
Outsourcing can help you build trust and a strong customer relationship with the help of the right telemarketing service provider. In addition, telemarketing is done by actual humans. Consumers would love to get in touch with humans more than chatbots.
Professional Telemarketers
Getting an idea on how to get the attention and interest of prospects is easier with outsourced telemarketers. They are experienced in this field. It allows them to have a grasp of the prospect's personality to understand them better and find the spot where they can make consumers say yes.
24/7 Telemarketing Services
As telemarketing service providers commonly operate 24/7, outsourcing this area allows your organization to do business round-the-clock.
Measurable Results
Telemarketing outsourcing companies have their own way to accurately measure the result of your campaign. They invest in databases and such. With this, you can see which areas are effective and which are not. It can help boost sales efficiency while getting instant results.
Like any other things, outsourcing your telemarketing also has its disadvantages. One of which, the most common, is the team of telemarketers you hired may sometimes affect the way people think of your business. It is especially if the telemarketers are not kind or friendly enough to potential clients.
Note that it is not sufficient that you are doing it properly and with the right processes. You also need to guarantee other things like ensuring that you outsourced from the right telemarketing service provider.
How Outsourcing Telemarketing Companies Helps Increase Sales
If you are already convinced that outsourcing your telemarketing can play a huge part in the growth of your business and is now planning to outsource your telemarketing services, here are some ways on how to maximize the use of your outsourced telemarketing company:
Make a Solid Telemarketing Plan
First things first. To start a telemarketing campaign, you need to have a strong telemarketing plan, one that can help you succeed in your campaign. Telemarketing service providers can help you land the best telemarketing strategy. With their unique and effective result measurement, they can provide reports on which areas of the campaign are good and which are not. They can even give suggestions on how you can achieve success in doing telemarketing as your success is their success as well. It also helps that they have the adequate understanding of your products or services. 
Obtain and Qualify Leads
Outbound telemarketing lead generation is an essential part of every process. Call centers specializing in lead generation can be of big help to get quality leads. They are professionals and are knowledgeable in different areas such as the cold calling techniques, conducting research, how to turn prospects into buyers, and many more. 
Get an Appointment for a Face-to-Face Meeting
This is the best thing to do when you are doing the B2B type of telemarketing. Businesses love to set meetings for a clearer conversation as well as to get a chance for a better deal. Telemarketers from telemarketing outsourcing companies know well how to make decision makers agree for a face-to-face meeting. The opportunity to close a sale is higher when done through this as you can properly do the demo and answer their questions immediately. Knowing the prospect is also easier through this. From the idea your outsourced telemarketers got about them, you can find a spot on how you can convince them to purchase.
Getting Attendees for Your Seminar, Convention, and Demo
Telemarketing outsourcing companies can help you get a lot of bookings or even make the seats full for your upcoming event, such as seminar, convention, or demo. They can help you gather interested people to attend still with the use of a leads list. You can make use of these events to promote, sell, or launch your products or services. It is like increasing sales through appointment setting services, but with a larger volume of audience.
Customer Reactivation and Follow Up
In any business, especially in telemarketing, it is important to keep records of all your customers. Fortunately, most telemarketing outsourcing companies ensure to keep records up-to-date. They will simply share it to you or give you access to it. With the use of this record and utilizing telemarketing, reconnecting and doing follow ups with your clients is easier. These two processes can help you win 50% of your previous customers. These are the type of customers who are easier to convince to purchase as they have already tried your products or services. They are also the ones the telemarketers you hired should talk to first when you have updates and new products.
Knowledgeable in Cross-Selling
Your products and services will always have something that can make it even greater. If you are successful in convincing the consumer to buy from you, never forget to do cross-selling. This is the best time to offer them these products and services. Telemarketing outsourcing companies can help you with this. There is a huge percentage that they will also purchase what you are cross-selling. Who wouldn't want to get the most out of what they have? The most ideal strategy to make them say yes is by giving them a discount. Consider that they already purchased something from you.
Telemarketing outsourcing service providers offer great results with a huge improvement in terms of sales and marketing.
Cost of Outsourcing Telemarketing
Getting the exact cost of telemarketing outsourcing is difficult as there many factors to consider such as:
Location

of the service provider. A telemarketing company based in the U.S. charging per hour has an average hourly rate of around

$20 to $75. Telemarketing outsourcing companies in Asia, such as in the Philippines, cost cheaper, but with the same quality of service as the labor market rate in these countries is also lower.

Labor market rate

, which will depend on the time of outsourcing and on the location of the third party. Each country has a different economic status which affects the labor market rate. The demand and supply of the workforce also play a huge part.

Type of payment

is also a factor.

The average cost of a telemarketing outsourcing company charging per lead is around $35 and $60.

But most telemarketing outsourcing services charge per hour. An offshore telemarketing service, which is much cheaper, charges an average price between

$12 and $20 per hour.

Volume of calls

you require and the number of seats needed. The count of telemarketing sales agents, materials, and equipment will depend on these two.

Length of the contract

is also a factor. Some telemarketing outsourcing companies give big discounts to those who will sign a longer contract term with them.
A list of prospects has an average cost of $300 per 1,000 names. There are additional charges. It includes working on a script and training employees.
It has an average cost between $300 and $500. Using these factors, we can estimate the cost of hiring a telemarketing service provider. But still, outsourcing is evidently more cost-efficient than building your in-house team.
Telemarketing Outsourcing Services Philippines
One of the techniques to improve the sales efficiency of your business is to outsource telemarketing from a trusted telemarketing company. It is more beneficial than building your own sales team. This is why many companies outsource this specific area of their business. 
Outsourcing telemarketing in the Philippines is a strategic way to get hassle-free and cost effective telemarketing services. Filipinos are naturally hospitable. Their friendly voices will be a good factor in building good customer service and in the success of your telemarketing campaign. They guarantee to provide value-for-money with their quality service that can deliver great results. It is for these reasons why they are considered as the top call center outsourcing destination today.
Outsourcing is definitely beneficial to businesses. If you want your organization to continually grow, you need to keep pace with the technology just like telemarketing. Sometimes you need to revolutionize the way you do business to keep your company afloat. Utilize telemarketing as one of your sales and marketing strategies and get the most out of your telemarketing campaign through hiring a telemarketing outsourcing company today for better results.
TALK TO US!
Contact us today for more information.