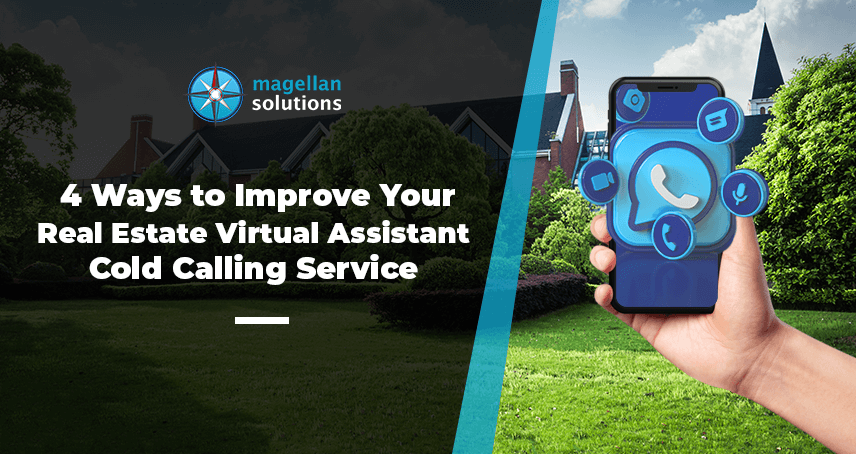 Here are 4 important solutions to significantly upgrade your real estate virtual assistant cold calling service.
Did you know that 80% of first time virtual assistants are afraid to perform cold calling? Many first timers find it hard to connect with clients over some fear of not being able to convince them. They have a tendency to sound tense when talking to prospect clients. Thus, compromising the quality of your virtual assistant cold calling service.
This is the main reason why many sales pitches failed to entice their prospect buyers. And on top of this, 40% of tenured agents also have this anxiety when it comes to calling customers.
This stigma comes from the fact that some people are not interested in the pitch. The average time before a customer loses interest with your pitch is 8 seconds. Customers will start to get annoyed if you are unable to make your point within this time. They might lead to hanging up the phone or worse, complaining and posting bad reviews about your business.
In that short of a time frame, you need a powerful message that will catch their attention. 
Here are some ways on how to improve the quality of your cold calling service.
First of all, don't stop pursuing after the first rejection
It is true that outbound callers should not harass customers who do not have an interest in your service. However, you should know as well that only 2% of deals closed after first interaction. There is a 44% chance that cold caller will stop following up after first rejection.
It is important that you always end your conversation by setting up another appointment if you didn't convince them on your first try. That way they might think about your product again and do the research before your second call. There's a higher chance that you will close the deal if they have an idea with your product first.
Then, always try something different after every call
Variation on how you handle calls is another thing that you should do when performing cold calling service. As a person who used to perform cold calls, you have a tendency to be robotic since you already know what to say about your service. Try to listen to what your customer needs. Then customize your pitch based on their necessity. 
As an example, you need to have a different approach when calling a doctor looking for a real estate property. You can describe that they can put a home clinic in the area since they're in the center of the community. Try to sell the property based on what they know rather than what you know.
Never give up, just keep on calling
You need to call more than 8 times before you can get quality leads. Meaning not every cold call that you make will result in immediate business transaction. That's why it is important to never stop calling prospects as you will not know who your next clients are.
Another thing to remember is to always leave a voicemail if you didn't reach the person. Let them know the reason why you called them. Provide a contact number and your name too. In addition to that, make them aware that you will call them again to follow up. This way, they will anticipate your call if they're interested in your offer.
Most importantly, outsource your real estate cold calling service
This is the most important thing to do if you want to significantly improve your performance. Outsourcing is a proven solution for every industry who wants to develop their service without spending too much from their budget. 
BPO companies could provide you with several services that will be beneficial with your loan company. Besides that, they have software that will eradicate all unnecessary processes that make loan application difficult. You will attract more prospects and gain more profit faster than having an in-house team.
What Should be the Qualities of Real Estate Cold Callers for Hire? 
When looking for cold calling agents, you should consider these attributes as it will greatly help your business.
Great Listener to Your Customers' Needs

Critical Thinker

Great at Researching Quality Leads

Knows How to Work Their Way Around The Script

Emphatic

Persistent
All these are basic characteristics yet it is the core of every successful real estate cold calling campaign.
Real Estate Cold Calling Services That You Can Outsource
When you talk about the cold calling service, a BPO company could give you several options to choose from. Here are some it:
Telemarketing Service

– agents will call the prospect and introduce your product first rather than forcing them to buy it right away. It is a good way to nurture your customers as a loyal buyer rather than a one time consumer.

Lead Generation

– agent will verify if prospects are interested in your product. Unlike telemarketing, consumers here have some basic idea about your product. Thus, there's a very little need for any product introduction.

Appointment Services

– one you convince them to purchase your product, you can set an appointment first so they can talk to your sales agent. It is more effective rather than pushing to close the sales during the first call. The consumers also have more time to contemplate about the importance of your product.
Virtual Assistant Cold Calling Real Estate Service Provider in the Philippines
Magellan Solutions is the best cold calling service provider in the Philippines for small and medium enterprises. We have more than 17 years of experience providing excellent BPO assistance for more than a dozen industries.
We also offer guaranteed flexible call center pricing options based on several factors like service and number of agents you need. Magellan Solutions understands that start-up businesses have limited funds in outsourcing services.
Contact us today and get a free 60-minute business consultation. Please fill out the contact form below.
TALK TO US!
Contact us today for more information.