Many Healthcare BPO are stepping up to the challenge to connect patients and doctors amidst the pandemic.
Social Media plays an important role in all industries, especially in health care. 
As more people become active on platforms such as Facebook, Twitter and Instagram, more medical companies embrace the possibility of taking advantage of it to deliver care.
Healthcare leaders are now enlisting the assistance of healthcare BPO support services to help them examine the role of social media in doing business. And it turns out that social platforms can not only aid patients with their immediate needs, it can also be a way to support hospital staff, nurses and doctors.
In this article, we have listed down 9 ways healthcare BPO uses social media to support customers and employees with their needs.
9 Ways Healthcare BPO Make Use of Social Media
1. Generating Real-time Interaction
The pandemic has forced people to practice social distancing. So patients will be resorting to easily accessible mediums to communicate with their healthcare providers.
Essentially the most basic function of Healthcare BPOs is to help you manage social media platforms to significantly meet customer expectations. By having a team of agents to handle incoming chats from patients, you can have a real-time response to their requests or demands.
2. Sharing Information
In today's digital age, customers expect support to be available on the platforms that are convenient to them all the time. For healthcare brands, this means cultivating a social strategy that emphasizes support in every stage of the customer journey. 
Healthcare BPO social media support rises in value when it comes to sharing information during crisis or major changes in prescription. Not only that, hospitals and other organizations are now able to deliver real-time updates on bed capacity and room emergency access through social media.
Having an active platform presence allows professionals to control surge of people, especially during hard times.
3. Evaluating Competitors
One surprising use of social media is to evaluate competitors to get an insight into their services and offers, for free. According to Scranton University, by taking a look into different practices and the business social media involvement, professionals have the ability to mimic these methods to enhance their own.
They add that by using information that is readily available on social media allows healthcare organizations to learn from patient reactions.
Furthermore, Healthcare BPOs play a role as well in evaluating competitors by making use of surveys to gather feedback and improve quality. Technology such as Healthcare Customer Relationship Management System or Healthcare CRM helps in identifying pain points and reading customer behaviors to improve service. 
Healthcare providers can use this data to evaluate the possibility of additional services in the industry.
4. Training Medical Personnel
In a study published in Journal of Management and Marketing Research, they highlight that management should focus on hiring well-known and right medical experts. As it turns out, a doctor's reputation leads to a positive image. 
Even more so, they recommend that doctors should be trained on interpersonal skills, as well, so as to provide politeness, comfort, and individual attention to their patients.
Nursing staff are also highlighted in the study as the second most important factor affecting customer satisfaction.
Training medical personnel will be difficult during the pandemic, especially since they are required to cater to patients going in and out the hospital. This is where Healthcare BPO steps in.
Healthcare BPO can provide institutions with personnel to assist patients with their needs. And unlike hospital staff and doctors, healthcare BPO have the time to train their personnel.
Other healthcare organizations hire BPOs to train their staff. They use social media to train their personnel to improve their soft skills. 
They use social media platforms to send training materials and conduct case-to-case simulation even if the participants are working from home. It is a cost-efficient solution to promote better care and service.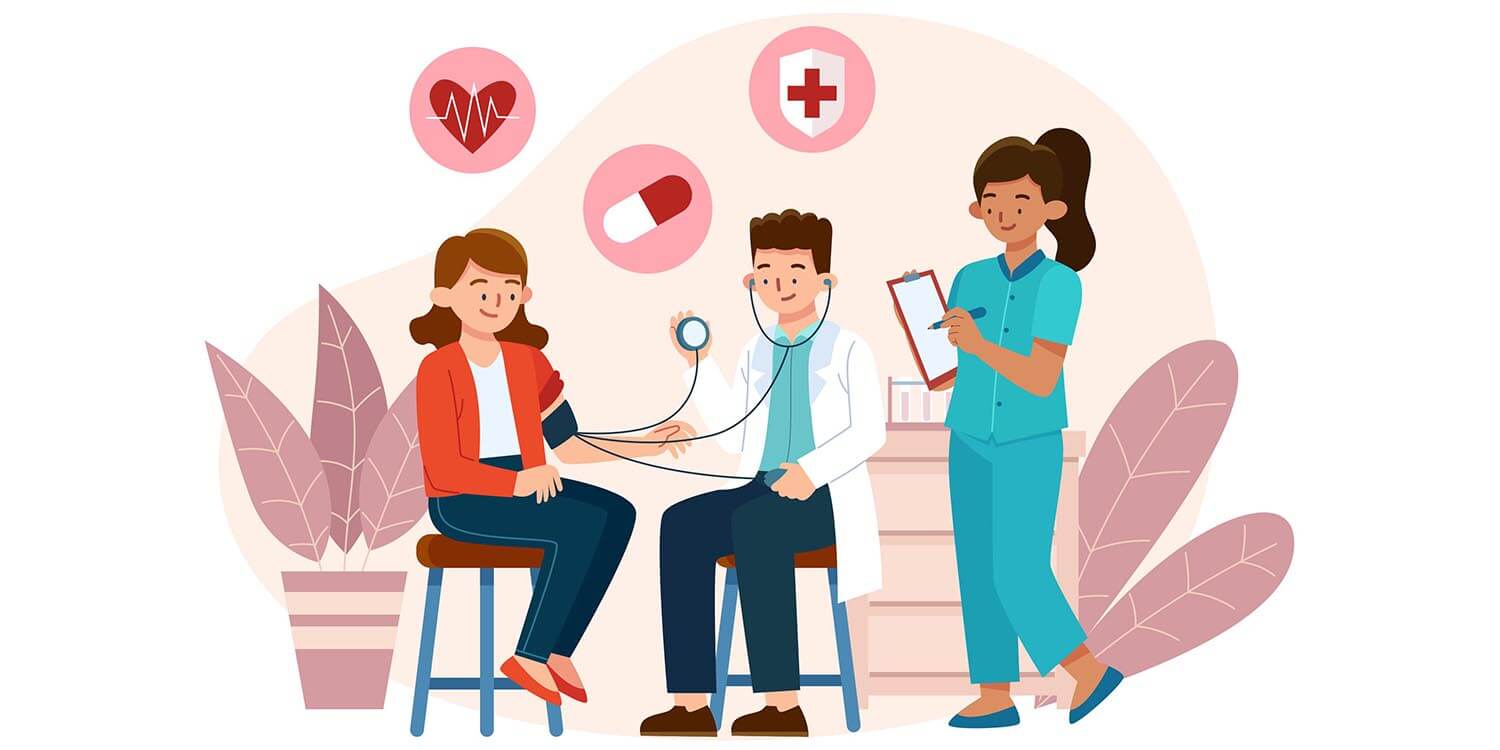 5. Setting Appointments
Think about this, 44% of patients who research hospitals on a mobile device scheduled an appointment according to Compete, Inc. This data comes from 500 hospital researchers.
What this means is that, nowadays, social media in health care is more valuable than ever. And there is a high demand to connect to doctors, immediately.
The goal of a healthcare call center is to support healthcare providers with this surge of demand. Hence, call center medical agents use social media to facilitate doctor-to-patient communication seamlessly through chat, video chat, e-mail or call. 
Even more so, with the help of Healthcare BPOs you can remind patients about their appointments with you and the requirements or records you will need from them.
6. Promote Products and Services
Medical Insurance BPO uses social media to help introduce and promote new packages, offers and facilities through different platforms. And it is a very effective way to spread awareness.
According to WEGO Health, social media advertisements have a higher return on investment (ROI) than any other form of advertisement in health care. This implies that healthcare organizations can extend their reach without breaking their bank accounts. BPOs can help to set up digital campaigns to increase product relevancy.
This is very important for SMEs looking to increase their presence in the industry. By hiring a BPO company they can inform the public about what advanced technology or treatments they offer, and save money in the process.
7. Act on customer feedbacks 
90% of customers believe that organizations should provide the ability for customers to provide feedback. That is a very high number to ignore.
Customer or patient feedback, no matter how difficult it is to take, are very important for the growth of an organization. Customer feedback is a development opportunity. It allows healthcare providers to adopt a consumer-first philosophy that will greatly improve product ideation and development process.
However, the way of delivery matters when it comes to customer feedback. That means using online survey forms will help you gather more data, but in some ways, it is ineffective.
According to Wharton management professor Iwan Barankay, tools like online surveys are hardly constructive without a two-way conversation about the service being reviewed. "Customers look for a genuine experience, a real interaction with people. I think that is always going to be true," he says.
Hence, Healthcare BPOs can not only help you gather customer feedback to improve your overall procedure, it can also create a two-way conversation. Through social media, healthcare agents can have deep discussions with patients about your services.
8. Giving Work Support
Social media is also useful for healthcare businesses, nurses and doctors specializing in home treatment. In fact, according to research by Pew Research Center, 88% of the caregivers in their study said they looked online for medical advice and answers.
By having agents trained medically behind social media platforms, you can provide support to personal nurse practitioners or pediatric nurse practitioners. Getting a healthcare BPO gives you the opportunity to have other medical agents to discuss health issues with on-site practitioners.
Also, since medical facilities are scarce in private setup, an always open communication is essential. And social media can be a feasible medium of interaction due to the fact that almost everyone has a Facebook or Twitter account.
9. Personalized Healthcare Support
It is no secret that if healthcare providers or professionals keep up a regular presence on social media, they can help millions of people. Through social media, they can educate patients about health issues and provide them with clear solutions or medical care.
Social media platforms like Facebook and Twitter are useful in monitoring patients' status as well. By letting doctors and nurses know about the patient's activity, they can better identify possible treatment for injuries and illnesses.
Furthermore, young adults can also seek medical assistance with the help of social media. According to American Psychological Association, millennials are the most stressed generation, yet only 7% regularly schedule preventive health care appointments.
Meaning, the youths are not getting proper medical attention. And if they want to seek help, they will, most likely, get it through the internet.
Healthcare BPO makes it easy to proactively reach customers. By having trained agents that are ready to reach to customers and check on them, will not only increase brand trust. It can also help in need patients feel safe with their healthcare provider.
Since millennials tend to be the most connected on social media platforms, conducting your business through these platforms can help you reach new markets.
Partner with the Best Healthcare BPO
Looking for a company with extensive knowledge about Healthcare BPO? We are your best option!
Magellan Solutions is a BPO company based in the Philippines. With over 18 years of industry experience. 
What we offer is high-quality healthcare support and call center services. On top of that, we are a certified ISO 27001:2013, and HIPAA-compliant company.
At Magellan Solutions, we combine technology such as healthcare voice process, ACD, CRM and IVR with agent training. We make sure that they have the necessary tools, equipment, and knowledge to serve customers. 
We want to extend our services even to small and medium enterprises, so we keep our rates highly flexible and competitive.
Contact us now, and we will discuss with you how we can help your business flourish. Complete the contact form below and get your 60-minute free business consultation with us today!
TALK TO US!
Contact us today for more information.