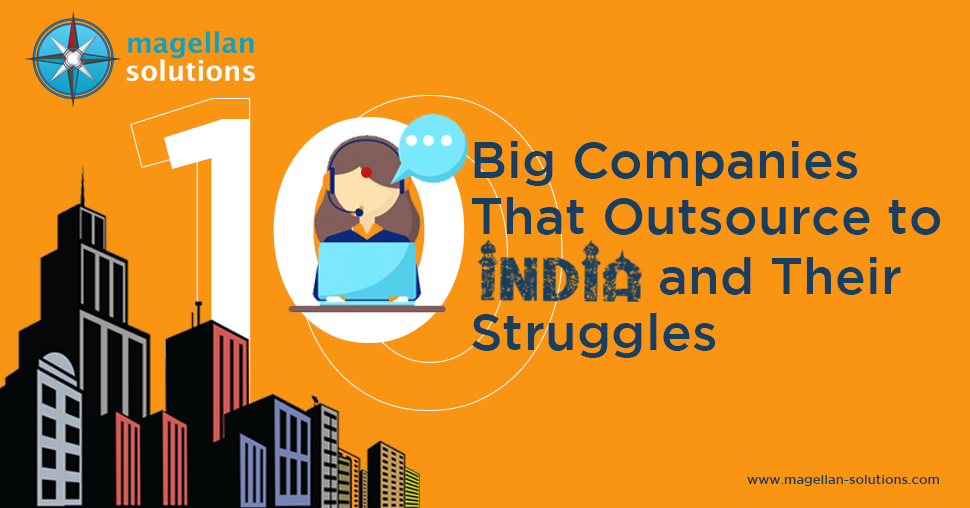 What Are The Struggles of the 10 Big Companies Outsourcing to India?
The number of companies that outsource to India grew rapidly over the years. Some key reasons have pushed the industry further – government policies, infrastructures, and a large population. Such factors have enabled India to provide quality solutions at a low cost.
When outsourcing minor business aspects, companies would consider India. In a recent survey conducted in the USA, 85% of American companies that outsource to India deploy their non-core business processes. Some of the most common outsourced services are telehealth services, data processing, photo editing, e-commerce management, website design, and search engine marketing.
However, even the promising outsourcing destination faces business downfalls. India is now facing serious competition in the outsourcing market. India has reported a 70% loss of voice and call center business to competitors like the Philippines and European countries. Lack of data security and a multi-linguistic approach are some challenges affecting India's performance. 
Despite challenges, India remains one of the top outsourcing providers worldwide. It is because its BPO is the fastest-growing segment of the IT industry. Here's a list of the 10 big companies that outsource to India and their struggles: 
Companies That Outsource to India
Microsoft
There are many reasons why some US companies outsource their IT support to India. One of them is the low labor cost. Microsoft, a technology company, takes advantage of this reason. This company decided to expand its software development operations in India. The purpose of outsourcing was the movement of work to cheaper labor in Indian markets.
Microsoft signed a three-year outsourcing deal with Infosys Technologies in 2010. This IT consulting company in India managed the internal IT services of the software giant. The deal included services such as IT help desk, desk-side services, and application support. The agreement covered over 450 locations across 104 countries. 
Microsoft is still in tight partnership with the Indian BPO industry. Despite the ongoing struggle of India with cybersecurity challenges, it received support from the company. In fact, Microsoft increased cybersecurity investments in India. This is to address the cybersecurity risks present in India's IT industry. Microsoft believes that building a secure computing environment is crucial to India's digital transformation. 
American Express (AMEX)
American Express (AMEX) has been practicing business process outsourcing in India. It decided to offshore its back-office operations to India. In fact, it opened its Financial Center East in New Delhi in 1994. This company entrusts its customer service to some companies in India and the Philippines. Companies who have worked with AMEX are Infosys Ltd and Tata Consultancy Services.
However, AMEX was once sued for sending customer calls to India. Some law firms have filed class-action suits on behalf of financial institutions. Complainants stressed that AMEX violated the Right to Financial Privacy Act and Consumer Protection Act. This is because of the company's process of outsourcing customer call services abroad. 
Sending customer financial data to foreign nationals was a major concern. It was raised that data transmission might be intercepted by any foreign governments. Given this situation, a customer's privacy can be violated. Information security has emerged a significant concern among US companies. It has forced some corporations to relocate their call centers to the US for compliance purposes.
CISCO
This networking giant is one of the companies that outsource sales. It has invested over $150 million to expand its technology development enterprise in India. The company had aimed to develop fast solutions and technologies to meet customer demands. This urged Cisco to set up its second-largest research and development facility in Bangalore. The facility has operated with over 1,500 Indian technical professionals. 24-hour monitoring and technical sales and support are some of the services provided.
India is the only country where Cisco outsources software and product development work. Although there is difficulty in finding talented developers, Cisco had set plans with India. The company eyes to invest more and benefit from its pool of skilled professionals. It even held plans to hire engineers globally and outsource its development requirements to Indian software companies instead.
Ford
This automobile giant had outsourced initially its back-office work to India. Later on, it started outsourcing its IT and customer services too. Ford also set up a software development facility in India to manage its e-commerce solutions. Ford outsourced their call to India because of it's incredibly cheap call center pricing. This is to provide their clients access to reliable 24/7 customer support. Phone, email, and live chat support services are among primary services. 
Ford has been working with Indian programmers to cut costs. This is because outsourcing to India is known to be cheaper. But some Indian programming has no structural integrity as to what can be deleted in a system. A system with no structural integrity may lose critical data. This can cost a couple of dollars in financial losses.
Oracle
Since 1994, Oracle's software development operations have been running in India. This company tapped into India's potential by setting up centers in Hyderabad and Bangalore. The company's global support center, divided between Bangalore and Hyderabad, offers technical support on Oracle products. While a shared-services center in Bangalore provides back-office services to Oracle subsidiaries.
Larry Ellison, CEO of Oracle, said that English language skills have been important in developing the service sector in India. However, India's communication problems have long been inflicting its BPO industry. India has many dialects and perfecting their speech clarity in English is a challenge. It's important to note that poor English skills can develop a gap between the client and the outsourcing partner. This can also sometimes generate wrong outputs.
General Electric (GE)
GE is one of those companies that invested in setting up a research and development center in India. The company invested roughly $130 million to equip its center with the latest tools and technology. The Bangalore GE center caters to suppliers, customers, branches and other technology centers across the world. The company by far has 3,000 to 4,000 IT roles outsourced to India. 
In the last decade, GE planned to outsource 75 percent of their IT jobs and locate 75 percent of those jobs in India. However, with the high attrition rate in India's BPO sector, this may fall through. The attrition rate in Indian BPOs has increased to 55%. This is because of erratic working hours and lack of long-term career growth perceived by employees.
Dell
Dell set up its first center in Bangalore in 2001 and opened a second site in Hyderabad in 2002. This company was also among the earliest computer companies to outsource customer service and technical support calls to India. However, it dropped its Indian call center in 2003. This is due to the following customer complaints about the quality of service. 
Language and cultural rifts between U.S. customers and Indian support staff were some issues. This outsourcing failure caused some call center operations to move back to the US. Support for small-business and consumer accounts only remained in India.
Dell CIO Randy Mott said that India was unable to handle the volume of calls. Moreover, India's thick accent resulted in a decline in customer satisfaction. For Dell, this call center failure was a lesson. It taught them to improve their tech support and other customer services.
Telstra
This Australian telecommunications company eyes for more partnership with India. In fact, it had previously outsourced its in-house talents from Indian third-parties. Australia's workforce is currently too small to meet Telstra's need for specific skills. This is where India's huge workforce takes place as an advantage.
As part of its massive restructure, Telstra outsourced to India to fill new software engineering jobs. Roles in software engineering, information and cybersecurity were outsourced to India. According to Telstra CEO, these roles are sourced where the best talent is available. Also, Telstra is set to create a new Telstra innovation and capability center in Bangalore. Telstra CEO said this could strengthen their presence in India.
In 2004, Telstra earned the ire of the government and trade unions. This is because of the company's plan to move 450 jobs to India. Workers, consumers, and industry experts even planned a rally outside Telstra's headquarters. Many believed that Telstra has shown a lack of support for local workers and the local industry. For some, the plan can be at the disadvantage of people working in the Australian IT and call center industry.
Barclays
Barclays is one of those UK companies that outsource to India. Several years ago, Barclays moved its in-house technical support center from England to India. This move resulted in many staff losing their jobs. The company said outsourcing to India can improve productivity and efficiency. The U.K bank also had its retail business in India. It's retail banking operations include mortgages, consumer loans, and credit cards. However, the company decided to withdraw its retail business in 2011.
Barclays expected the next big thing in India and the anticipation backfired. Deven Choksey, a Mumbai-based stockbroker said many foreign banks fail in India. This is because they apply western standards in a country that has very specific cultural and differences compared to the west. He added that a local approach is necessary for building a strong BPO joint venture.

IBM
IBM caught the attention of US labor markets after it moved well-paid jobs to lower-cost countries like India. The company employed 130,000 people in India, while 100,000 people at its American offices. It was found that IBM employed more workers in India than in the US. Although it outsourced a lot of its operations to India, IBM experienced a decline in sales. This is due to compromising their quality services at a low cost.
IBM took advantage of outsourcing to India to cut costs. This is because they can pay experts in India at $17,000, compared with $100,000 for a senior IT specialist in the US. Technical work like software development is sent to India with extremely low skilled specialists and very high turnover. This may result in customers experiencing a slow turnaround time. Also, there is no continuity in the project delivery since outsourced talents are always rotating.
Key Considerations in Looking for an Outsourcing Partner
There is more competition among BPO companies today than ever before. With numerous emerging outsourcing providers, finding the best partner is not easy. Choosing the wrong partner might put your business at a disadvantage.
Efficiency, infrastructures, culture, and management are things you must consider in looking for a BPO partner. With the challenges experienced by the above companies that outsource to India, you might be thinking whether it is still a smart move to focus only on a single outsourcing destination. Besides, you may also not want your business to experience such failures too. 
Don't worry! There are countries out there that are trying to improve their position to become alternative offshore locations to India. Investors all across the world — US, UK, Australia, and the like — find the Philippines as a perfect place to develop their business operation. Outsourcing to the Philippines means outsourcing to the world's largest destinations for business processes outsourcing. This includes outsourcing customer support, IT, software development, and lead generation. 
Would you like to work with a highly educated, westernized culture, and cost-competitive workforce? Contact us and we will provide you exceptional customer service of the Philippine BPO industry!
List of US Companies Outsourcing to India Per Industry
India is the biggest outsourcing country in the world. They have more than 1 billion population. Most of them are in the BPO industry. The outsourcing companies in India have a specialization in Information Technology. However, some of them also provide services for other industries. Here are some of it:
Healthcare Industry
This is one of the growing in the industry in the market right now. Many people are demanding to have a telemedical service for clinics. This will help lessen the volume of people going to hospitals. It is especially important during the COVID-19 pandemic. Agents can answer basic questions from patients like schedule and billing inquiries.
Shipping and Transportation
Shipping and transportation companies usually have a small profit out of their every shipments. That is why they have to make the most of the money they are getting. With this in mind, it is efficient to outsource their non-core functions to BPO companies. An example of functions they can outsource are customer service and inventory management.
Banking and Finance
Banks can operate all their back-office functions in-house. However, the economic depression teaches them that they are not doing it cost-effectively. Thus, they started to outsource some of their non-core processes. They forwarded services to BPO like data capture, document scanning, and accounting procedure.
Retail and Manufacturing
Large retail and manufacturing companies can have overwhelming messages on a daily basis. It will be hard for them to answer all of it once it fluctuates. They solved this issue through outsourcing their customer service to a third-party service provider. Thus, they are now more agile and profitable. They can improve their customer service at the same time.
Insurance
Insurance agencies cover a lot of industries. Thus, administrative work and checking all the requirements is an overwhelming task to do. This is the reason why most insurance companies outsource these processes. On top of that, they can save money because of lower pricing compared to an in-house team.
Why Is There Many US Companies Looking For Outsourcing Partners in India
As stated, outsourcing companies in India provide a lot of advantages for any company's offshoring. Many corporations in the USA like to outsource their call center service rather than creating their own team. These BPO companies have a ready team that can start for you as soon as possible.
Government policies are also a favorable factor for every company's outsourcing. The India BPO Promotion Scheme plans to incentivize BPO establishment of more 48,000 seats. This would attract more corporations to outsource their business in India. Additional manpower will help to get more foreign businesses.
Speaking of establishments, the country also has a lot of spaces to build new infrastructures. Foreign investors can take advantage of this space to build their own outsourcing company. On top of that, the price of property in this country is more affordable compared to industrialized countries in Europe.
Another important benefit of outsourcing in India is the unlimited manpower available. Building infrastructure is one thing, you still need people to work for your company. India is the second largest country in terms of population. They have 17.70% of all people in the world. Imagine how many can work and help your company.
In addition to this advantage, India is also an expert in the IT category. Most companies rely on them in maintaining their website and developing applications for their business. They are one of the best tech support countries in the world. In fact, they handle almost half of the IT operations in the world.
Despite these advantages, there are still some challenges in outsourcing in India. They are the second most affected country by the COVID-19 (second to the USA). Besides that, some of their employees don't have the ability to provide equipment for themselves during lockdown.
The large manpower did not help outsourcing companies in India during the quarantine period. More people means more expenses in transporting equipment of their agents to work remotely. On top of that, the issue of data breach is still rampant.
Issues Of IT Consulting India
The outsourcing companies in India face several issues in their BPO operations. The most problematic industry is their information technology sector. Their main advantage is with the large pool of talent they have in this industry. 
However, underdeveloped infrastructure limits their availability. Some foreign companies have to invest in infrastructure just to get an operating business in India. Although there are some Indian BPO that can provide this service, it is not enough to cater the market's demand.
Cultural difference is also an issue in India's IT industry. Unlike in the Philippines, Indian businesses are not so accustomed with the Western culture. Although they can relate with it, it is difficult with them to apply it in their business practices. 
Another issue is resistance from client's employees. When dealing with clients, business should follow every customer's request. However, Indian companies tend to have a backlash from internal IT staff regarding lack of client acceptance.  
The most critical challenge for IT outsourcing companies in India is their data security. In fact, there are several news online about these data breaches in Indian BPOs. One of the most recent is when two companies lost more than 1,000 sensitive records. It contains sensitive information for their customers and business files.
Data breaches led to interference with their IT and business process. According to IBM Security, 46% of Indian firms are victims of cyber crimes. It is alarming especially if those businesses are keeping sensitive information for big corporations.
The COVID-19 pandemic worsened the data security for outsourcing companies in India. People working remotely don't have supervision. As a result, they can abuse all the data they have in their work computer. Meanwhile, the businesses are doing their best to address the cyber security issue. However, some businesses already pulled out their partnership.
Why Is IT Support Companies in India Experiencing Data Breach?
There are several reasons why the outsourcing companies in India are the most common target of cyber hackers. They are the most vulnerable because of their lack of cyber security details. Some companies focus more on the marketability of their service. They have a tendency to leave behind the security details in their cyber system.
The infrastructure is also a reason why almost all Indian BPOs are having nightmares with cyber attacks. They don't have the most updated facilities to protect encrypted data. On top of that, some of the office works are a decade old and renovation is their least priority. They want to build more office spaces rather than improving what they already have. 
It is also worth noting that the majority of people in India are computer experts. Unfortunately, not everyone is working to improve the operations of Indian BPOs. Some tend to take advantage of the weak data security of some businesses.
Businesses are also underplaying some small cyber attacks. Little did they know, some of these small attacks are preparation in stealing some major data they have. That is why early detection and prevention is important to prevent bigger security problems in the future.
People working in outsourcing companies in India are also unaware of some phishing schemes online. Cyber hackers are always finding a way to look for a hole in a company's security. As a result, it is hard to keep up with all the scheme tactics of these hackers.
Online storage is also not safe with these cyber attackers. Last January 2019, cybercriminals attacked MEGA, one of the biggest cloud storage service providers. The attackers steal more than 772 million email addresses and 22 million unique passwords.
That is why fortifying your own cyber security. Make sure that your third-party service provider has a security certification from International Organization for Standardization (ISO). 
The Current Condition of the Top 50 BPOs in India
The COVID-19 seriously affected the outsourcing companies in India. There are a lot of businesses that shutdown because of major restrictions due to community quarantines. Many BPO establishments have the difficulty to bounce back after the months-long economic lockdown.
The telemarketing businesses fully stopped because of the closure of all businesses. However, maintenance of office spaces is still important or there will be consequences once the businesses reopen. As a result, there are continuous expenses and no profit is coming in.
Remote work seems to be a reasonable choice for BPO companies. However, IT infrastructure prevents Indian outsourcing companies from doing a work-from-home setup. Logistic setup is difficult as most of their employees reside outside the city. 
Those people who can work-from-home face a different challenge. The number of internet users overwhelmed the connectivity. Making it hard to connect properly to the internet. Bandwidth and servers are not ready for this large number of users connecting at the same time.
Some foreign businesses did not allow the work-from-home setup for security reasons. As stated, outsourcing companies in India are not capable of protecting data outside their offices. Thus, foreign partners enforced the "Force Majeure" clause in their contracts. This affects the BPO industry negatively. A lot lost their job while there is an ongoing crisis.
Some major BPO companies are working for big foreign corporations. These big corporations usually have more than 200 seats for their company. It will be difficult for Indian BPO companies if they pull out their investments. Outsourcing companies in India servicing only 2 to 3 big corporations. They are not ready if one of them terminates their contract.
This pandemic situation is a very difficult time for the BPO companies in India. However, people are still optimistic that things can go back to normal once the situation improves. For the meantime, they will just find a way to adjust the current lockdown protocols.
Are There Any Business Outsourcing Companies in India for SMEs?
As stated, BPO companies in India rely on 2 to 3 big corporations as their clients. However, there are also small and medium enterprises looking to outsource their service. So, is outsourcing companies in India the perfect destination for you? Let's check out.
For starters, the selling point of Indian BPO is their unlimited source for manpower. This is the reason why they are more focused on getting the fortune 500 rather than the SMEs. It is not efficient for them to build infrastructure and house different small accounts. It will be difficult to communicate with all of these companies.
On top of that, Indian companies prefer to have their profit from one company rather than doing multiple accounting processes for each small business. These SMEs are only looking for a maximum of 50 seats in their operations. 
If you want to outsource in India, you might want to look for some freelance virtual assistants. However, it is not advisable as it might compromise the security of your data. It is still better to look for a company that can cater your needs for a small number of seats.
The Philippines is a great option for SMEs looking for outsourcing companies. Some Philippines BPO don't have maximum seats for their transaction. Besides that, they have personnel that can help businesses to determine how many seats you need.
Is Outsourcing Firms India Getting Outclassed by Philippines BPO?
Generally speaking, the Philippines is the Call Center Capital of the World. There has been a shift in the number of companies outsourcing in India and Philippines for the past couple of years. More businesses value efficiency more than the number of employees they can offer.
India might have a lot of people to work in the BPO sector. However, the Philippines' great service quality makes up for the number of the manpower. On top of that, flexibility of Filipino call center agents is one of the highlights of the outsourcing industry.
They can relate to almost all Western cultures which is a great feature in customer service. Besides that, accent is also not an issue as they can do neutral accent when on the phone. Call centers in the Philippines value the importance of satisfaction rate while maintaining the efficiency of workload.
Aside from customer service, the IT industry is also improving a lot for the Philippines BPO. There are more than 75,000 yearly graduates of Information Technology. These graduates can work as tech support or any IT related companies. Cyber security is also not an issue as companies are continuously updating their protocols to keep up with cyber attackers.
The Philippine government support is also overwhelming for the outsourcing industry. They have several call center courses to help aspiring people who want to work in BPO. Besides that, there are cities under development as a new call center hub in the Philippines. One of these cities is the Clark Global City in Pampanga.
To sum it up, outsourcing companies in India's usual issue are not currently present in the Philippines' call center. Although they are facing some challenges too, it is very minimal and companies are doing some adjustments.
Please fill out the contact us form below and get free 60-minute BPO consultation.
TALK TO US!
Contact us today for more information.