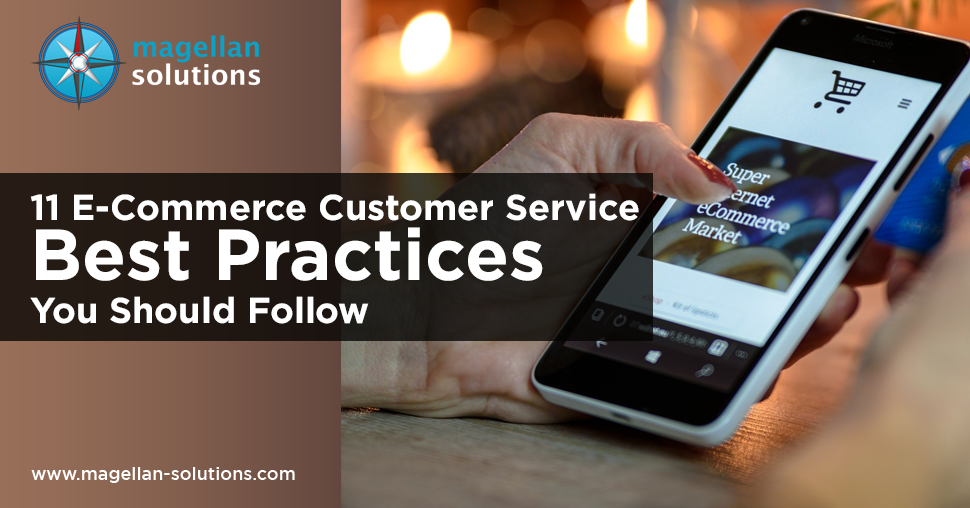 E-commerce businesses have surged in popularity in recent years. During the pandemic, the role of the e-commerce industry became even more important. However, the customer service experience is different for e-commerce businesses, and this can make or break your business. Fortunately, we can help with that. We compiled these e-commerce customer service best practices to help you deliver excellent customer service.
Which businesses need e-commerce customer service?
As an entrepreneur, you might be wondering if you need e-commerce customer service. Perhaps you have a brick-and-mortar establishment and only have a small social media presence. However, you still need e-commerce customer service as long as customers transact with your business over the Internet, and use online service channels or support channels.
Some businesses that popularly need this service are:
Ride/taxi booking apps

Delivery booking apps

Restaurants

IT companies

Online retailers
Which e-commerce customer service best practices should small businesses follow?
Tighter competition comes with the growth of the e-commerce industry. As a small business, providing great customer service and a smooth customer journey can be your competitive edge. You can achieve these by implementing the e-commerce customer service best practices for SMEs, some of which are:
24/7 customer service
Operating an online business means that you should be available to your customers at any time of the day. Providing round-the-clock real-time customer service reflects a genuine concern for your customers. When you care for them, they will also care for your business.
Some of the best channels for this are:
Be present on different channels
Online shoppers can also be frequent social media users. Thus, providing support in all channels that your customers use will make your brand more accessible. Having omnichannel support can help you with this.
Unify communication channels
Customers may try to reach out in all means possible. At times, you can receive two or more messages from a single person.
Unifying your communication channels will help you prevent confusion. You would know if the customer who messaged you on social media is the same person who sent an email with the same request.
Set a standard response time
One of the best considerations when providing customer support is by setting a standard time when responding to customers. And to the best of your ability, try to make it fast.
According to studies, the more you delay your response, the less satisfied your customers would be.
Easy-to-navigate website
The shopping experience also matters a lot to online shoppers. Making your website easy to navigate would smoothen the shopping experience for your customers. The simpler your processes are, the better.
Mobile-friendly shops
Many consumers prefer to shop using their mobile devices. Aside from making a mobile-friendly website, you can also create a mobile app for your business. But if you decide on the latter, make sure that any mobile phone supports the application.
Accurate product descriptions
Your actual products should match what your description says. You should not disappoint your customers by describing product features that do not match the product.
During checkout, you should also show them all the charges that go with their purchase. Because, remember, honesty is an important element in building trust and strong relationships.
Self-help guides
Serving your customers does not always mean that you have to personally interact with them. Giving them support is great, but there are customers who prefer to help themselves. Indirectly help your customers by providing self-help materials, such as an updated and comprehensive FAQ section, blogs, explainer, and tutorial videos.
Order update
Send your customers updates about the status of their order. This will give them confidence with your business, and sends a message that your brand is worth their trust.
Social listening
Not all customers will send you direct messages regarding their concerns with your product. There are times when they will post it on their social media accounts. Because of this, it is ideal to use social listening tools to find any customer concerns and issues related to your brand.
Consider outsourcing
E-commerce customer service outsourcing is a time-efficient and cost-saving way of providing support to all your customers. It is an inexpensive way of building an efficient customer support team, while also streamlining your business processes.
What are the benefits of e-commerce customer service outsourcing?
Outsourcing is, perhaps, the best way to improve customer service and experience in your e-commerce business. It is more cost-effective compared to hiring new in-house staff, and comes with the following benefits:
Focus on core activities

: when you outsource, you will do less non-core activities, and have more time and resources to focus on your core operations.

Inexpensive workforce expansion

: outsourcing is less expensive than hiring new in-house staff. You do not need to spend on recruitment and onboarding, and there are no mandatory employee premiums. There is no need to pay for additional equipment and workspace, as well.

Access to experts

: outsourcing companies specialize in the services they provide. In Magellan Solutions, for example, customer service representatives are

thoroughly trained

to be effective brand representatives and customer support experts.

Access to the best technology

: given their specialties, outsourcing service providers use the most efficient tools and equipment. You will no longer need to invest in additional technology and keep up with trends.

Reduce risks

: your outsourced staff is well-trained in handling different customers. So, the risk of a poorly handled customer interaction is reduced. 

Disaster preparedness

: if a disaster strikes your area, your outsourced customer service team will continue to operate. Outsourcing also helps your business during

volatile economic times

.

Long-term profitability

: e-commerce outsourcing

supports your growth

in the long run. It keeps your processes optimized, so you can consistently expand in a profitable way.
How much does it cost to outsource e-commerce customer service?
E-commerce is a relatively young industry, so there are no standards yet when it comes to the pricing. However, there are general factors that affect the cost of e-commerce customer service outsourcing, such as:
Type of service(s)

Number of staff needed

Level of staff expertise

Length of the outsourcing contract

Laws and regulations in your area
Offshore outsourcing is an ideal option for competitive prices. Countries with bustling BPO industries, like China, India, and the Philippines, are the go-to areas if you are looking for cost-effective deals.
Magellan Solutions is a trustworthy e-commerce outsourcing service provider that specializes in customer service. We have been in the industry for over 15 years, and we make sure that our staff reflects this experience. Our company is ISO and HIPAA certified, so we can guarantee high-quality services with flexible rates.
TALK TO US!
Contact us today for more information.