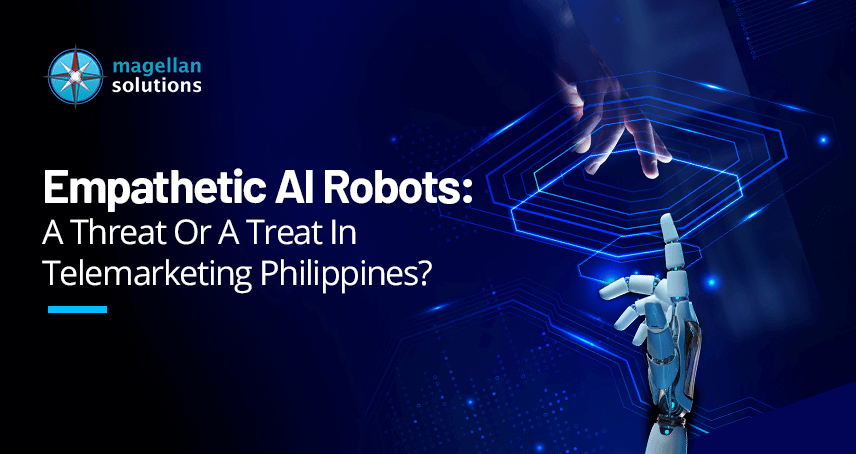 Artificial Intelligence, a threat to
Filipino telemarketers
?
The age of artificial intelligence (AI) is now very much upon us. 
Once a technological possibility for some industries, the reality is disrupting sectors across markets globally and affecting all aspects of our lives.  
A recent report by Forbes found that 22% of marketers currently are using AI-based applications. There is also an additional 57% planning to use them in the next few years. But, is this rate of adoption for better or for worse?
With this question in mind, we look at the rise of artificial intelligence and its impact on industries across the globe and ask where it might go in the future.
The coronavirus pandemic has been tough on the contact center services Philippines and on a global level. 
The lockdowns of the past year have accelerated the shift to greater automation in responding to inquiries to lenders, insurers, and telecom operators. Callers looking for assistance with a bill or bank statement increasingly communicate with artificial-intelligence-powered bots. Once they do connect with a human, it's more frequently in a chat window with someone who's engaged in multiple outbound telemarketing services Philippines at once.
Before the outbreak, clients used to chat and AI bots less than 10% of the time. But that climbed to almost 25% and could reach 35%.  Because of the pandemic, plans that would have taken four to five years to implement were implemented in months. 
The shift away from voice operators threatens many of the 1.3 million people employed by call center outsourcing Philippines. 
The threat is building as AI enables bots to be as efficient and empathetic as humans for many basic transactions. The Asian Development Bank predicts that by 2030 AI and similar technologies could displace 286,000 workers or almost a quarter of the people in the telemarketing call center Philippines.
Furthermore, the country's IT and Business Process Association expects the sector to employ just 1.4 million next year. This is lower than the 1.6 million it forecast before the pandemic.
Some local industry executives insist the situation isn't as dire as many predict. AI is a long way from replacing humans for more complicated voice calls or chats. Jonathan De Luzuriaga, president of the Philippine Software Industry Association, predicts that companies fearing a slow payoff from expensive technologies will continue to stick with the cheap labor readily available in b2b lead generation companies in Philippines. 
Luzuriaga further states, "The chatbot is at the bottom of the rung." He also believes that "The high-level, industry-killer type of engagement—it's not going to happen yet."
Creating and perfecting these systems also require the human touch, says Arthur Nowak, head of the Philippines for TTEC Holdings. 
AI is a "treat" in
telemarketing Philippines
Telemarketing Philippines outbound have leveraged advanced technology for decades. But little of it made customers happy. 
Even as nascent applications in artificial intelligence (AI) gained traction in the 2000s, telemarketing companies Philippines were more focused on using tech to slash costs than they were on improving customer experience. 
Two megatrends turned AIs into something that is suddenly a preferred choice. 
First, the mass adoption of smartphones, social media, and consumer-friendly apps changed. It dramatically heightened customers' expectations. No longer would they tolerate endless hold times, obtuse service agents, or handoffs.
Second, the explosive growth of widely available cloud services and machine-learning tools. It puts powerful new AI capabilities in the hands of telemarketing services in the Philippines to improve customer service in all forms.
Indeed, enterprise executives today cite customer experience as their No. 1 reason for investing in AI. According to our recent poll, cost reduction has moved to second place. Many, in fact, see most telesales company Philippines as the sandbox for AI-powered customer experience. 
AI-enabled conversational agents, for example, are expected to handle 20% of all customer service requests by 2022. That alone relieves human agents of huge burdens and time. 
Here's a look at how AI is revamping the Philippines outbound call center:
Discover and Qualify
Lead Generation Philippines
Virtual assistants simplify lead generation. 
Analyzing your CRM data to find qualified leads from existing customers, for instance, is one way AI can help you find new sales opportunities. Since conference attendance and networking events are likely to be significantly reduced in 2021 as long as there are COVID-19 health risks, AI-driven sales support and lead nurturing are a must-have.
Telemarketing AI is a great way to quickly and reliably qualify potential leads. 
Your platform can take the initiative on outbound calls, helping your team sort through hundreds of prospects to find the people most likely to want your services or products. Through friendly interactions, your virtual agent can ensure that your live agents speak with the most qualified leads.
Increase Contact Rates and Conversion Rates
Low contact rates are one of the biggest challenges today for call center lead generation and sales teams. By pre-qualifying leads with call center AI, you increase the number of conversations for your live agents. Intelligent virtual agents work to increase contact rates.
Live agents who only speak with qualified leads avoid time wasted on voicemails, hang-ups, and dropped calls. Contact center teams can maximize their time and efforts, getting big results that benefit everyone.
Conversational AI matches great leads with your best agents and offers data that allows these agents to adjust their approach to each prospect. Because agents are speaking to people who are interested in what you offer, conversion rates are more likely to increase. 
Operate with Compliance Confidence
We talked about the importance of implementing quality assurance in your contact center in a previous blog. Auditing call interactions guarantees stronger adherence to scripts, regulations, and company standards for more comprehensive compliance control.
"AI in terms of quality control is really going to play a huge role in that regard for better conversations, more compliant conversations, and, just ultimately, increased results in the agent performance," Nima Hakimi, Convoso CEO and Co-Founder, said in a webinar on The 2.0 Lead Generation Call Center. "For example, there's an integration we have that will coach and listen to your agents in real-time and let them know if they're off-script or not, or if they're using the right rebuttals or not… Are they talking too fast?"
Given the overwhelming move to virtual call centers, using AI for quality monitoring and compliance control is essential for future growth.
"You need to have AI incorporated in one way or another if you want to go remote and grow it and scale it, in full compliance," he said.
Data Performance Insights for Strategic AI Campaigns
Intelligent analytics reports will give you insights into the successes and problems within each AI-driven campaign. With this information, you can make better strategic decisions based on the how and why of lead and list performance.
Once you understand your data, you can implement changes to make your campaigns more effective.
Reduce Call Center Costs
According to a global AI survey, 44% of executives in companies that use AI have realized cost reductions. 
In call centers, AI reduces the amount of time and money you spend on labor costs. With less training and fewer agents required to meet targets, your scaling costs can drop significantly. Adopting AI for your outbound telemarketing services philippines can both increase conversion rates and lower costs per acquisition.
AI-Powered Customer Assistants
For decades, millions of customers have disliked IVR systems that often wasted their time and too rarely got them the information they sought. Many tried to avoid the pain of IVR by repeatedly punching "0" or repeating "speak to an agent" to jump out of the maze and get to a live agent as soon as possible.
For companies like health insurance giant Humana, however, that scenario causes another challenge. Overloaded service agents. 
Humana partnered with IBM's Data and AI Expert Labs to create a solution that could quickly identify and deliver the specific information that callers needed. IBM's natural language understanding (NLU) software now translates more than 90% of spoken sentences it "hears" from customers. It can also understand the unique vernacular of particular insurance-related topics, such as distinguishing between a claim and a referral.
Since the system was rolled out in 2019, the percentage of callers who use the AI-enabled system has doubled, and the cost of running it has dropped by two-thirds. Health providers calling in today can complete their initial inquiry in less than two minutes even without a live agent.
Predictive Call Routing
AI is improving on the same idea with predictive behavioral routing. Predictive behavioral routing relies on AI and analytics to match callers with specific customer personality models. Those, in turn, are used to route calls to agents who can best handle those personality types. 
For all the hype around AI, surprisingly few companies have embraced it in call center operations. But adoption rates are expected to climb rapidly in the coming years. 
Meanwhile, the market for call-center AI technology is expected to increase from $800 million in 2019 to $2.8 billion by 2024. 
Hire telemarketer Philippines
for the best customer support services
Magellan Solutions is a leading AI monitoring support service providing company. We have 18 years of experience with helping clients effectively monitor their customer support operations. We can reveal and resolve gaps in your customer support processes using a combination of machine learning technology and human reviewers. 
Furthermore, we ensure that we understand your requirements in detail to provide you with tailor-made solutions designed to their specifications. We have a team of highly skilled professionals that can support any industry and cover any type of process.
Our AI monitoring support services include helping clients with:
Perfecting the Customer Experience
Every provider of customer support service is constantly looking at ways to improve the customer experience and make it as seamless as possible. We can help you use artificial intelligence to analyze every call in order to reveal operational or service-based issues before any of your valuable customers are lost.
Maximizing Marketing Spend
We help our customers leverage advances in artificial intelligence and machine learning to generate data on all call content. We not only help clients to focus and analyze the quantity and quality of calls they receive from a marketing campaign but also help them analyze what goes on in each of these interactions.
Making Quality Assurance a Priority
There are a lot of advancements made in artificial intelligence and machine learning over the recent past and our artificial intelligence monitoring support services leverage all these latest advancements. We help clients leverage artificial intelligence to score every call to quickly identify areas in which agents need further training or coaching.
Mastering the Sales Process
We can help clients leverage artificial intelligence and machine learning to gain insights into the entire sales process. Using artificial intelligence, clients can gain insights into not only how many sales they receive, but also how many sales they lose, and why. Our AI monitoring support services help clients to identify exactly where and when they lose out on opportunities.
Monitor and Train Agents without Bias
Our AI monitoring support services are a great way for you to effectively monitor and train agents without bias. Using AI, every customer interaction can be monitored to objectively determine which procedures agents should follow and which ones they should skip.
View Opportunities in Real-time
We help clients leverage artificial intelligence and machine learning to view opportunities in real-time. Using AI, we automatically track the number of opportunities received, converted, and lost. Using this information, clients can quickly determine exactly where, when, and why sales are missed.
Track Resolution and Conversion Rates
We help our clients use artificial intelligence to identify the factors that are preventing sales or the resolution of problems. Using AI, we track performance over time to identify and resolve weak points before they affect your bottom line.
Call Center Performance Monitoring
Our artificial intelligence monitoring support services can help you monitor the functioning and performance of your entire call center over an extended period of time. We can set up AI-based processes to track customer satisfaction, conversions, conversations, common issues, resolution rates, and challenges faced by your customers and provide insights on how to improve the overall performance. This real-time monitoring information can be easily accessible through an easy-to-use dashboard.
Call Center Agent Monitoring
We can use AI to monitor client calls in real-time. This makes it much more convenient and easier to measure individual agents' performance and identify areas for improvement. This can also be used to roster agent shifts and form optimal teams. Using voice recognition technology, we can correctly attribute specific calls to specific agents, thus monitoring their performance over time and increasing their accountability.
Reports and Alerts
Our AI systems can be used to provide instant alerts and reports to the concerned people in case of any breaches in the process protocol by agents or things such as compliance issues or unwanted sentiments being aired to the customer. With these instant alerts, the right people can take action and prevent the issue from escalating further. This can also be used to retain customers and ensure that all problems are resolved as they arise.
Live Feedback and Analysis
Our AI systems provide live feedback to agents when they are on the call itself. The AI system is capable of automatically performing agent analysis, context analysis, sentiment analysis, and voice analysis. It provides live recommendations to the agents on areas of improvement and can also provide information on how to resolve problems in real-time and suggest ways to cross-sell or up-sell. This can help take the agent-customer interaction to a more productive level.
Real-time Compliance Monitoring
The call center industry, like every other industry, has its own set of standards and regulations to follow. Any breach in compliance or following regulations can cause significant damage and even lead to a huge loss in revenue. With our AI-based monitoring, you can ensure that all compliance standards are adhered to in every customer interaction.
A/B Testing
Our advanced AI-monitoring technology can help you with things such as finding the most effective words to use during your client engagement, identify which greeting works best, and determine the best way to sell a new product to the customer. Our AI-monitoring system can analyze multiple calls to determine which greetings work best and the best way to cross-sell/up-sell to the customer. Since this information is provided in real-time, your agents are equipped in real-time to be as effective as possible.
Monitoring of Sensitive Information
We fully understand that there is always a need to maintain the confidentiality of your customers' sensitive information, such as credit card numbers, driver's license numbers, social security numbers, etc. Our AI-monitoring technology can help you automatically redact such sensitive information from audio recordings to prevent their misuse.
Trends & Predictions For
Call Centre Services Philippines
The pandemic hit the call center industry with a dramatic increase in difficult calls and an increase in customer service efforts. With call center companies dealing with internal difficulties, including adjusting to remote work setup, dealing with outdated policies, and trying to keep the sales numbers afloat amid financial struggles, navigating through a crisis is harder than ever.
Surprisingly, even the best call center software isn't enough to refine your call center service nowadays. That's why it's important to understand the following:
Trends & Predictions
AI Is No Longer New But Is Here to Stay

• The

role of AI in the call center environment

during and after the COVID-19 pandemic is significant.

• Businesses need to investigate and adopt AI options that benefit their call center operations.

• The use of AI applications streamlines the call center experiences.

• AI in the call center will soon be ready to be customer-facing.

Analytics — The Driving Force

• Analytics are slowly becoming the driving force behind call centers.

• Predictive analytics are vital tools in improving insights across all customer points of contact.

• Advanced analytics plays a vital role in getting your sales team ahead of their game.

• Businesses should start using robust analytics tools to mine performance and productivity insights.

• Statistical dashboards are becoming essential in agent user interfaces.

Omnichannel Communication — The New Norm

• Omnichannel communication is the way to personalized customer experiences.

• Modern customers like interacting with brands anywhere, anytime, on any device.

• Omnichannel communication helps customers navigate between multiple channels with ease.

• A study reveals that 90% of consumers want omnichannel services.

Advanced Self-Service Tools

• Consumers prefer self-service tools to aided support.

• In the modern era, the use of self-service platforms is fundamental to excellent customer service.

• Businesses should endeavor to advance available self-service tools.

• Most importantly, businesses need to add more self-service tools.

Increased Adoption of Recall Technology

• Recall technology plays an important role in ensuring conversations are error-free.

• Recall technology acts like a message-filtering tool that ensures the quality and accuracy of responses provided to the consumers.

• The technology adds some minutes to transmission time, but its intervention is justified.

Digital Transformation

• Digital transformation will continue to shape the modern business arena.

• With technologies like IoT making an impact in digital transformation, call centers will reap benefits too.

• Digital transformation powers omnichannel communication.

• Businesses need to install the most beneficial unified communication and collaboration tools.

• Digital transformation will normalize working from home.

Social Media Engagement Taking the Front Row

• Modern consumers view social media platforms as viable customer service channels.

• Customers launch to complain and deliver feedback via social media to instigate two-way conversations.

• Forward-looking brands are using social media to demonstrate their excellent customer service skills.

• 53% of the world's population is using social media.

Cloud Communication in Call Centers

• Technological innovations have made it easy to hire remote call center agents.

• Cloud communication reduces overhead costs.

• Besides, cloud communications give call centers the flexibility to hire talents globally.

• Cloud-based call centers offer enhanced security and compliance.

• Call centers using the cloud experience less downtime and increased uptime.

IVR Isn't Going Anywhere

• One in three companies adopted IVR technology for the first time in response to COVID-19.

• 42% of companies already using IVR further increased their use of the technology during the pandemic.

• IVR is getting better with new technology.

• AI + IVR is a timely intervention in the modern era.

Robust Customer Satisfaction Measurement

• Call centers are now using universal methods to measure customer satisfaction.

• More call centers will adopt innovation to precisely measure customer satisfaction.

• Communicating with employees who provide customer service is crucial, especially in times of crisis.

• Staying in touch with customers is vital in reassuring them of uninterrupted service.

• Letting customers know of potential issues that may arise and what are the possible solutions can also help keep your customers' trust.
Contact us to find out more about how our AI services can help balance out human-related tasks for call centers!
TALK TO US!
Contact us today for more information.