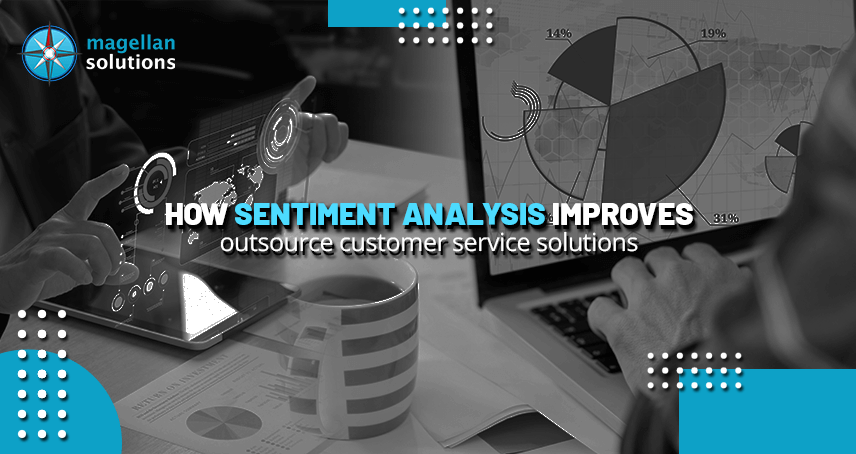 AI Sentiment Analysis Provides Excellent Support In Outsource Customer Service Solutions
Technology has offered various ways in improving how customers reach a business. In outsource customer service solutions arsenal, there are two indispensable tools. These are machine learning and Artificial Intelligence (AI).
For outsource customer support services, AI is often used in CRM software and systems. Nowadays, AI has now become an effective tool in conflict resolution. As well as in customer escalation support.
A customer support service provider can cover every touch point with live agents. This is possible through omnichannel customer support. This is to ensure complaints are properly handled. Yet, a report shows that phones receive 40% of all customer complaints. 
Does conflict resolution work better in phones than in other channels? It still depends on the customer but it sure has pros and cons. These are the following:
| | |
| --- | --- |
| Pros | Cons |
| Process are faster as support agent can ask direct questions to identify the issues | Agents have to deal with the irate and mean customers. Also the possibility of hearing inappropriate language and bad temper |
| Agents has the possibility to calm down the customer | It might take more time and limit the agent to help other customers |
| Agents are able to process and do not miss the complaint ticket | Support rep may burn out faster and might take a toll on their morale |
Customer service outsourcing companies cut these cons through conflict resolution training. Adding to this is they equip agents with problem de-escalation techniques. This is to make sure they are ready when they talk to any of your customers. 
How Outsource Customer Support Services Leverage AI for Customer Escalation?
Customer service outsourcing companies ensure their system is in-synch to resolve problems. This means they follow proper customer escalation processes. Especially when dealing with customers that have problems with your products and services. Even with your brand or business in general.
Other than access on their preferred channels, 71% of customers favor quick resolutions. Customers hate to repeat themselves about the same complaint to different agents.
The CRM system enables real time tracking of complaint tickets to avoid repetition. It also gives the agent the proper spiel and resolution techniques to solve the problem at hand.
Integration of AI further enhances these processes. It also helps live agents to resolve conflict faster. In fact, there is a 57% increase in companies investing in AI for customer support.
Areas Where AI Helps in Customer Escalation
1. Live Chat Support
A customer support service provider uses AI to handle live chat support. Smart pattern recognition enables faster handling of routine and repetitive questions.
This in turn helps live agents to focus on customers with complex problems. It can also helps to direct the complaint. This is where the proper agent with the necessary knowledge handles the ticket.
2. Research Time Reduction
There are varying reasons for complaints customers want your live agents to solve. Sometimes, researching for answers and resolutions takes so much time. This results in longer on-hold time. Which may add up to the bad customer experience.
Through an AI, it can store answers to frequent questions and scenarios. Which live agents can get access to and thus provide faster resolutions to the problem.
3. Improved Customer Engagement
AI integrated in CRM solutions provide live agents key information about the customers. These are purchase history, preferred channels in reaching customer service and so forth. This way live agents can approach customers and resolve conflicts with better intelligence.
How AI Sentiment Analysis Improves Outsource Customer Service Solutions Delivery
AI sentiment analysis is useful for customer service outsourcing companies. This is possible through CRM systems and data analytics. They can get a constant pulse of your customers' attitudes, opinions, and emotions. All these in relation to your business.
Sentiment analysis is possible through the following:
Artificial Intelligence

Natural language analysis

Text analysis
This technique is valuable when it comes to conflict resolution. As it can get sharper insight into customer's sentiment. Also, live agents are better prepared when dealing with trending complaints. As well as to identify the spike in complaints within a specific period. 
Benefits of Sentiment Analysis in Outsource Customer Support Services
Customer Support Area

How It Helps

Self-service

Sentiment analysis data can identify which self-service is working. What needs improvement, or not effective at all.

It can recognize if and when a live agent is a must as it can recognize urgency and route customers accordingly.

On top of intelligent routing, it can connect the customer with the appropriate agent. For example, a support agent is good in soothing the recognized moods. Such as agitated or angry customers all in real time.

Predictive Behavioral Routing

This means intelligent pairing of customers with the right agent. It may depend on the personality of the customer. Level of importance of the problem, and current moods.

This smart pairing also considers personality and communication style. This is to ensure that the live agent can indeed handle the customer.

This enables a customer support service provider to supply the necessary support. As well as resolution for your customers.

All the while, your customers can engage with live agents. Who are empathetic and competent to handle and resolve conflict.

Agents-assisted Experience

This technology assesses each customer's touch points. These may include phone calls, texts messages, emails, chat sessions. It may also include social media comments.

From these is the creation of a detailed customer profile. This provides relevant understanding on preferences and needs.

This also helps agents to focus on the technical aspects of the issue to ensure first contact resolution.

Sentiment analysis can help alert agents on the next proper course of action and offer suggested responses. This helps in customer building and helps focus on the humane side of customer experience.

Root Cause Detection

This can identify systemic flaws and vulnerabilities all throughout the consumer's journey. It can extract the sources of the customer's satisfaction.

Which your company can minimize or eliminate. Ultimately reduce contact volume of the same predicament in the future.

Better Business Outcomes

Other than helping live agents to handle and resolve complaints, it can also provide your company with a holistic picture of your customers.

This way you can adjust important factors to attract them. Such as marketing messaging, offer better products, and improve your services.
What About Data Transparency When Using AI Sentiment Analysis?
A study found that 71% of customers will switch brands if they share data without permission. This is a balancing act for your business. As well as for your outsource customer support services.
Customers want personalized experience but want fewer access to their personal information. AI sentiment analysis thrives on a rich and extensive pool of information. GDPR and ISO 27001 provide protocols to ensure data and information security.
But it is best to keep in mind that it is always up to you to declare what information you collect and why.
You have to make sure that your outsourcing provider does have these certifications. This is to make sure there are safety protocols in place. That will protect your customer's data and information.
At the same time, proper use of information to maximize what AI sentiment analysis can contribute to the whole CX.
AI Sentiment Analysis Empower Customer Support Agents
Dealing with conflict is never a pleasant experience. Resolution and de-escalation is a difficult task. Worse, it can affect the morale of live agents with frequent dealings with such unpleasant scenarios.
Sentiment analysis empowers agents to handle stressful conversations. As it encourages focus on a specific problem with calm demeanor. This is possible as they are well-equipped with key information and answers to provide solutions.
Empowered support agents in turn creates an atmosphere of mutual respect. They also become effective to deliver effective solutions for dissatisfied customers. At the same time, there is an emphasis on quick solutions to resolve the concern at hand.
This in turn gives your customers the impression that they are heard, respected, and needs are met.
Magellan Solutions Is Your Customer Support Service Provider
Our 18 years in the business let us recognize and integrate innovation to deliver the best customer service solutions. We have ISO-certified quality management systems in place. This enables us to train our agents with effective de-escalation and conflict resolution techniques.
Magellan Solutions use sophisticated CRM technology that leverage AI and machine learning. This is our pledge to give your customers the necessary support they need. This is to ensure we only deliver the best customer experience.
At the same time, we prioritize data and information security. Our ISO 27001 certification and HIPAA compliance is the proof of that.
Contact us today and let's partner to improve your CX. Fill up the form below!
TALK TO US!
Contact us today for more information.