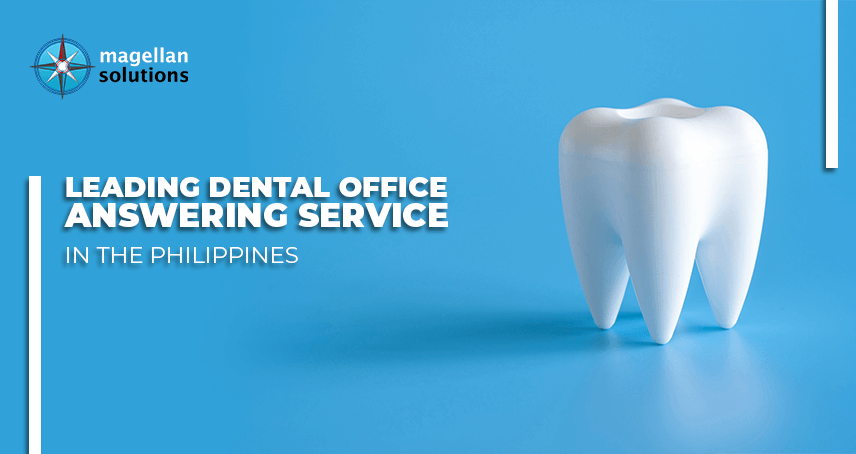 Leading
dental answering service
in the Philippines
Medical outsourcing picked up because of the shortage of qualified medical practitioners. Its most common service outsourced to different countries is medical transcription . This is the proper documentation of medical history. It is also the specific treatment needed for the patient. This is like data entry tasks for businesses. Like businesses, physicians have other and more important jobs to focus on. As a result, they choose to outsource.
Outsourcing these reduces the work pressure on specialists. It is also beneficial for doctors on call as it saves on their time. The health workers are able to perform timely treatment. Such treatments are made much more affordable. Magellan Solutions offer modern medical facilities and services.
Personal Virtual Receptionist

24 hour Call Handling

Insurance Verification

EMR Data Entry

Patient Satisfaction Surveys

Clinical Trial Recruitment

Advertisement Tracking

Appointment Setting and Confirmation
These are being tailored to meet the needs of physicians and patients alike. As outsourcing is cost effective for healthcare facilities, this enables medical services to be more affordable for your patients.
Many countries cater to such outsourced medical work. One of them is the Philippines. The outsourced medical call centers or BPOs are seeing an influx in need. This is because patients prefer online services rather than risk being exposed. The online community is seeing more traffic than before as telemedicine is now the go-to for medical help. Thus BPO are starting to open more of their services for the healthcare industries. 
Phone calls can be crucial and a deciding factor during medical emergencies. A timely response or information can save a life by providing treatment. These calls should be taken care of after the office hours of the healthcare providers. This practice is also covered in medical outsourcing services. 
Magellan Solutions acts as your virtual call center and as the client's voice. We help schedule, keep appointments, and answer all the queries of the patients. We act as a communication bridge between your healthcare facilities and your patients. As a result, we provide efficient services to both.
Magellan Solutions as the
best dental answering service
In many practices, dental assistants also have to spend time answering phones. With Magellan Solutions handling all of your inbound calls, your staff can place the focus on your patients. We employ staff fluent in different languages. As a result, we are ready to help your clients whatever their needs might be. Our services are tailored to your business, and we can adapt to suit almost any request. From providing fees and services information to insurance and referral inquiries, we are on your side.
Emergency Answering Services
Following your criteria for emergencies, our trained agents will pre-screen calls. They will then dispatch calls to your staff/specialists based on the information we have gathered. Screening after-hours calls is especially important in helping to reduce prescription drug abuse. We can reach you via:
24/7 Live Operator Services
When it comes to lead capture, one should never underestimate the value of prompt service. That is why our live call answering service representatives are continuously available to your customers. We can provide up-to-date information about:
Appointment Scheduling & Reminders 
Magellan Solutions is interfacing with your existing online calendar. This allows us to schedule, modify, or confirm routine or emergency appointments, immediately apprising your staff of any changes. Our appointment reminder services help to increase efficiency and prevent miscommunication between patients and your office.
Outsource your
dental scheduling service
Just like the usual BPO companies, Magellan Solutions as a dental office call center:
Builds a better doctor-patient connection.

Has round-the-Clock services.

Provides you a team of professionals.

Offers customized call center support services.
Our diligent team is always responsible for maintaining the quality standards. This is always accompanied by a flexible and innovative approach. Our medical call center staff offers solutions as per the client's problems. 
Visit Magellan Solutions and know more about the services we offer.
TALK TO US!
Contact us today for more information.