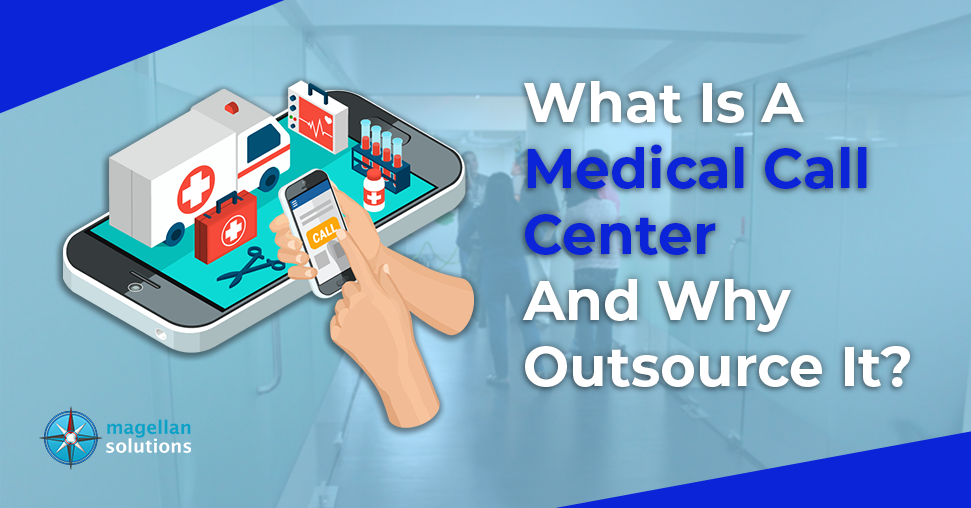 Healthcare is a basic human need and it must always be provided in a competent and ethical manner. Medical organizations must strive for excellent customer service from appointment-setting and initial consultation to treatment and follow-up. They must be prepared to take calls from outpatients and those inquiring about service around the clock. This is where a medical call center comes in.
A medical call center utilizes human capital in order to meet customer demand. It handles inbound and outbounds calls involving medical answering service, prescription drug support, physician referrals, complaints and grievances, health risk assessments, medical record retrieval, appointment setting, and patient satisfaction surveys, among others.
Outsourcing medical call center services is highly beneficial for medical organizations that deal with a high volume of calls on a daily basis. Here the the reasons why you should consider outsourcing it:
Meet patients' needs
Patients will require proper guidance and attention even after they've left your clinic. This is especially true for those who are dealing with chronic illness, as well as those who are at risk for side-effects and treatment-related health complications. To make sure that they get thorough and well-rounded healthcare, hire a service provider who can handle medical inquiries. This lets you achieve better results with your patients. It also helps you stay organized and improve your practice over time.
Ensure customer satisfaction
Taking patients' calls at the soonest possible moment and responding to all of their queries ensures customer satisfaction and member retention. It builds trust and loyalty. If they are pleased with the service they receive, they will come to your clinic again the next time they experience health issues. A high retention rate helps you sustain your organization's medical practice in the long term.
Address complaints and grievances
Outsourcing medical call center services gives you the capability to address any issues your patients might have in a quick, adequate and compassionate manner. Doing so prevents the issues from escalating and from potentially turning into legal complaints. It also gives you the opportunity to identify weaknesses in your operations and to remedy them accordingly.
Keep costs low
Outsourcing is more cost-effective than investing in an in-house team, as well as the necessary software and equipment to take a high volume of calls. It lets you tap into a pool of trained and experienced call representatives who have a background in healthcare.
Focus on core activities
It lets you focus on the key aspects of your medical practice. This helps you render healthcare services in a more efficient manner. It gives you a chance to optimize your operations without having to neglect customer service.
What is the significance of a physician's call center when it comes to the patient experience?
A health-care call center can assist in ensuring that every patient is placed on a positive path to recovery. Patients today have a variety of options. They can always switch to a different service provider. That is why, when speaking on the phone, every interaction must be flawless.
Patients who require immediate attention should be able to schedule an appointment the same day. A high-quality call center will collaborate with patients to ensure that they have a positive experience. Every phone call is extremely important to me.
Companies that fail to properly train their employees may end up providing poor service, with agents who are rude or who lack the level of sympathy, empathy, and professionalism that patients expect.
Five essential skills for a medical call center agent to possess
Your medical office will benefit from a variety of advantages that come with outsourcing your answering service. Benefits range from working with high-quality medical call center agents to demonstrating empathy for your patients.
It's a worthwhile investment because of the numerous advantages. When you work with a medical call center, you should ensure that the agents have at least these seven critical abilities.
1. Thorough understanding of a company's products or services
When you hire a medical call center, make sure that the agents are knowledgeable about the products and services that the medical office offers. The ability to listen and respond to the needs of patients who call should be a requirement for this position.
While they may not be fully conversant with the intricacies of medical services, they should be able to recognize their names and discuss them with customers who are in need of them.
2. Paying Attention to the Details and Keeping Things Organized
Your medical call center agents should pay close attention to the smallest of details. They should pay attention and take detailed notes so that they can provide patients with the answers they require.
Their ability to communicate with the medical office is also important, especially if the patient requires referral to a medical professional. The smallest details matter when it comes to health-care delivery, and medical call center agents are frequently the first point of contact for those who require assistance.
3. Communication
A medical call center agent's ability to communicate effectively should be exceptional. They require instruction in how to speak clearly and listen attentively. They will be on the phone with people who have questions about their health care and will be answering their questions. Because some of the people calling in may be dealing with illnesses, injuries, and other concerns, it is important for them to remain calm and listen.
It can be beneficial for medical call centers to employ agents who are fluent in a variety of languages in order to better serve the needs of the diverse communities they serve. As a credible source of information, they must be able to communicate clearly, intelligently, and at a pace that is conducive to the success of their clients' projects.
4. Adaptability
Medical call centers must be innovative and adaptable in order to meet the needs of their customers. At a medical call center, every day and night is different from the last.
Furthermore, the agents must recognize that they must make adjustments on a regular basis. Because the customer service base is diverse, the agents must be able to deal with a wide variety of issues. The agents must simply go with the flow in order to be effective.
5. Empathy
Empathy is a skill that all medical call center agents should practice on a regular basis. When it comes to customer service, it is a skill that can be learned, and customers will notice when you have it. When they call the center, they will feel comfortable speaking with the representatives.
Additionally, call center agents should use their knowledge of health issues to be respectful and show concern for the people who call, in addition to having empathy. Instead of feeling sorry for the callers, agents should listen carefully and ask probing questions to gain a better understanding of what they are going through.
Outsource with the best Medical Call Center Service Provider
When it comes to providing excellent customer service, your medical call center agent must be able to do so both for your medical office and for the patients you see. When looking for a new medical answering service, you should not settle for anything less than one that possesses the following seven essential abilities. The call center will be unable to meet your needs if they do not have access to them.
Outsourcing medical call center services can augment your medical practice and improve member retention. It lets you deliver better quality services overall. It is an excellent option if your practice is growing and if you wish to expand the healthcare services that you have on offer.
TALK TO US!
Contact us today for more information.