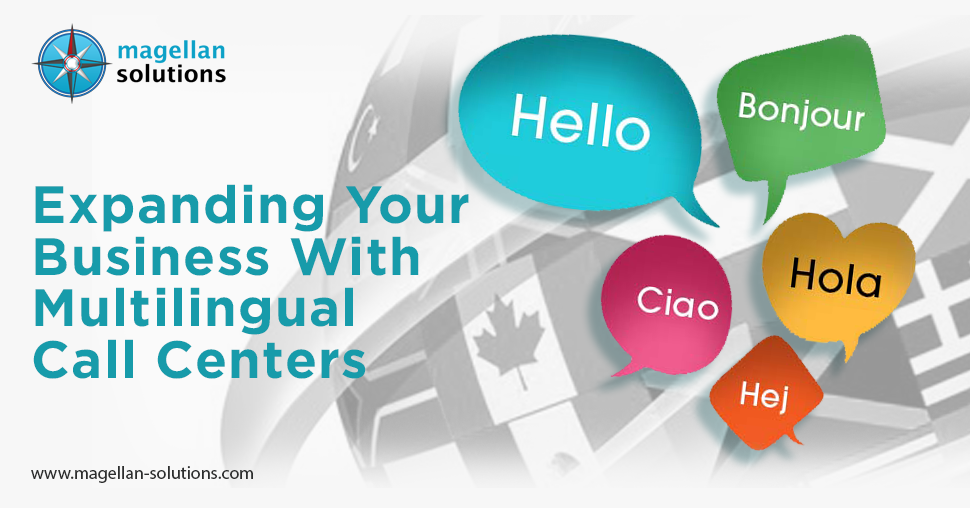 Reaching out to a global market is the goal for most businesses. However, an international customer base means communicating with people from different time zones and cultures who are speaking different languages. This is where services of multilingual call centers can help.
With a multilingual call center, you can provide call answering services in your customer's native language. Your customers will find it easier and more comfortable to interact with your brand, regardless of their country of origin. This will help you provide a world-class customer service, which is the mark of truly global business.
What are multilingual call centers?
A multilingual call center is composed of agents who are fluent in a wide variety of languages. These call center agents can provide contact center services or technical support services in multiple languages and can communicate with native speakers with ease.
To have your own multilingual call center, you can either hire your own agents or outsource to a BPO company. Usually, it handles inbound calls and accommodates widely-spoken languages, including English, Spanish, French, and Mandarin Chinese.
When customers call your business, an IVR will prompt them to select their preferred language. If they select outsourced language support, the call will be routed to your service provider. A multilingual customer support agent will then handle the customer's concerns on your behalf.
How can a multilingual call center help in expanding your business?
Multilingual call centers play an important role in the global expansion of businesses. It builds bridges between your business and your customers, and other international stakeholders. In turn, your organization will be able to accommodate more business opportunities. It also enables you to step up to a global platform, without setting up satellite offices in other countries.
Outsourcing allows you to maximize the benefits of multilingual call centers. When you outsource, you will be securing the following benefits:
Focus on core operations:

you will do fewer non-core activities and have more time and resources to focus on your core operations.

Inexpensive expansion:

outsourcing is less expensive than

hiring your in-house staff

. No need to spend on recruitment, onboarding, and mandatory employee premiums. You do not need to pay for additional equipment and workspace, as well.

Access to the best technology:

service providers use the best industry innovations. There is no need to invest in additional technology and keep up with trends.

Reduce business risks:

your outsourced team is

well-trained

in handling customers of diverse backgrounds. So, the risk of poorly handled customer interactions is reduced. 

Disaster preparedness:

offshore outsourcing lets you maximize this benefit. If disaster strikes your area, your outsourced operations shall go on.

Long-term profitability:

call center outsourcing

supports your growth in the long run. It helps in keeping your processes optimized, so you can consistently expand in the most profitable way.
With all the benefits of outsourcing a multilingual call center, your business can rapidly, profitably, and efficiently expand to an international market. Plus, you get to do all that while minimizing the risks of business expansion.
What are the signs that you need a multilingual call center?
While it is a great addition to any business, not all companies sorely need a multilingual call center service. However, there are circumstances wherein this service is extremely necessary to keep your business growing.
Here are some of the signs that your business needs a multilingual call center:
Your business has an online presence
If your business is present in any online platform, you are highly likely to get inquiries and orders from distant countries. However, the language barrier can make the transaction difficult.
Smoothen the process with a multilingual call center. You will never miss an opportunity to reach a foreign market again.
 You are operating in or expanding to foreign territories
Having a business in foreign territories means accommodating foreign customers. A multilingual call center can show your new customer base that you are ready to establish a deep connection with them. They will find it easier to interact with your brand and see your business as reliable and professional.
You own a global brand
If your product has excellent quality, people in different parts of the world may be using it, despite being manufactured exclusively in your country. By outsourcing a multilingual call center, you can prove your commitment to your non-English-speaking customers.
How do you choose a multilingual customer service provider?
Outsourcing comes with some risks, especially when you outsource to the wrong service provider. There are a lot of call center companies out there, but some of them are unreliable, or just a wrong fit for your business.
To select the right call center service provider, you should have a concrete grasp of your business needs. You should also note any preferences you may have on how the service should be carried out.
Once you got your needs and preferences down pat, you also need to consider the following factors:
Length of experience:

experienced service providers have more knowledge on how to navigate through the challenges of e-commerce services. 

Quality of staff:

make sure that the outsourcing company has well-trained staff who can represent your business effectively.

Quality control and monitoring:

learn how a service provider ensures the quality of their output and services, and choose a partner who does that well.

Safety guarantee:

your service provider might need to handle sensitive data. Choose a partner who has strong measures in place to protect your information. One way of doing this is by checking if they follow industry standards, such as

ISO data privacy

.

Value for money:

aside from being well within your budget, your chosen service provider should also provide high-quality services. Find an outsourcing company that offers flexible rates without compromising their service quality.
How much does it cost to outsource a multilingual call center?
There are no industry standards for the rates of multilingual call center outsourcing. For most service providers, they calculate the cost according to the needs and preferences of your business. The pricing can also be affected by factors, such as:
Language(s)

Number of staff needed

Level of staff expertise

Length of the outsourcing contract

Laws and regulations in your area
Offshore outsourcing is an ideal option for competitive prices. Countries with bustling BPO industries, like China, India, and the Philippines, are the go-to areas if you are looking for cost-effective deals. Contrary to popular belief, however, outsourcing to these countries is not only about the low labor costs. Countries with rich BPO industries are hubs for highly specialized talents. So, when you outsource offshore, you are hiring highly-skilled, but inexpensive labor.
Magellan Solutions is a BPO company that offers multilingual call center services to businesses around the world. We have been in the call center industry for over 15 years, with hundreds of satisfied clients. Our company is ISO and HIPAA certified, so we can guarantee that your data is safe in our hands.
TALK TO US!
Contact us today for more information.