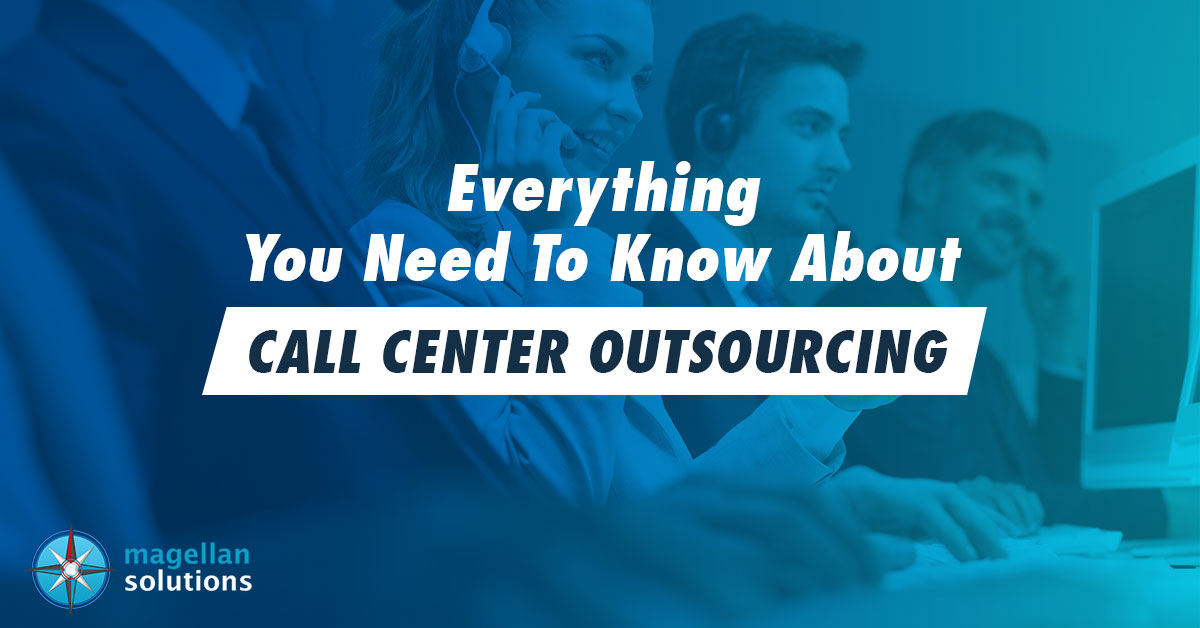 Outsourcing is all the rage nowadays, especially call center services. Once a taboo subject, outsourcing is now the status quo. But there's more to it than meets the eye. This guide will help you in your journey to learn more about the industry to finally selecting a provider that fits your business needs.
In this guide, you'll learn about the following:
What Is An Outsourced Call Center?
Call center outsourcing is the business activity of subcontracting customer care services and sales-related tasks to a service provider. A call center provider handles all customer requests from inquiries, bookings to refunds, inbound to outbound, catering to businesses of all shapes and sizes. Outsourcing a call center is possible through onshoring, nearshoring, and offshoring.
Inbound call center outsourcing helps you with incoming messages from customers. These customers seek help in the following areas:
Getting extra information about a product or service
Product returns or refunds
Defective products
Inconsistent service
Reservation and booking
Making an order
And other customer service-related concerns.
Meanwhile, outbound call services assist you in:
Generating leads
Sell products or services
Information dissemination
Conduct market research or survey
Set appointments
Collect overdue debts
Both services are available in voice and non-voice operations.
Anything initiated through calls belongs to voice accounts. Chat and email services fall under non-voice call center operations.
Call center outsourcing can be a short-term or a long-term partnership.
You can hire a call center during the holidays or after advertising your product or service.
If you want to keep it as a regular part of your business operations, signing a long-term deal with a call center is probably best.
Advantages And Disadvantages Of Contact Center Outsourcing
Like everything in this world, outsourcing has its own set of benefits and drawbacks. By becoming aware of what those things are, you are minimizing the risks that can affect your business. At the same time, it is one way of achieving the full potential of this business activity.
How Outsourcing Helps Your Business
Enhanced customer service. Good customer service requires a lot of empathy, understanding, and patience. BPO companies train call center agents in dealing with different types of customers with various temperaments, needs, and concerns.
Sales assistance. Outsourced call center services such as lead generation, telemarketing, telesales, and appointment setting can assist you in improving your bottom-line growth.
Save costs. The labor market rate in the 3rd world English-speaking countries is lower compared to other countries. By paying a quarter of the cost for the same service quality, you can allocate your resources to the development of your business.
Mitigate business risks. A mutual risk-sharing agreement comes with outsourcing. It guarantees you that when something goes wrong, you wouldn't carry the burden alone.
Improve employee efficiency. As their role implies, call center agents can focus on taking and making calls. Call centers follow established quality assurance processes. It makes sure that the agents meet your desired KPIs.
All-day business operation. Call center companies operate 24/7 to make sure that your business never misses an opportunity or ruins a relationship with customers. The idea of a 24/7 operation becomes possible through a strategic shifting schedule approach.
What Is The Problem With Offshore Call Center Outsourcing
These are the possible drawbacks that you might encounter with offshore call center services outsourcing. It is important to know these as early as possible so you can prepare an alternative plan of action in case things go out of hand.
Less control. Given that you are transferring your customer service or sales functions to a third-party company, expect that you'll have less control over these processes. What should you do? Maintain regular communication with your offshore team so you can track the progress of your campaign.
Security and privacy issues. One of the elements that keep business owners from outsourcing is information leakage. What should you do? To make sure that your information assets are safe, choose a service provider that complies with international security standards such as ISO 27001, HIPAA, and PCI-DSS.
Linguistic and cultural barriers. Customers prefer to speak with someone who has the same accent and understands their culture. What should you do? Choose a company that trains its agents to neutralize their accents. For example, the majority of Philippine schools — grade school until tertiary level —  teach students about the importance and rules of the English language. This explains why Filipinos don't have a hard time perfecting their accents. Aside from this aspect, the Philippines also has a rich cultural background due to the long history of colonization in the country. Agents can learn within a shorter time frame the nuances in their clients' culture.
Hidden charges. Sometimes, what you see isn't what you get. Be careful of companies that do not show you everything that you need to pay so they would appear cheaper than other companies. Instead of saving money, you could be spending more. What should you do? Be blunt about asking them if there are charges that they haven't written down in the contract.
Insufficient company knowledge. Insufficient knowledge about your company, service, or product can negatively affect customer experience. It would make your customers think that your staffs are incompetent. What should you do? Find a call center company that provides regular training to their agents.
How Can Outsourcing To A Call Center Increase Profits?
For over a decade now, call center outsourcing has become a go-to process for every business because of its benefits.
So how does it help you in making profits?
It helps you save on resources — money, time, effort, and equipment.
Outsourcing solutions cost comparably lower compared to the neighboring countries that provide the same service.
A good call center company can improve your customer engagement, customer care, customer retention, and customer acquisition performances
You can take advantage of the outbound services it offers to generate interest from your target audiences or proactively sell your product or service.
How Much Does Call Center Outsourcing Cost?
The cost of call center solutions varies. Always remember that price alone does not guarantee the quality of service that you can get. Saving is a good idea as long as it does not compromise the end result. At the end of the day, you should always ask yourself, "Is it worth the price that I'm paying for?"
Several factors determine the price of a particular service. In general, these are the main elements that you have to consider:
The number of seats. This refers to the size of the team that you plan to outsource.
Agent expertise. It ranges from Levels 1-3.

Level 1 – answers basic questions
Level 2 – deals with more complex subject matter
Level 3 – advanced level

Labor market rate. The cost of labor in a specific place.
Length of contract. It can either be a short-term or a long-term agreement.
Call Volume. The average call count per week.
Average handling time (AHT). The average duration of each call.
Add-ons. It can be a business continuity program, a specialized training, or infrastructure.
Another thing that you need to consider is the pricing model of your engagement with the call center provider: fully-managed, co-managed, and per hours of calls answered. 
Fully-managed
The contact center will take care of everything for you. This includes the following:
Cost of hiring
Training
Management
Admin and HR-related tasks (payroll, perks, benefits, government contributions, employee engagement activities)
Infrastructure (building costs, maintenance, and power, software licensing, hardware, etc.)
Co-managed
A co-managed model happens when you work together with a BPO company to oversee the service together. You can manage the sensitive aspects like training while the service provider will administer the admin and HR-related tasks and infrastructure.
Per call answered
This is a per-call basis model (consider the call volume and AHT).
Estimated hourly price per country*
The estimates below only takes into consideration the salary of agents with minimum to no experience. Other factors including the costs of training, management, admin and HR-related tasks, and infrastructure are not yet included.
Computation formula: Average monthly salary*/160**=cost per hour
*Based on Glassdoor.com's average salary
**The normal number of hours a customer service representative or sales agent renders in a week
Philippines (Manila)
Average monthly salary: $340-$400
Cost per hour: $2.13-$2.5, where $1=Php50.
India (New Delhi)
Average monthly salary: $263.44-$436.62
Cost per hour: $1.65-$2.73, where $1=₹71
United States
Average monthly salary: $2,505-$2,916.67
Cost per hour: $15.66-$18.23
To know the actual costs, it is still best to get in touch with the business development of the call center company.
Is Outsourcing Customer Service A Good Idea?
Yes. Many companies today — even those that belong to the Fortune 500 — outsource some of their business processes. It can be your partner for growth. It can bring your business tons of benefits.
Overall, outsourcing will depend on your business needs right at this moment. You have to assess your internal capacities and concerns first before you go looking for an outsourcing company.
But if you're done with that step and ready to step into outsourcing, we hope that the information you read here can help you in your search.
Here are some signs that might tell you that you should.
Budget concerns. Do you need to reduce operational costs to give way to other business development projects? Do you have insufficient funds to maintain an in-house team? Is the economy in your country suffering, making it difficult to keep and hire new employees?
Productivity problems. Is your business getting bigger that you have difficulties keeping up with administrative tasks? Are you and your employees starting to lose focus on your core business functions? Has it become a challenge to meet deadlines?
Need for specialized skills. Is it difficult to look for talents who meet your required skills? Do you need someone knowledgeable in dealing with different customer personality types? Are you expanding to another market that speaks another language?
It is important to clearly define your problems first. If you're a startup owner with a few staff, list down all the areas that you can get some help with. Meanwhile, if you're a small to medium business owner, sit down with all the key decision-makers in your company. Discuss the current situation and the challenges that you are facing. After that, identify if outsourcing a call center can benefit your company in the long run.
How To Hire The Right Call Center Provider
Here's the thing: call center outsourcing is not a one-shot deal. In most cases, it requires a trial-and-error approach. You have to keep on digging until you find the right company that meets your needs.
It helps to remember a few guidelines to aid you in searching:
Research. Arm yourself with knowledge about this business activity. After that, understand how it works and how it can work for your business. If you know friends or colleagues who are already into outsourcing, asking them about it can help a lot. They can give you advice about the positive and negative effects of outsourcing. Gather all the insights. After that, try to assess and determine what you should look for and avoid when choosing a service provider.
Look for a specialized call center company. Once you have short-listed vendors, find out the company that specializes in the area that you need to outsource. Remember, every business has a unique set of requirements. The good one will spend more time understanding what you do, your needs, and your expectations.
Check their report card. Call centers often promote themselves to be the best in the industry to attract prospective customers, yet everything boils down to their depth of expertise. Review their metrics — call duration, capacity to handle calls, customer satisfaction (CSAT) scores — to gauge their performance.
Visit the site. A scheduled office visit helps you learn about the work environment and corporate culture. How do the agents interact with callers? You can take note of their product knowledge, tone, speech, expression, and accent. How do the agents look like? Keep in mind that agents with positive dispositions can serve your customers better. In case you can't do an ocular inspection, you can request for the latest photos and possibly a conference call with the CEO or business development manager.
Take the time to meet with a few suppliers and know what they can do for your business. You are the client and you are investing in a provider that will represent your company in many ways. Consider all aspects of hiring to get the value that you're paying for.
Elements That You Should Look For When Outsourcing
How the outsourced provider manages your customers will eventually reflect on your credibility. It becomes an extension of your company and the values you stand for.
To know which among the companies qualify the most, check out for this information:
Quality. The service quality encompasses a variety of factors. Some key pointers to take note when looking into their quality are the following: recruitment procedures, training methodology, quality assurance processes, and call center technologies.
Flexibility. Not all call centers are willing to customize their services according to the client's exact needs. They have the packages set in place so the customer only has to choose. Look for those who are willing to custom-fit their capabilities toward achieving your business goals.
Track record. How long has the call center been in operation? There are a few companies that have made consistent work throughout the years. They take pride in their depth of expertise and experience. Did the company handle the same account before? The company can deliver better service if they have previous experience. Find out its success rate in providing the service.
Pricing. The prospective candidate should provide detailed information on project scope, timelines, and costs. As a business owner, you want to make "more wins" for this endeavor.
Adaptability to technology. If your business has an existing technology or in-house software, the service provider should be able to learn this technology and use it to your advantage.
Remember: The call center is your connection with your market. As the frontline of your business, customers will perceive you based on the manner in which you deal with them. Think twice before deciding on the right one.
How long does it take for call centers to make a campaign go live?
In Magellan Solutions, it takes six weeks to start a campaign. It includes the following aspects:
Identification of business needs
Creation of strategy to make the campaign successful
Recruitment
Training
Enter The Call Center Capital of the World – Philippines
With more than 20 years of operation in the country, the Philippines has become the call center capital of the world.
According to the latest figures, the industry already contributes 9% of the country's GDP growth.
Thanks to the favorable laws and regulations, a good economic climate, and a qualified workforce, the country continues to attract clients from overseas — startups, small-to-medium businesses, and large corporations.
In 1995, the Philippine government enacted the Special Economic Zone Act into law. This regulation offers both fiscal and non-fiscal incentives to BPO companies, which call centers fall under.
For instance, instead of paying for the national and local taxes, they only need to contribute 5% of their gross income as tax. With these kinds of perks, call center companies can enjoy lower operational costs. As a result, their services cost lower compared to other outsourcing destinations.
What Are The Various Services Offered By Philippine Call Centers?
Philippine call center outsourcing companies offer inbound and outbound call center solutions. Below is a list of these services:
Inbound Call Center Services
Outbound Call Center Services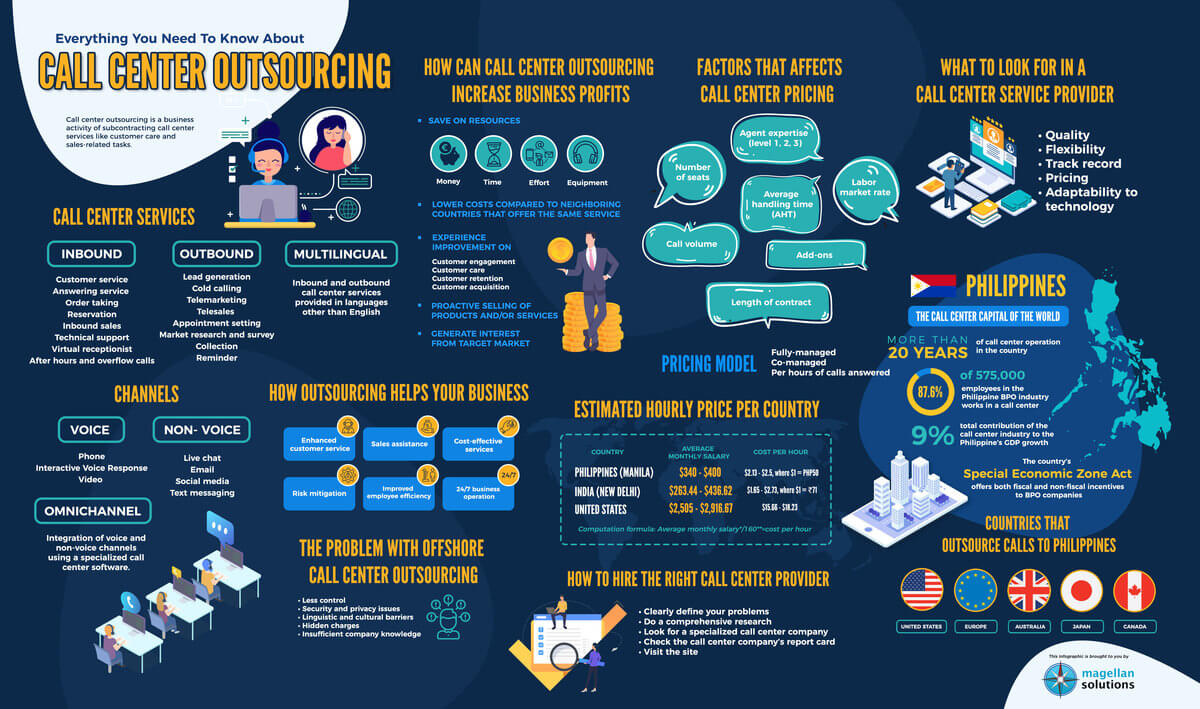 Are you interested to work with a Filipino call center? Kindly fill out the contact form below. Our business development team will get back to you as soon as possible.
TALK TO US!
Contact us today for more information.