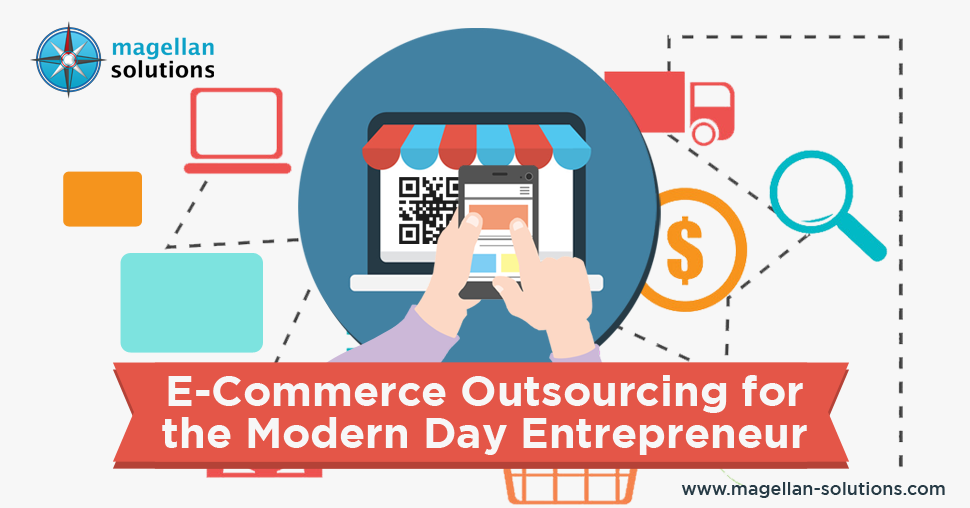 With quarantine measures in place around the world, demand for ecommerce is stronger than ever before. To meet these demands, ecommerce outsourcing is a solution to mitigate financial risks while coping with demand.
Outsourcing is a cost efficient solution for rapid ecommerce business growth. You can outsource a wide-range of tasks and services to optimize your online business. When you outsource, you can have more time to focus on the core of your business, and for inexpensive costs at that!
What you can expect from this article
Are you an online entrepreneur looking to outsource your operations? Here, you will learn the basics of ecommerce outsourcing: what it is, why it matters, how it works, and where and how you can outsource.
In this guide, you will learn about the following topics:
What is ecommerce outsourcing?
For startups in the ecommerce industry, handling everything on your own may be feasible at first. As your business expands, however, the workload will expand, as well. Soon enough, you will find yourself stuck in simply keeping the business afloat instead of growing it.
Outsourcing lends you a hand (or several hands!) to propel your business further. When you outsource, you are hiring an external service provider to cover a certain business function for you. This process requires trust, so you need to choose a reliable service provider who can fulfill the needs of your business. Before you outsource for the first time, make sure that you understand business process outsourcing well.
eCommerce outsourcing specifically deals with outsourcing solutions for ecommerce businesses. ecommerce outsourcing service providers offer a wide range of services for online retailers, and any business that offers goods and services through the Internet. While these services include tasks that can be outsourced by all kinds of businesses, there are exclusive outsourcing services, as well.
What are the most important elements in an ecommerce business?
Over the past few years, a number of studies have shown that 80% of ecommerce businesses fail within the early stages of their operations. While this number may sound alarming, an effective strategy can prevent you from adding to the statistics. Knowing which business elements to prioritize, for one, would certainly help you thrive.
Like in any business platform, every element counts in ecommerce. However, you need to pay special attention to some of them if you want to rise above the competition.
User experience
User experience (or UX) is concerned with your website's ease and readiness for users. The UX in your website should make your customers feel safe, while encouraging them to buy or convert.
Some aspects that make a good website UX design are:
Simple layout

Personalized

User Interface (UI)

Correct and working links

Easy navigation

Reliable site search

Simplified checkout process

High-quality product photography

Clear product value

Ready access to customer support

Mobile version or compatibility with mobile devices
Social Media
The work does not end with creating accounts and posting products on social media. You also need to keep your customers engaged. Foster a healthy social media community, and have a helpful and relevant presence.
Content Marketing
The purpose of content marketing is a digital marketing technique wherein you create and share content that is consistent, valuable and relevant. This will help you acquire a following of clearly defined audience, who are likely to convert. Distributing relevant and valuable content on a regular basis also helps with search engine optimization and marketing (SEO/SEM).
Data Entry
As an ecommerce business, you need to keep your data accurate. You would not want to post the wrong prices, specifications and descriptions on your product page. Outsourcing data entry services for your business will help you steer clear of these costly mistakes.
What are the pros and cons of outsourcing your ecommerce functions?
eCommerce outsourcing has its own advantages and disadvantages. However, the pros tend to outweigh the cons.
Pros of ecommerce outsourcing:
Focus on core operations:

while every business function is vital, handling all of them on your own is cumbersome. When you outsource, you will do less non-core activities, and have more time and resources to focus on your core operations.

Affordable workforce expansion:

outsourcing is less expensive than hiring your own in-house staff. You do not need to spend on recruitment and onboarding, and you will not pay mandatory employee premiums, as well. Outsourcing also allows you to expand your workforce without paying for additional equipment and workspace.

Staff expertise:

outsourcing companies specialize in the services they provide. They train their staff to represent clients in their respective fields. In Magellan Solutions, for example,

employees are thoroughly trained

to be effective brand representatives and customer service experts.

Access to the best technology:

given their specialties, outsourcing service providers will also be using the most efficient tools and equipment. You will no longer need to invest in additional technology and keep up with trends.

Reduce business risks:

outsourcing offers protection against several risks. Your outsourced staff are well-trained in handling your customers and business professionals. So, the risk of a poorly handled customer interaction is reduced. 

Disaster preparedness:

you are more likely to maximize this advantage through offshore outsourcing. If disaster strikes your area, the operations you outsourced to an offshore partner will go on. Outsourcing also helps your business

during volatile economic times

.

Long-term profitability:

ecommerce outsourcing

supports your growth

in the long run. It helps in keeping your processes optimized, so you can consistently expand in the most profitable way.
Cons of ecommerce outsourcing:
Lose some control:

when you outsource an aspect of your business, you will lose some control on how that function is being monitored and performed. However, this will not be a big issue if you trust the service provider.

Data security risks:

as an ecommerce business,

your business information is especially sensitive. Outsourcing requires you to share this data with your service provider. So, you really need to choose a partner that can guarantee data security.

Things are likely to get lost in translation:

your remote outsourced workforce may misunderstand your messages, and it is harder to clear things up without face-to-face interaction.

Overlooking your local community:

the moral dilemma that comes with outsourcing is that you are not providing local opportunities. Since your business mainly operates online, however, this will not be much of an issue.
These are only some of the pros and cons of ecommerce outsourcing. It is worth noting that the effects of outsourcing on your business would depend on your decisions and strategy. For example, most of the cons mentioned above are avoidable if you choose the right service provider.
What are the ecommerce functions that you can outsource?
You can outsource plenty of tasks in your ecommerce business. Most services offered by BPO companies are also applicable for ecommerce businesses. At the same time, there are also BPO services that specialize in ecommerce, or are exclusively offered to businesses like yours.
Below are some examples of services you can outsource that are not exclusive to ecommerce:
Web design and development

: a digital marketing essential; you can outsource web designers and developers to create a website for your business. They can ensure that your website is optimized for a great user experience.

Content creation

: another crucial aspect in

digital marketing

. Content creation fills your website with content that is relevant to your target audience.

SEO/SEM

: Search Engine Optimization (SEO) and Search Engine Marketing (SEM) are also necessary to  digital marketing. Consumers who are specifically looking for your product would easily find your brand online.

Social media management/moderation

:

social media moderation

and management allow your brand to gain traction and build a robust community in social media platforms.

Product photography

: you can outsource photography and photo retouching or editing to professionals. So, your products will be virtually displayed in a way that is more likely to convert your audience.

Customer support

: service providers offer this in different forms, such as

email

, phone, and

live chat support

. To make the most out of

outsourcing ecommerce customer support

, you may also choose to outsource in

multilingual customer support services

. 

Data entry

: though necessary,

data entry

can be a time-consuming task. Outsourcing this task is especially

beneficial to small businesses

.

Lead generation: like data entry, lead generation is also time-consuming. Your in-house staff can do this, but outsourcing lead generation services is often more efficient. Outsourced lead generation provides high quality leads in a short period of time, and significantly boosts your sales force.

Inventory and fulfillment: you can hire service providers to cover all tasks related to inventory and fulfillment. These functions include, but are not limited to inventory management, drop shipping handling, order reception, warehouse management, and payment verification.

Accounting

: it can be expensive to hire a qualified professional for your accounting needs. So when you need accounting services, outsourcing is a

cost-efficient alternative to in-house hiring

.
Meanwhile, here are some specialized outsourcing services for ecommerce:
Loyalty programs

: loyalty programs strengthen your customer base, but online implementation can get a bit tricky. However, outsourcing this function makes it easier to have an effective loyalty program.

Invoice and balance inquiries

: outsourcing this task ensures that all invoice and balance inquiries are answered, and professionally handled.

Order tracking and fulfillment

: this streamlines the order fulfillment process. Your customers can track their orders efficiently. Meanwhile, you will have sufficient documentation and assurance that each order has been fulfilled successfully.

Customer care support

: some companies offer customer care support services that specialize in ecommerce. When you outsource this service, you will have customer service experts to represent your brand effectively.

Inbound sales support

: as an ecommerce business, you need to pay attention to your

inbound sales

. Strengthen your inbound strategy by outsourcing inbound sales support.

Billing support

: even if your billing process is automated, you should provide support for your customers. Outsourcing your billing support will not only smoothen the process, but improve customer satisfaction, as well.

Replacements

: for online retailers, product replacements are often a pain to deal with. Entrust this function to a reliable partner, so you can ease your workload.

Account management

: you can hire an external company to manage your business accounts online.

Refund assistant: like replacements, refunds are difficult to handle. The staff from your service provider can ensure that refunds are efficiently processed, and that customers remain satisfied all the way.


Virtual assistants

: you can outsource virtual assistants that specialize in certain ecommerce platforms, such as

amazon

and

ebay virtual assistants

. VAs can cover a wide range of tasks, such as product uploads and page optimization.
How should you choose the right ecommerce outsourcing service provider?
There are plenty of BPO companies that cater to ecommerce businesses. However, not all of them can fulfill your business needs. Before looking to outsource, you should have a firm grasp of which parts of your business need to be outsourced, and how you want the job to be done.
When choosing an ecommerce outsourcing service provider, here are some factors you need to consider:
Length of experience:

similar to hiring an employee, the length of experience also matters in the

outsourcing industry

. They would have a better knowledge on how to navigate through the challenges of ecommerce services. 

Quality of staff:

you are staffing your business through your service provider. So, you have to make sure that the outsourcing company has well-trained staff who can represent your business effectively.

Quality control and monitoring:

learn how a service provider ensures the quality of their output and services. Outsourcing means you are giving up some control over this aspect, so you should choose a partner that does it well.

Safety guarantee:

much of your data will go through your service provider, and some of them may be sensitive. You must choose a partner who has strong measures in place to protect your information. One way of doing this is by checking if they follow industry standards, such as the

ISO data privacy

.


Value for money:

aside from being well within your budget, your chosen service provider should also provide high quality services. Find an outsourcing company that offers flexible rates without compromising their service quality.
How much does ecommerce outsourcing cost?
Considering the wide variety of ecommerce tasks that you can outsource, and that ecommerce is a relatively young industry, there are no standards yet when it comes to the pricing. Service providers usually tailor their services according to your needs and preferences as well.
In general, some of the factors that affect the price:
Type of service(s)

Number of staff needed

Level of staff expertise

Length of outsourcing contract

Laws and regulations in your area
Offshore outsourcing is an ideal option for competitive prices. Countries with bustling BPO industries, like China, India and the Philippines, are the go-to areas if you are looking for cost-effective deals. Contrary to popular belief, however, outsourcing to these countries is not only about the low labor costs. Countries with rich BPO industries are hubs for highly specialized talents. So, when you outsource offshore, you are hiring highly skilled, but inexpensive labor.
The ecommerce outsourcing industry in the Philippines
Are you looking to outsource for your ecommerce business? You should consider outsourcing offshore, to maximize the benefits of outsourcing. Asia has some of the best countries for ecommerce outsourcing. Among these countries, the Philippines may be your best bet.
The Philippine BPO industry, in general, is also trusted by businesses around the world, including major industry players. The Philippines has a bustling outsourcing hub, which continues to grow along with the global ecommerce industry. As the top call center country in the world, you can outsource almost every ecommerce service to the Philippines.
Aside from the array of services, outsourcing to the Philippines comes with plenty of benefits, as well. Some of its benefits include:
Industry knowledge:

BPO companies in the Philippines are knowledgeable in the ecommerce industry. They know, follow and anticipate the

latest ecommerce trends

.

Cost-saving:

outsourcing to the Philippines

does not cost a lot

, especially considering the quality of Philippine BPO services.

Bottomline growth:

outsourcing to the Philippines helps in

raising your bottomline growth

. Specifically, outsourcing digital marketing services to the Philippines greatly improves business growth.

Avoid legal risks:

IT and Internet laws all over the world may be new, but Filipino BPO workers and companies have a firm grasp of these. They are educated in and up-to-date with international cyber laws. So, Philippine BPO companies can help

avoid legal challenges

when working for ecommerce businesses.
Magellan Solutions is a Philippine BPO company that caters to ecommerce businesses of all sizes. We have over 15 years of experience in the BPO industry, and we pass on to our staff everything we have learned over the years.
As a company, we aspire to offer high quality support to all kinds of businesses. As such, we keep our prices competitive and flexible. So, even startups and small businesses can afford our services. To guarantee the quality and safety of our services, we maintain ISO and HIPAA certifications.
TALK TO US!
Contact us today for more information.