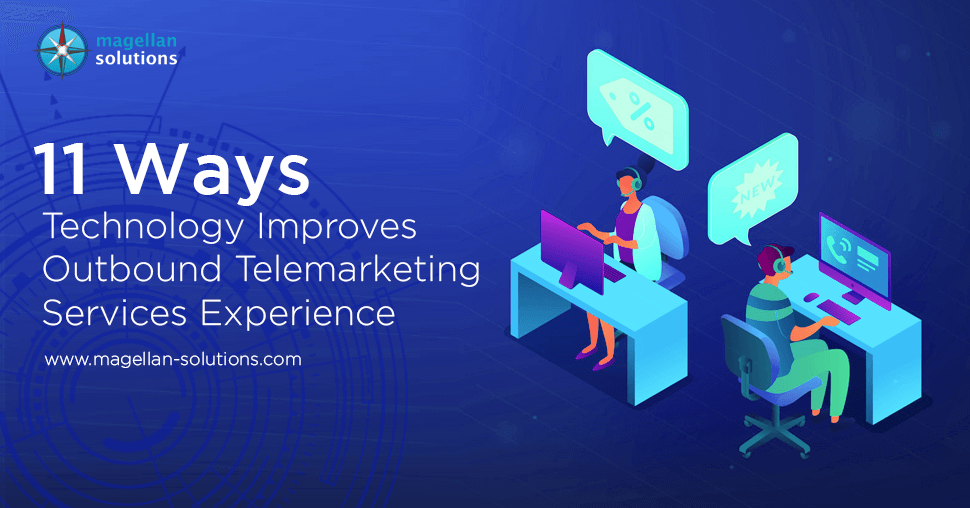 11 Ways Technology Improves Outbound Telemarketing Services Experience
What is an outbound call center
?
An outbound call center is a function that makes outgoing calls to:
Prospects

Other businesses
It originates with a sales or support representative dialing a third party's telephone number. 
However, an outbound call center can only fulfill its purpose when efficient and effective.
Must haves for an
outgoing call center
Natural Language Processing (NLU) assistance
NLU is a technology that 'listens' to voice input. It determines the intent of the speaker. Furthermore, it is typically deployed within an IVR system. Thus, its next move could be confirming those booking details. NLU can also have uses outside the IVR context:
Training agents in better processes/approaches 

Highlighting upselling / cross-selling opportunities

Automating data entry
Automated scheduling and dialing
Outbound call centers have been using sales dialers for years. In addition to dialing, compiling call lists is also a must. So, if you're going to automate a process, automate every part you can. 
Here's how Magellan Solutions does it:
Integrate your dialer with surrounding systems. It could be your call center CRM and cloud Helpdesk software.

Create a simple automated process. This flags the leads or customers you need to call. Those flags are on your call list.
Adaptable CLI / Caller ID
Before considering having successful transactions, think of the customers first. When you call, they will see the number that is calling them. You can think of this as the first impression you're making. The best way to make it good is to display a local, recognizable number. This is called adaptable CLI or caller ID. It allows your call center to choose the number displayed when you make calls.
Outbound Call Center Services
and More at Magellan Solutions
We do more than call. Increasing your sales is our priority. Thus, we offer other services such as:
Lead generation
This is a marketing process of capturing interest in a product. It allows companies to find potential prospects. Candidates are qualifying individuals considering their profiles, interests, and demographic data.
The purpose of lead generation is to develop sales through found clients. Clients who are most likely to buy services or products.
Sales
This is a telemarketing service. Trained agents persuaded to close deals via phone calls.
Sales in telemarketing are also known as "telesales" or "inside sales."
Surveys
The initial stage of companies starts with telecalling. They use this to gather customer surveys to understand them better.
Inbound
Inbound calls are inquiries about the products and services offered. Often pertained to as a "warm" call, customers start as the first contact with the company. It enables customers to inquire during a time that best suits their interests.
Unlike outbound, warm calls could yield higher profitability in the long run.
Outbound
Outbound or "cold" calls raise awareness about your products to targeted audiences. Calls are between the agent and prospects you've never been in touch with. 
These unsolicited calls convince customers to make a purchase.
We know hiring an in-house team takes a lot of time and company resources. So outsourcing with us is the best decision you'll ever make.
Please fill out the form below, and let's talk business.
TALK TO US!
Contact us today for more information.