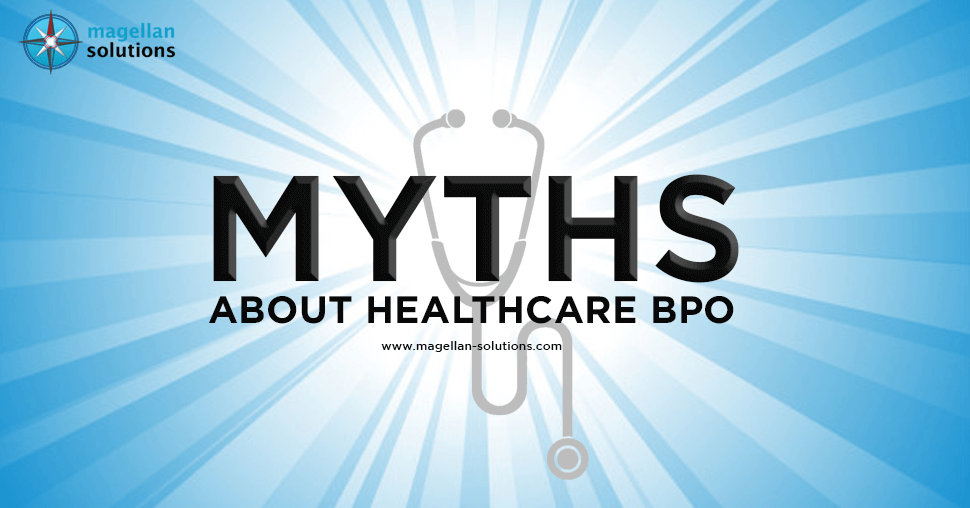 There are a lot of myths surrounding healthcare BPO.
The Global Healthcare Market is expanding fast. And healthcare companies are now clamoring to get a healthcare BPO partner.
Especially during this time of the year, customer demand is higher than ever. And businesses are looking for ways to save money. That is why healthcare BPO is a viable solution. Imagine delivering quality patient care and good customer service at a low cost. 
But for some reason, companies are afraid to consider taking in this strategy. Some might have a bad experience with them. Most of them have this preconceived myths about outsourcing medical-related services. 
In this article, we will discuss these healthcare BPO myths and debunk them.
What are the Myths Surrounding Healthcare BPO Companies
Myth #1: Customers will not be able to understand their services.
Businesses, who outsourced their products, are afraid that customers won't be able to get them. Many think that due to cultural and language differences, there will be a detachment.
But this is far from the truth. 
Before agents get a chance to talk to customers, they undergo a series of training. It is to ensure that they understand the products or services they will be offering. Healthcare businesses have the authority to check their team as well. It is to see if they meet your standard or requirements.
The customer will understand the service/product if the business and BPO collaborate. The more they relate to each other, the better the result.
Myth #2: Managing a team on the other side of the world is hard.
This concern is understandable. But thanks to technologies, connecting with your Healthcare BPO partner becomes easier.
There is a surge of different platforms that offer easy contact across countries. That means you can check with your team remotely and with ease. 
Besides, the best BPO partner should be transparent to you. It's as if they are not an expansion of your company, but part of your family as well.
Myth 3: Outsourcing is expensive
Getting an outsourcing partner sometimes sounds like an expensive affair.
But it's the opposite.
Offshore healthcare outsourcing is very cost-effective and reliable. It is one of the main reasons healthcare businesses outsource their services. Business process outsourcing helps the company save on equipment and labor expenses.
Myth #4: Healthcare BPO partners aren't secure
Offshore Healthcare BPO is as secure, or if not more, as their onshore counterpart.
Breaches occur because of careless practices. It is not because the BPO is not compliant with the laws and regulations. Plus, BPO companies that provides services for the healthcare industry follows stricter rules because they follow many international standards.
To guarantee that your BPO partner holds the highest standard of security. Make sure that they have compliance certification. Similar to HITRUST, URAC, and HIPAA Audits.
Why is Healthcare Business Process Outsourcing Important?
Healthcare BPO is valuable because they help take care of the business side of the industry. Amidst the virus outbreak, healthcare providers and payers should focus on their roles. Such as providing better healthcare services to the community.
COVID-19 is another reason why this type of service is a must. Patients are afraid, more than ever, to go outside and visit their doctors. They need means to reach health institutions. And they need you to provide them alternative ways on how to meet you.
Healthcare BPO Services in the Philippines.
Magellan Solutions Outsourcing Inc. is a global leader in delivering stellar customer experiences and back-office support.
We are one of the leading Healthcare BPO solutions providers in the Philippines. We offer services like customer care, call center services, data processing, and more.
Contact us today for a 60-minute consultation at zero charges. You can fill out the contact us form below.
TALK TO US!
Contact us today for more information.