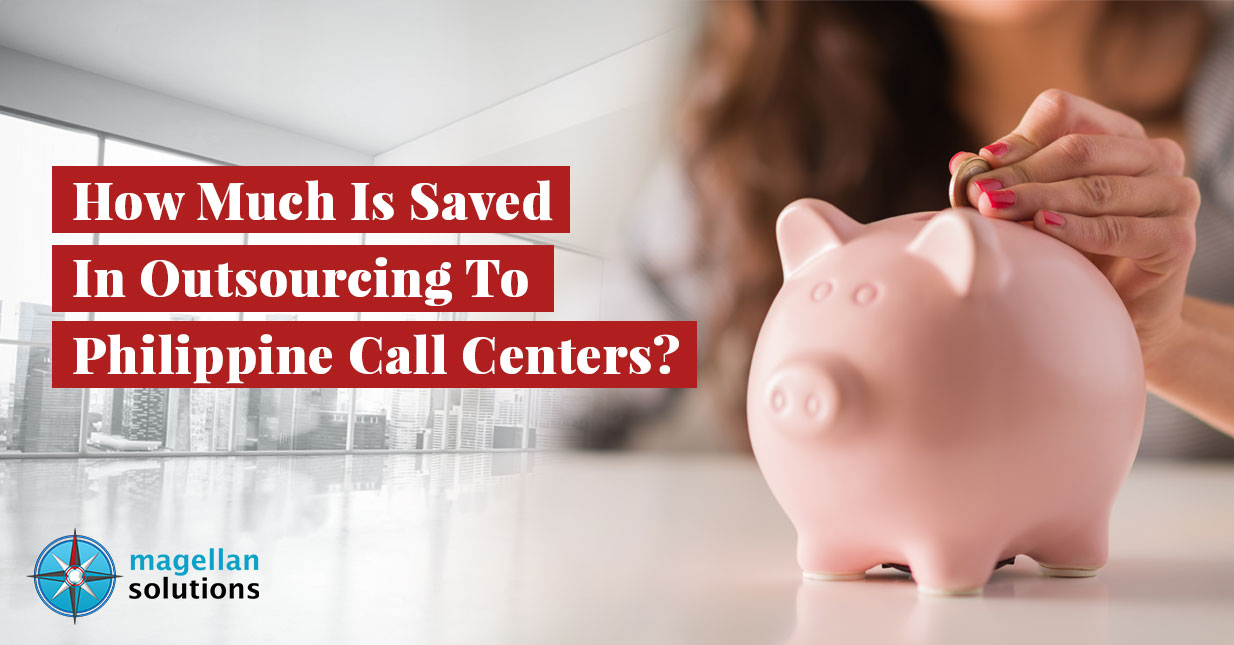 Philippines call center costs cheaper yet the service quality in sales and customer support is as good as the ones provided by other countries. Thanks to its cheaper labor rate, companies in the United States, Europe, Australia, and other parts of Asia can experience higher bigger savings. Making the Philippines as one of the top countries when it comes to outsourcing and offshoring.
Call Centers Still Preferred Than Other Channels Of Communication
Despite the availability of resources for self-service such as internet access and product brochures, customers still prefer to phone call centers to get the information they need. What's more is that, according to eConsutancy, 61% of them would rather have a phone conversation with an agent even if there are other channels for support, like live chat with 57%, and delayed response emails with 60%.
Moreover, 69% of customers would also consider making online phone calls if they didn't have the option to have old-fashioned phone conversations with brand representatives. This means that while businesses strive to offer omnichannel support, the bulk of their incoming queries would still come in the form of calls. 72% of customer service is still provided using call centers as intermediaries, which cements their importance in business operations.
Outsourcing In Western Countries Versus The Philippines
While it is no secret that outsourcing in western countries is expensive, it is better to see it for yourself and know just how much you could save from outsourcing to the Philippines.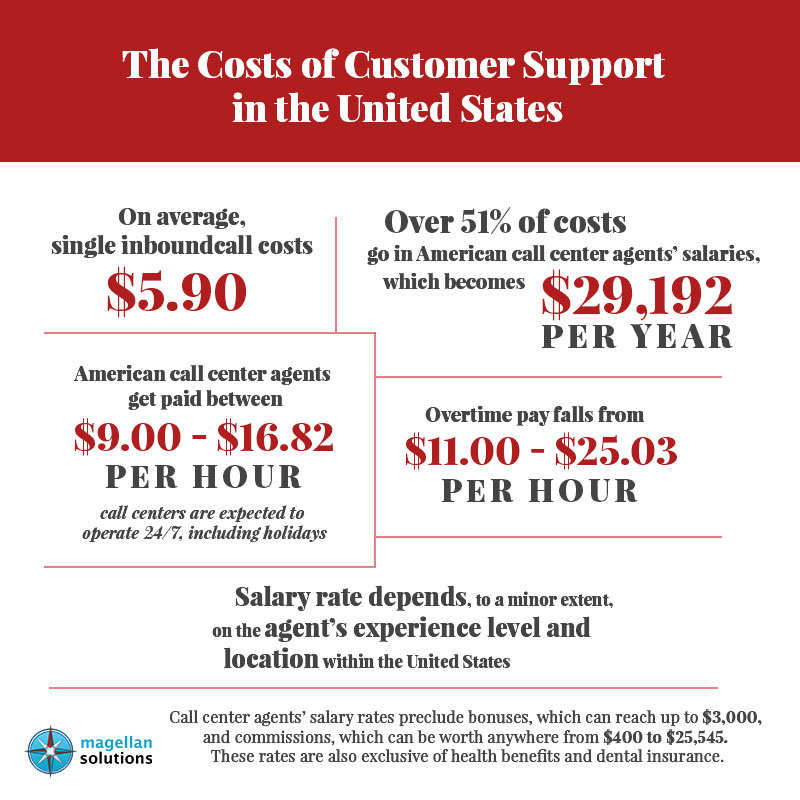 Call center agents' salary rates preclude bonuses — which can reach up to $3,000 — and commissions, which can be worth anywhere from $400 to $25,545. These rates are also exclusive of health benefits and dental insurance.
Call Center Costs In The Philippines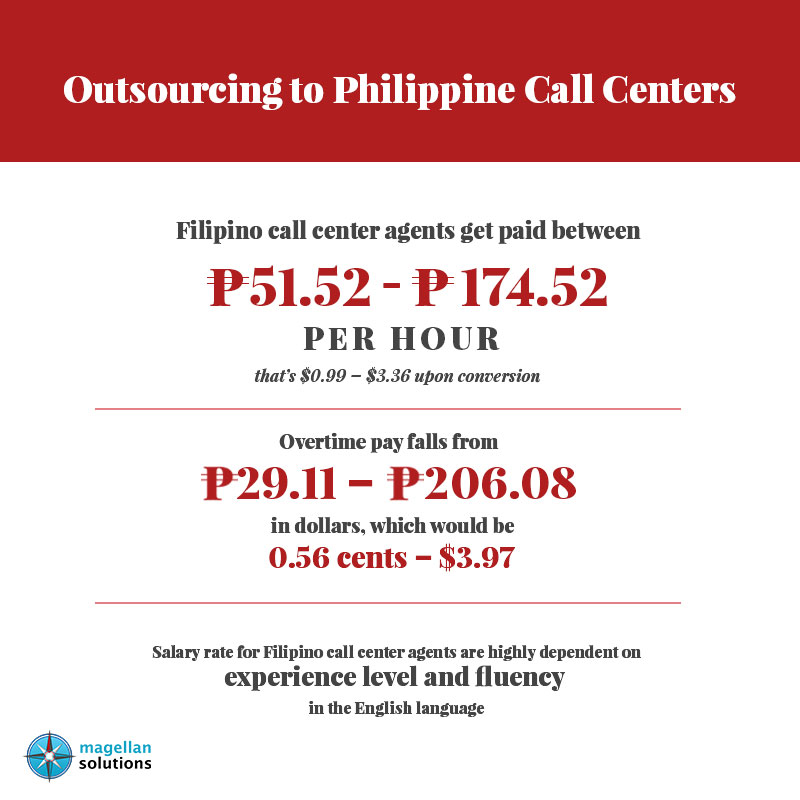 How much does a Philippines call center costs?
The rates depend on the following factors: the number of seats, agent expertise, current labor market rate, length of the contract, call volume, average handling time, and add-ons. In general, Filipino call center agents get paid between $0.99 – $3.36 per hour.
These rates are exclusive of bonuses, commissions, and health benefits. Service providers also take charge of offering Filipino employees health management organization (HMO) cards that can cover not just the agents' welfare, but that of their dependents as well.
The large disparity between salary rates in the US and the Philippines, as well as the higher exchange rate of the US Dollar over the Philippine Peso, translates to drastic cost savings. It also gives American companies value for their money since Filipino call centers screen and hire agents based on their experience level. Moreover, service providers bear the brunt of health benefits and overhead costs.
Cost reduction is the primary reason why businesses continue outsourcing in the Philippines. The lower cost of operating in an offshore location versus American rates and currency helps them maximize their resources.
In other words, clients have a lot to gain. Not only does it help them scale down on costs, but it also gives them access to an experienced workforce, expansive business infrastructure, best practices, and highly efficient processes.
Why Outsource To The Philippines
Other than the Philippines, call center outsourcing services are also cheap in other countries. But compared to other Southeast Asian countries like India or China, how much will a company save considering the cost of Philippine call centers?
It is a known fact for many American companies which has gone offshore in the Philippines that it is better to outsource in the country compared to other Asian counterparts. This is because Filipino call center agents are more capable of speaking English with almost invisible accents than India and other countries. Though India is cheaper, Indians tend to have a heavy accent and their idioms are far from American ones. This is true for both voice and non-voice services.
According to a New York Times article, there are American companies that acknowledged early on that "they focused primarily on saving money. But as they gained experience in different countries, they realized that was not the best strategy." Also, many analysts have said that Filipino call center agents have solved complaints better for American consumers since they can understand them better.
Here's the bottom line: With the skilled workforce and lower call center pricing in the Philippines, it would be better if you outsource here.
Fill out the form below to get a quote for the service you need!
TALK TO US!
Contact us today for more information.