Don't Know Where to Outsource? Why The Philippines is a No-Brainer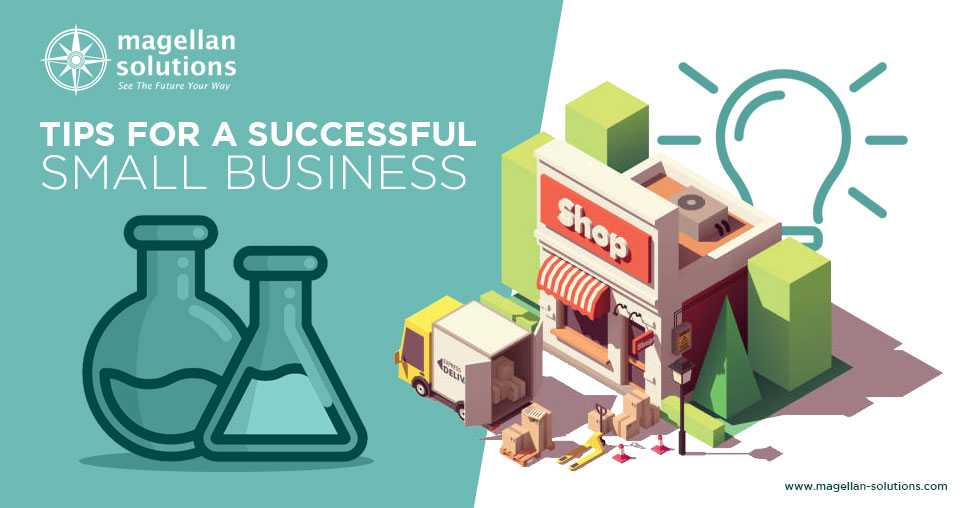 Tips for a Successful Small Business
Call Center Cost in The Philippines
Call center services in the Philippines are the cheapest among other BPO-driven countries. 
But it is also one of the best.
Compared to the $30,000 salary for a regular US call center agent per year, a Filipino agent receives roughly $7,395 yearly. Even with the vast difference, call center work in the Philippines is one of the highest-paid jobs in the country.
Although cheaper, the service quality in sales and customer support is as good or exceeds those other countries provide. With affordable labor rates, the Philippines is one of the top choices for outsourcing and offshoring for foreign companies.
Call Centers vs.  Other Channels Of Communication
Customers prefer to call centers over indirect platforms such as product manuals, brochures, and chatbots.
According to eConsultancy, the following are the customer preferences:
61% – Phone conversation
Directly talking over the phone with an agent is usually a better choice than other communication processes. 
Most problems could be resolved within a call. This is a requirement for phone agents; the ability to solve a customer's problem builds rapport. This helps resolve issues in the company service of a product calmly and collectively. Customers may also talk to team leads with better solutions and information to help them with the service or product.
57% – Live chat
Live chat is similar to phone conversations. The only difference is that you get responses through chat/ text replies. 
With live chat, sending files, such as images, creates a better customer experience. Instead of explaining in a call, sending a visual file solves the issue faster as the agent could quickly determine what to help with. Repetition could also be avoided with chats as agents and customers could read back.
60% – Emails
Regarding email choices, this usually serves as a better option for agents, especially during peak seasons. Resource planners could schedule agents' responses in an organized manner. 
Emails are usually longer than chats because most customers want a fuller explanation of the issue/ situation. This format allows agents to review the inquiry as often as needed to compose a fitting solution. 
Follow-up questions are easy to see; customers must reply to the email thread for further problems.
Customer service makes up  72% of most BPO operations. Even with other omnichannel support systems, most inquiries still come as calls.
How Much Does It Cost To Outsource Customer Service?
It is no secret that outsourcing in Western countries is expensive.
American call center agents expect a salary range of $9.00 – $16.82 per hour.
This precludes bonuses — which can reach up to $3,000 — commissions from $400 to $25,545, plus benefits & insurance.
They are outsourcing rewards not just cost-cutting but also cost-saving opportunities too. The only cost for hiring outsourced customer service is the compensation package. The outsourcing firm shoulders precluded bonuses.
With the usual $30,000 budget for local agents, you can hire 2-3 staff when you outsource.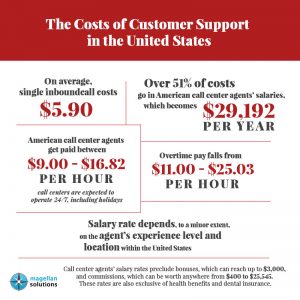 Call Center Costs In The Philippines 
How much does a Philippines call center cost?
Filipino call center agents get paid between $0.99 – $3.36 per hour.  
Rates depend on:
Number of agents

Expertise

Current labor market rate

Contract length

Call volume

Average handling time

Add-ons
These rates are exclusive of bonuses, commissions, and health benefits. 
Companies like Magellan Solutions offer their employees health management organization (HMO) privileges. Through this, clients can rest assured of a safe working environment for their outsourced agents. This translates to business continuity and scalable performance. These are for much lower rates than those of Western call center agents.
Call Center Costs In The Philippines Amidst Covid-19 
COVID-19 forced an immediate change in an industry stuck in its ways.
The work-from-home environment is the new normal for call center industries worldwide. 
Infrastructures and living conditions may not be favorable to some of our employees. Outsourcing agencies use all internal resources to make the new setup reasonable.
Most call center industries in the Philippines do not have additional charges for the new setup. 
There is a 50-50 ratio of on-site and work-from-home setup. Those who work from home have accommodations on par with their office station. 
Meanwhile, for those who might not have the initial necessities for a work-from-home setup, the company has taken full responsibility for catering to these essentials. 
Companies allow their agents to lease work apparatus. 
In line with this, clients can rest assured that they will not be charged any additional fees.
On top of the pandemic, one looming threat to the industry would likely come from chatbots. 
These AI-powered chat platforms are expected to replace essential call center services that comprise around 50-60% of customer contact operations globally. 
While there is a threat to call center automation, it is still up for debate for most call center companies. Because efficiency is only one factor in customer satisfaction, it's not even the most critical consideration.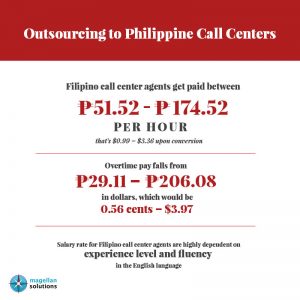 Why Outsource To The Philippines
Cost reduction is the primary reason why businesses continue outsourcing in the Philippines.
Rates in the Philippines compared to the US clearly show which offers a more cost-saving service. From $30,000, there is a swift decrease with the estimated $7,000 annual salary instead. American companies value money and time. Philippine call centers use the client's offer by screening agents based on experience level.
The low operating cost of offshoring to countries like the Philippines does not equal low-quality workers. One of the primary considerations for hiring talent is experience and agreement to the salary budget of the client.
Other Southeast Asian countries offer cost-saving services. But most American companies still prefer the Philippines because of the higher mastery of the English language and exposure to Western culture. Though India offers cheaper services than the Philippines, the downside is having heavy accents and idioms that confuse American customers. This is true for both voice and non-voice services.
Here's the bottom line: With the skilled workforce and lower call center pricing in the Philippines, it would be better if you outsource here. It's that simple.
TALK TO US!
Contact us today for more information.