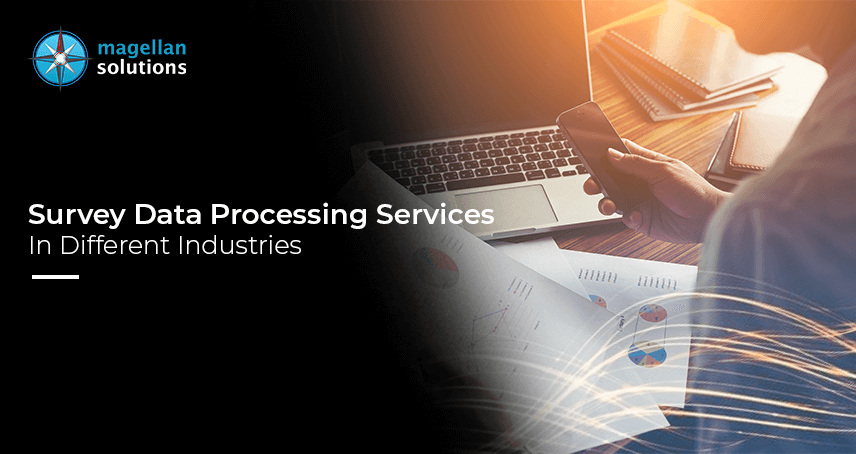 Survey processing services
in different industries
Improvement and growth are necessary for business success. This calls for the need for survey processing. It is so that the data obtained from surveys could be presented in a format that is dependable and valuable for your organization.
Outsourcing survey processing services. From this, you can surpass the competition. We help by making planned decisions based on properly organized survey data. Our survey data processing is done by the experts. We further want to help you better understand the needs, behavior, and expectations of customers. This is due to the services of our surveyors having enough resources, knowledge, and verdict required for surveys.
There are hundreds of different types of surveys you can run. Below are some that Magellan Solutions have successfully done for our clients:
Survey setup and design

Survey and market research

Direct marketing

Administrative and human resources research

Resource planning

Academic survey

Survey scanning and reporting

Printing and mailing services

Comment coding and entry

Create survey from scratch

Online surveys

Statistical reporting

Planning and forecasting

Quality improvement

Competency assessments

Medical, scientific, clinical, and social science research
What is the perfect
BPO survey
for your kind of market?
Market Research and Survey Research are two fundamental services. It helps assist businesses in understanding the changing characteristics of their customers. Outsourcing Market Research Services is a BPO service. It includes gathering important information about your consumers. We take note of their behavior, traits, and trends.
The surveys we outline below can be divided into four main types of studies.
1. Market surveys
These help you understand who's out there, what they want, and how you can best meet their needs.
Market description surveys

Market profiling / segmentation surveys

Stage in the purchase process / tracking surveys
2. Customer experience surveys
This kind of survey helps you put yourself in the customer's shoes and look at your business from their perspective.
Customer intention – purchase analysis surveys

Customer attitudes and expectations surveys

Sales lead generation surveys

Customer trust / loyalty / retention analysis surveys

Sales force effectiveness surveys

Customer service surveys

Customer service representative (CSR) surveys
3. Product surveys
This is a part of product development. These surveys help find out many things. Such as what features, benefits, and attributes appeal most to customers. Furthermore, it helps to know how best to package your product or service.
New product concept analysis surveys

New product acceptance and demand surveys

Habits and uses surveys

Product fulfillment surveys

Product positioning surveys

Sales forecasting and market tracking surveys

Price setting surveys and elasticity of demand analysis
4. Brand surveys
A survey can help you understand how consumers perceive your brand and what values and ideas they associate with it. You can explore what value your brand has and whether people would choose you over competitors in your market niche.
Brand equity analysis surveys

Advertising value identification and analysis surveys

Advertising message effectiveness surveys
Outsource your
survey data processing services
with the best business partners
We offer affordable and flexible survey processing services to meet the specific needs of the project and client. With the quality promise and business morals, we serve as a global player. We offer our trustworthy outsourcing services for almost 20 years. We want you to focus on your business accomplishments. Let your survey processing needs be taken care of by Magellan Solutions specialists.
TALK TO US!
Contact us today for more information.