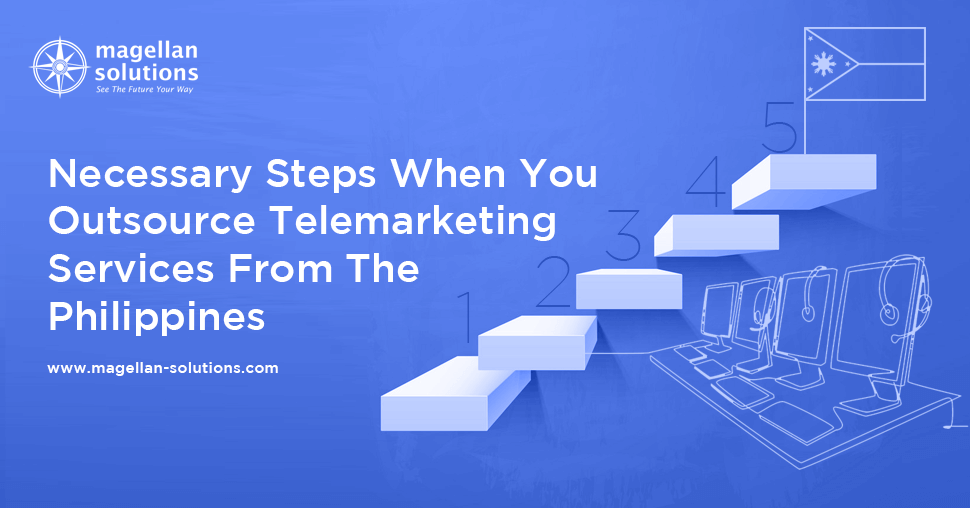 What are the necessary steps to take in order to outsource
telemarketing services
efficiently?
Outsourcing telemarketing services works so well because of its innate nature as a highly transferable skill. This means it only takes basic yet optimal training about your specific products and services to deploy a telemarketing campaign. 
However, that does not always guarantee the results you want. That is why it is crucial to look for a reliable partner amongst telemarketing services Philippines companies.
With that in mind, let us discuss vital information that you ought to know when you partner with a telemarketing call center.
What You Should Know and What Questions to Ask When Outsourcing
Telemarketing Services for Small Businesses
Outsourcing is not an easy task and you need to do your homework and due diligence in order to make it advantageous for your business. 
For starters, inbound and outbound telemarketing no longer focuses on cold-sales calls. Meaning they no longer call random people out of a bought and generic call list. Instead the focus is now connecting and engaging with warm leads.
These warm leads means they belong in your targeted market, already know your business, and have a particular need for your products or services. Also such kinds of leads have a higher conversion rate of about 30%. This is in comparison with cold calls which only have a 2% chance of conversion.
Outsourcing this particular service does not mean you entirely leave it to your third party provider. They will act as support for your in-house sales team who will close the deals for you to gain profit. 
In addition to that, offshore telemarketing services will require sales training about your business, your product and services. This will help them answer your prospect's questions. A basic script contained with answers for FAQ is also a requirement to act as fall back reference for your telemarketers to use during calls. 
Five Things to Ask When Looking for a
Telemarketing Call Center
These are key questions when you search for a suitable BPO partner in search of the best telemarketing services for your business.
1. Where are they located?
It is crucial for you to know where a telemarketing company is located as it will affect the overall costs for their services. 
Of course, there is a big pricing difference between telemarketing A located in the US and telemarketing B in a top outsourcing destination like the Philippines. 
Also regional accents are apparent in some outsourcing locations. That is why you have to choose a provider where accent neutrality is a staple for telemarketers.
2. Who buys the lead lists?
A lot of outsourcing providers that offer telemarketing services conduct lead generation that guarantees to call a set number of leads daily, weekly, or monthly. This is for you to make sure that the leads you are getting are of good quality. 
As you know, some lead lists may be irrelevant to your target market and might lead to wasted resources in the long run.
3. Is the campaign customized?
The ability to tailor the campaign to suit your business requirements is not available to all third party providers. That's why you need to find one that can do so with your product, target market, budget, and other specifications that are possible to meet. 
4. What is the software or CRM tools they are using?
A reliable partner must have the right and up to date CRM tools and necessary systems to streamline the campaign. Core features of a CRM tool is essential to the success of your campaign. 
CRM should have the following characteristics:
One-click calls from inside

Telemarketing CRM

Automation of lead distribution and agent management

Client information visibility even during calls

Ability to create new leads during call

Ability to create new lead for each missed calls

Easy call scheduling

Creation of invoice and email marketing
5. Are they able to generate exclusive leads?
This is because you need to be sure that your lead lists are unique to your campaign. In order to determine whether a lead is good or not, you have to define what constitutes a good lead or the criteria it must meet. 
Steps to Take When you Outsource Telemarketing to the Philippines
If you choose the Philippines to outsource telemarketing services, you have to understand that there are a lot of companies that offer that service. As BPO is one of the biggest industries in the country. 
This means there are a lot of players in the market. Once you shortlisted your top three or five companies. Do the following steps:
1. List your requirements
This will help you send out consistent requirements to various potential partners. This should have information such as number of agents, working hours, who supplies the script and database, who provides the call lists, goals of the campaign, and metrics of success.
2. Be specific on your required service
There is a clear difference between inbound and outbound telemarketing. Inbound involves registering and supplying the customer's information, providing support, order taking and returns processing. 
While for outbound it includes lead generation, appointment setting, market research and surveys, and sales prospecting.
3. Discuss your requirements on initial contact
This is where you can ask your chosen provider about their industry experience, training methods, services provided to clients, costs, and how they resolve problems on campaigns. 
4. Find out what the previous client's assessment of your provider
This is to get a better grasp of how they performed with previous clients. You can better zoom in on previous clients in the same industry, company size, market, and product niche.
5. Test their capabilities
A lot of outsourcing providers in the Philippines provide trials of their services. While doing so, take note of their processes, how many buttons or minutes it takes for you to talk to a live agent, English proficiency, accent, and overall call efficiency.
6. Create a clear contract and SLAs
This is to ensure the legitimacy of your partnership. It should include all the agreed requirements that you both understand. This is to minimize legal liabilities for your business as well and vice versa.
Choose Magellan Solutions for
Telemarketing Services for Small Businesses
With 18 years in the industry, we continuously provide excellent telemarketing services for various industry verticals. 
We are always on the lookout to improve our services to suit the requirements of our clients. On top of high quality performance, we strive to be cost-friendly without sacrificing our credibility as a premier BPO company. 
Magellan Solutions is ISO 27001-certified and HIPAA-compliant. We always protect your data and information at best.
Contact us today and let start a meaningful and excellent partnership for our respective growth.
TALK TO US!
Contact us today for more information.