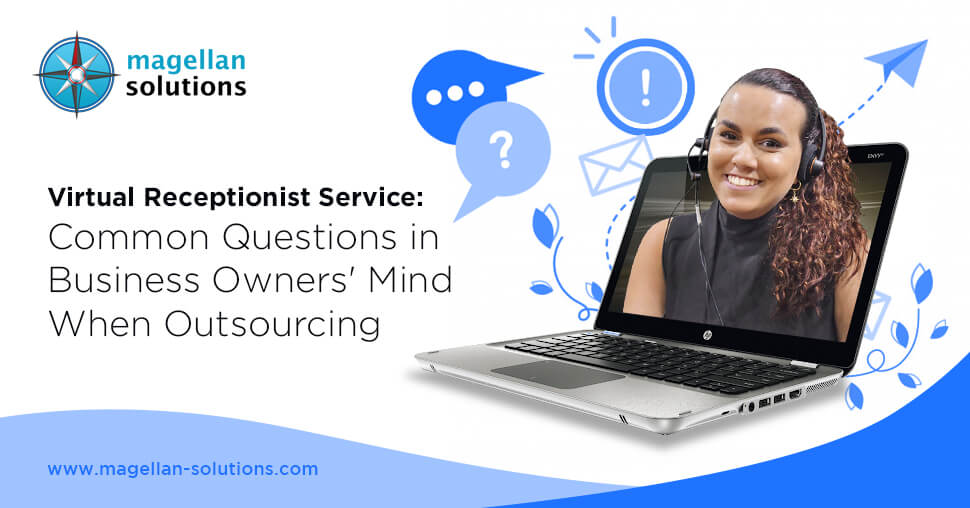 Phone Answering and Virtual Receptionist Service: What Questions Do You Have in Mind?
Phone answering services are one of the best call center services out there. Most companies use these for their operations. Virtual receptionist services helps with daily operations such as minimizing call volume and answering basic inquiries.
Because of this, there are a lot of start-up companies looking for these services online. However, it is really hard to find one that you can trust with your operations. In this article, we will answer the internet's most frequently asked questions about phone answering and virtual assistant services.
What Does a Live Virtual Receptionist Service Do?
Just like your in-house receptionist, virtual receptionists can do multiple tasks. They are there to solve day-to-day issues for your customers.
Virtual receptionists can do everything an in-house receptionist can do. However, you can get a virtual answering service at a lower price point. On top of that, companies offering this can give you support 24/7. This means you can have a personnel over the phone every time your clients need them.
Here are some of the tasks a virtual assistant can do for your business:
Answer Calls
This is the main task of a virtual assistant. Business phone answering service can boost your business. Especially if you have an available agent to entertain the client's inquiry at any time of the day.
In a usual call center setup, there are multiple agents who can answer your client's inquiry. Clients are easily annoyed by talking to different agents. In a small setup business with a virtual receptionist, clients have the comfortability talking to the same person every time they're calling. It makes the conversation easier as the agent knows the problem already.
Take Messages
Generally speaking, you can train your virtual assistants to answer the majority of client's questions. However, there are still some inquiries that only you can answer. With this in mind, your virtual assistants can also take a message for you.
There are also some clients who don't have the time to interact with you during your business hours. They could be working the night shift or overseas. Thus, they can also leave a personal message to your live answering service for you to answer the next day. It is an efficient process to gather all the information instead of relying on your voicemail service.
Schedule Appointments and Manage Cancellations
Virtual receptionists can be appointment setters too. They can assist clients who wish to schedule a meeting with you. They can also call your clients to remind them about their scheduled meeting. On top of that, they can arrange your schedule as well.
They can also deal with cancellations and changes in appointments. Although you can do these tasks on your own, it can be confusing sometimes. Having a reliable person to do it for you is an additional bonus. There is no need to hire an additional employee just for this job.
Order Management
Your virtual assistants can manage processing your company's orders. They can do all the processes involved like order entry, shipment and invoicing. On top of that, they can compile all the customer's information in the computer so you can see the progress of your business.
Just like an appointment setter, they can also schedule deliveries of your product. It all depends if you will give them the authority to schedule it for you. Virtual receptionists can also work on your inventory management. They can monitor stock levels and update your database to ensure that all products' availability is up to date.
Customer Service
Since virtual receptionists are your business answering service too, then they can act as customer service representatives. This is one of the most important aspects of having a virtual assistant. You need to make your customers happy all the time. Customers' frustration can root from unattended inquiries.
Additionally, your online receptionists can connect with your clients in different platforms. They have training in talking over the phone and through social media. It is also easy for them to handle multiple clients at the same time. There is no need to look for another agent for a different communication channel.
Transferring Calls
If your business has different departments then your virtual assistants can be the first point of contact. They can assist the customer first with their inquiry. However, if they need an additional assistant then they will transfer it to the appropriate department. That way, your virtual assistants can forward the call to the person who they need to talk to.
You may also use this whenever you don't want to answer calls. Instead of answering all the calls, virtual receptionists can just forward inquiries that require your immediate answer. It can be a faster and more efficient process rather than wasting your time answering all the simple questions.
Call Filtering
Speaking of wasting your time answering all the simple questions, virtual receptionists can filter the messages. It is inevitable to receive spam and prank calls, you can prevent from receiving it through them. They will only forward to you the important messages and will simply ignore spams.
This will ensure you that your time and energy will be properly allotted to important matters. Instead of listening to messages one-by-one, you will only receive business-related inquiries. All thanks to your virtual receptionists.
What Are the Characteristics of a Great Virtual Secretary Answering Service?
Like all services, the success of virtual assistance depends on the people working on it. That is why it is important to have a company that has a strict hiring process. Here are some of the characteristics to look for a virtual telephone answering service.
Highly Reliable

Excellent Communicator

Resourceful

Proactive

Trustworthy

Honest

Ability to Multitask

Work Well Under Pressure

Great at Follow-Up
The list above may portray generic characteristics. However, if you will look for a company to outsource, they must have values representing these attributes. Furthermore, companies can train people to sharpen their skills.
What Are the Pros and Cons of Virtual Receptionist Business Phone Answering Service
Now that we have already established the task and characteristics of virtual assistants, let us weigh the pros and cons of having one. As stated, business phone answering service can make your process faster and more efficient. On top of that, it is also more affordable compared to in-house receptionists.
Here are some of the advantages and disadvantages of getting a call answering service:
| | |
| --- | --- |
| Advantages | Disadvantages |
| Strengthen Your Reputation To Your Customers | Difficulty in Training |
| Gain More Business While Reducing Expenses | Harder to Manage/Monitor Their Activity |
Advantage: Strengthen Your Reputation To Your Customers
When a customer calls your business number, they are expecting an immediate answer. Their expectation in your service is so high that you need to go an extra mile just to satisfy them. 
It is estimated that 76% of customers won't leave a voicemail if their call isn't answered. This number consists of the majority of your potential customers. They have a tendency to look for another company that has a better answering service. That is why it is better if you have someone to look after your phone calls when you are not around.
Disadvantage: Difficulty in Training Virtual Receptionist
There are a lot of modern technologies to connect people all over the world. However, there are still some things that are hard to communicate online. Training your virtual assistants through the internet can be a difficult thing to do. There will be some information that they may not be able to pick up right away.
So, if you believe in personalizing your service then you need to make sure that your virtual assistants will understand the core of your business. It is also better if you will let the BPO company train them based on your liking.
Advantage: Gain More Business While Reducing Expenses
It is a given fact that outsourcing your service is smart as much as it is cost-effective. Offshore companies offer more affordable assistance compared to hiring in-house employees. On top of that, you will also spare yourself with getting additional work space for them.
Furthermore, that saved amount can be an additional fund in expanding your business. Your virtual receptionists can do the basic tasks while you are focusing on more pressing business matters.
Disadvantage: Harder to Manage/Monitor Virtual Receptionist's Activity
In relation to difficulty in training, virtual assistants' activity is also hard to observe. It will be very difficult for you to give your assessment because you can't see them working. The only gauge that you can get is the quality of the service they can provide to your company.
However, there are other things that you can do to monitor them. Some BPO companies provide monthly assessment for their agents. You can see if they are doing their tasks properly. They also have team leaders that monitor their daily activities.
How Much Is A Virtual Receptionist Service?
Since the majority of the businesses are outsourcing to cut budget, pricing is one of the most searched questions online. Of course price depends on the business and service model. To guide you, here are some of the typical service model available:
Service Model

Definition

Price Per Minute

BPO will charge you depending on the agent's phone time

Preferred by companies that only expect medium volume of calls

Price Per Call

BPO will charge you depending on the calls handled by agent

Preferred by companies that needs longer phonetime with customers

Monthly Payment

Majority of BPO companies are using this service model

Preferred by companies that has no definite call volume (fixed monthly price)

Price Per Levels Of Service

BPO will charge you depending on the difficulty of the tasks

Preferred by companies that needs multiple software for their services
There are also some pros and cons on these models. For example, will the pay per minute include the agents' holding time? Or will the BPO charge you with prank calls and spam messages in pay per call model? Make sure to qualify your needs before deciding what service model fits your company. 
If you are not yet sure on the service, there are companies that offer free trials for your business.
Where Can I Find an Virtual Receptionist Answering Service For My Business?
If you are looking for a place to offshore your service, then there are a lot of countries to outsource it. However, finding the best one is the trick here.
With this in mind, the Philippines is the combination of affordable and quality service. They have tons of skilled Filipino call center agents. You also don't have to worry about their accent as they are capable of speaking in a neutral accent. Their English speaking skills is also one of the best in Asia.
On the other hand, there are some companies that only require technical services. Such technical assistance doesn't require excellent customer service. Thus, you can try other countries that offer tech support.
Best Virtual Receptionist Answering Service Companies In The Philippines
If you decide to outsource in the Philippines, prefer Magellan Solutions. We have a wide range of services for our business partners. 
Our virtual assistance service is also topnotch. We have strict guidelines in recruiting agents. Magellan Solutions make sure that your customer will talk to the virtual assistant available.
Our pricing is also very flexible too. We have a Full Force Implementations Department to guide you in determining the KPIs you want to track. You also don't have to worry if you don't know how people you need as we can help you with it.
We take pride in helping SMEs grow. Contact us today and get a free 60-minute consultation. Please fill out the contact us form below.
TALK TO US!
Contact us today for more information.