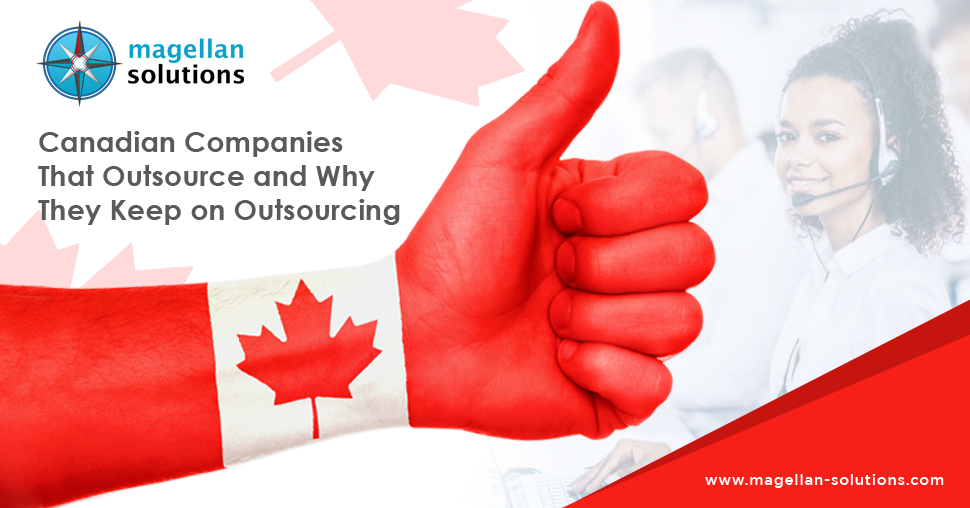 Canadian companies that outsource are trendsetters. One of the biggest advantages of globalization is how much easier outsourcing has become. Whether locally, nearshore, or offshore, you can now easily find a reliable outsourcing partner regardless of your business size or industry.
Here are some of the top Canadian companies that outsource and why they do it:
Canadian Companies That Outsource
Canadian Imperial Bank of Commerce (CIBC)
Headquartered in Toronto, the Canadian Imperial Bank of Commerce (CIBC) is one of the "big five" Canadian banks. The CIBC was formed in 1961 but traces its roots as far back as 1867. This financial colossus is the result of the largest merger between chartered Canadian banks, namely the Imperial Bank of Canada (est. 1873) and the Canadian Bank of Commerce (est. 1867).
The CIBC famously outsources part of its operations abroad. In 2017, the bank came under fire when its staff announced their disappointment over the offshoring move. Despite the issue, CIBC reports that offshoring positively affects their company, and continues to outsource to this day.
TELUS
Founded in 1990, TELUS is a multinational company involved in a wide range of industries. They offer goods and services related to telecommunications, health, safety, and security. TELUS is also an outsourcing company providing multilingual customer service and digital IT services.
Despite offering outsourcing services, TELUS also outsources some of its operations. They hire staff from different countries, including Romania, India, and the Philippines.
Royal Bank of Canada (RBC)
The Royal Bank of Canada or RBC is one of the largest banks in the country. Founded in Nova Scotia in 1864, RBC now has over 1,200 branches and serves around 10 million clients. The bank offers financial services in Canada and 40 other countries.
With such a wide reach, RBC also turned to outsource to keep their business thriving. They famously outsourced IT jobs to iGate Corporation, a US-based outsourcing company that mostly operates in India. This partnership was met with an outcry, which prompted the bank's CEO to issue a public apology in April 2013.
The Toronto Star
Often called 'The Star', the Toronto Star is Canada's largest newspaper. The Star was originally known as 'The Evening Star' upon its creation in 1892. Headquartered in its namesake city, the Toronto Star is second only to the Globe and Mail in terms of daily circulation. In terms of weekly circulation, however, The Star is Canada's highest-circulation newspaper.
Despite being one of the country's leading news publications, the Toronto Star still struggled with industry-wide challenges. To cope with a revenue problem, the company laid off 55 employees in 2013 and outsourced the vacancies. Some of the jobs that The Star outsourced include editing, print page production, and page design.
Air Transat
Air Transat is one of Canada's biggest airlines in Montreal, Quebec. The airline has a fleet of 44 aircraft and serves 60 destinations in over 25 countries. It was founded in December 1986 but did not start its operations until November of the following year.
Air Transat famously outsources its maintenance operations. The airline runs only their A checks internally while subcontracting all their major C checks. Meanwhile, heavy maintenance for their A330 fleet is outsourced to a South America-based company.
Bell Canada
Commonly known as Bell, Bell Canada is a telecommunications company founded in 1880 in Montreal, Quebec, where it is headquartered to this day. Its products and services include fixed and mobile telephones, digital televisions, radio broadcasting, and internet services.
Nowadays, Bell outsources operations to third-party partners. Their outsourced jobs include major projects, such as their Wireless to the Home program and other IT functions.
Slack
Slack Technologies, Inc. is the company behind the workplace communication software Slack. Though they are currently headquartered in San Francisco, California, Slack was founded in 2009 in Vancouver, British Columbia.
Though Slack has moved their camp across the border, the company continues to outsource some jobs to Canadian firms. Slack is also outsourcing their operations to the Philippines. Some of the services Slack outsources include marketing site design, logo design, and web and mobile app development.
Why do major Canadian companies choose to outsource?
Over the years, more and more major Canadian players have chosen to outsource their operations. This is despite the fact that outsourcing decisions are often with disappointment among domestic employees. So, why do these companies continue to outsource?
Outsourcing provides plenty of benefits to businesses, even if they are still starting out. According to Mario Zelaya of Majestic Media, outsourcing provided cost-effective support for his then-risky startup company. In his interview with CBC, Zelaya said that he was the only employee in Canada during the early stages of his company. The rest were outsourced and working remotely in Latin America and Europe. Now, Majestic Media is a thriving Toronto-based marketing and technology company.
However, outsourcing is not all about cost-cutting. Tapping into offshore talents also boosts a company's efficiency, flexibility, and competitiveness. For one, most outsourcing companies offer 24/7 services. So, when you outsource offshore, they will represent your company round the clock, even when disaster strikes your area. This makes offshore outsourcing an invaluable strategy in case of economic setbacks.
Outsourcing also allows your business to utilize talents from industry hubs. In some cases, specific business specialties have developed in certain countries or locations. The Philippines, for one, has a booming business process outsourcing (BPO) industry that makes it the top call center country in the world.
Are you a Canadian company looking to outsource abroad?
Magellan Solutions is a BPO company based in the Philippines. We have 15 years of experience in servicing clients all over the world. Throughout the years, numerous companies of all industries and sizes have chosen us as their outsourcing partner.
To guarantee the highest quality of service, our company maintains ISO and HIPAA certifications. This means that we closely adhere to industry standards and that we treat your data with the utmost privacy and safety.
We want to support both big and small businesses, so we offer flexible and competitive prices without compromising the quality of our services. When you partner with us, you will be represented by skilled agents who are highly trained in their respective fields.
Contact us today to learn more about our business!
TALK TO US!
Contact us today for more information.