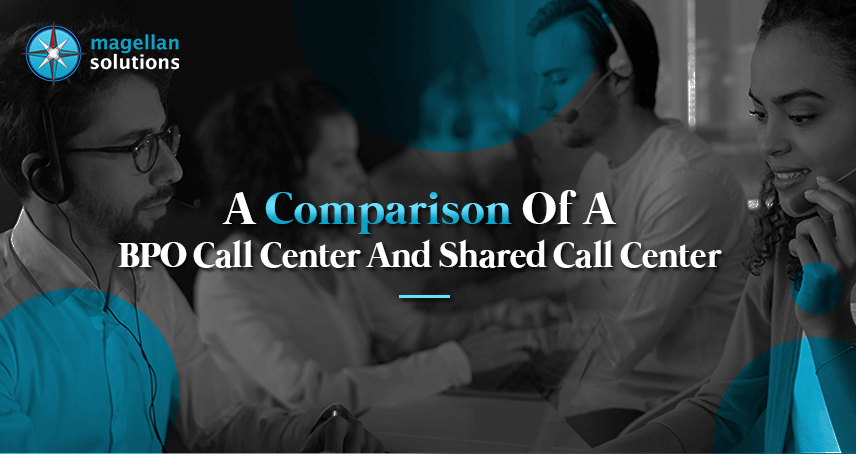 BPO call center vs.
shared services call center
There has long been an argument between Shared Services and Business Process Outsourcing (BPO). 
Is one better than the other? 
The services that BPO and shared services providers use are generally to remove manual, operational, and often repetitive tasks from your everyday work.
But there are many factors to take into account:
BPO is the process of engaging a third-party vendor with the right skills and resources, to carry out work on your behalf.
Shared Services relate to the creation of an autonomous business unit, based on-site, which carries out these processes for multiple functions within an organization (HR, Finance, procurement). This can be a better solution because BPO can often be one size fits all. But what if you have requirements that are specific? What if the processes aren't the standard? Then a shared services model may be the best choice.
The implementation of a shared services function within a business can be slow and painful. More often than not, this is due to a lack of experience internally to deliver this. Furthermore, if systems, processes, and data are not clean and efficient, the service will fail. As a result, it can be hugely damaging to employee engagement. If people aren't engaged to use the service, then they will revert to old habits, rendering the service useless.
What we do as a
billing call center outsourcing
agency
Magellan Solutions' support staff can deliver reliable billing services including:
Informing you of your due date

Informing you of any unpaid amount in your account

Informing you of changes in your billing account

Informing you of the changes in the prices of the products/subscriptions that you have in your account

Explaining the items on your bill

Helping you resolve discrepancies on your bill

Helping you conduct OTP (over-the-phone) payment

Informing and assisting you in making payments using other means available

Keeping a record of your payment and purchase history
In today's challenging economic environment, it is important that companies are able to leverage their resources and extract the most value possible from their expenditures. Our billing outsourcing solutions offer an innovative approach. We help businesses increase the capture of accounts receivables to reduce the cost of the process and increase working capital.
Our solution delivers measurable results. We do this by aligning our client's technology solutions with our human capital resources. Our billing processes are fully transparent and information for each transaction is linked together and accessible by all authorized individuals.
What you gain when you
outsourced contact centre services
in the Philippines
The low operating cost in offshoring to countries does not equal low-quality workers. We always consider the experience of the agent. In line with this, we look into the agreement on the salary budget of the client.
There are other Southeast Asian countries that offer cost-saving services. But most American companies still prefer the Philippines. This is because of the high mastery of the English language and exposure to Western culture. India also offers cheaper services. But the downside is having heavy accents and idioms that confuse American customers.  This is true for both voice and non-voice services.
The Philippines have a skilled workforce and lower call center pricing. It's the main reason why it would be better if you outsource here. It's that simple.
Fill out the form below to get a quote for the service you need! We also offer a 60-minute free business consultation to help you make the right decision soon. Just fill the form below now and we're all set.
TALK TO US!
Contact us today for more information.