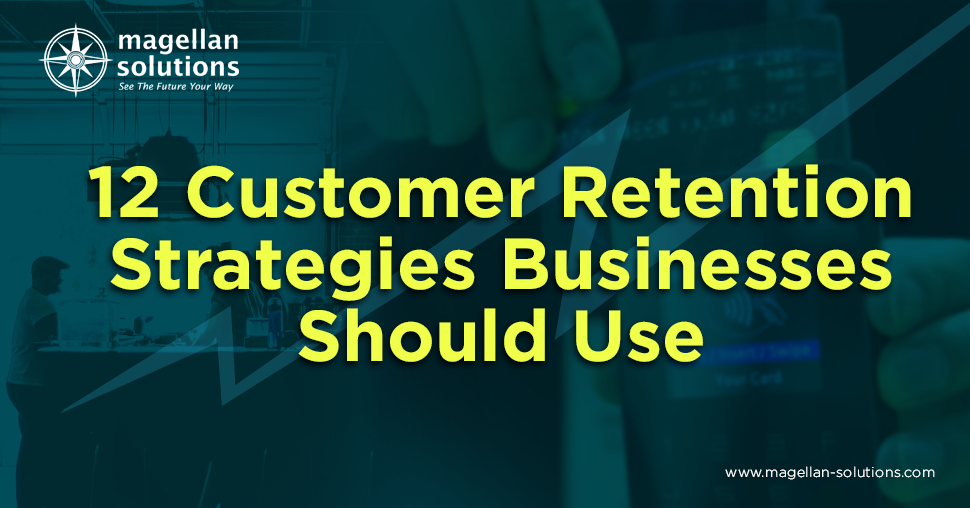 Staying on top is a bit difficult in this digital age as the competition is increasing and becoming more intense. With all the advertisements people see on the internet every day, customers can easily jump from your brand to another if you don't have strong customer retention strategies. 
To make your business thrive, you need to take care of one of the most important assets — your customers. Yes, businesses need new clients, but a customer retention program is equally valuable as that.
Companies focus a lot on generating leads, but lack of the things that will make their existing customers stay. They might be unaware that 68% of sales comes from existing clients. A business may have about 12% to 15% loyal customers only, but this small percentage commonly represents 55% to 70% of sales. 
Your ultimate goal should be customer retention ideas. If you don't see it this way, you might be losing a lot more than you think. Winning the loyalty of your current customers is cheaper than getting new leads from time to time. 
What is Customer Retention?
The act of encouraging clients to stay patronizing your products or services for the long term and making them loyal to your brand is called customer retention. Aside from the retention rate you can evaluate, you can also determine here how good and effective your customer service is. 
To make it more clear, in addition to the customer retention itself, there are also the customer retention strategies. These are techniques to build customer relationships and maximize revenue for each one. These are the plans of action you utilize to make your clients stay loyal to your brand in addition to providing them with great experience and value-for-money products. 
Importance of Having Strong Customer Retention Strategies
According to an Econsultancy report, retaining customers is way cheaper than customer acquisition. If you want to maximize your expenses, it would be an ideal strategy to do so. Moreover, a study shows that loyal clients are more likely to spend up to 23% more than the average customers. This will result in an increase in your profit. 
But the most interesting and priceless part of having strong customer retention strategies is that your customers who love your products or services can instantly be your brand ambassadors for free. 
Take note that 60% of consumers talk about a brand they like. They tend to share positive feedback to their relatives, friends, and colleagues. With this, the word of mouth may increase exponentially. Thus, giving you the opportunity to get possible sales without spending on lead generation. 
Customer Retention Strategies that Work
Yes, it is not easy to encourage customers to stay associated with your brand for the long-term. However, there is nothing wrong with trying to win their hearts and loyalty with different techniques you can think of. Let's look at the following customer retention strategies that work to boost your retention stats. 
Loyalty Begins at Your Home
Gaining strong customer loyalty is a whole lot easier if you start from within — in the environment where your employees are continuously thriving. While everyone is trying to put more emphasis on the frontliners of a business, it is important that you do not leave anyone behind. Spend a great deal of time and effort keeping everyone behind the success of your business happy, from sales, help desk, customer service representatives down to accounting, billing support, and many more. 
Inspire with a Mission
One of the ways to win customers is through their hearts. Sometimes brands get the loyalty of consumers because of what they stand for. Consumers nowadays are becoming more aware of a lot of things. An example of this is a brand that has a mission of inspiring people to shift to more eco-friendly products like what they are offering. Since more consumers today are concerned about our environment, they will shift to your brand. 
Find something that people care about and position your brand around it. But don't oversell your mission. Stay true to it and live with it. 
Provide Exceptional Customer Service
Continued improvement of your customer service is healthy for your business. Having exceptional customer service is one of the best customer retention strategies a brand can have. Consumers don't always base their purchase decision on the product itself, but commonly on how great your customer service is. 
Consumers have their own communication preferences. To accommodate the huge number of customers, provide multiple contact channels. Responding and resolving customer issues instantly put plus points to your brand. This is why real time customer engagement is important. Your agents must be trained to assist customers proactively. It is one of the customer retention best practices that definitely helps. And most importantly, apologize when you make mistakes. Being honest and humble to your clients could make you win them again.  
Adapt to Changing CX Tools & Technologies 
As your customer base grows, it also means that you need to expand your team of customer service support to cater to all inquiries and concerns. However, hiring more people is expensive. This is when customer service tools are a big help to your business as well as to your people. 
If you let your customer support team handle a huge number of clients that is obviously behind of what they are capable of, you are letting them down by exhausting them with their work. But when funneled with effective and helpful tools for their daily workflow, doing the tasks can become easier for them. Your operations will not be affected and you can continually be of good service to your customers.
Build Your Customer Loyalty Programs Right
Plan ahead, plan it well. Set a goal. If your goal is to keep 80 percent of your present customer base and launch a strategy that improves it to 90 percent, your business achieves 10 percent growth. Start looking at your present business plan and find ways to achieve increased customer retention. Some effective customer retention tactics are product differentiation and multiple product offerings for the same customer. More importantly, come up with great marketing activities for current customers.
Make it profitable for both you and your clients. Give them value every time they purchase such as giving them a head start and making them VIPs. Creating a loyalty program can be simple as customers appreciate even the simplest things you do for them. 
Always Delight Your Customers 
If you want your clients to stick with you, finding ways to delight them consistently is one of the best customer retention strategies. Go the extra mile to deliver a delightful customer experience. Give them exclusive surprises and discounts from time to time, especially those who are genuinely loyal to your brand. Make them feel as if they are a part of a special club. 
But wait, it doesn't necessarily need to revolve around your products and services. You can also send them customized season's greeting cards, birthday cards, or even a thank you letter for staying devoted to your brand. Their loyalty deserves to be appreciated always. 
Another thing to show them that they are valued is through empowering them with convenience. Make your products and services as accessible as possible. It is important that you know what your consumers want as well as their behavior. Then Create tools and systems based on these. 
Undersell But Overdeliver 
Promises raise expectations. In running a business, keep in mind the rule to underpromise and overdeliver to avoid disappointing customers. Promising what you can't deliver is harmful to your business. 
You might want to think twice before you tell your clients something that will make them expect something from you. An unsatisfied customer is likely to tell 20 more people about her negative experience with the brand. 
To make it more clear, an example of this is when you tell a client that his order will be ready in 15 minutes, make sure it will be there in 10 minutes. This way, you can make your customers keep coming back to you.
Don't Just Sell — Educate
Customers appreciate it when you provide them with information about your products or services. Remember that clients commonly spend based on what your products can do and not on how it looks. It is almost like giving them the most out of what you are offering. A study showed that 32% of clients repurchase or recommend a brand that does this. Thus, feeding them with all the details could be your ticket to the top. 
Moreover, keeping them on track with the latest developments in your company is also a great move. You can send an email newsletter, which according to Nielsen Norman Group is great for growing and maintaining customer relationships. Developing educational resources such as blogs, how-to videos and training, and other possible materials to ensure that they are using your products successfully would also be an ideal approach. To savor the opportunity of having them in the loop, include a submit feedback feature. This can make them feel a valuable part of your business and can keep them coming back.
Be Active in Your Community
Letting consumers know that you care about your community is one of the best customer retention strategies. They don't want to be in business with a cold corporate entity. This is the time to show off your sincerity of giving back to the community, never fake it.
You don't necessarily need to do or spend a lot. There are many simple things you can do to show that your brand has a genuine heart. People appreciate even the simplest thing a brand does. You just need to be consistent and creative with your plans. 
Make Use of Customer Complaints
You may not know exactly what is wrong until you hear the actual customer feedback. Customers with complaints conveyed through email or phone are good because they can guide your business to check in those areas that need improvement. The truth of the matter is when customers are not happy, they will not complain to you directly. They will tell everyone else they know and they bring their business to your competition. This is why there is a growing trend in finding approaches to listen to the voice of the customer through quick surveys and after sales calls.
In addition, sending customers a quick survey every half of the year to help you improve your products and services is a plus point. It should be a mix of questions with choices and a free-text answer field to allow them to freely express their opinions. Customers appreciate it when you ask for their opinion. It makes them feel you care about them. 
Maintain Customer Communication
Connect with your clients, listen and empathize with them to build trust. One of the ways to continue getting in touch with your customers is through email. Nourish customer loyalty by ensuring that all the emails you will send will add value to their experience as you might risk losing them if you don't. Just a tip, personalize your communications and target the content that is interesting and engaging to consumers. Partner it with eye-catching visuals to get their attention.
Maintain regular communication, but never spam them. It would be best to develop a communication calendar to track the consistency of your emails as well as your content strategy. If you keep a regular communication with them, the percentage of them going back to you has the possibility to increase. 
Keep Track of Customer Retention Metrics
Having a list of customer retention strategies is not the end of the plan. If you want to maximize your effort and make it truly work, you also need to make sure that these techniques are effective by measuring their efficiency. The key customer retention metrics are attrition rate, repeat customer rate, and customer lifetime value. 
Tracking the metrics on a regular basis can help you improve the way you do things. It will guide you to identify which strategies are effective and which are not. 
There are no shortcuts towards success. If you want your business to thrive and achieve its goals, you have to truly work hard for it. And your customers will be your ticket. Take good care of them and ensure that they will always come back to your brand with the help of the above customer retention strategies we shared with you. Hiring a competitive  outsourcing company to do so could also increase your chances of gaining more loyal customers. It may be of great help to your business.
TALK TO US!
Contact us today for more information.