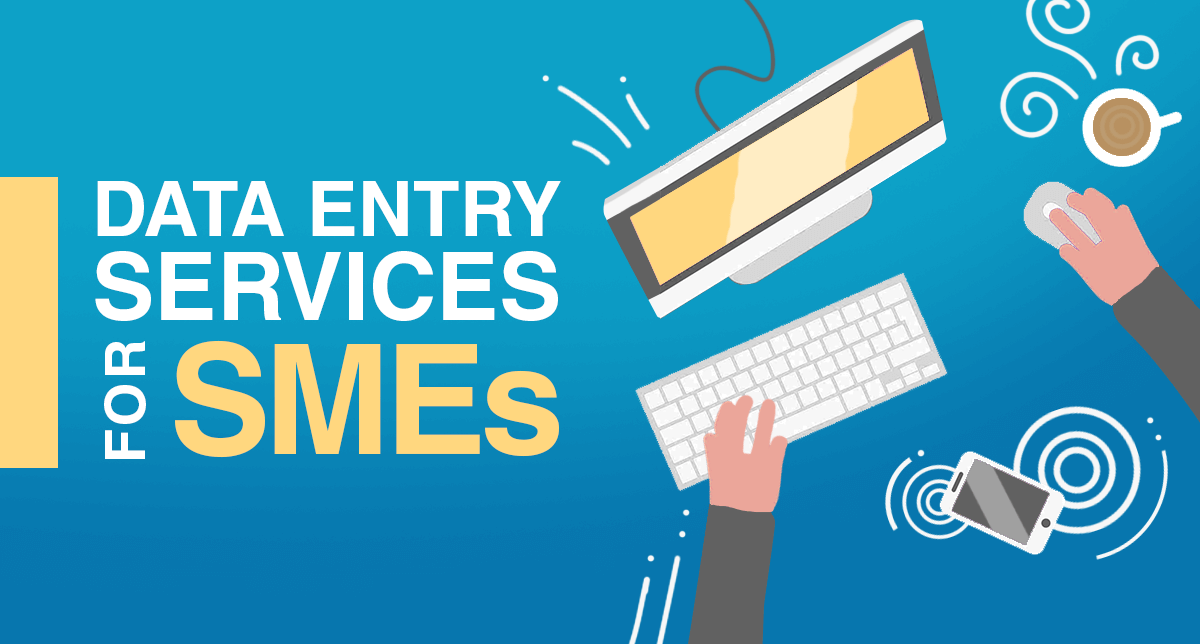 What Kind of Data Entry Does SMEs Need
Data entry is the most important repetitive task for any business.
Companies like Magellan Solutions provide an array of data entry work for SMEs.
Due to the varied requirements of the data industry , different specializations exist. There are entry-level data entry roles
that must only basic computer skills. Other roles only need specific skills. Some of these are data manipulation, graphical presentations, and even licensed data processing.
Our services have served for almost two decades. Because of this, we have witnessed our SME partners grow and establish themselves in the market. From a small and/or medium enterprise, they found themselves already competing with large companies. 
We don't stop there. If you think that you have reached the highest peak, you are quite wrong. Demands change without warning. As a result, you might stray and roll down from the top. We encourage you to keep working with us as we keep our services up to date. We adapt to the changing times to make sure that your climb up will be the smoothest climb yet. Our journey may not be as perfect. But we promise to keep improving and growing with you.
Different Types of Data Entry Services
Manual Data Entry
One of the most common data entry jobs. It manually creates documents into a digital platform.
examples: 
Transferring a PDF document to a Word document.

Entering data into Microsoft Word 

Data cleaning where data entry clerks remove or correct data

Filling in data on a spreadsheet.
Online Data Entry
Files are coming from a soft copy format or done through websites. This is also self explanatory as everything is done and stored online. Furthermore, this has some similarities with the manual data entry.
examples:
Data to be input in online form such as filling up a registration form.

Surveys done by companies to get feedback for a particular commodity.

Collecting data from such as e-magazines, eBooks, and other internet publications.

Processing emails and encoding over to a spreadsheet.

Updating client/customer information such as names, phone numbers, emails, addresses, etc.
Micro Jobs
A micro job is almost like contractual or freelance work. An employee is being assigned a workload that is being done in a specified time. One of the micro-jobs is data entry. This revolves around copying and pasting to and from word documents and spreadsheets.
examples:
Data Formatting
Requires less typing tasks as compared to other data entry jobs. Data formatting focuses more on following preset specifications that the program is requiring. This is mostly done when storing a file and choosing what kind of format to save it as.
examples:
Formatting and editing a word document. The analyst would take into consideration some things.  The required font, spacing, and the kind of file format you save a word file to. The likes are PDF, ePUB, office word file.

Formatting for images is also possible.  From the pixels to image size, all this is being as the following formats: .jpeg, .tif, .tiff, .gif, .png
File Conversion
It is a process of changing an existing file into a different format. An example would be reformatting a word document into a PDF file. Conversion is also possible with images or audio files into a Word document.
examples:
An image containing a text is being encoded on a Word document.

Listening to videos with audio and or subtitles before reproducing it into a text format.

A 2D image is being enhanced into a 3D one. This is with the help of image editing tools such as photoshop and the likes.
Transcription
Transcribing is simply a combination of listening and transferring data into required documents. With this form of data entry, one must have keen listening skills. It is being caused by either the lack of proper equipment while it is recording, or the voice quality itself. Another need helpful for this is one's familiarity with what is being transcribed.
examples:
Transcribing diagnosis, procedures, services into alphanumeric codes.

Being aware of the meaning of jargon shortcuts. Some companies would need help. The data entry specialist can input the abbreviated or full version of terms. This is especially if the data being worked on is relating to business.
 Data Entry Clerk
Sometimes called an operator. They are those who enter data from what the employer has given into computer software. This is mostly done offline. They have different specialties as every business sector requires their help. In a way, they serve as another assistant for clients. They are sometimes expected to be able to at least give a summary of what they have written. This is because clients assume that their employees have a decent background.
examples:
Product listing

Payroll

Transferring data in a word document or spreadsheet

Entering details for hospital use

Entering details for municipal use
Focused group of data encoders and specialists work on data entry processing. This ensures the accuracy of the data process input and output.
Companies should take into account some important factors. This included the skillset and the experience of outsourcing data entry service firms. 
Why is Accuracy Important With Data Entry Services for SMEs?
Accurate data entry services give digital access to stored information anytime, anywhere. It does not compromise the safety and reliability of important company records. BPO companies, like Magellan Solutions, follow ISO and HIPAA for the security of data.
We are aware of how important data is. Furthermore, we know how important privacy is. Our data analysts assures that no personal information would be leaked outside of the database. Only the included parties would get a hold of any important information. We could even make it so that only you can have access to it. Our employees would not hold it against you if you require them to always ask for permission or set up codes before they are able to access your data. We prioritize securing privacy above all as it is the most respectful act for a partnership with us.
Medical Services
Medical error is the third leading cause of death for the healthcare industry in the US. Doctors make real-time clinical decisions based on these numbers. This is why accurate results are important to diagnose and treat patients.
Patients, on the other hand, may prefer their ability to do things personally. These may include simple tasks. This is also advisable with the current pandemic situation.
Order Taking
Inefficiencies and errors are leading to multiple problems such as:
Most orders need at least one or more manual recordings. But with more manual work, comes the presence of errors. 
It is best to practice relying on web portals for a small number of customers. With a bigger customer count, it is really ideal for outsourcing. You can pay one time after forming a big team to handle the data entry. 
There is a sudden demand for a bigger team too due to the current pandemic situation. The growth of e-commerce has seen a rapid increase in customers. This may also be because a lot of the physical stores that closed down turned to selling online.
Customers may turn to different companies when problems happen. Thus you may find yourself losing a potential sale increase.
Accounting
To determine success, estimate failures, and figure out the true picture of the company, the industry needs accuracy and is up to date. To save company time, money, and effort, keep a backup of business transactions. Accountants are able to perform more complex jobs such as payroll reporting more accurately. 
Legal Outsourcing
Data entry in the legal industry is a confidential thing, and it requires a special concern.
This is a crucial task. All information and processes are sensitive and confidential between client and customer.
As data entry operators, outsourcers have been putting their trust to data entry clerks not to expose any information. For every new information or change that occurs, a data entry clerk only serves as the note taker in the whole process.
Loan Services
For small businesses, the loans manager helps both the business and the economy at large.  
Because higher numbers of manual entries are being required, daily loan repayment data is taking a long time. To filter a loan record, loan statements are being converted from PDF to spreadsheets. This allows the data entry clerk to update records based on individual names.
Outsourced data services are usually popular among specific industries compared to others. The reason behind this is because some, like healthcare and legal, use and facilitate more data than others.
Here is how data entry function services help the following industries:
Indeed, data entry has become crucial in the majority of industries. This is mainly due to the fact that data serves as the first step in making successful partnerships. One minor mistake can break all possibilities. Once it does break, you will find yourself empty handed. Starting with zero is the hardest beginning for anyone. So data entry should not be taken lightly. Give yourself some breathing space and outsource.
Healthcare
:
In healthcare, transcription services are the most common data that is being processed. Medical transcribing is when reports are being gathered from audio files by health workers. From the audio recording, they transcribe it as a written document and store it for their own records.
Retail and eCommerce
:
Product listing services are being outsourced many times. The product listers would optimize listings in online platforms from the available information. Titles, descriptions, and images are being uploaded to the platform. Inventory is another service that product listers from retail offer. It is constantly updated according to its availability. 
Banking and Financial:
Financial institutions, banks, CA firms, and accountants usually have a heavy load of data. Banks turn to outsource data services to companies that take charge of a lot of back-office functions. This includes HR activities, marketing, risk management, trade reporting, & compliance. Experts who have an accounting background in addition to technical expertise will be adept in making use of digital data entry.
Transportation and logistics:
In transportation & logistics, there always exists a need to manage information of on-time delivery. Documents are the usual data that the industry outsources. This has become a conventional trend in the market.  
Real estate:
Rapid urbanization has left realtors and real estate firms with enormous data. Properties, their purpose, their value, and their ownership are the common data for real estate. Information acquired is then recorded into spreadsheets. This provides an organized structure to the entire negotiation phase.
Connect With Us!
The Philippines , having a low-cost labor market rate, offers cost-effective data entry services.
There is a continuous influx of information in all business sectors. Outsourcing data entry services would be of great advantage to you. At Magellan Solutions can be of great help. Our specialists can develop databases containing large information in an easily accessible manner. We focus on security and efficiency as we do our job for you.
We are aware that a leak of information may damage consumer trust and company reputation. This is being supported by our ISO 27001 and HIPAA certification. The company fully guarantees strict confidentiality between your office and ours.
TALK TO US!
Contact us today for more information.