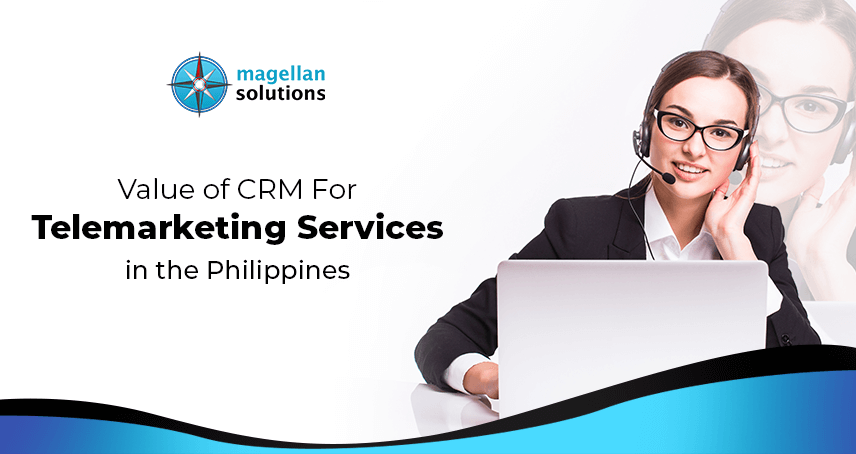 Why Is the CRM System Vital for Telemarketing Services in the Philippines?
You must have heard of the "seamless integration of CRM" sales pitch many times. Whether from call center Philippines, telemarketing companies Philippines, or call center outsourcing Philippines. 
CRM is not a mere lip service when it comes to the global BPO market. Telemarketing services vendors and businesses worldwide understand its importance to deliver optimal services. 
Customer relations management is both an art and science. This is to reach the penultimate goal of any business, customer retention.
Most businesses and the public often associate CRM with customer satisfaction. Like in some sort of after-sales support. But CRM, or a sophisticated one at that, plays a vital role to increase ROI and sustain business profit.
This is especially true for the telemarketing services in the Philippines. Telemarketing services through CRM enable a business to nurture its existing clients. As well as convince new targeted customers.
CRM in telemarketing triggers, manages, and tracks contact with existing customers and prospects.
CRM could mean two things for telemarketing services in the Philippines. First, as a practice which means customer relations management, to improve customer retention.
Second, as a technology or platform. As tools to help telemarketing teams to carry out marketing efforts to its maximum level.
These two go hand-in-hand when it comes to telemarketing companies Philippines. CRM system requires in-synch efforts of the software and its users to achieve an ROI increase.
Where does CRM come into picture for Telemarketing Companies Philippines?
There are five stages of sales stages and CRM comes into play from start to finish. Telemarketing exists in the first two to three stages.
Prospecting

Qualifying

Proposal

Negotiating

Closing
Sales Stage

CRM as platform

CRM as practice

Prospecting

Maintains and manage a prospect's information such as:

1. Products or services availed

2. Feedback or complaints

3. Touchpoints like email, website forms, and social media. Also phone calls or voicemails, or in-person meetings

Information from CRM tools are used for market segmentation purposes. 

Marketing strategies and messaging aligns on customers behavior.

Helps to better understand sales pipelines and improve forecasting on sales approach

Qualifying

Keep track of marketing and sales results like how a sale is brought. 

Also identify the value of each lead or customer. Determine the spending on a specific channel and returns.

Tracks where a prospect is on the deal stages.

Identify reasons for closed-lost or closed-won deals.

Telemarketers concentrate their efforts to reach prospects with the highest probability to buy.

Helps identify key personalities of prospects.  Creation of a script to pique and sustain their interests.

Allows individualized relationships with each customer.

Identify the most profitable customers and provide the highest level of services.

Proposal

Organize and send custom email or mailing lists for specific marketing campaigns.

Enables the creation of personalized services or products for the customer needs.
CRM tools enable a company to record and maintain conversations and sales history. In turn helps to improve marketing strategies and image branding. Which customers and clients can relate to. 
Also CRM ensures maintenance of the strongest touchpoints. While eliminating or improving the weakest touchpoints.
What CRM as Platform Can Provide for Telemarketing Services in the Philippines
Tons of CRM tools and software are available in the market today. For call center outsourcing Philippines, comprehensive CRM means better services to worldwide clients.
For telemarketing services, CRM helps deliver the following: 
1. In-depth learning about customers
CRM as a platform compiles comprehensive reports about customers. Information such as who they are, why they buy your products or avail your service. Also insights on the trends of their purchase histories.
You can use these insights to anticipate your customer's needs and fulfill them. CRM tools help you to connect with proper recipients of your promotions and new products.
2. Organization of customer-related information
CRM enables automation of specific functions of the business. This includes sales processes, marketing campaigns, business analytics, and customer data. Which results in simpler and easier to understand sets of information.
Adding to that is efficiency and accessibility among teams or agents. This helps them look at updated and comprehensive information and make sound decisions.
3. Optimization of customer interaction
CRM simplifies and streamlines many of the more complex interaction processes. This in turn maximizes the time and productivity of the in-house team. Helps them focus on their core competencies and outputs.
Primary Focus of CRM as a Platform Useful for Telemarketing 
For call center outsourcing Philippines uses CRM software for various purposes.
Operational CRM
This is perfect for marketing, sales and service. This is useful for telemarketing efforts especially when it comes to lead generation. This type of CRM deals with past customer data which are:
Previous marketing campaigns

Purchase history

Service satisfaction or complaints
This gives emphasis in creating better experience for your business and your customers. This is perfect for SMEs which have a shorter sales cycle. As well as high volume of repeat sales like e-commerce or business to customer retail models.
Analytical CRM
Its main function is to analyze customer data. This enables better comprehension of market trends. Also better insights on customer's wants and needs for the management to see. The goal is to improve customer satisfaction.
This CRM uses data mining and pattern recognition. This works best for SMEs in higher priced markets with dense competition.
Collaborative CRM
Its key feature is to integrate front-office and back-office communications within your business. This helps better communications between teams, specifically between marketing and sales departments.
This sometimes involves pooling or sharing of customer's data with external stakeholders. These could be suppliers and distributors. Through this, certain businesses are able to improve customer experience.
This is perfect for markets where innovation and product development contributes to success. This creates a much detailed picture of what consumers are responding to at the moment.
Advantages of CRM System For Your Telemarketing Efforts
Call center Philippines that offers telemarketing services use a CRM system. By system we mean integration of CRM practice and CRM tools.
1. Increasing Productivity
For the telemarketing side, a CRM system in place improves their productivity. As this enables the creation of a cohesive database of customers. Which provides a detailed picture of a prospect or a customer.
Retrieval of information is fast and easy as these software are cloud-based. This provides information such as interaction, sales pipeline information, orders and sales. Even feedback or complaints, all in one place.
Time-saving is one of the defining qualities of a good CRM system. Your telemarketing teams can now focus on following up queries. Also in warming up leads and provide even better customer services.
For your marketing department, they can send targeted communications to prospects. Who has the highest probability to close a sale. This is far more effective than bulk mailing programs sent to random or low value leads. This helps to identify and target their best markets.
Data from CRM they can use are:
Call history

Website use

Sales pipeline

Responses to previous email campaigns
2. Improve Customer Service
Follow up on web generated leads are quite a challenge for most companies, as 71% takes over 47 hour to do so. Furthermore, the sooner a follow up on a lead, it has a higher chance to close into a sale.
Follow up on lead as soon as possible leaves a lasting impression. That your business dedicates time efficiency and speed when dealing with your customers.
CRM system enables your in-house team to follow up on leads in real time. This allows them to nurture customer relationships as well. As this project a professional and confident image with regards to customer interactions.
Why CRM Should Be An Integral Part of Your Outsourced Telemarketing Services
If you decide to outsource from a call center Philippines, zoom in on their CRM system. Keep the following in mind when you do so for your telemarketing efforts:
Use of CRM to simplify marketing and sales processes

CRM is in place to provide efficient and better customer service

Streamline the processes to discover new clients and increase customer revenue

For effective cross-selling and upselling activities

Develop better communication processes

Efficient collection of customer-related data and information

Effective creation of business persona

Increase customer satisfaction

Cohesive database of customer information

Identify new opportunities to increase ROI
Magellan Solutions Maximizes CRM System for Telemarketing Services
We are an SME-focused provider of telemarketing services in the Philippines. We understand the optimal results of having the best CRM system in place.
Our 17 years of indsutry experience provides us insights to maximize the use of CRM systems. Whether as a practice or as a platform. We make sure that we only use the best CRM tools available in the market. Our agents are knowledgeable to use them to its full potential.
Let us help you identify, contact, attract, and acquire new customers. All the while we can help you nurture your existing clients. We are also ISO 27001-certified and HIPAA-compliant. This is our pledge to safeguard your information to its highest quality.
Contact us today to avail your free 60-minute business consultation. Fill up the form below so we can start today!
TALK TO US!
Contact us today for more information.