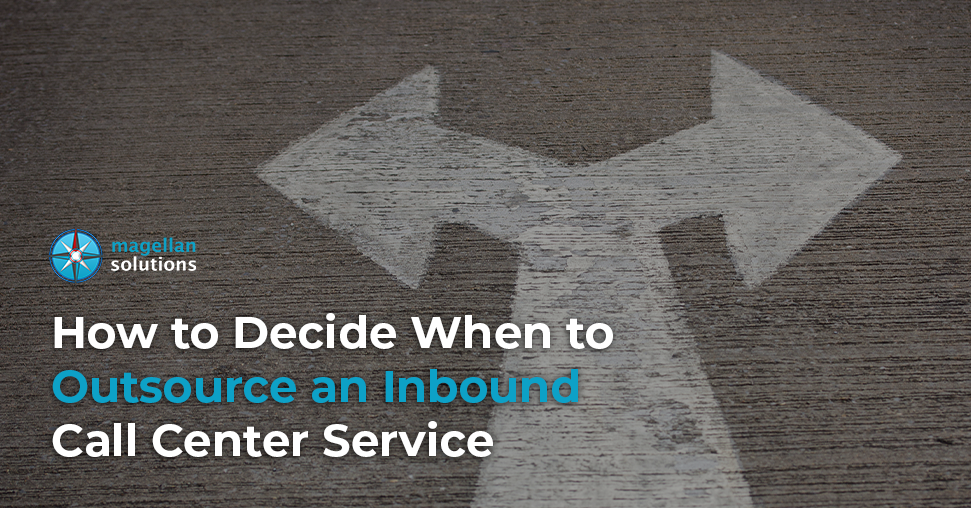 In outsourcing an inbound call center service, how do you decide when to stop overanalyzing and start taking the next steps to a successful outsourcing journey?
Here are some points to guide you so you'll know when to outsource an inbound call center service when your in-house call center just can't keep up anymore:
1. Know the situation. Remember that any wise business decision traces its roots from an accurate and complete knowledge and analysis of the present business needs and challenges.
a. Research internally. Take the time to ask your call center agents how they are doing in their job. Do they accept more calls than they can handle on a regular or daily basis? Do they have the tools they need to perform their task well or are the tools that enable them to do the work efficiently? By interviewing them, you will get a picture of your company's existing inbound service straight from the actual doers – your front liners. Analyze the key performance indicators and reports.  
b. Research externally as well. Getting your customers' feedback will also help you see the bigger picture and make a smart solution. Has there been more than one instance that a customer waited too long before their call was answered? Has a customer lost interest in your business after conversing with your call center agents?
c. Observe. Observe your call center agents as they do their job by listening to some of their calls. Are their communication and customer service skills meeting your company's standards? Do your call center technology and infrastructure cover your customer service needs? Is there a work overflow? If you were the customer, will you be satisfied with the way the operator handled your call? There could be more questions and the answers to these questions will help you decide if and when outsourcing should be done.
2. Plan. Now that you have the answers, it's time to plan accordingly. With the right assessment based on your current business situation and specific needs, you can know how urgent is your need to outsource an inbound call center service. If your current setup is doing fine and your customers are happy, then perhaps outsourcing can be put off at a later time. But if the facts you have gathered show your clients' growing dislike or distrust with your company because of your current inbound service or if maintaining an in-house contact center is taking in resources that could be used in more strategic endeavors, you may want to consider outsourcing as soon as possible.
Because call center providers have years of experience in the customer service industry, its customer service representatives are equipped with the right talent and skills, call center technology, and infrastructure, as well as the right work environment, to deliver excellent work. Outsourcing an inbound call center service can help your business cover work overflow and utilize your in-house staff in other core tasks. Outsourcing also lets you access the best call center technology without investing that much.
When it's time to search for the right outsourcing partner
Looking for your inbound call center service provider may be challenging simply because there are a lot of call centers to choose from. An article published in The Summit Express reported that as of 2012, there were almost 800 call center companies in the Philippines and growing. You have to be sure that the call center you will choose to outsource to understands your company's values and standards, and not just your products and services. By that, delivering a consistent, great customer service experience to your clients is guaranteed.
---
Can't your in-house contact center keep up with the demands and challenges of customer service? Contact us today and try outsourcing to a trusted inbound call center like Magellan Solutions.
TALK TO US!
Contact us today for more information.