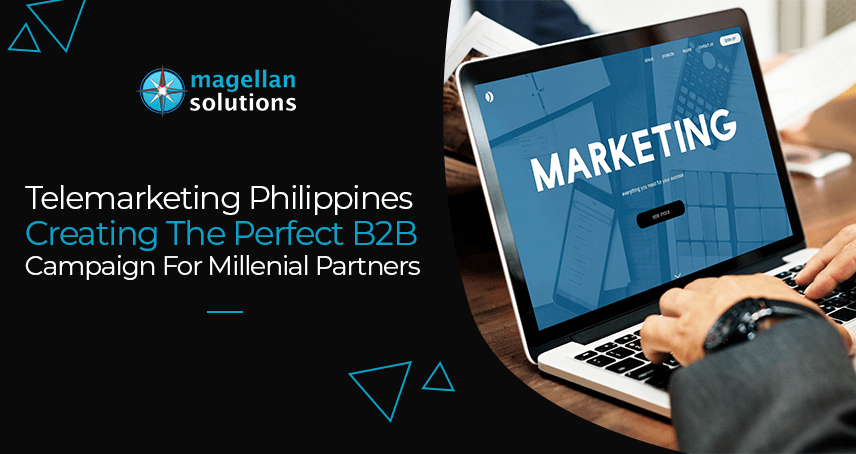 Millennials are Changing the B2B T
elemarketing Philippines
Market
Millennials now make up the biggest demographic of tech buyers today, representing 60% of the market.
Magellan Solutions', a prime call center services provider based in Manila, conducted a research that shows how millennials and Gen Z buyers are less likely to use analyst rankings and reports while purchasing business technology than older generations. 
Instead, they are more likely to find out about a product by searching online.
As we step into the digital age, what does this mean for the future of B2B marketing? 
Getting answers from
telemarketing call center Philippines
industry
In any sector, sales is always king. 
Many B2B businesses are making the key mistake of approaching the same 'buyer' from 10 or 20 years ago. The reality is that 'digital native' millennials are ever changing and they are revolutionizing the nature of B2B purchasing.
Thus these questions arise with the coming of younger partners and decision-makers in the business world:
1. What Does The New Buyer Look Like?
Millennials mostly grew up with Internet access, smartphones, social media, and online shopping. 
For starters, this digita savvy generation uses technology for practically everything – research purchases, qualify vendors, and make purchases has changed the game for marketers and product managers. 
This new generation primarily uses digital channels in the initial phase of any new procurement for products or services. As a result, it puts important areas such as SEO, social media, content strategy, and sustainability under the spotlight.
Facebook, YouTube, and LinkedIn are particularly important channels for this new generation. On the other hand, user-generated reviews like Glassdoor will also be used to assess and engage with vendors.
All of that new information puts B2B sellers under more scrutiny. 
But it's important to remember that social media and digital technology can be a two-way street. 
Businesses can use their online channels to gather important hard data and anecdotal knowledge about their target audience. This should be used to build new 'archetypes' of the company's target audience.
2. How Can You Capture Their Attention?
There is a rapid increase in the number of brands jostling for position over a growing number of digital channels. 
Thus, capturing the attention of a B2B target audience is more complicated today. Perhaps, even more complicated if the business is targeting a relatively niche demographic.
Value-adding content strategy is a key growth area. Having a detailed profile of the target audience, you can start to tailor specific pieces of content for each buyer and each phase of the sales cycle.
Speed of response is also vital, especially on social media. Buyers expect a rapid response. This may lead to future consumers to expect a near-instantaneous response to their inquiries.
Likewise, easy access to key information is a priority. 
Some organizations also need to consider improving the design they use to communicate detailed product information. 
Space is at a premium. We don't just have the small space afforded by a smartphone screen. Rather, also the mental and emotional space that your brand requires from buyers to engage effectively.
Simple changes can quickly improve online engagement levels.
3. How Can You Keep This New Buyer Loyal?
The potential commercial value of a millennial B2B buyer can be vast because they're just starting out in their career and therefore carry a high lifetime value.
This underscores the importance of brand loyalty, which has continued to evolve in our digital-first economy.
For B2B, this means technical support, customer service, and long-term service support are more important than ever before. 
These services also need to carry the same level of brand coherency that the buyer experienced before their purchase. 
B2B buyers now think far beyond the actual purchase. They want to feel confident that your business will be there for them after the sale.
In that sense, the brand should play an integral role. It should effectively communicate the values and principles that will bring reassurance to the buyer about the availability and effectiveness of long-term support. 
This includes the introduction of service design thinking throughout the customer journey and user experience.
Call Center Outsourcing Philippines
is Extending a Hand to Millennials, and More
The role of millennials in B2B marketing has become a major topic of interest for B2B marketing and sales professionals.
Magellan Solutions understands the impact of the Millennial generation in the development of market research and its ever-changing nature. You can trust us to keep up with the times with out state-of-the-art equipment and agents trained in the latest trends in marketing and communication.
After studying the Demand Gen Report who published the results of new research, we built partnership with The Mx Group, which provides us a current take on the roles, perspectives, and preferences of millennial business buyers.
Furthermore, Magellan Solutions has also done additional data-driven research with our current millennial partners.
Millennials are slowly taking charge. But even with new leaderships up on the pedestal, challenges have not changed much. Just a few tweaks with the help of your Filipino telemarketers and we'll be able to cater to the millennial ways of telemarketing call center Philippines.
Make sure you business is efficient and timely by outsourcing from a provider that understands the balance between tried-and-tested methods and trends that keep up with the times. Contact us today!
TALK TO US!
Contact us today for more information.